I've received many questions about which BMX tires to pick.
Thus, I decided to create the ultimate collection covering all riding styles – street, park and trail.
In general, you can't go wrong with any modern tire available on the market.
Why?
Because they're high-quality.
However, it's important not to pick a trail- or park-specific tire and then mainly ride street. It'll wear out quicker and cause you more flats.
But if you kinda like riding everything, a more street-focused tire with micro knurling will work for you.
Grippy? Squeaky? Sorted!
Best BMX Tires
1. BSD Donnasqueak Tire

I'm adding Alex Donnachie's BSD Donnasqueck tire first because this is going to be my next tire.
I've seen so many pros ride it (including Garrett Reynolds!), so I absolutely need to give it a shot.
Alex worked on this one with a low-profile tire in mind that squeaks and holds high PSI.
A smooth center for going fast and a side pattern for not slipping in corners and wallrides.
Can't wait!
Weight: 23.9oz.
Price: $29.99 (may vary)
GET YOURS
2. Cult X Vans Tires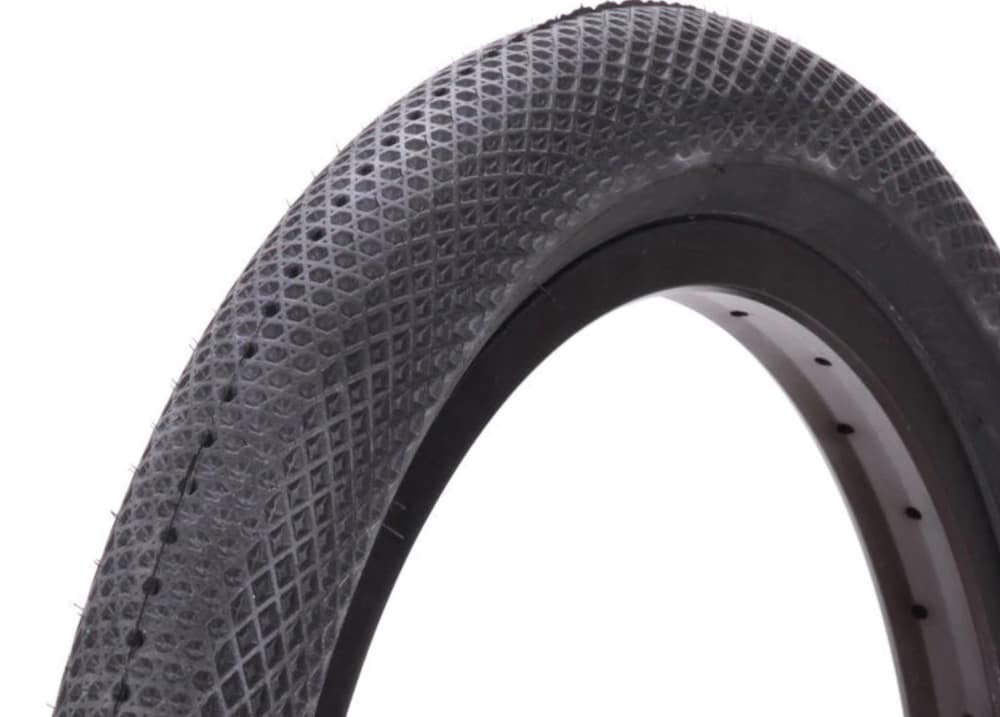 After reviewing BMX tires and checking what's hot, The Cult X Vans waffle tire is one of the most popular out there.
The tire comes in endless color variations including my favorite, black 🙂 . (But the camo ones look really rad!)
The waffle pattern makes this tire all-around, for street, park and trail riding.
Weight: 26.1oz.
Price: $30.99 (may vary)
GET YOURS
3. BSD Donnastreet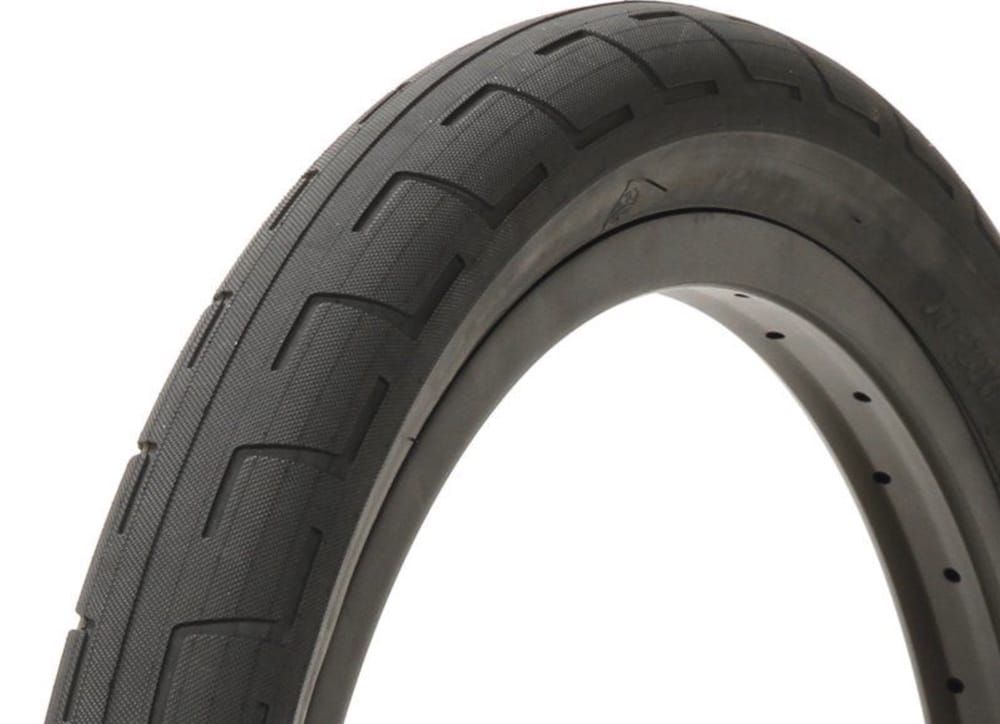 With the popularity of the Donnasqueak tire, Alex and BSD also released the Donnastreet tire.
This one has a slimmer profile and grippy sides, keeping you in place in all kinds of situations without slipping.
The highly durable rubber is the same as they use for the Donnasqueak tire.
Available in two sizes and multiple colors.
Weight: 23.9oz.
Price: $25.59 (may vary)
GET YOURS
4. Odyssey BROC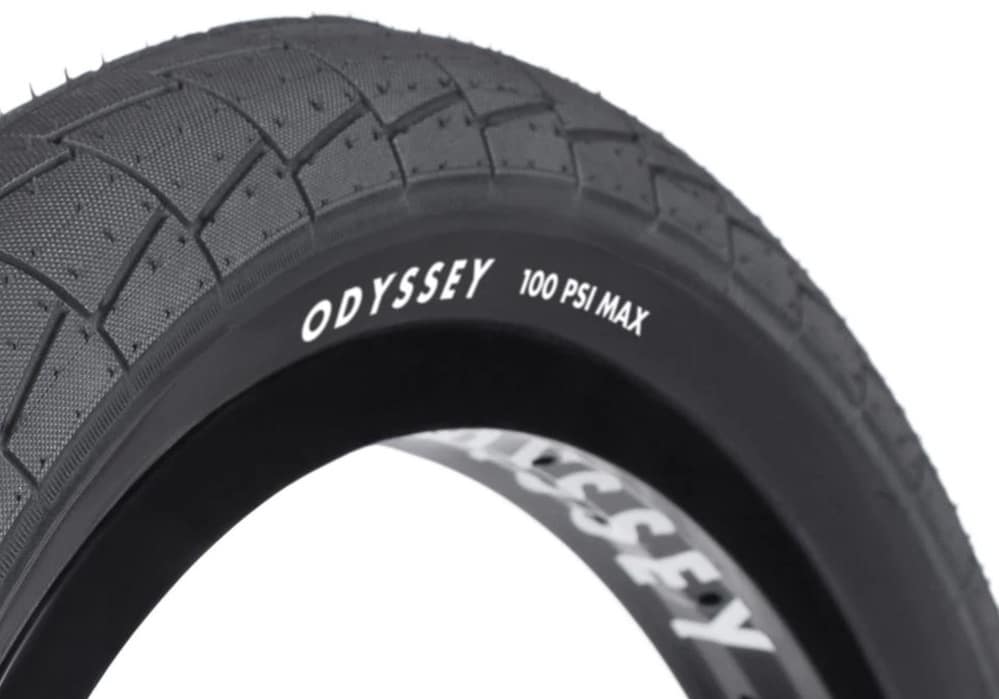 Odyssey's Broc Raiford signature tire is another one that will keep you riding street and parks comfortably. (But some even use it for trails and have no issues.)
It features a dial thread (with micro knurling) for Broc's riding needs while maintaining a sleek look.
Plus, the Odyssey's R-Grip rubber compound will keep you rolling for a long time.
Weight: 25.6oz.
Price: $30.99 (may vary)
GET YOURS
5. Federal Command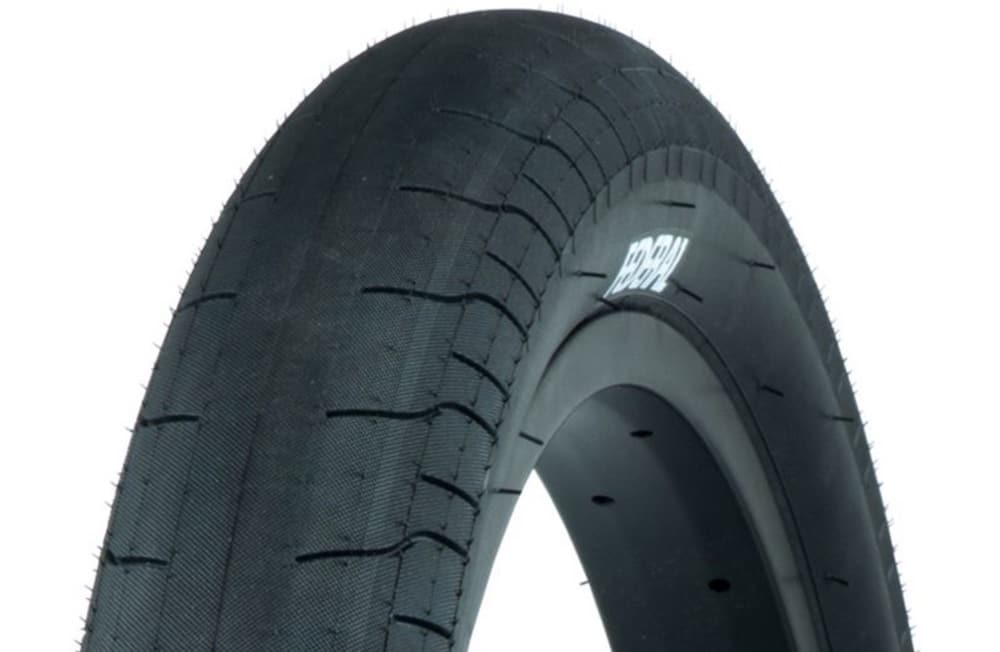 Federal Command tire is made to be lightweight but sticky with the knurled pattern throughout.
It's an ideal BMX tire for street riding, but the great pattern makes it rideable on other terrains, too.
You can get it in various color choices, but the ones with the Federal logo are the most awesome.
Weight: 27.8oz.
Price: $25.99 (may vary)
GET YOURS
6. Odyssey Path Pro Tire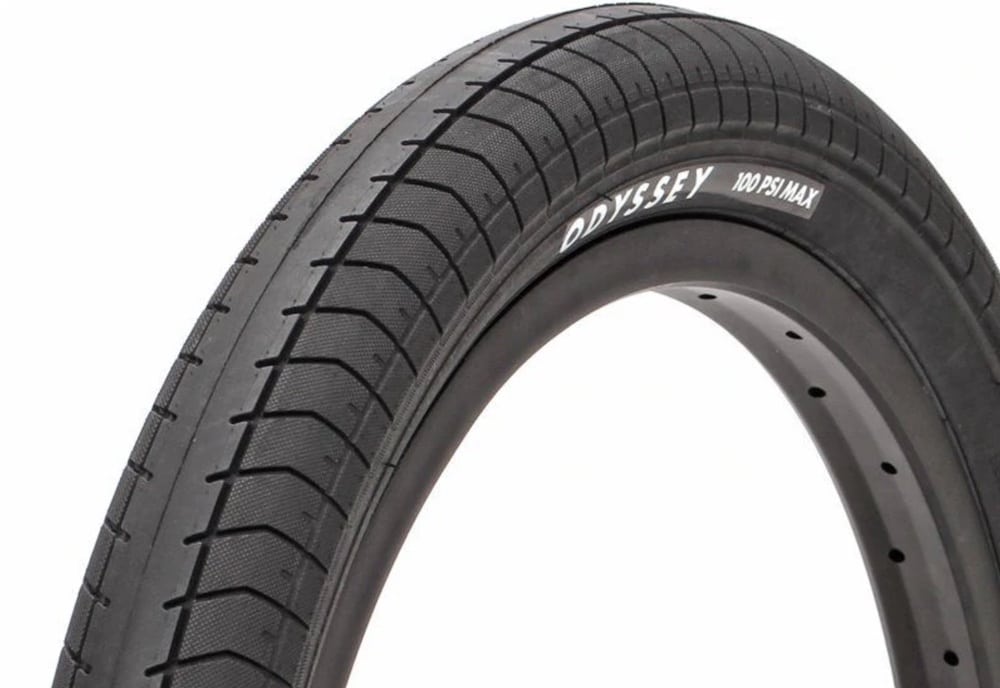 The Odyssey Path Pro tire is available for a very long time, and riders from all around the world still enjoy rocking it.
Why?
Because it's so well-made and isn't really style-of-riding-specific. You can use Path Pro for everything! Rail rides, grinds, transitions, etc.
Weight: 26.7oz.
Price: $28.99 (may vary)
GET YOURS
7. Demolition Momentum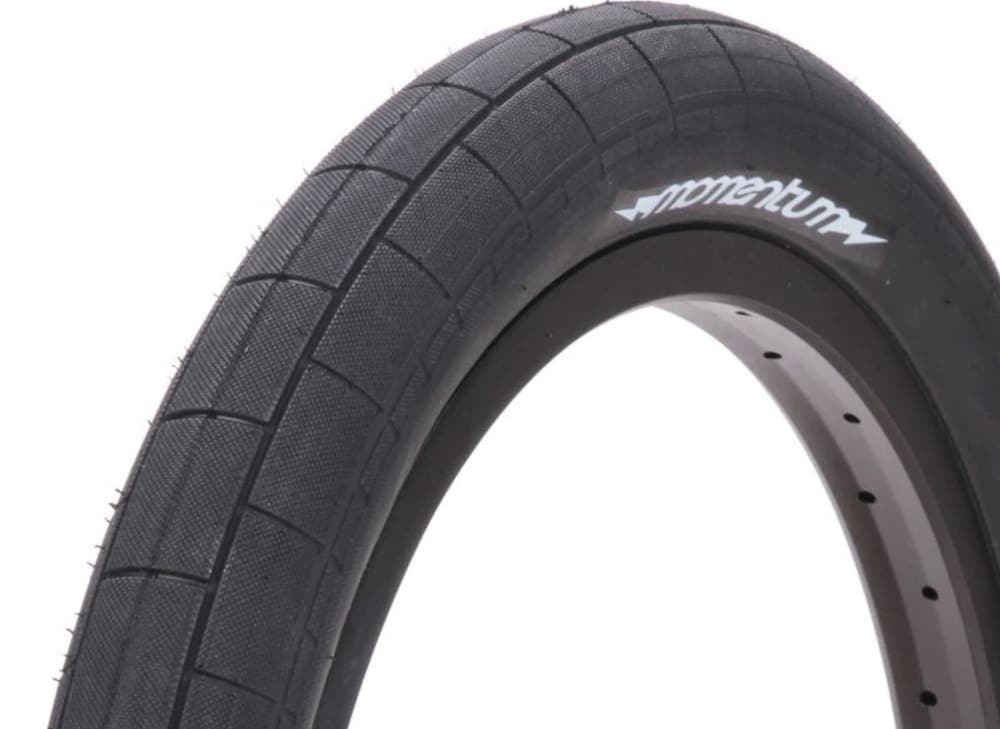 Demolition wanted to create one of the lightest available BMX tires on the market, coming out with Momentum.
Weighing at 19oz., Momentum is still ready for 110 PSI and the rectangle pattern grips like hell. Available in 2.2″ and 2.35″.
Weight: 19oz.
Price: $25.99 (may vary)
GET YOURS
8. S&M Mainline Tire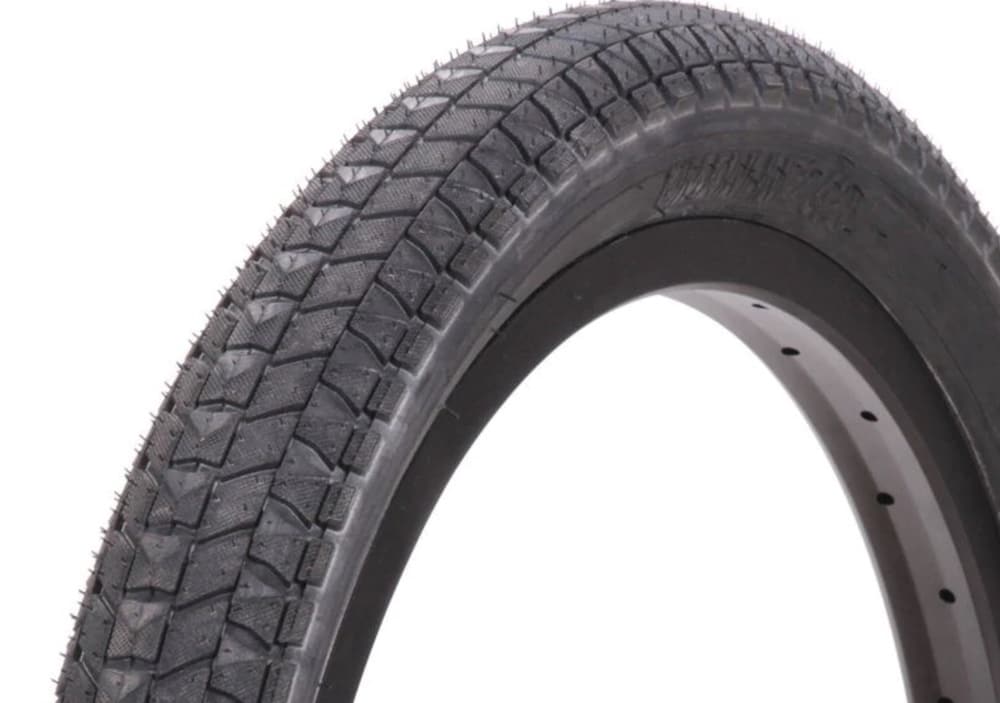 If you like to ride identical tires but slim at the rear and thick at the front then S&M's Mainline tire has you covered. It's available in 2.1″ and 2.4″.
It's a mid-weight tire with high pressure that's more trail-oriented but works for parks, too.
I wouldn't necessarily recommend it for street. For this, opt for S&M's Speedball (below).
Weight: 27oz.
Price: $24.99 (may vary)
GET YOURS
9. Eclat Decoder Tire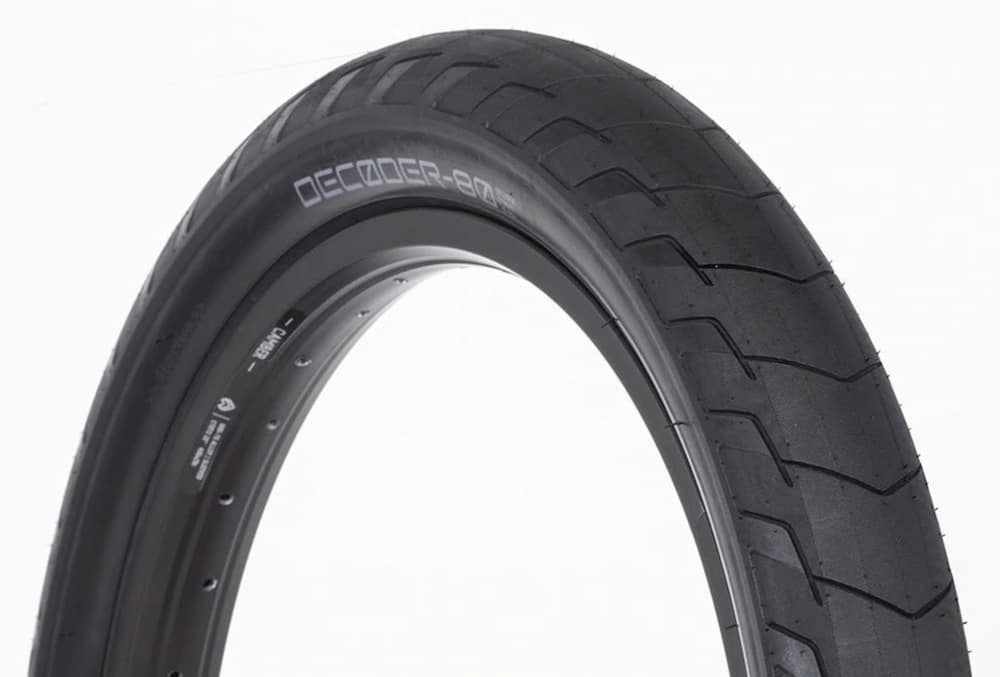 Eclat is known for their innovative products and the Decore tire is one of them.
It's an extremely strong and durable but at the same time light tire that took them a lot of testing and trying to realize.
It has a very neat pattern that'll make your bike look even better!
Weight: 26.4oz.
Price: $28.95 (may vary)
GET YOURS
10. Tall Order Wallride Tire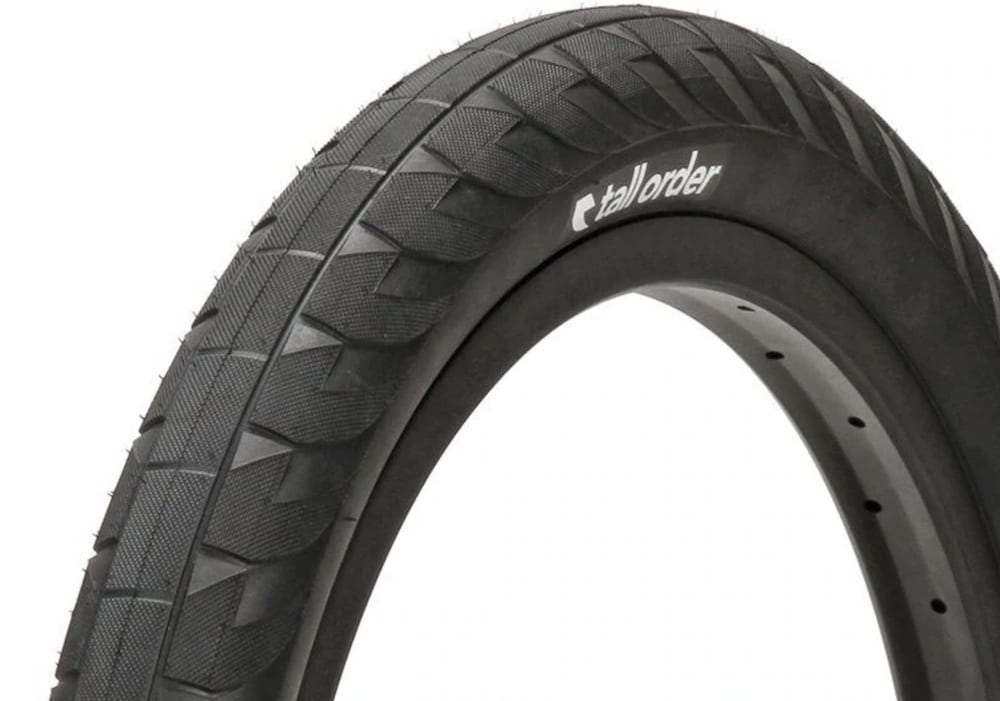 Even though Tall Order focuses more on riding transitions, their Wallride tire is perfect for streets, too.
Many shredders say that Wallride's grip is really good even after it wears.
Keep in mind, the Tall Order logo integrated into the side is not only for the looks. It keeps the profile low, grippy and fast.
Weight: 21.5oz.
Price: $38.95 (may vary)
GET YOURS
11. S&M Speedball Tire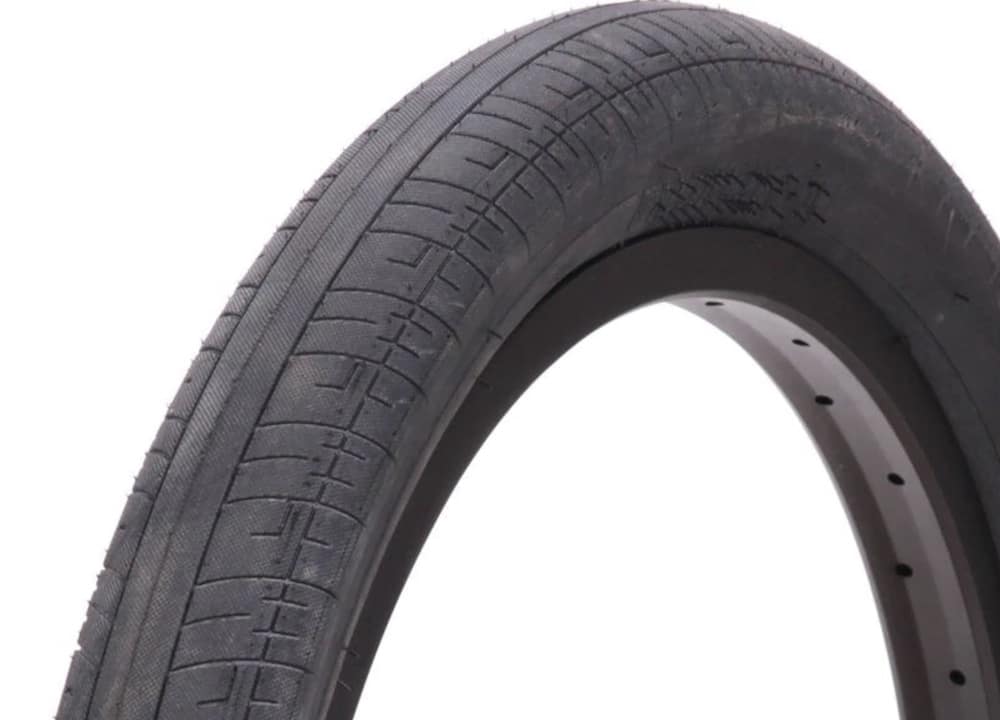 Here's the S&M street-focused tire I was talking about earlier – Speedball.
What's cool about Speedball is its extra protection that works really well if you run low pressure.
Moreover, the smooth center prevents rolling resistance – more speed.
And if you pay close attention, you can notice the S/M logo for the shoulder thread.
So. Cool.
Weight: 26oz.
Price: $29.95 (may vary)
GET YOURS
12. Cinema Williams Tire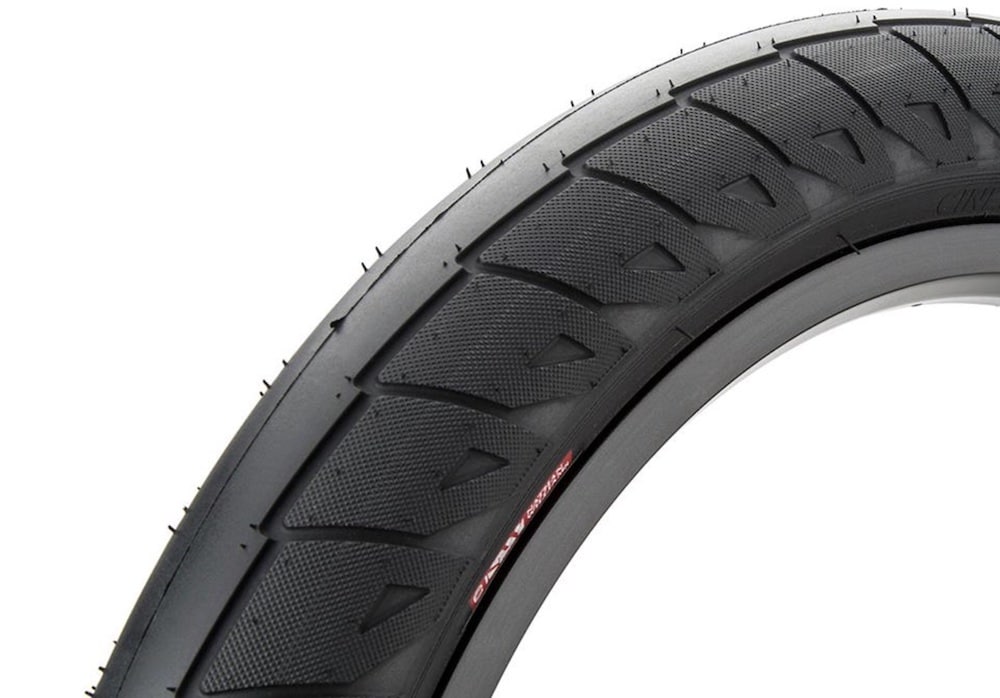 For all the Nathan Williams fans out there, I wanted to include his signature Cinema tire that comes at a whopping 2.5″.
Personally, I haven't ridden such a wide tire yet, 2.4″ max, but am very intrigued.
If you're into technical riding and especially rail rides, well, Cinema Williams tire is your ideal companion.
Weight: 23.8oz.
Price: $29.99 (may vary)
GET YOURS
13. United Direct Tire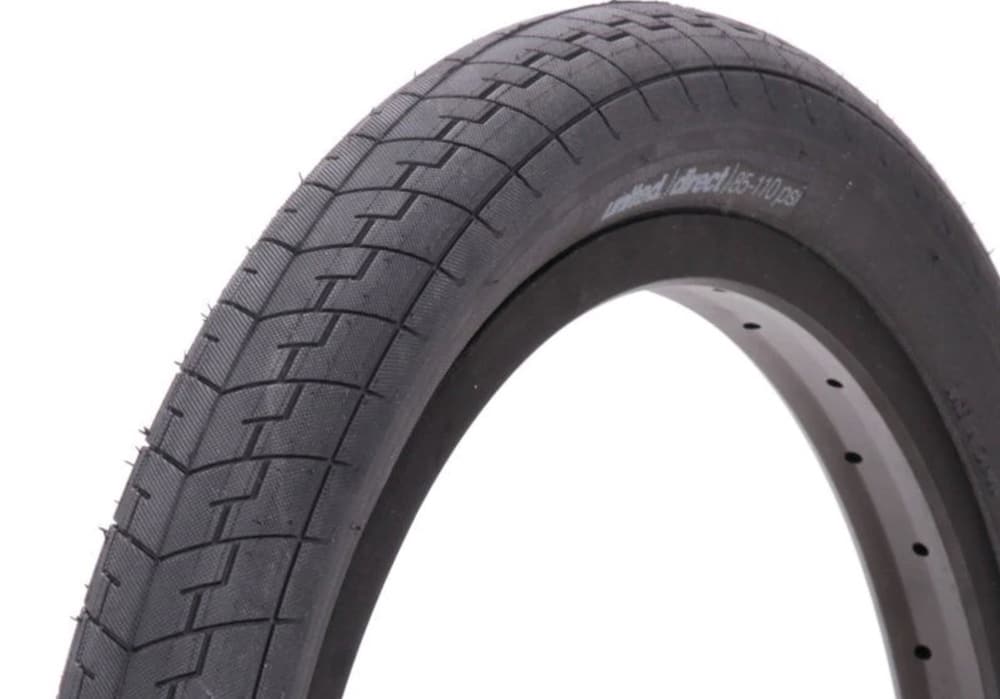 United's Direct tire comes in two sizes, 2.1″ (works even for trails) and 2.3″ (for park & street).
Your riding will be fast and grippy with its directional tread pattern (and micro knurling).
Weight: 28.2oz.
Price: $25.99 (may vary)
GET YOURS
14. Animal GLH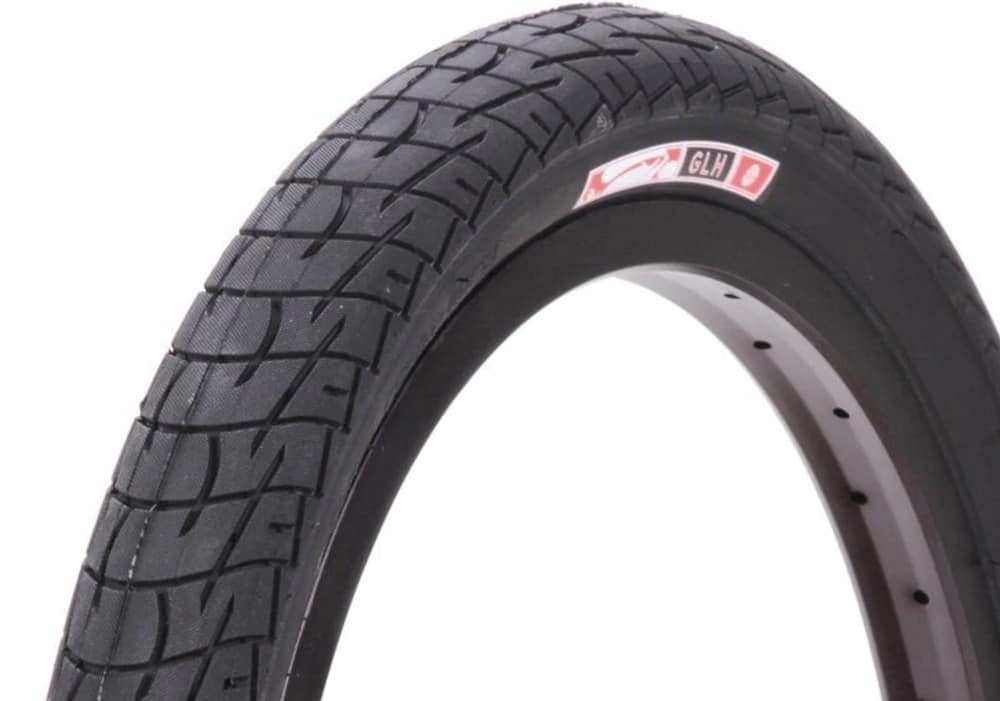 The Animal GLH tire is the one that I currently ride and am riding it for 10+ years.
I extensively tested the 2.1″ and the 2.3″. The wider fits my riding better but both are insanely high-quality and long-lasting.
The GLH tire is street-approved, however, you can comfortably ride it in parks and even trails.
BEST!
Weight: 26.2oz.
Price: $31.95 (may vary)
GET YOURS
15. Fly Fuego Tire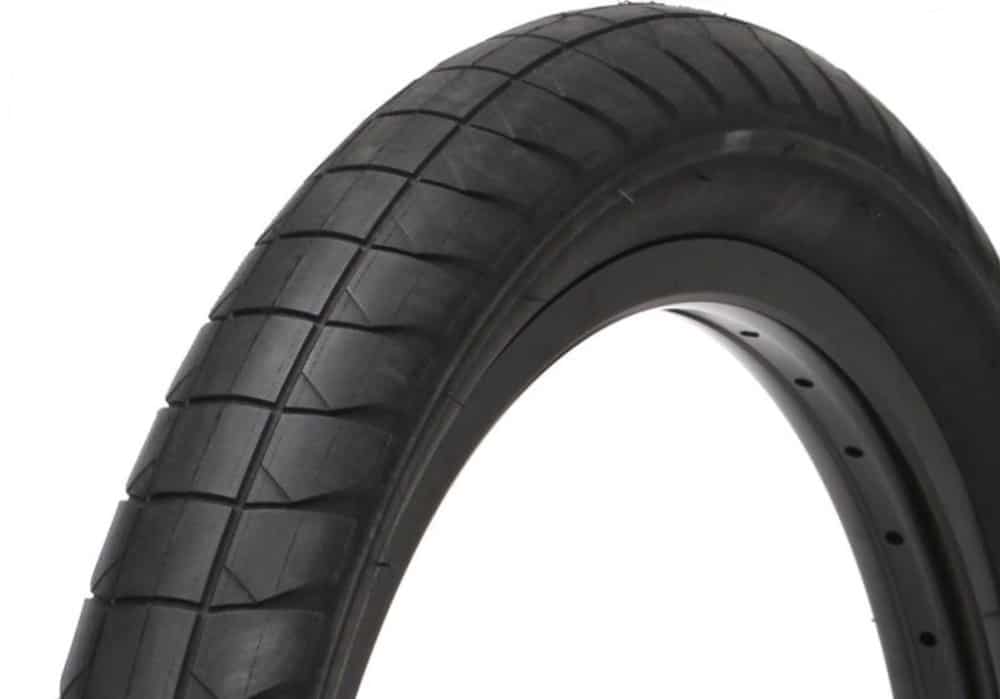 After going through available BMX tires, Devon Smillie's signature Fly Fuego definitely grabbed my attention.
Even though it has a smooth surface, Fuego has everything a modern street rider would want out of a tire.
Tough sidewall, extra tear-resistant layer and goes all the way up to 120 PSI.
Fun fact: Devon rides 30 PSI.
And it's not the widest but also not the narrowest (2.3″).
Weight: 29.9oz.
Price: $39 (may vary)
GET YOURS
16. Shadow Serpent Tire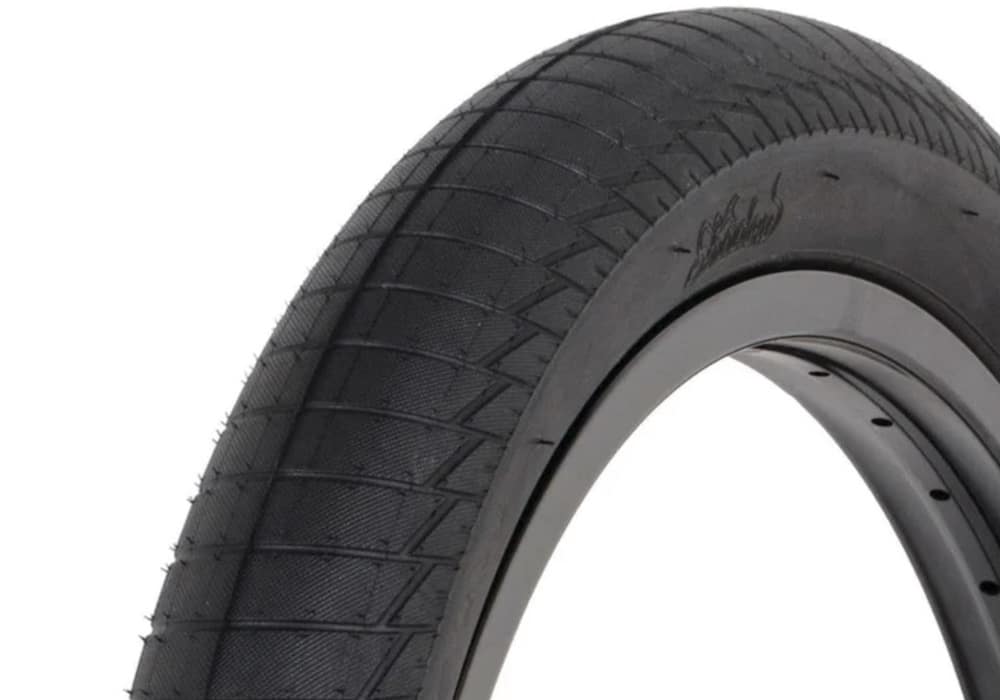 Shadow's Serpent tire is probably the most good-looking tires currently available.
The speedy and responsive pattern makes you go faster when riding parks and ramps.
I don't recommend running this one on the streets because it doesn't have the extra protection that a street-first tire has.
Weight: 19.2oz.
Price: $34.99 (may vary)
GET YOURS
FAQ
Are all BMX tires the same size?
All BMX tires are 20″ but they differ in their width.
The more traditional width is between 2.1″ and 2.4″. (But tires can go up to 2.55″ and below 2.1″.)