Are you searching for the current Broc Raiford bike check?
Wonder no more; I have you covered with his latest street-first setup.
Who will be especially interested in Broc's setup are BMX riders who are taller. At the height of 1.85m (6′), Broc is actually one of the tallest pros out there.
Broc is a real beast but still makes his riding look so buttery smooth.
And if you need proof, you better watch all Broc's best BMX videos to date in one place.
Broc rides his signature Sunday Darkwave frame with quite tall Odyssey BROC bars (9.8″) and Odyssey BROC v2 top load BMX stem (33mm rise).
With Odyssey, Broc even has signature 2.4 BROC BMX tires.
In addition to that, Broc Raiford likes to run longer plastic BMX pegs, at 4.75″, which helps him with regular and opposite crooked grinds.
Below, you can watch Broc take you through his entire setup, his most recent, and even some older ones.
Broc Raiford Sunday & Odyssey Bike Check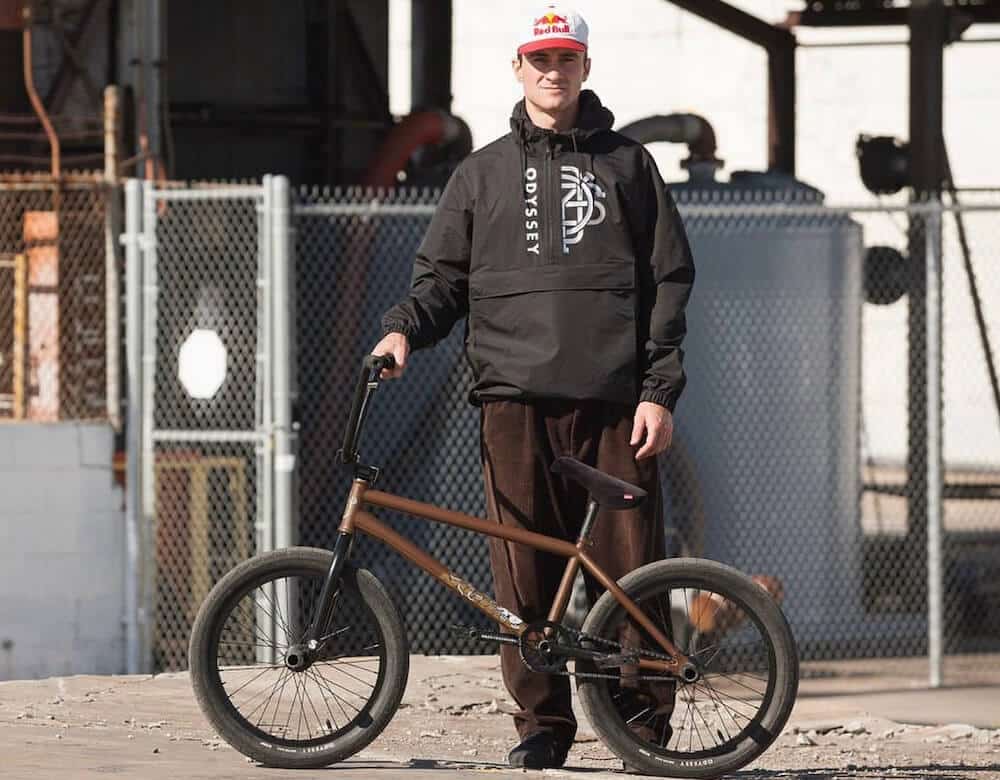 Frame: Sunday Darkwave, 21.25″ frame
Bar: Odyssey BROC bars
Grips: Odyssey BROC grips
Stem: Odyssey BROC v2 stem
Fork: Sunday Darkwave fork
Chain: Odyssey Bluebird half-link chain
Seat: Odyssey BROC
Cranks: Odyssey Thunderbolt cranks (170mm)
Pedals: Odyssey Twisted Pro (see more plastic pedals)
Sprocket: Odyssey La Guardia 28t sprocket (see more sprockets)
Front Wheel: Odyssey Hazard Lite rim, Odyssey Vandero Pro hub
Rear Wheel: Odyssey Hazard Lite rim, Odyssey Clutch v2 freecoaster
Tires: 2 x 2.4 Odyssey BROC tires
Pegs: 4 x Odyssey Graduate 4.75″ pegs
Note: You can also get an EPIC replica of Broc's bike, called the Sunday Darkwave Authentic Bike.
Head over to the Odyssey website to see more pics.
To see Broc's BMX setup go through a lot of beating on the streets (and skateparks) daily, follow him on Instagram.
Featured photo by: Justen.
Old Broc Raiford Bike Checks
1. Source BMX Bike Check

This is the longest and the most in-depth video bike check I've ever seen. Shoutout to Broc and Van Homan for having such a long conversation about Broc's setup.
One thing's for sure, Broc really knows his thing about the products he rides, especially the signature ones. That's why they managed to put together this fourteen-minute-long video.
So. Good.
You'll get all the ins and outs, so take notes; maybe there's something you'd want to try for yourself, like putting longer pegs on if you do a lot of crooked grinds or pulling your seat out to make switch barspins easier.
2. Broc Bike (2022)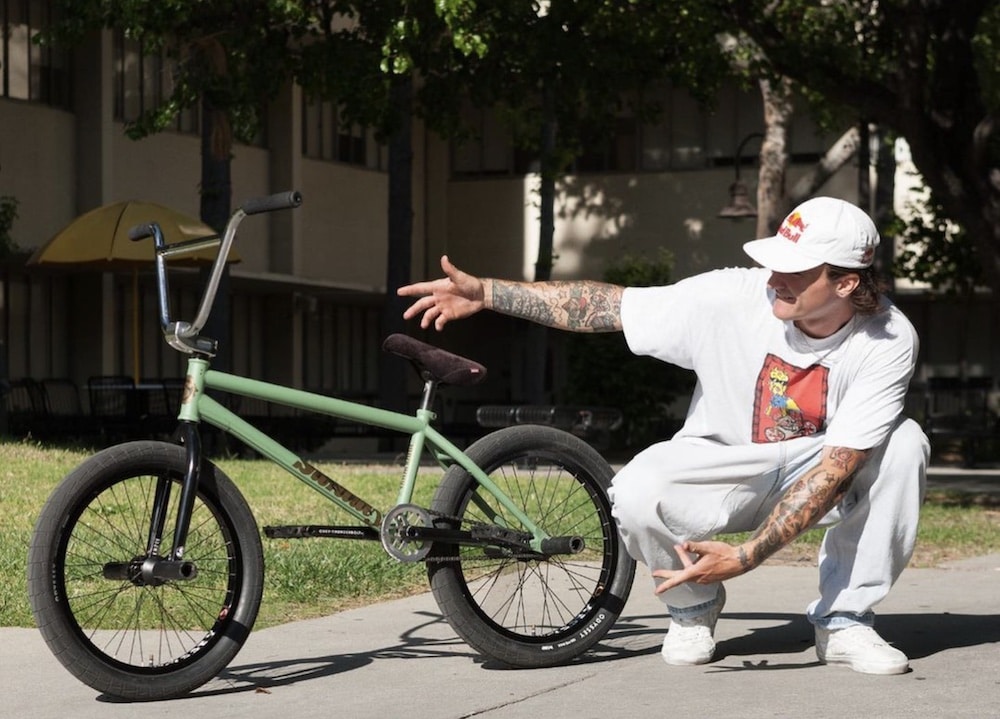 Pic by: Scott Marceau.
3. 2022 Sunday Darkwave Authentic

Okay, this is not necessarily a bike check per se that you're used to, but things like this don't happen too often in the BMX industry.
Broc, Sunday and Odyssey collaborated to release this replica complete bike, which is the exact bike Broc rides.
You don't need to buy parts separately anymore if you'd like to have a bike that Raiford rides – it all comes in ONE box.
Yes, it even includes Odyssey Thunderbold BMX cranks and Clutch V2 freecoaster hub.
How cool is that?
It's a quick one, but it's too cool not to share it with all of you.
You can get the bike here.
4. Sunday 2020 bike check

Broc Raiford started riding for Sunday Bikes in early 2020 and with that, he also received a signature BMX street frame called Darkwave.
Here is a video bike check with Broc from Sunday (late 2020) after he built up a matte dusk colorway build of the frame.
He also talks about changes to his signature BMX grip from Odyssey as well as signature bars from them, plus the V2 version of his stem from Odyssey as well.
Broc Raiford is one of the hardest working most professional riders in BMX, so he, without a doubt, deserves a bike that is mostly made of his signature parts.
5. Sunday early-2020 bike check

After Broc Raiford joined Sunday Bikes in early 2020, he built up a brand new bike being fully under the Full Factory Distribution umbrella.
Before his signature Darkwave frame came out later in 2020, he chose to ride the Soundwave V3 as his first Sunday frame.
Broc does a really great job here explaining why he rides the parts he does and why he picks the geometry he does for each part on his bike.
Even down to explaining why he chooses taller bars to compensate for not having any BMX headset spacers under his taller stem.
6. Odyssey 2019 bike check

Before Broc Raiford started riding for Sunday in 2020 and was fully under the umbrella of Full Factory Distribution, he rode for Volume Bikes.
Here is a video bike check from early 2019, which falls during this time period.
As always, Broc does a great job describing his thoughts and choices in choosing bike parts as well as geometry.
At this time, Broc rode his signature Anchor BMX forks and his signature Vessel frame, both from Volume.
He was also riding the prototypes of his signature tire from Odyssey, which is cool to take a look at now.
7. Ride BMX 2018 bike check

Here is a video bike check with Broc Raiford in the "What I Ride" series from the late Ride BMX that came out in 2018.
Broc was riding for Volume and had several signature parts with them, including his Vessel frame and anchor fork.
This is a quick bike check, but it still has some explanation behind some of his part choices and there is also some riding!
This is before his signature Odyssey tires, so at the time, he was riding Odyssey Aaron Ross tires.
After the bike check, we are treated to some riding with Broc jibbing around the streets and alleyways of Long Beach, California.
::
Feel free to take a peek at BMX bike checks from other BMX shredders all in one location.
Was this article helpful?
Disclosure: The BMX Dude's content is free & reader-supported. I may earn a commission if you click & buy through my links. Your support helps me create the best content & make a difference. Thanks! 🤘