Are you ready for the latest Jacob Cable bike check? I know I am!
Jacob is known for his insanely technical lines. And he's as comfortable nose manualling as he is manualling.
This dude's on a different level, and so is his bike.
What keeps him rolling on the front wheel so smoothly is the steeper frame head tube angle and a BMX fork with a 15mm offset. (Read all about BMX fork offset in my beginner's guide.)
If you're a technical maniac as Jacob is, then you definitely need to check his current BMX setup.
By the way, congrats on the signature Kink frame, Jacob! And the name "Kinetic" is MORE than perfect.
Jacob Cable Kink & Odyssey Bike Check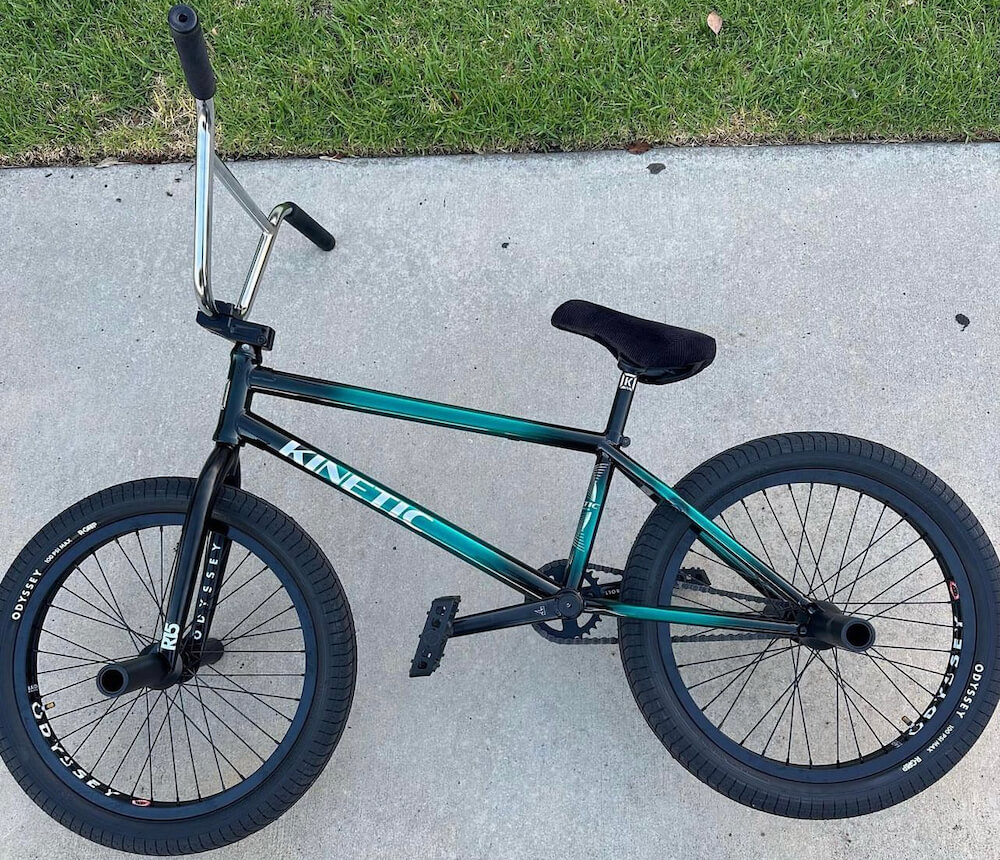 Frame: Kink Kinetic frame
Bar: Kink Human bars
Stem: Kink Bold HRD stem
Fork: Odyssey R15 forks
Grips: Odyssey TRAVIS grips
Bar Ends: Odyssey Par Ends
Chain: Odyssey Bluebird half link BMX chain
Seat: Kink Williams BMX seat
Seat Post: Kink Stealth seat post
Cranks: Odyssey Thunderbolt cranks
Pedals: Odyssey Twisted Pro PC plastic BMX pedals
Sprocket: Kink Imprint sprocket
Front Wheel: Hazard Lite freecoaster BMX wheel
Rear Wheel: Hazard Lite front BMX wheel
Tires: Odyssey Path Pro tires
Pegs: Odyssey Graduate 5″ plastic pegs
Chrome bars, white tires and black everything else? DOPE!
GET PARTS JACOB RIDES:
Note: You may also be interested in my best Jacob Cable BMX videos collection.
Give Jacob a follow on Instagram and enjoy his technical insanity.
Featured photo by: Jacob's IG.
Old Jacob Cable Bike Checks
2022 Black, Chrome w/ White Tires Bike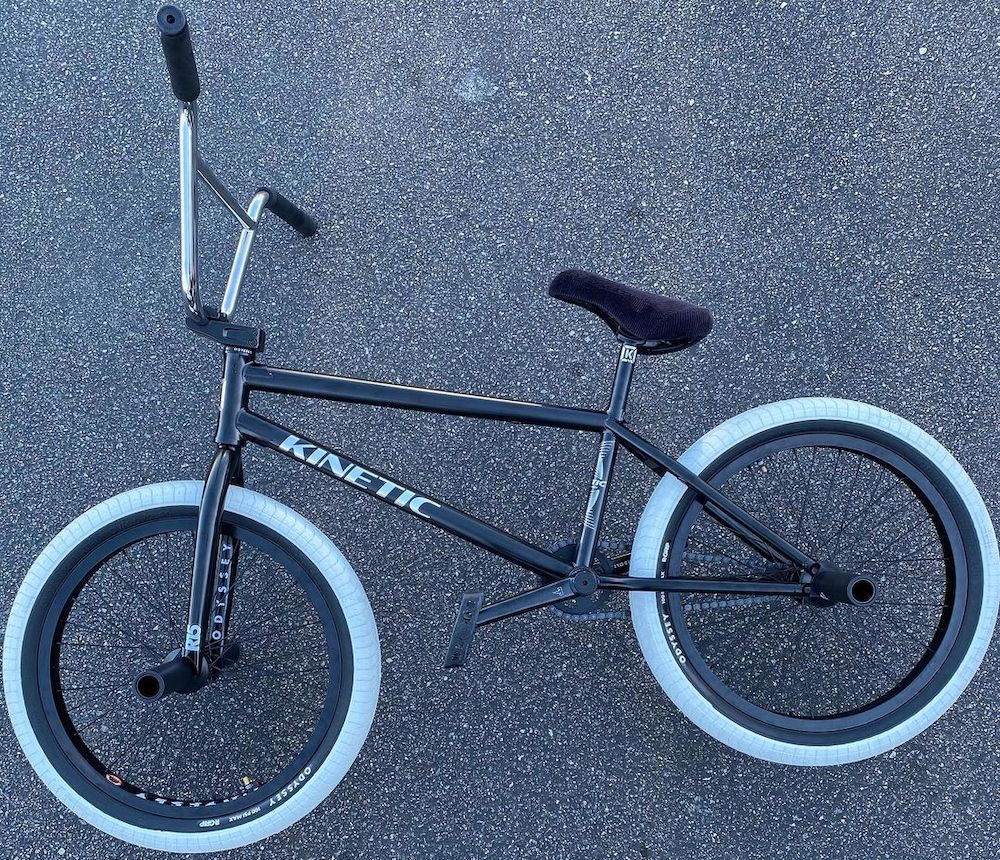 Odyssey (2022)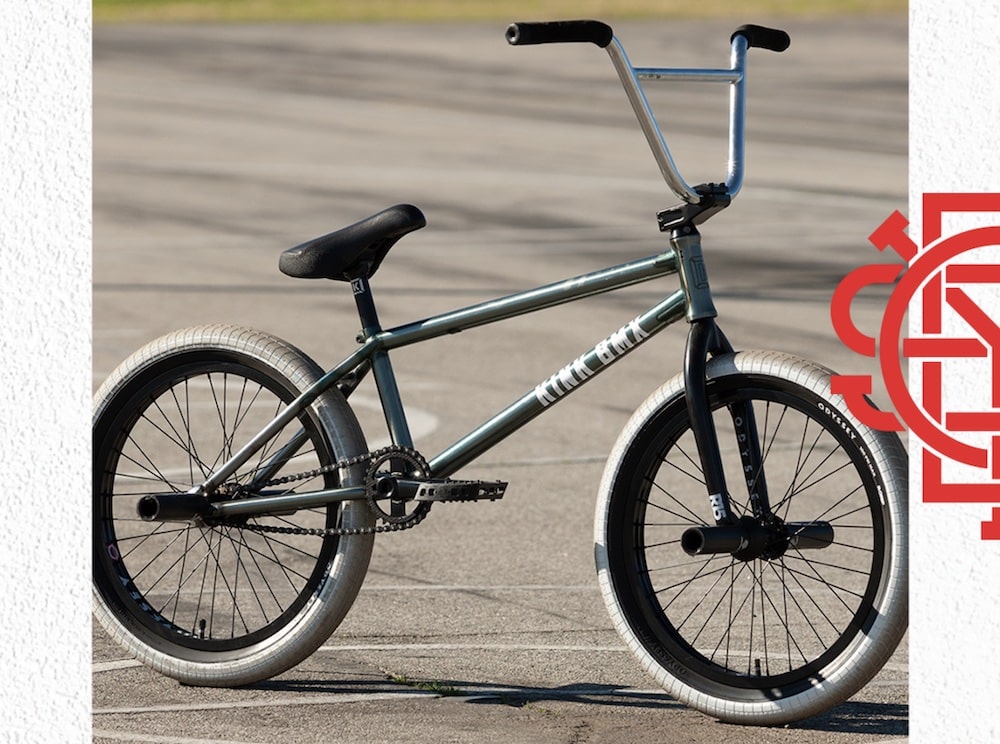 Get the feel of what was the last Jacob setup before he switched to rocking his signature Kink frame, Kinetic.
He was riding the Kink Tactic frame with Odyssey R15 forks, Kink Human bars and Odyssey TRAVIS BMX grips, to name a few.
Jacob is also a fan of the Odyssey Graduate plastic BMX pegs in 5″ length.
I went from 4″ to 4.5″ pegs a little while ago, and I love it! But going 5″? Well, I guess I'll need to try that, too.
Full bike check with images and parts on Odyssey.
DIG Setups (2017)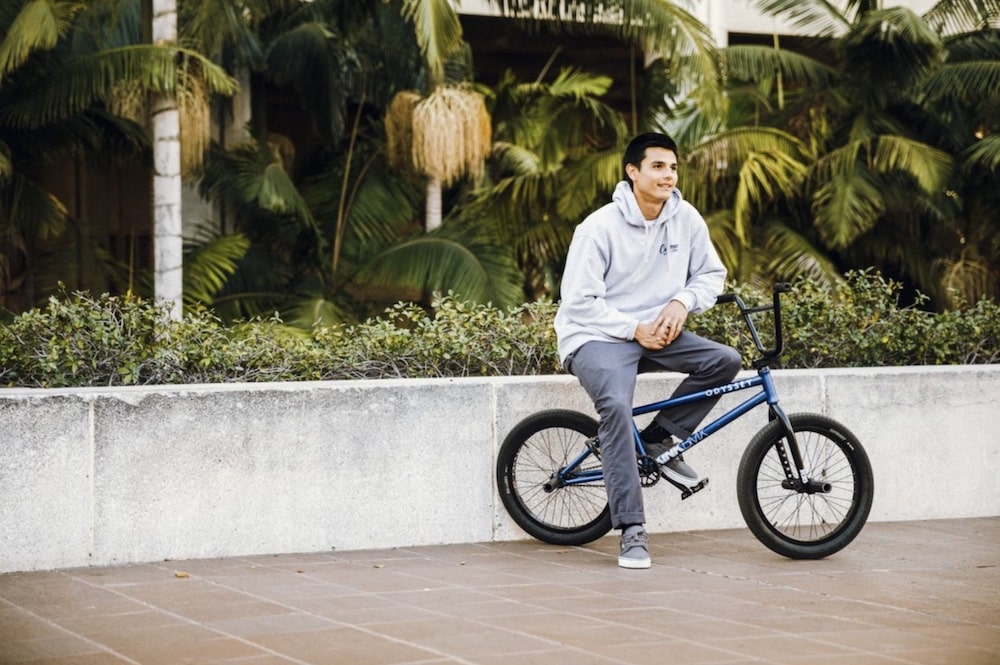 The nose manual king, Jacob, chose the Kink Titan 2 frame back in 2017, which you can check on DIG.
He also added many more Odyssey parts for this version, keeping the bike look fresh AF.
DIG also asked Jacob a bunch of bike-related questions, like his favorite and oldest parts, how often he builds a new bike and what are his future plans.
Full bike check on DIG.
Odyssey (2016)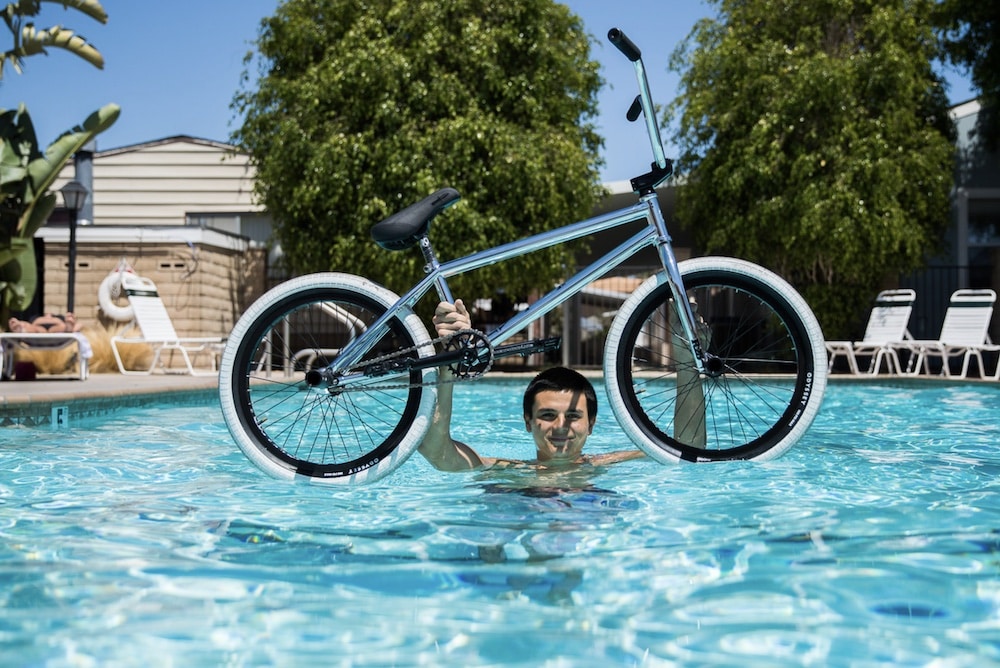 This is one of the best bike check images I've ever seen!
Jacob's chrome Kink Titan frame in 21″ top tube length looked epic in 2016.
This was also the year when he was still riding the Odyssey R25 forks, which aren't as crazy steep as the R15s are.
He's also rocking BOSS top load BMX stem and BROC grips from Odyssey, Kink Grizzly bar, and more.
You can find full bike check on Odyssey.
Odyssey (2015)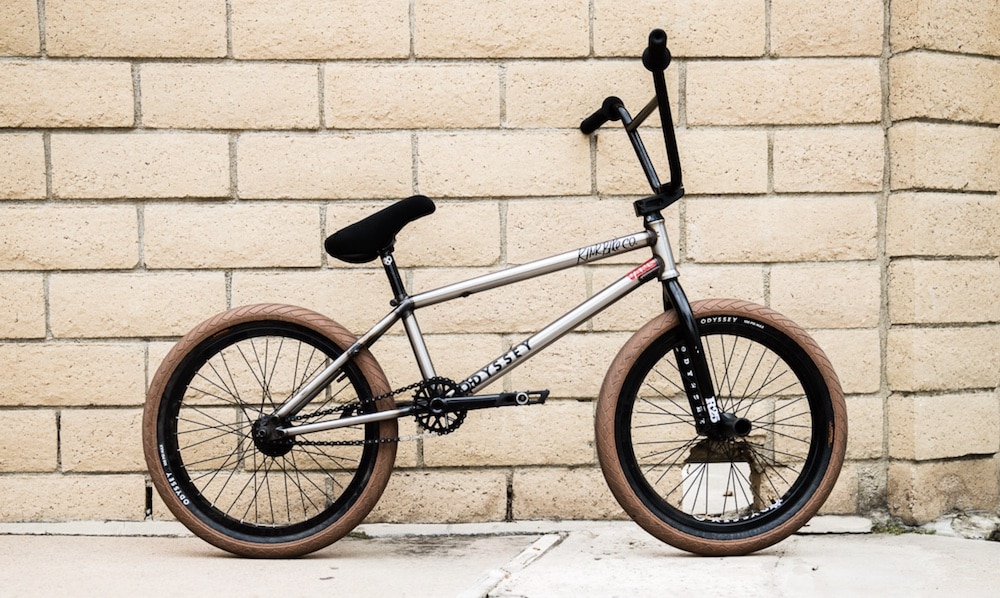 I think Jacob is one of the dudes who keeps freshening up his bike very often.
And that's what I like A LOT. Why? Because I enjoy checking bike check so much, new or old.
Here's one that dates all the way back to 2015.
It's a Kink SXTN frame with other Kink and Odyssey parts. The raw frame with black parts looks great.
I'm just not really sure about the gum BMX tires, but that's just me.
Check out some sweet close-up pictures and the parts he was riding on Odyssey.
Odyssey (2014)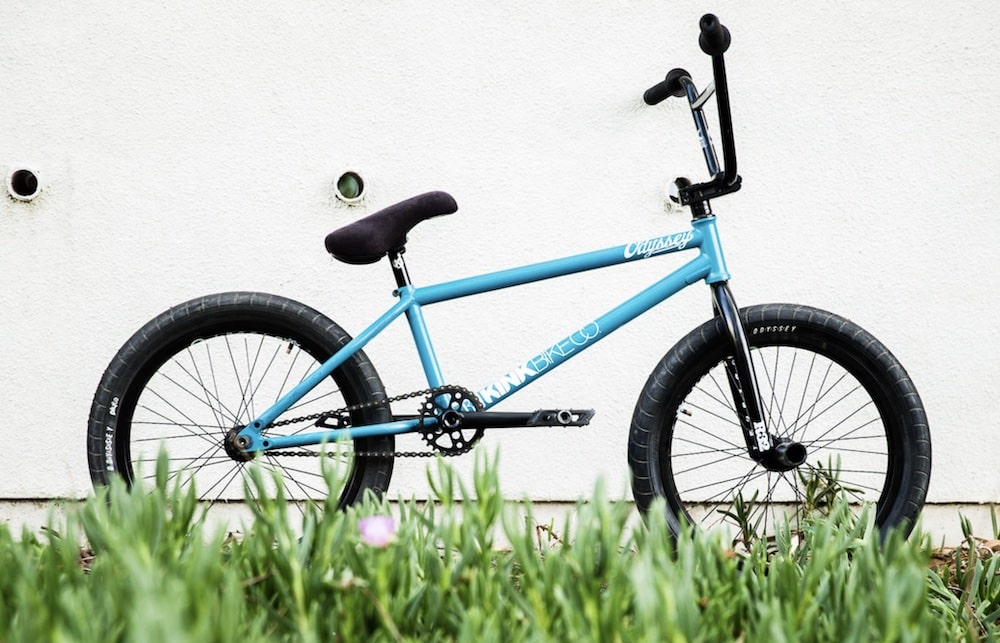 Can you imagine that Jacob was once riding Odyssey's R32 forks? But that was a long time ago.
When they started introducing new forks to their R line, he quickly moved on and is now on the R15s.
Some more goodies you can find are Kink Issue frame, Kink Solace bars, Odyssey Dugan grips and Odyssey Chase Hawk tires.
Full bike check on Odyssey.
Vital Riding + Bike Check (2013)

And to make this Jacob Cable bike check list even sweeter, here's a video version with some really rad riding clips from Vital.
Jacob was only fifteen then, but he was already killing it hard.
Also, Jacob wasn't yet on Odyssey in 2013, but he was already proudly rocking Kink parts, from the frame, bar and BMX cranks to stem, hubs, etc.
Was this article helpful?
Disclosure: The BMX Dude's content is free & reader-supported. I may earn a commission if you click & buy through my links. Your support helps me create the best content & make a difference. Thanks! 🤘