Welcome to my extensive Animal Edwin Delarosa grips review, dude!
I've been riding Edwin's grips for the past fifteen years or so (yes, that's 15!), and I thought it was about time to drop a review.
Why?
Because I haven't come across a better pair of BMX grips so far.
I tried a bunch in between, but I always went back to Edwins, even though the ones I was testing at that moment weren't even replacement-ready yet.
Animal Bikes is a legendary BMX company and Edwin Delarosa is a legendary BMX rider.
I'm actually honored to be able to ride grips from the dude who had the most significant impact on me when I started riding.
Animal Edwin Delarosa Grips Review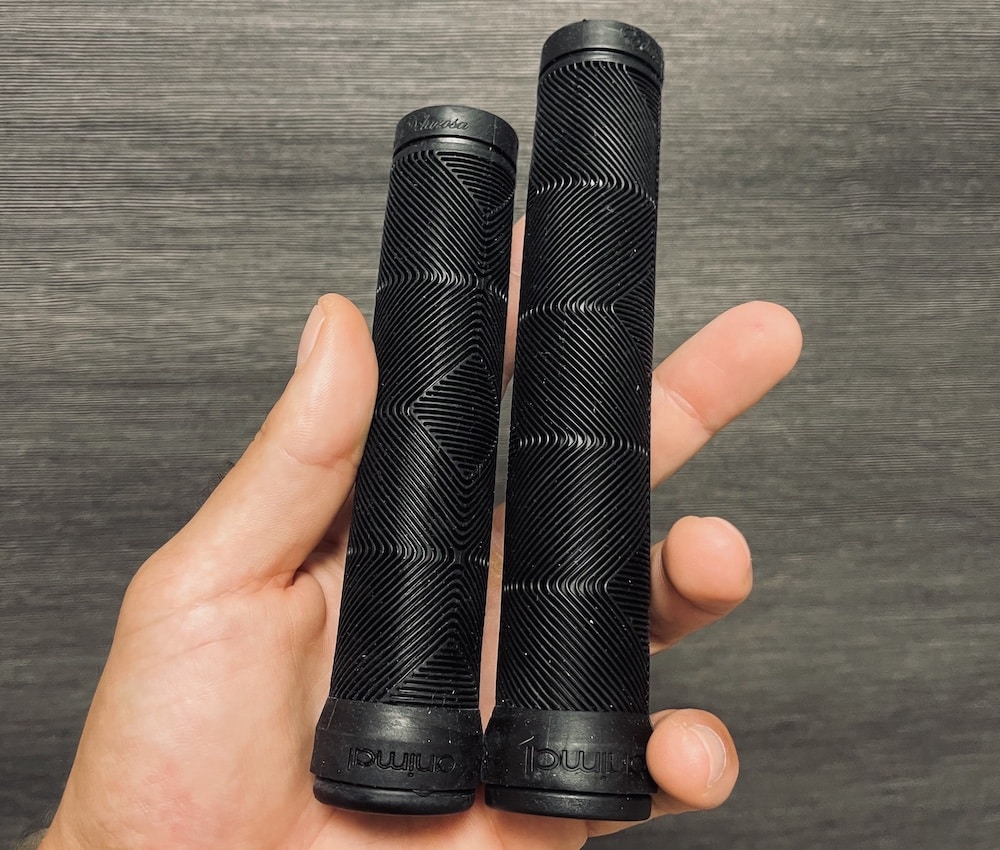 Back in the day, the Animal Edwin grips came at a shorter length (140mm) with flanges. (Check out my article if you're curious about what size are BMX grips.)
The feel of the grip resonated with me immediately, and I knew at the time that these grips would be on my bike for a long time.
Which they were! (And still are.)
I just later started cutting off flanges because I ride brakeless and the flange is in my way.
And I cannot tell you how EXCITED I was when Animal released the flangeless version of the Edwin grip.
Note: You may also be interested in learning whether flanged or flangeless grips are better.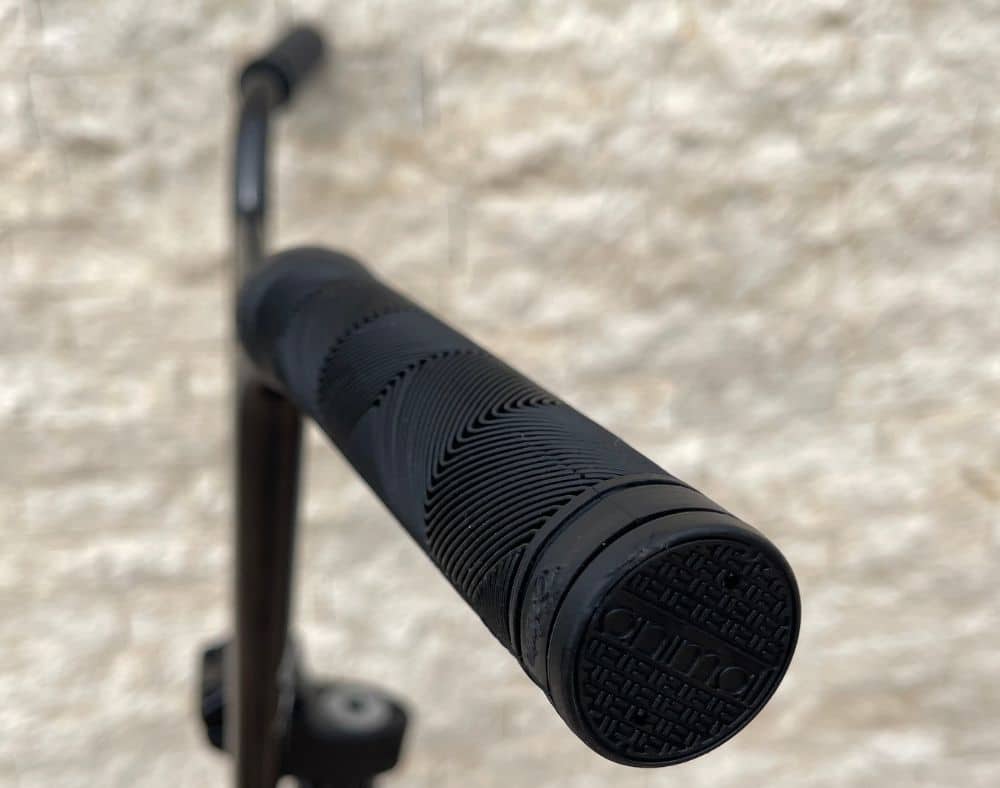 What I particularly like about this grip is that it's a little fatter, with a diameter of 32mm.
Usually, BMX grips are at around 30mm or even thinner.
Know that my hands aren't really large, so I cannot image how riders with larger hands ride thin grips.
Like Reed Stark, I also don't like the feeling of your fingers wrapping all around the grip to the point of touching the heel of your palm.
That likely won't happen if you opt for Animal Edwin grips.
Another thing that I was thrilled that Animal Bikes did is make the grip longer.
In the beginning, it was 140mm, but as time passed, they decided to make a 165mm version, which feels perfect. But even if they'd make it 160mm, it'll still be excellent.
GRAB YOUR EDWINS
Animal Edwin Delarosa Grips Features
Soft Compound: They are made from a soft yet durable Krayton rubber compound to provide comfort and reduce hand fatigue during long rides or intense sessions. Even if you ride a lot, you won't have to replace these grips that often.
Long Length: The grips are slightly longer than standard grips (165mm), giving riders more room to adjust their hand position as needed. Which is especially awesome if you ride brakeless.
Extra Thick: The Edwin grips have a diameter of 32mm, which is much larger than the standard BMX grips (28-30mm). This makes the grips much more comfortable to hold, providing extra cushioning.
Ribbed Design: They feature a series of wavy horizontal ribs (mushroom style) that provide enhanced grip and added comfort for the hands.
Bar Ends: These grips come with Animal Sewer Cap plastic bar ends to protect the rider and handlebars from damage during falls. Ride your bar ends!
Signature Branding: As these are signature grips, they carry Edwin DeLaRosa's branding and Animal logo, making them stand out as a unique product in the Animal Bikes lineup.
Price: $10.99
GRAB YOUR EDWINS
Conclusion
Every time someone asks me to recommend him/her grips, I say pick Edwins.
Hey, I've been riding them for so long, and they never let me down.
In fact, even today, after holding them for 1,000s of times, they still feel so good, as if it was the first time.
Note: The only reason I will be switching to ODIs and BSDs in the near future is because of testing them for The BMX Dude. (And I'll likely be testing some more.)
I'll let you know if there's a grip that comes close to the Edwin grip.
By the way, Mike Hoder's signature grips are really good, but they became really sticky fast for me. (And no, I wasn't storing my bike in a humid place or leaving it on the sun for too long.)
The only reason I might not recommend Animal Edwin grips is if you're in your early teens or your hands are smaller in general. Or you ride brakes because the newer version will likely be too long.
In all the other situations, Edwins FTW!
GRAB YOUR EDWINS
Was this article helpful?
Disclosure: The BMX Dude's content is free & reader-supported. I may earn a commission if you click & buy through my links. Your support helps me create the best content & make a difference. Thanks! 🤘