Are you a style (and flow) fan and want to watch the best Matt Cordova BMX videos?
YEW!
No wonder why you came here.
This dude is FULL SPEED – always!
I could watch Matt's videos for days on repeat and never get bored.
Matt was born on July 24, 1990, in Longmont, Colorado. He started with BMX racing at the age of six and transitioned to riding parks and trails at twelve.
Matt Cordova Verde Bike Check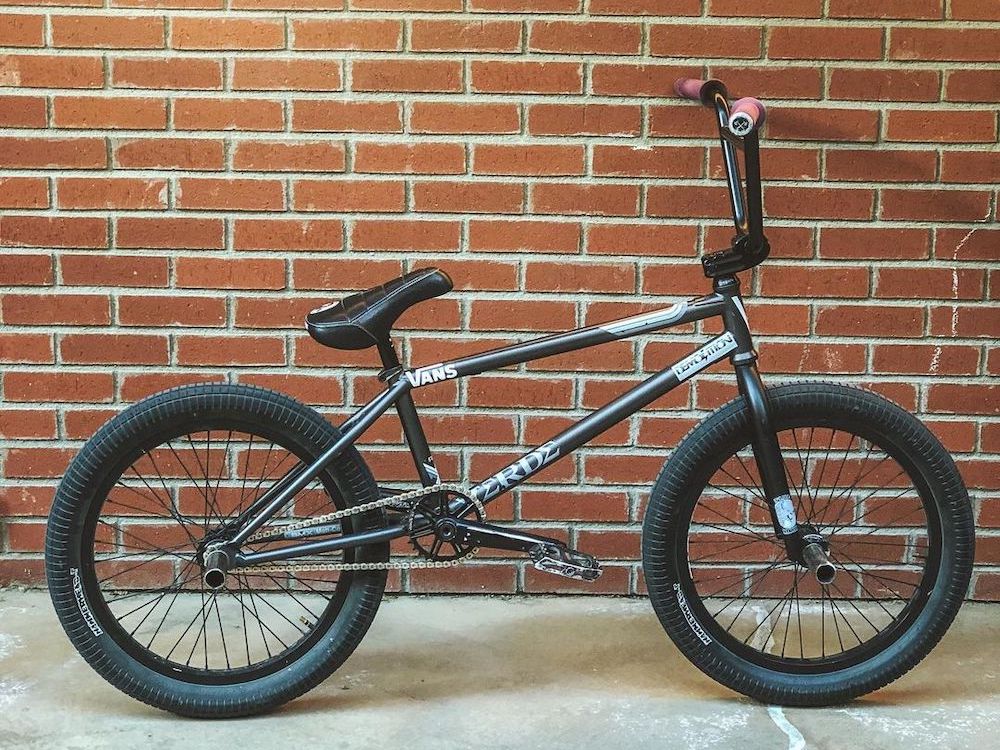 Matt rides Deomiltion Fox forks, Demolition Rig cranks and Demolition Hammerhead tires.
He's also running Demolition Axes BMX grips, Verde Neutra BMX sprocket and Demolition X Markit bar ends, to name a few.
Winning contests, surgeries, style for miles, signature bike parts – Matt's no stranger to all of it.
If you'd like to watch more style KINGS, don't miss Chase Hawk, Corey Walsh, Clint Reynolds and Kris Fox.
Do not forget to follow Matt on Instagram where you can find a lot of two wheels stuff and other lifestyle experiences.
Enjoy!
Featured photo by: John Wadlund.
Best Matt Cordova BMX Videos
1. Verde BMX 2022

Fine bowl riding, yes?
Whether riding concrete is your thing or not, it doesn't matter; you'll love what Matt just did in here.
Speed, style, flow, inverted table tops, can-cans, tailwhips, barspins, tire slides, it's all here and more. PLUS, Matt is no stranger to going really fast and high.
I love the sound of tires, bro!
I never really rode bowls in my life, but I still enjoy watching other dudes kill it shredding them, just like Matt Cordova.
Sit back, relax and get a dose of FAST in your blood.
2. Demolition Parts – Summerlition

Flow, flow and some more FLOW. Plus, a lot of speed and going high. This is eye candy.
Matt traveled with his friends, hitting up cement skateparks to produce one hell of a web video for Demolition Parts.
I don't even need to go too into detail about describing this video, listing down tricks and whatnot.
Everything is just clean, smooth and extremely enjoyable to watch – yes! – flow. WOW. (It even rhymes!)
There are also a bunch of extra clips from Dennis Enarson and Tyler Fernengel.
By the way, that pedal grind to tire slide thing was SO GOOD. (Yeah, I'm a street guy.)
I can easily watch this type of stuff on repeat.
3. Verde Fides frame promo

In late 2019 this video came out promoting Cordova's Verde Bike Fides frame. If you're a fan of stylish hauling around concrete skateparks, this is definitely right up your alley.
Matt has a solid and smooth style around bowls that a lot of riders are afraid of just to air.
There's also some pool riding in here before the video wraps up with Matt doing a perfect whip air on what appears to be a perfectly massive street quarterpipe.
The clip before the whip air is a RAD ONE as well. A manual to footplant 180 on a wild setup worth checking out!
4. Demolition MC Seat promo

Matt Cordova has a great love of motorcycles that led to his signature seat from Demolition called the MC Seat.
This seat was designed to mimic Matt's favorite motorcycle seat and it sure LOOKS GOOD. Here is a promo video for the seat that came out in mid-2016.
This one is over 4 minutes of shredding starting with Matt riding his motorcycle and catching a bit of air before moving to a concrete skatepark.
The song and vibe of this one go together so well with Matt's riding. We also get a nice look at the seat itself while Matt takes things to the streets for a good bit of the video.
5. 2016 Van Doren Invitational

Here is Matt's 1st place runs at the 2016 Van Doren Invitational. Matt absolutely blasts around the course; going insanely high and throwing in transfers and tricks the entire time.
Matt's momentum also continued throughout all of his runs the entire way through and it's easy to see how he ended up in 1st place in this one.
Tricks like his x-up one-footer to one-footed tabletop at height and his MASSIVE turndown transfer from one side of the bowl to the other also make his runs so enjoyable to watch!
6. Demolition "Up To Speed"

This video came out in early 2019 from Demolition BMX called Matt – Up To Speed. The video starts out with some riding in a concrete skatepark where Matt clearly feels at home before transitioning to some questions and answers from Matt.
We learn that Matt was working on some projects and had an unfortunate crash that ended up being pretty severe.
Luckily in hindsight, we know that Matt ended up being okay and having a FULL RECOVERY.
There's a lot more here than just riding as we learn everything from Matt's baking experience to his beard.
Check it out and learn a bit more about the shredder that is Matt Cordova!
7. Matt and Nathan in "So Cal Weekends"

Here is one from mid-2016 featuring Matt Cordova and Nathan Sykes called So Cal Weekends over on the Dig BMX YouTube channel.
This one is all about the trails and starts out at the F.O.D. trails where the two absolutely kill it!
That opening pendulum and 360 nac-nac from Matt were awesome and Nathan's turndowns and 360 lookbacks are so satisfying.
Matt has a mean 360 turndown himself and Matt's nac-nac just before transitioning to a different set of trails has to be mentioned.
It is so WILDLY extended that you just need to see it.
8. Matt and Larry Edgar at FOD

Here is a quick one featuring Matt Cordova and Larry Edgar at FOD trails.
When you think of these two names in conjunction with trails, you definitely think of huge air and style.
This is EXACTLY what they deliver and there's even some guest clips from Nathan Sykes and Matt's brother Joey Cordova.
Overall, there is a ton of style and tricks in here along with flow for days.
This one is definitely a must-see for the trail folks out there along with anyone really because anyone can appreciate the shred these guys produce!
9. Matt Cordova video interview

Vital BMX has always done a great job of interviewing different riders about much more than just riding.
Here is a perfect example of this in an interview with Cordova from April of 2018, just after he was welcomed to the Verde team.
Matt talks about a recent SURGERY that he was recovering from and his thoughts on 5 Dock and riding for Verde.
We also learn that Matt was in the process of getting a signature frame that we learn the origin of the name Fides for.
There's a lot of great talk and insight in just over 5 minutes so if you're a Matt Cordova fan, hit play!
10. Beyond Measures – Matt Cordova

Matt Cordova has been no stranger to interview-type videos throughout the years. This one however may be the one with the highest production value.
The video is very cinematic in its approach which isn't always the case in BMX so it is a very welcome departure from the norm.
The video opens up with a motorcycle ride before Matt begins to talk about his PASSION for anything with wheels and handlebars.
We learn a bit of Matt's history on two wheels and how he went from racing motocross to riding BMX as well as his day-to-day approach to life.
This is such a well-done video and there is also some trail riding through the end of the video so hit play and enjoy!
11. Summer Demolition web video

Any video that starts with a superman in the streets is bound to be a good one. The soundtrack keeps the video moving NICELY and fits Matt's riding perfectly as well.
Matt shreds everything from the streets to skate parks to pools and even some trails, which just goes to show how well-rounded he is as a rider.
A couple stand out clips were the completely backward nac-nac at the trails as well as the tabletop line and 540 footplant at the concrete skatepark.
There's even a roof drop in here!
Was this article helpful?
Disclosure: The BMX Dude's content is free & reader-supported. I may earn a commission if you click & buy through my links. Your support helps me create the best content & make a difference. Thanks! 🤘