Are you down for a dose of the best Rory McLean BMX videos, just as I am?
I could watch this dude ride 24/7 and still get excited to watch any of his videos again (even after eight days of watching nothing but Rory!)
Why?
It's all about his unique approach to bike riding!
But that's something I'm sure you're all familiar with.
Rory McLean Bio (short)
Rory was born on January 15, 1997, in Edinburgh, Scotland.
He has been enjoying himself on a bike since 2010 and rides for BSD, Vans shoes and Fuse protection.
Moreover, he says that some of his favorite riders to watch are Kriss Kyle, Simone Barraco and Trey Jones.
Also, his FAV bike travel destination is Barcelona, Spain. Isn't it everyone's?!
(But I'm currently in Sarajevo, Bosnia and Herzegovina, and the number of spots here is MENTAL!)
It's also great to see that Rory wears a BMX helmet almost always. (I think this comes from a pretty serious head injury that he had some time ago.)
Rory McLean Bike Check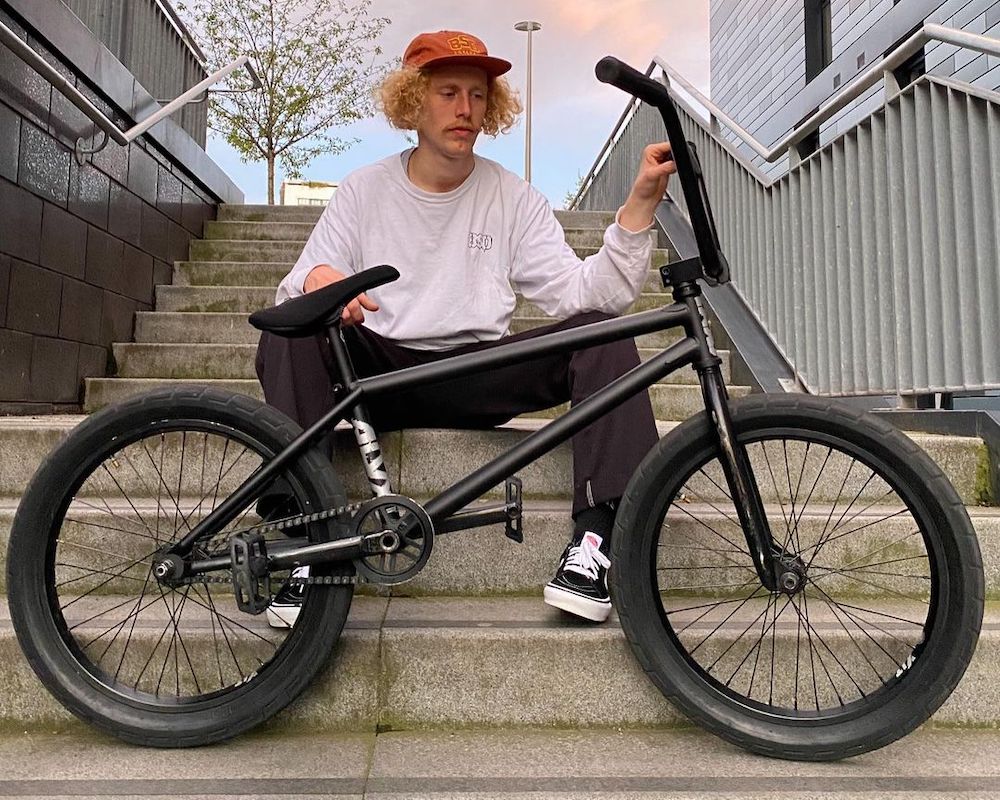 He is currently rocking Alex Donnachies's signature ALVX BSD frame (switched from Reed Stark's Safari frame).
Do not forget to follow Rory on Instagram if you like watching extremely original riding.
Featured photo from BSD "Progressive" video.
Best Rory McLean BMX Videos
1. BSD – Progressive

This is some NEXT-level stuff right here! Rory went to business at Unit23, The Loading Bay and Shred over the winter, and this is the result.
EPIC bike riding.
Rory does things differently.
He is a brakeless (okay, he sometimes has some fun with a brake) and pegless rider with a freecoaster who enjoys going really technical.
It's ridiculous how much bike control he has. Front and rear wheel stuff, grinds and more, you get it all in his "Progressive" video project for BSD.
BTW: The manual to hand plant 180 over the spine was nuts. Just like the wallride manual to 180.
2. BSD (2022)

If you follow Rory McLean on IG, you can see that he's doing a lot of skatepark stuff.
However, what I really like about this kid is that he's also no stranger to producing a really SOLID street video.
This is what I'm talking about.
Rory treats us to a great collection of creative street stunts that are unique to his riding style.
I won't even go into detail because you need to see it yourself to get the feel of how good Rory is on a bike.
But I'll mention that the last one deserves multiple rewatches. (I think even Rory is surprised that it worked out.)
3. Rory Mclean at Saughton park

As a massive fan of Rory, yes, I could watch his stuff repeatedly, not ever getting bored.
And by the way, I ride with all four pegs and enjoy griding the most, which is completely opposite to what McLean does.
Rory spent some time at the Saughton skatepark with Jacob Campbell, stacking clips for a BSD video.
If you need some more creative skatepark bike riding today, you MUST watch this one.
So. Good.
Is that a 540 to backlash 540 at the end?
4. KYS CREW (2016)

Let's take it back to 2016 when Rory was rocking three pegs! Another dose of Saughton park shredding that's slightly different from what Rory does today.
But some of his creativity was already present then.
It doesn't really matter if it's a new Rory McLean video or an old one; I have a blast watching them all.
And that's exactly what I'll do right now – rewatch all these best Rory videos – because I'm about to go out for a session and need to hype myself up a little bit.
I'm sure you'll also enjoy watching videos from some of Rory's BSD teammates:
Disclosure: The BMX Dude's content is free & reader-supported. I may earn a commission if you click & buy through my links. Your support helps me create the best content & make a difference. Thanks! 🤘