Are you searching for the best and comfiest BMX elbow pads?
Hurting your elbow is the worst.
The swell that forms, ah, I don't even want to think about it.
But you can easily prevent this with an elbow pad or sleeve.
I gathered a collection of the ultimate seven, varying from slimmer to a bit bulkier (but still super comfortable).
Something for everyone.
This post covers:
BMX and wearing pads is an ongoing debate.
My advice: Don't listen to what others say. Do the thing that feels the best, and if that means wearing pads – GO FOR IT!
QUICK PICK: My Favorite Elbow Pads
Best BMX Elbow Pads & Sleeves
1. Shadow Super Slim Elbow Pads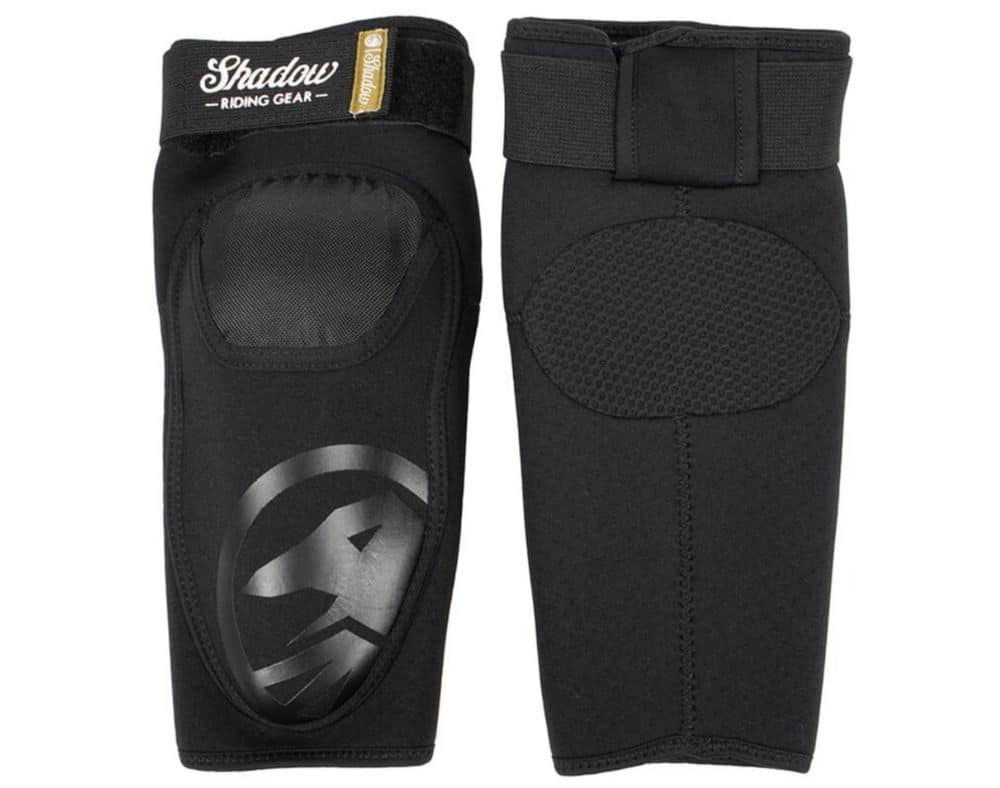 The Super Slim pads by The Shadow Conspiracy are for everyone who needs comfort but solid protection.
These offer a great fit and prevent slippage with the internal silicone print. But you can also secure them with the durable hook and loop closure.
While the profile is slim, the inner PU protector will keep you away from the "swell-bow," as Van Homan says it.
Whether you wear long sleeves and hoodies or T-shirts, you'll look good in these.
Price: $50.99 (may vary)
GET YOURS
2. Shadow Invisa Light Elbow Pads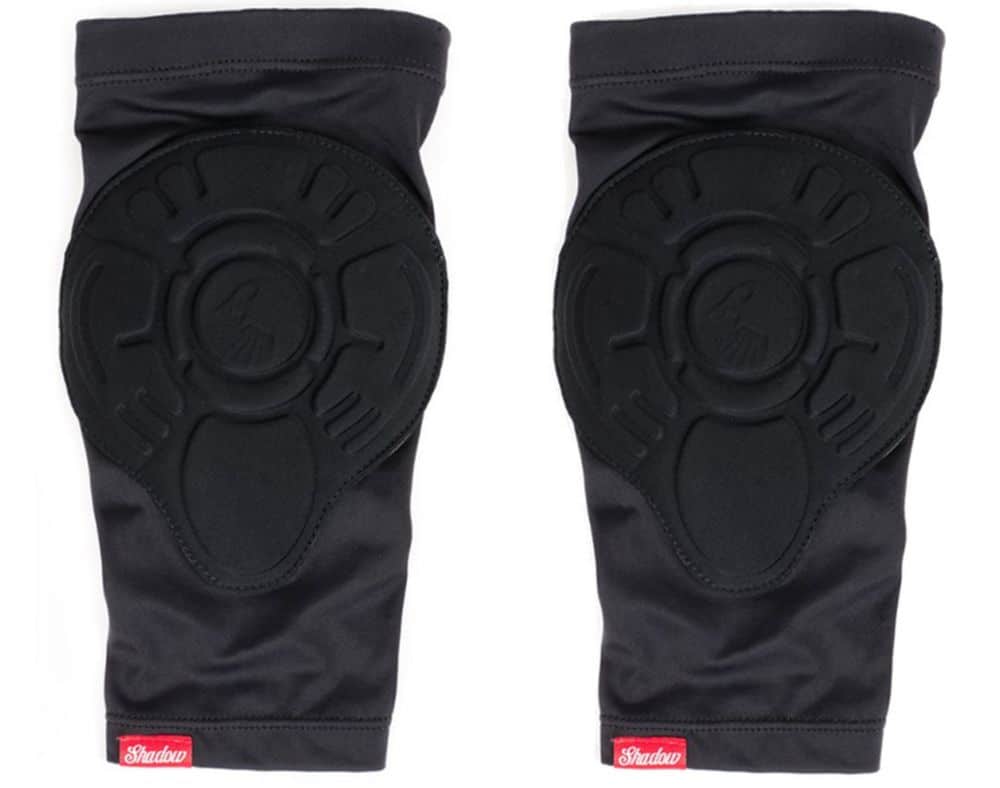 But if you really want to go minimalist with your elbow pads, then there's no better option than Shadow's Invisa Light pads.
You'll barely notice you're wearing these.
But before we continue, I do recommend buying two sizes because they tend to run a bit smaller. You can then send one back and keep the size that suits you best.
The Invisa Light sleeves feature a lycra/micromesh construction that feels better than a sock.
It also has a strategically placed tapered double-layer impact foam that will protect you from bruises.
Remember, pads with a plastic shell will offer more protection, but these are great for non-beginners.
My. Favorite.
Price: $34.99 (may vary)
GET YOURS
3. Fuse Alpha Elbow Sleeve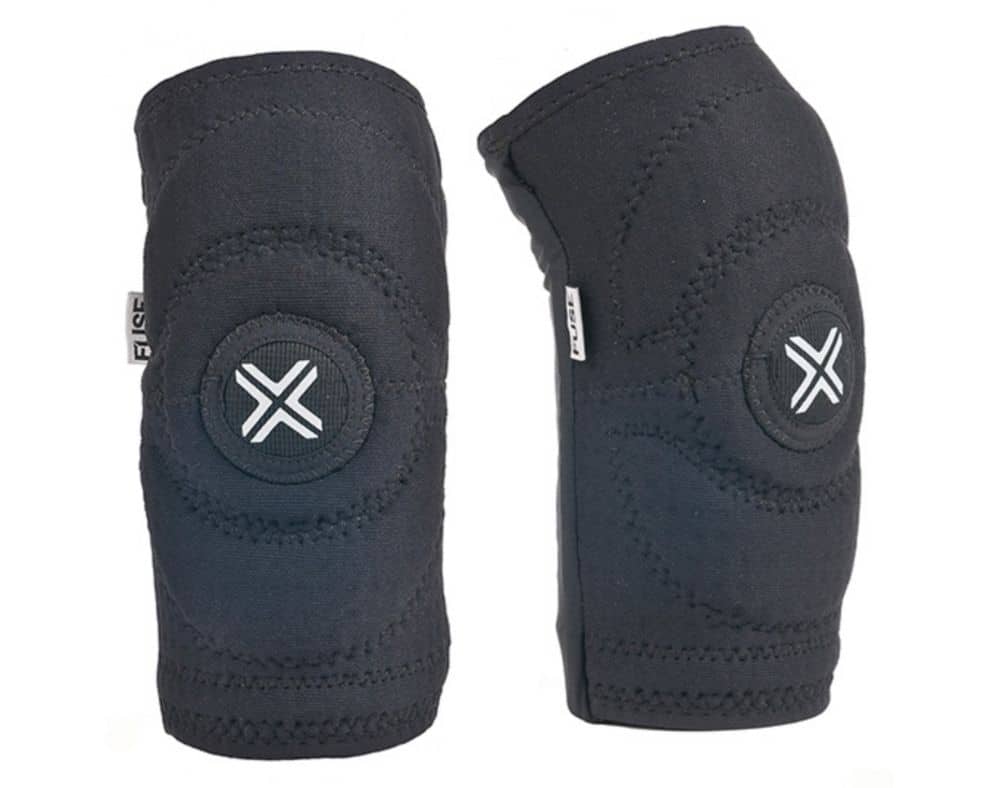 The Fuse Alpha sleeve has a similar style to the Invisa Light, just that these are slightly thicker.
They feature a perforated neoprene construction for breathability.
The outer part of the sleeve has an air plush lining and the internal a dual layer of lycra for comfort.
The EVA foam is ready to take the impact and protect your elbows from injuries.
I also like the internal sharkskin gripper that keeps the sleeve in place.
It'll barely need any adjustment during your hours-long sessions so that you can enjoy the riding.
Price: $35.99 (may vary)
GET YOURS
4. Fuse Delta Elbow Pads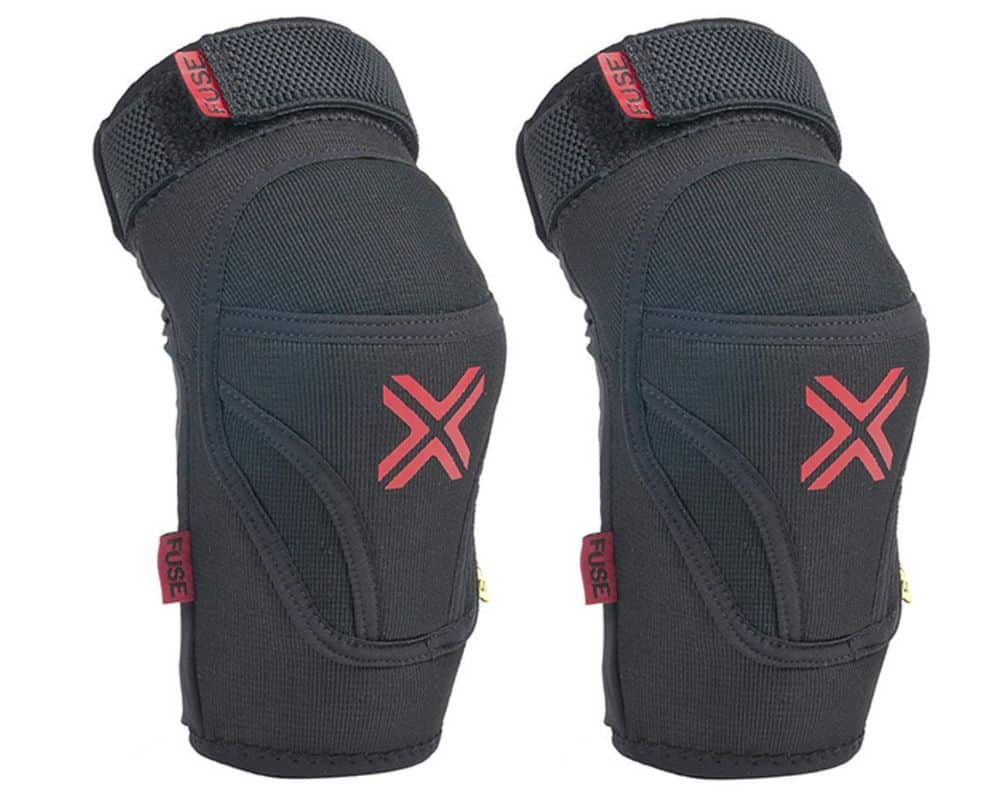 While the above sleeve is one of the slimmest Fuse offers, there are still many other great solutions, like the Delta.
The pads feature a perforated duratex neoprene structure with air plush lining in the front and double-layer lycra in the back.
Great comfort is guaranteed!
Deltas protect your elbows with their unique DFS foam under a polyamide soft cap.
Fuse dudes also added internal sharkskin gripper with a strap to keep the pads in place.
Note: You may want to go one size up because these elbow pads run slightly smaller.
Price: $46.99 (may vary)
GET YOURS
5. Fuse Alpha Elbow Protector Pads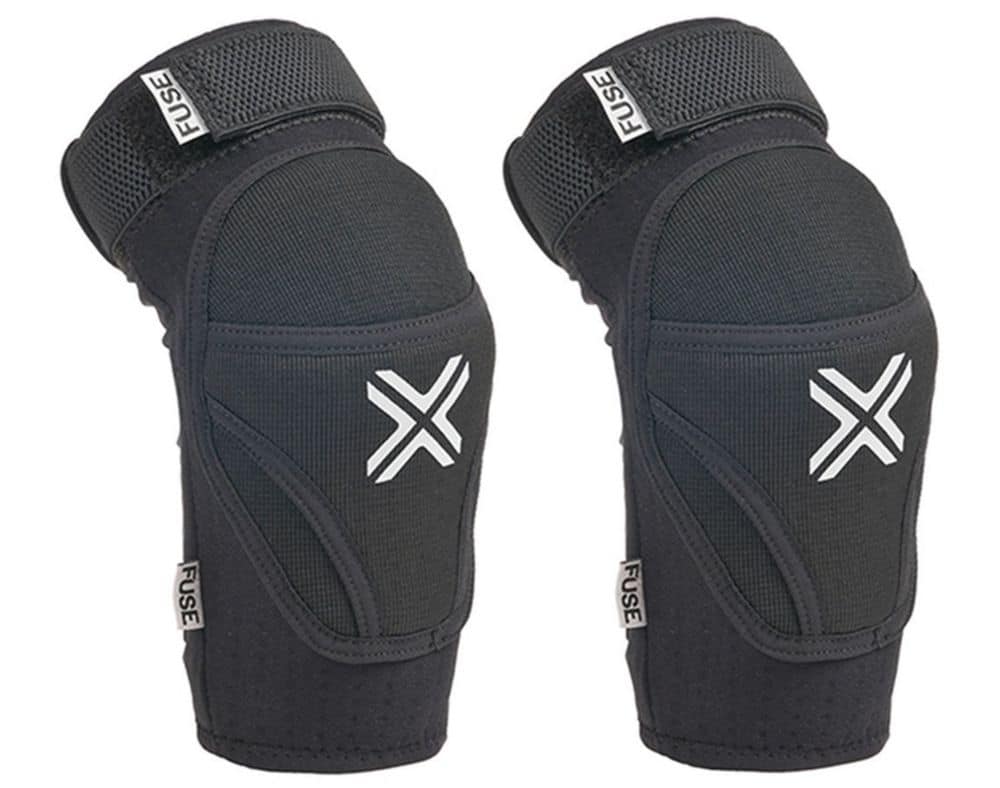 Similar to the Delta version, Alpha protector pads have a somewhat identical design but with different material.
But instead of the soft cap, Alpha pads feature a nylon hard cap with EVA foam for a more comfortable feel.
Alpha pads have a perforated neoprene, sharkskin gripper and a top strap to prevent annoying slippage.
The back side of the protector has a dual-layer lycra that won't cause uncomfortable skin rubbing.
Price: $41.99 (may vary)
GET YOURS
6. Fuse Omega Elbow Pads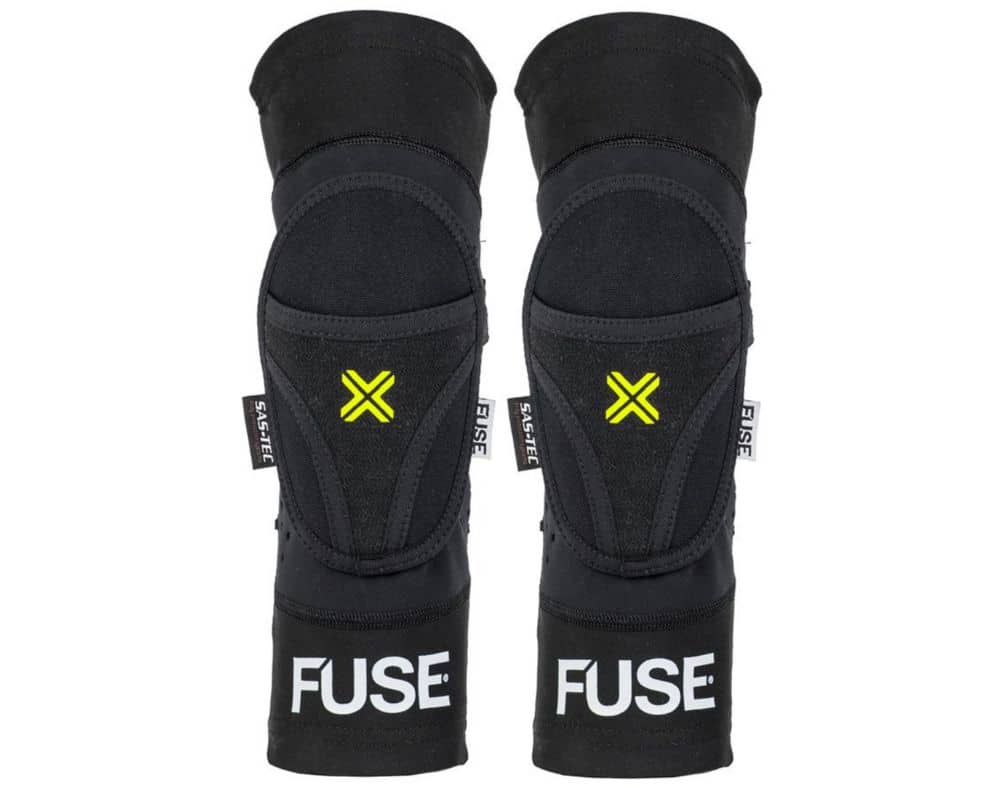 While the Fuse Omega pads are slightly pricier, the higher price tag comes for a reason.
These have a slim and comfortable profile that makes you forget you're wearing them after a while.
Something we all like when wearing pads, so we can focus on the riding, not the discomfort that the pads cause.
Omega pads have a breathable lycra and dry fit mesh at the back with soft air plush lining for additional ventilation.
The compression lycra with kenesio bands and sharkskin gripper keep these pads firmly in place.
For elbow protection, Omega pads use 30% lighter SAS-TEC insert that keeps them moving with you freely.
Price: $69.99 (may vary)
GET YOURS
7. Fuse Neos Elbow Pads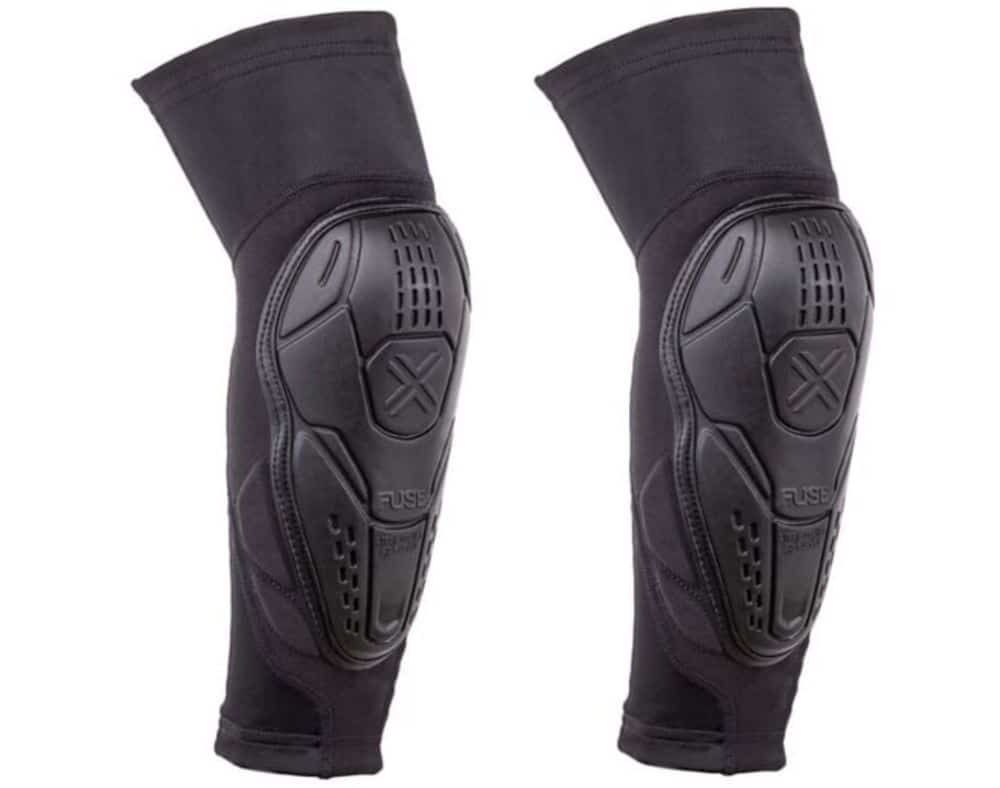 Fuse Neos pads are semi-minialist because of the large flex shield foam that covers the elbow and half of your forearm.
The slim profile is great, but the protection is even better.
The flex shield is an in-mold PU foam that was designed strategically to wrap around your elbow and arm for great fit.
And they kept the weight at a minimum because the flex shield is "above the pad" and not under multiple layers of additional fabric.
The strapless design is equipped with sharkskin grippers on the inside to keep the sleeve in place, so you can enjoy a more comfortable session on the trails, skateparks or streets.
Price: $64.99 (may vary)
GET YOURS
Do I Need Elbow Pads?
My answer is: Yes and No.
I definitely recommend using elbow protection if you're a beginner.
Heck, even if you're learning a super advanced trick with a high chance of falling on your elbows – wear pads.
Instead of hurting yourself and being out for weeks/months, put on an elbow pad.
You'll thank yourself later.
However, when you're getting more advanced with your riding – more confident if you will – then you may drop the idea of wearing elbow protection.
For instance, I don't wear it, but my riding style is such that it's not too risky.
Sure, I do fall and land on my elbows, but it's usually just a small bruise.
Conclusion?
Wear BMX elbow pads if you're just starting or learning hard tricks.
But it's entirely up to you whether or not to wear them later in your BMX career.
You may also want to check my collections of the:
Was this article helpful?
Disclosure: The BMX Dude's content is free & reader-supported. I may earn a commission if you click & buy through my links. Your support helps me create the best content & make a difference. Thanks! 🤘