Are you searching for the best, strongest and most reliable BMX metal pegs?
You can grind anything and everything with these.
Plus, you'll make a lot of NOISE!
I usually don't recommend buying the cheapest item, but I won't say you need to buy the most expensive one either.
However, it's different with steel pegs.
These are all reliable, although the price range can vary quite a bit.
But double-check if the pegs are sold as a single or a pair.
Quick post navigation:
"Everything is grindable with a metal peg." – The BMX Dude
Note: You may also be interested in my best BMX wax collection to ensure your grinding will be even smoother.
Best BMX Metal Pegs
1. Odyssey MPEGs

The Odyssey MPEGs are a solid pair of steel pegs that even Van Homan recommends.
They're both available with 14mm holes by default, but you get 10mm converters to fit both front and rear hubs. Available length: 4″.
Also, I really like that these have anti-spin pins, which allow you to rotate the peg three times. Yup, these will last you A VERY long time.
Weight: 246g (pair)
Price: $21.99 (may vary)
GET YOURS
2. Shadow Little Ones Peg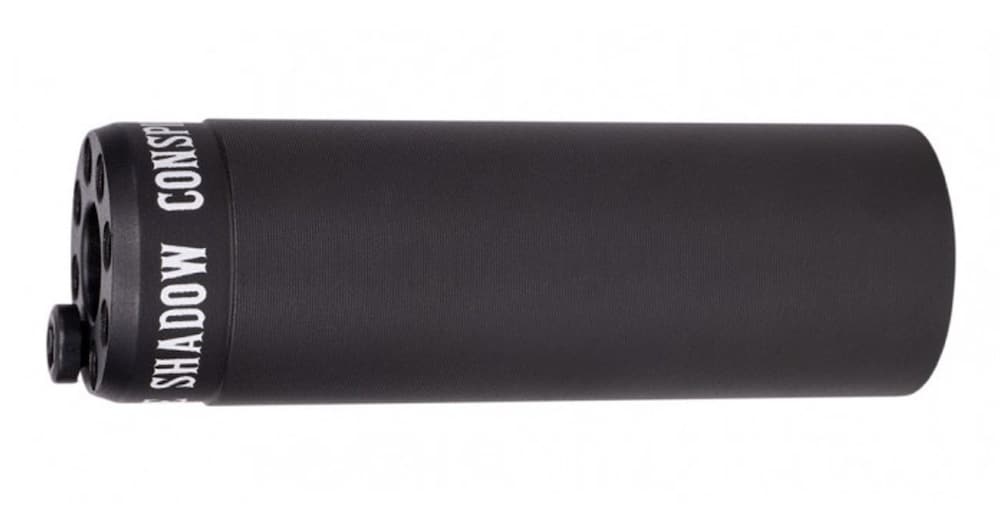 Shadow Little Ones pegs are for everyone who isn't a fan of large pegs, like I wasn't back in the days.
Fun fact: Simone Barraco is a fan of these, riding all four.
While they are one of the thinnest metal pegs available on the market, they still come in two lengths (4″ and 4.33″).
Weight: 154g (single)
Price: $20.99 (may vary)
GET YOURS
3. Mission Strafe Peg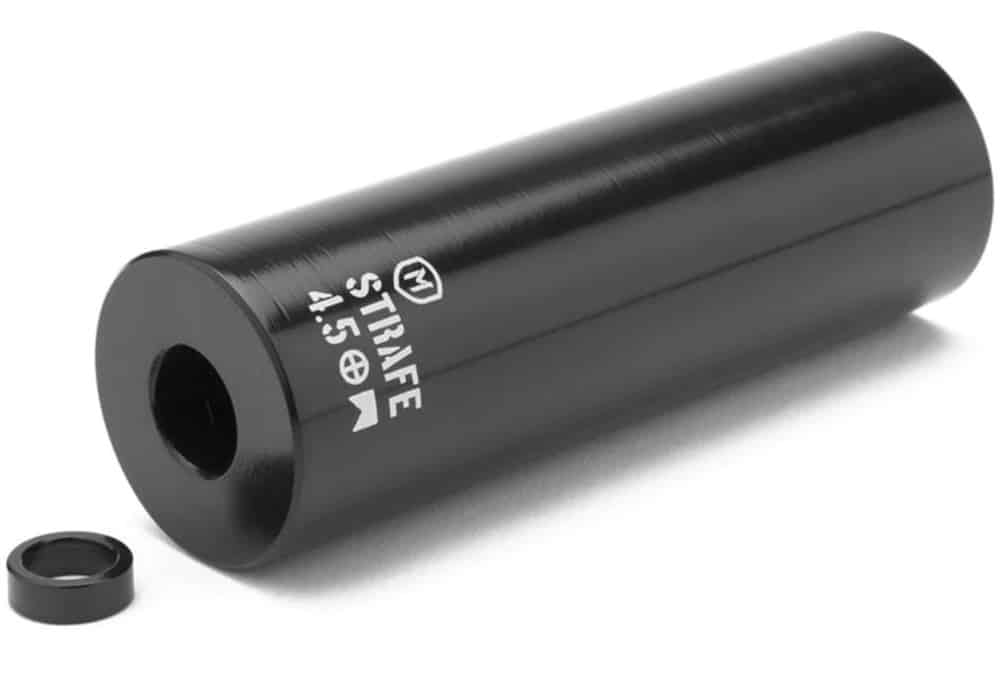 Mission Strafe pegs are very affordable but one of the heaviest that you get. They are straight gauge and that's why the low price.
These pegs are ready to grind the roughest ledges and smother rails if you don't might the extra weight.
Lastly, they come 4.5″ long.
Weight: 311g (single)
Price: $12.99 (may vary)
GET YOURS
4. Eclat Slot Machine Peg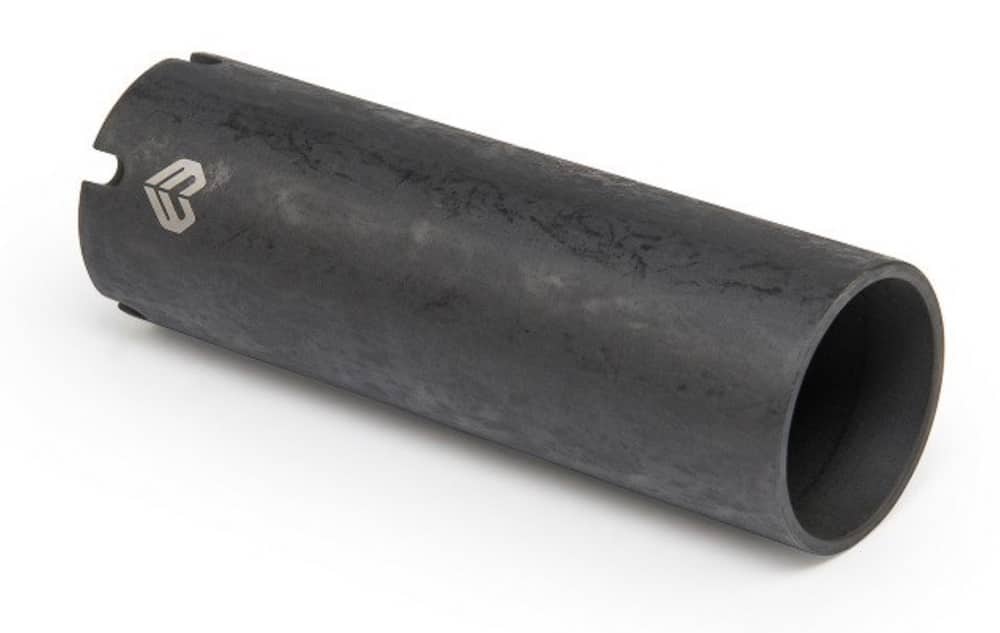 My friend Jacob rides the Eclat Slot Machine pegs for a very long time and still doesn't plan changing them just yet.
Yup, these things last.
Eclat guys strategically drilled holes and machine slots in it to make the peg lighter while remaining insane strength.
What's also cool about these is the option to pick either the 4.13″ length or 4.5″.
Weight: 179g (single)
Price: $20.99 (may vary)
GET YOURS
5. Cinema S45 Peg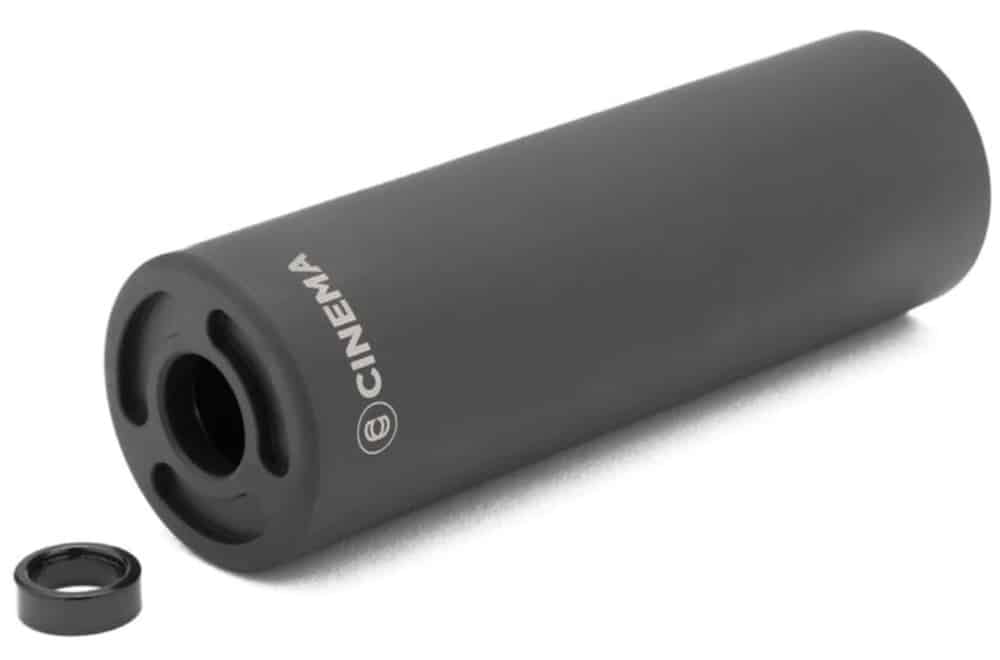 Cinema S45 steel pegs are mid-weight and feature a slightly larger diameter, which is something I really like lately.
These pegs are sold individually and only come in 4.5″ length. Also, every peg comes with a 14mm hole and 10mm axle-ready spacer.
Weight: 204g (single)
Price: $18.99 (may vary)
GET YOURS
6. Cult Doomsday Peg

If they hold Jaume Sintes and his insanely heavy grind oriented street riding, they they will hold everyone.
Cult Doomsday pegs are heavy-duty but with internal machining to keep the weight low. They're available in 100m and 115mm lengths and sold individually.
The 45mm outer diameter makes these pretty thick compared to most other BMX metal pegs.
Weight: 167g (single)
Price: $11.99 (may vary)
GET YOURS
7. Kink 2XOG Peg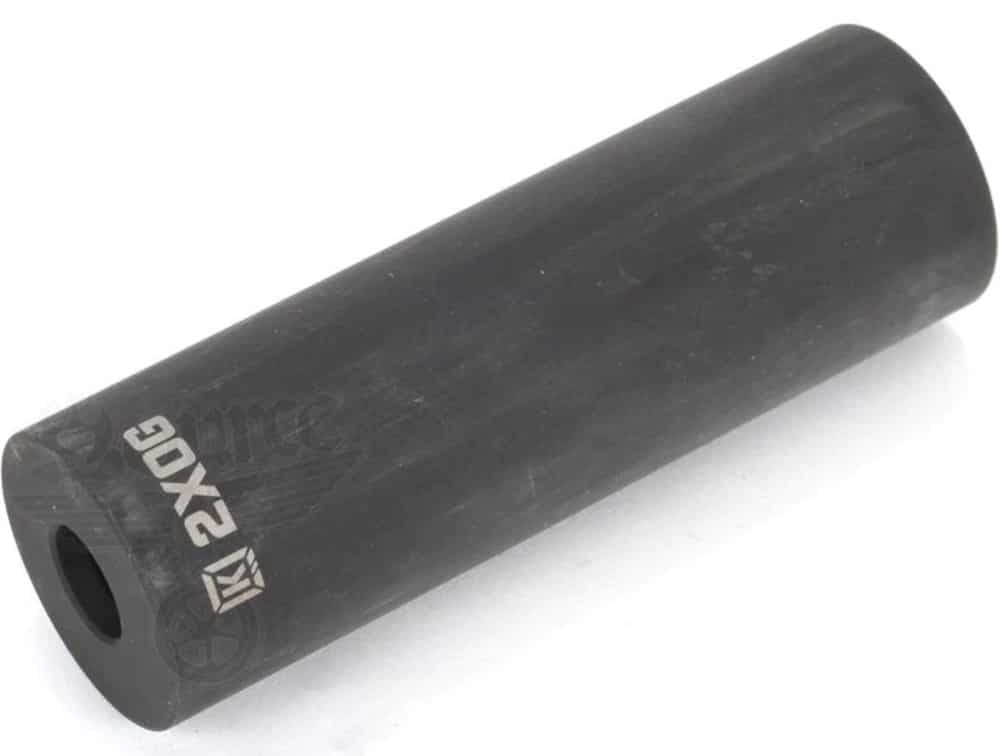 I've always been a fan of the Kink OG pegs, but I'm even more excited about 2XOGs.
These are forged, machined and heat-treated, guaranteeing extreme strength to hold even the most serious street riders.
Also, they feature a 4.5″ length, which is perfect for modern and technical street shredding.
Weight: 207g (single)
Price: $17.99 (may vary)
GET YOURS
8. Rant Slimmer Steel Peg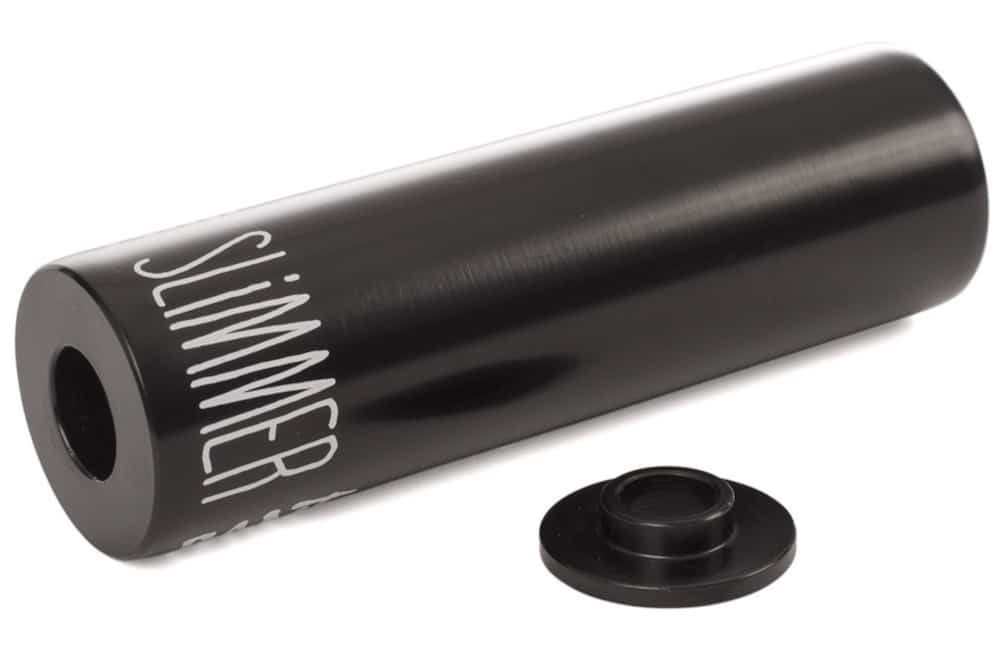 Rant Slimmer steel pegs are similar to the Little Ones, just that they are really affordable and a little lighter.
The diameter is 35mm and the available length is 4.3″.
Rant's Slimmer pegs are really solid for a lower price range.
Weight: 150g (single)
Price: $9.99 (may vary)
GET YOURS
9. Daily Grind Eon Peg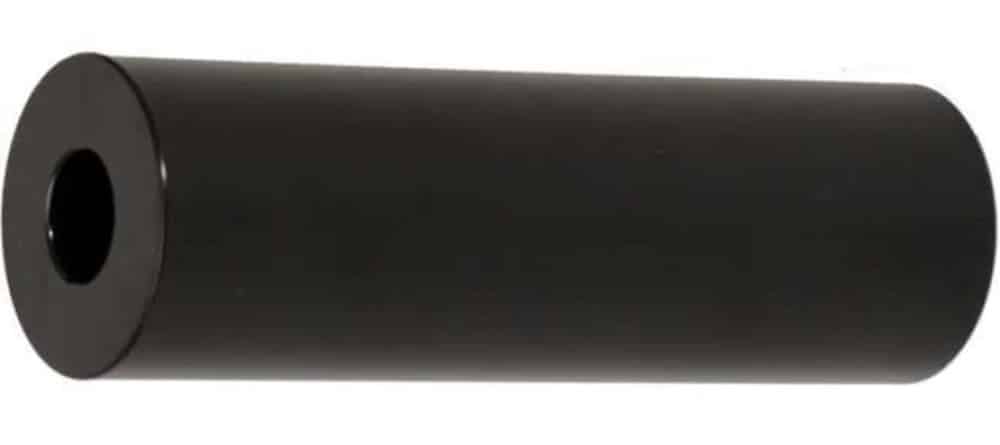 You know what's up if you run a brand with "grind" in its name. The Daily Grind Eon peg keeps things simple and extremely strong.
Without any fancy stuff, this peg is on the heavier side, but that's OK because you're safe to grind as much as you want, and when you're done, you can grind some more.
This steel peg is ready for heavy abuse!
Weight: 243g (single)
Price: $19.99 (may vary)
GET YOURS
10. Jet BMX Cr-Mo Pegs (Cheapest)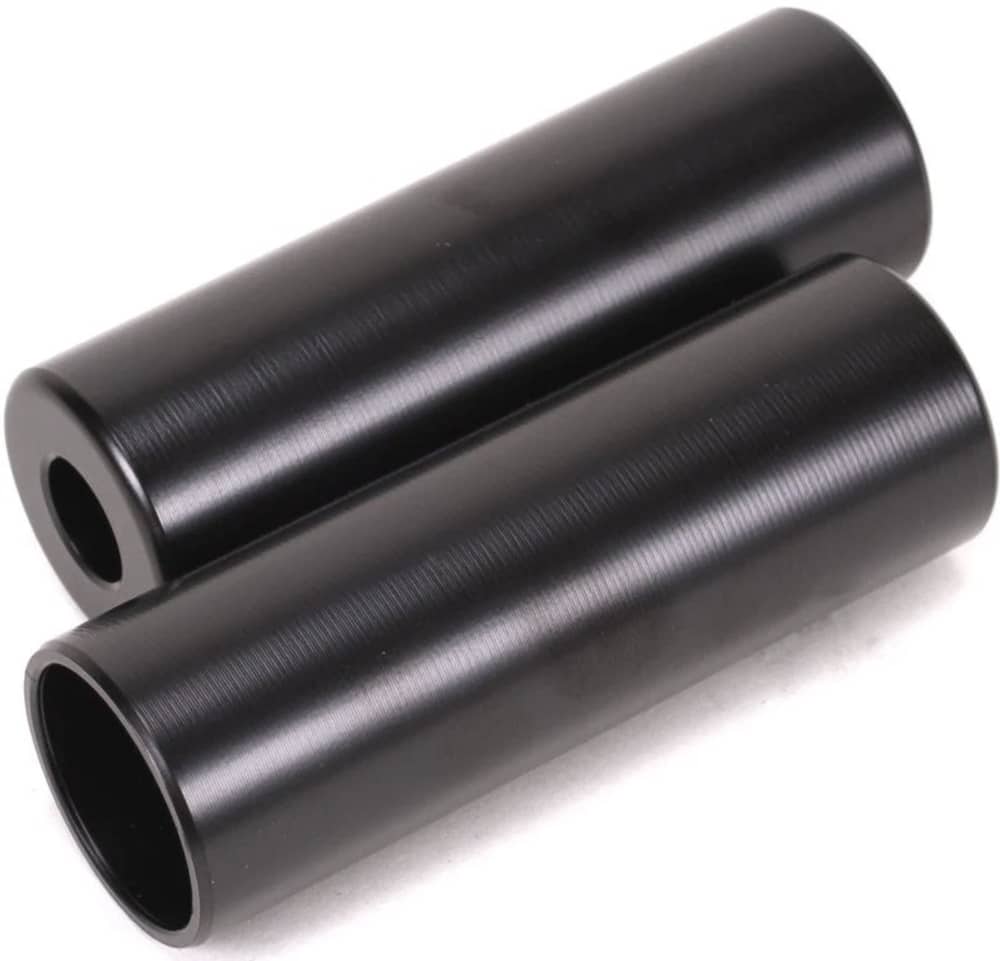 Most pegs on this list are a lot more expensive sold individually than a pair of Jet BMX's Cr-Mo pegs sold in pair.
They are pretty thin at 34mm in diameter and come in one length (4″).
But what I especially like about these are the rad colors they come in (although I still prefer the black ones the most). You can get the pegs in blue, purple, red, gold and black.
Weight: 246g (pair)
Price: $13.95 (may vary)
GET YOURS
11. BSD Hubba Peg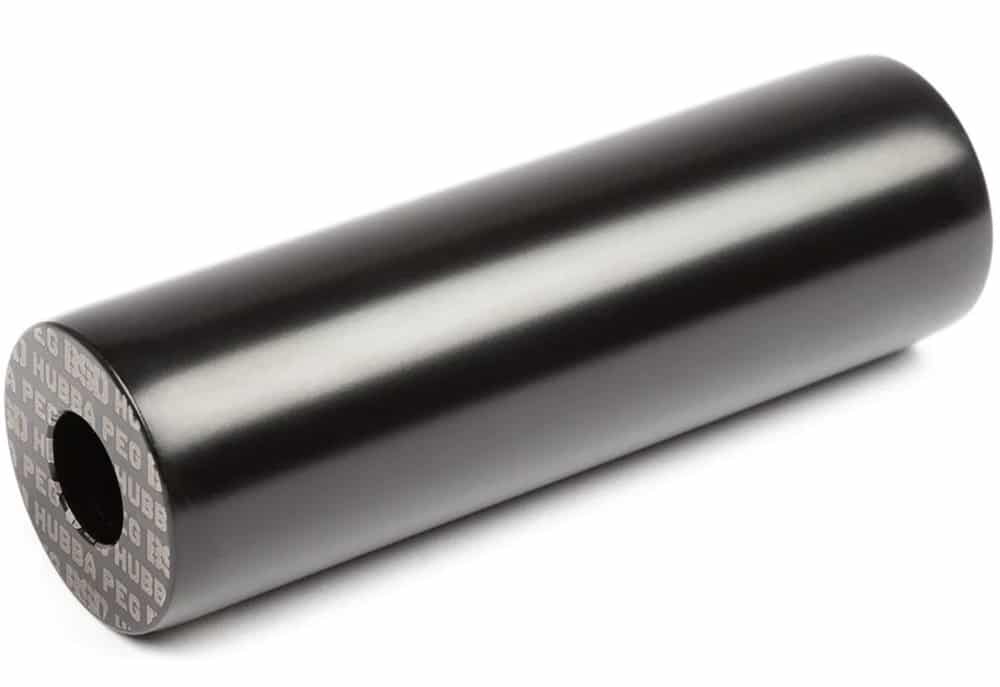 What I particularly like about BSD's Hubba peg is that it comes at a 4.4″ length, which is perfect for locking yourself on ledges and rails.
And it also helps with crooked grinds and opposite stuff.
The peg is available in black only and comes in 14mm and 10mm sizes.
Weight: 158g (single)
Price: $15.99 (may vary)
GET YOURS
12. Fiend Belmont Peg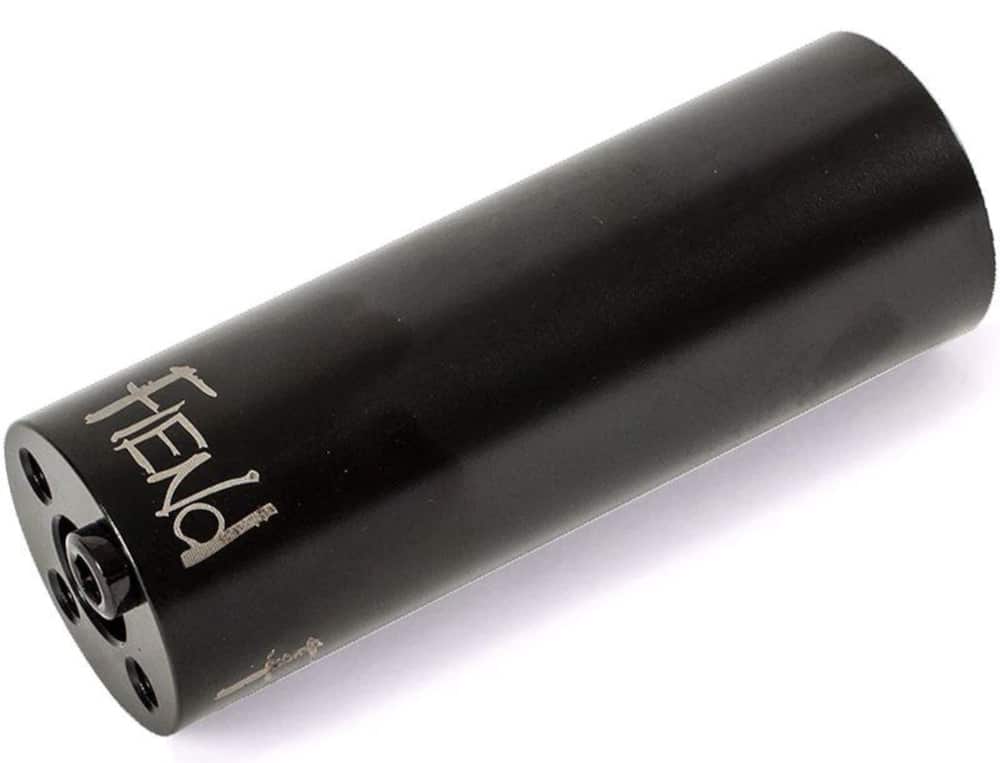 The Fiend Belmot peg is one that will probably last you the longest.
It's made of Chromoly with machined inside, plus it features four position anti-rotation pin, which will keep your peg in place but also allow you to rotate the peg, so you don't grind through it.
What about length? 4″.
Weight: 190g (single)
Price: $17.99 (may vary)
GET YOURS
What Are The Best BMX Steel Pegs?
After doing a ton of research, testing and talking to dozens of riders, my all-time-best metal BMX peg recommendation is the BSD Hubba peg.
But if you would like to purchase pegs in pairs, then go with Odyssey MPEGs.
What To Look For When Buying BMX Metal Pegs?
You need to pay close attention to two key factors when choosing the best steel pegs for your BMX bike.
Weight: Some BMX brands sell pegs in pairs, so that's why the weight may be surprisingly high. I advise checking the peg description/features twice to ensure the weight is for a single peg or a pair. Also, I wouldn't bother too much about weight when it comes to steel pegs – they're generally just a lot heavier and will also last you a lot longer than BMX plastic pegs.
Price: Similarly to weight, because some pegs are sold in pairs, the price will be much higher than the rest. But once you see it's for a pair and you do the calculation, yup, it can actually be a lot cheaper.
Frequently Asked Questions About BMX Pegs
What pegs are best for a BMX?
It depends on the style of riding you do. Heavy street riding requires metal or plastic pegs. Skatepark riders prefer plastic pegs or light steel or alloy pegs. Flatland riders opt for aluminum or plastic pegs (with ridges).
Are all BMX pegs the same?
No, three types of BMX pegs are available: metal, alloy and plastic.
Are BMX pegs universal?
Yes, BMX pegs are universal, offering two options: 14mm axle for rear BMX hubs and 10mm axle for front BMX hubs.
But you can also check my full guide on whether BMX pegs being universal or not.
What side do BMX pegs go on?
There's no one-rule-fits-them-all when choosing the right side for your pegs. But in general, if you're right foot forward, your dominant grind side will be on the right and vice versa. But you can also ride all four pegs or two in the front and one in the back.
Can you stand on BMX pegs?
Yes, any type of BMX peg is strong enough to hold you if you want to stand on it.
Was this article helpful?
Disclosure: The BMX Dude's content is free & reader-supported. I may earn a commission if you click & buy through my links. Your support helps me create the best content & make a difference. Thanks! 🤘