Do you want to enjoy a dose of the best Mike "Hucker" Clark BMX videos?
Are you into dirt jumps and trails? Perfect.
Hucker has been in the BMX space for a very long time now, and it looks like nothing is stopping him.
Even though he is a family guy, he is still on ABSOLUTE fire.
One thing that makes Mike stand out from everyone else is his originality and uniqueness. In short, there is none out there like Hucker.
Sure, some guys are pulling insane trick combos, still, Hucker is Hucker.
Even though Mike does it best on trails/dirt jump, Hucker is a beast at bowls and skateparks, too. Heck, he is even no stranger to pulling a double peg on a handrail.
Where does the nickname Hucker come from?
Apparently, he used to be the sketchiest trail riders of the bunch. Everyone just wanted him to go home when he came.
Still, Hucker had the balls to send it big over jumps he could barely clear. He hated it at first, but it stuck.
Mike is doing is for S&M, like Mike Hoder, as well as for Oakley, Red Bull, ODI, Demolition Parts, Vans Shoes and the list of sponsors goes on.
GRAB MIKE'S SIGNATURE PARTS NOW:
Besides doing bike stuff, Mike is also A FAN of surfing, fishing, skating, diving and more.
Do not sit on it, instead, give Hucker a follow on Instagram right now. This dude is full of fun stuff, so you know you will have a good time.
If you are into versatile style kings, you should also not miss checking out videos from Sergio Layos and Stefan Lantschner.
Featured photo by: Takafumi Uchida.
Best Mike "Hucker" Clark BMX Videos
1. S&M Built Different Part

If only this one would be a minute (or three) longer. It's always such a pleasure watching Hucker shred, and here's his part from S&M's "Built Different" video.
While the video primarily features dirt jumping or trail riding, whatever you want to call it, Hucker still touches some street and park.
But what will make you go WOW is the last 360. It looks HUGE on camera, but I'm sure it looks even bigger in person. It almost seems like the three is filmed in slow motion.
Go Go HUCKER!
2. Demolitoin – What a Huckin' video part

When it's time for a new Hucker video, you know exactly what to do. WATCH IT.
Mike is definitely one of those riders who has a ton of bike control but does things differently. Also, he doesn't have a problem riding and killing it on all-terrain. (That street front flip was wicked.)
This new Demolition video was in the works for a good minute. It came out ridiculously good.
Half of it is riding and half of it is riding but extra shots and b-rolls. He never disappoints.
You'll enjoy this one – it's a guarantee!
3. Day in the life of Mike Ep 1

Chances are, you've probably heard about Hucker's wild life or stories. This video from Demolition follows him for A Day In The Life Of Mike "Hucker" Clark as episode one in a series.
It starts in the early morning hanging out watching TV and making a school lunch for his girlfriend's daughter.
Next is where we get into the BMX. It starts with a session at the Oakley trails set to a song that gives a mid-school vibe.
The song makes the video feel that much more awesome. Next up Mike and Kris Fox visit a reptile zoo for some animals and stories before heading out surfing.
So if you've ever wondered what an average day in Hucker's life is like, this one's for you.
4. Day in the life of Mike Ep 2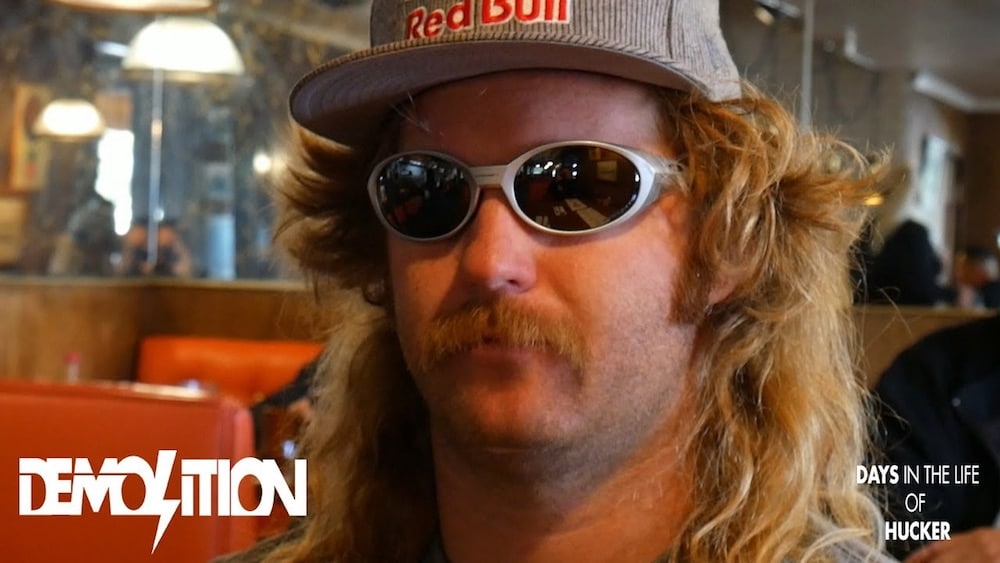 This video is episode 2 of Days In The Life Of Mike Clark and came over a year after the first episode, which if you haven't seen, you'll definitely want to.
This time we start with a look at Mike's bearded dragon, then some breakfast before visiting Dennis Enarson to have a session at the infamous Clairemont skatepark.
Once into the riding, this one has a similar mid-school vibe to the riding than in the first one that is sure to get you hyped.
The session ends with Dennis doing a massive over pedal stall on a giant sub rail – then the guys visit the ocean.
The day winds down with a podcast recording where we are met with a "To Be Continued…"
Unfortunately, you can only watch this one on YouTube.
5. S&M bike building with Mike

Hearing riders talk about their bikes and getting some insight about the different parts/geometry choices is always awesome.
In this video, we get just that from Mike as he builds his hot pink signature frame from S&M.
This video is one from S&M's "Grilled" series where riders are asked questions while building or working on a bike.
We learn where his nickname Hucker came from as well as other things like who his BMX idols were growing up.
This one is 23 minutes long with a ton of great questions and is definitely enjoyable throughout.
6. Hucker's S&M "Hot Dogs" section

Clark's section from S&M's full-length DVD "Hot Dogs Who Can't Read" has everything from skateparks, trails to street where he absolutely kills it.
Back rail abubacas and fufanus, bar rides, hang fives, cliff hangers, and front flips are just a sample of what's in here.
This video part shows how much Hucker's riding/attitude is the epitome of freestyle in BMX.
Mike is such an entertaining rider and person that it feels like anything he is a part of is a great watch, and this part is no exception.
7. How to Hang 5

Okay, this is not a web video per se, but since hang 5 is such a fun trick that everyone can learn and play with, I wanted to add this cool how-to from Hucker himself.
Why? Because Hucker is one of the best hang fivers around. (See some of the clips in this how-to if you don't know what he's capable of.)
Get the tips and tricks you need, and you can start balancing on that front wheel TODAY. (It's actually way easier than you think.)
8. A new perspective with Hucker

It's not very often that we see BMX from a totally different or new perspective than has ever been seen before. In 2017 Hucker teamed up Ryan Fudger and the late Ride BMX to give us exactly that.
This video is called BMX From A New Perspective – Mike "Hucker" Clark, and even from the beginning, we see a totally new look at a BMX video.
The concept was to place a GoPro on a bike in unique ways for unique angles of BMX tricks that Mike regularly does.
There are so many awesome angles in here and some filming that we are used to for context, which is definitely one that anyone can appreciate.
9. Re-Roasted with Reynolds, Aquizap and Hucker

This video called Re-Roasted from S&M features Clint Reynolds, Matty Aquizap, and Mike "Hucker" Clark with some leftover footage from the "Hot Dogs Who Can't Read" video.
It starts in the trails where Clint and Matty do what they do best and go absolutely HUGE!
Hucker's part in this one has street, skateparks, and trails in it and would not be complete without one of his signature bar rides around the entire Volcom skatepark in California, which was the first try, by the way. All three of these guys rule!
10. Vans – Welcome to the team

In early 2013, this video welcomed Mike "Hucker" Clark to the Vans team. It starts out with him telling the story of how he got his nickname Hucker.
As he tells the story, the video is a story in itself as he does bar rides in a ton of different places.
Mike also rides trails in here, and from the vibe of the song to the camera work and editing, this is definitely different from the average welcome video.
Such an awesome watch.
11. GoPro run at X Games dirt jumps

Have you ever wanted to know what it feels like to ride dirt at X Games? Mike "Hucker" Clark and GoPro had you covered back in 2014 for a POV tour riding the course for X Games Austin that year.
There are also other camera angles in here but seeing the course through Hucker's eyes, even if just for a moment, is definitely awesome.
As always, Mike killed it riding the jumps.
And of course, even in an X Games dirt course preview, we have to have a bar ride in a video from Hucker, which is exactly how this one opens.
12. ODI Grips – Welcome to the team

Even though this is from 2014, you know it's about Hucker, which means it's going to be crazy good. From riding trails and skateparks,
Hucker knows how to destroy it all with his originality and insanity. Mike is definitely not your average BMX rider, as he always does things his own, creative way, and that's what's so special about him.
In the clip, you will find a few ridiculous frontflips, 720s and even backflip combos.
To top it all up with Hucker's style, he ends the welcome to the team video with a wicked bar ride around the park.
You may also be interested in my collection of the best BMX grips.
Was this article helpful?
Disclosure: The BMX Dude's content is free & reader-supported. I may earn a commission if you click & buy through my links. Your support helps me create the best content & make a difference. Thanks! 🤘