Do you want to watch the best Andrew Castaneda BMX videos to enjoy street riding and steeze?
ME included.
But even though Andrew is more tech-oriented, he's still no stranger to pulling some burly stunts. The dude is full of goodies and full of surprises.
Andrew also knows how to balance on the front wheel very well and pulls some of the craziest crooked grinds.
We even have a behind-the-scenes video of Andrew pulling a 20+ stair crook – WILD.
Andrew Castaneda Bike Check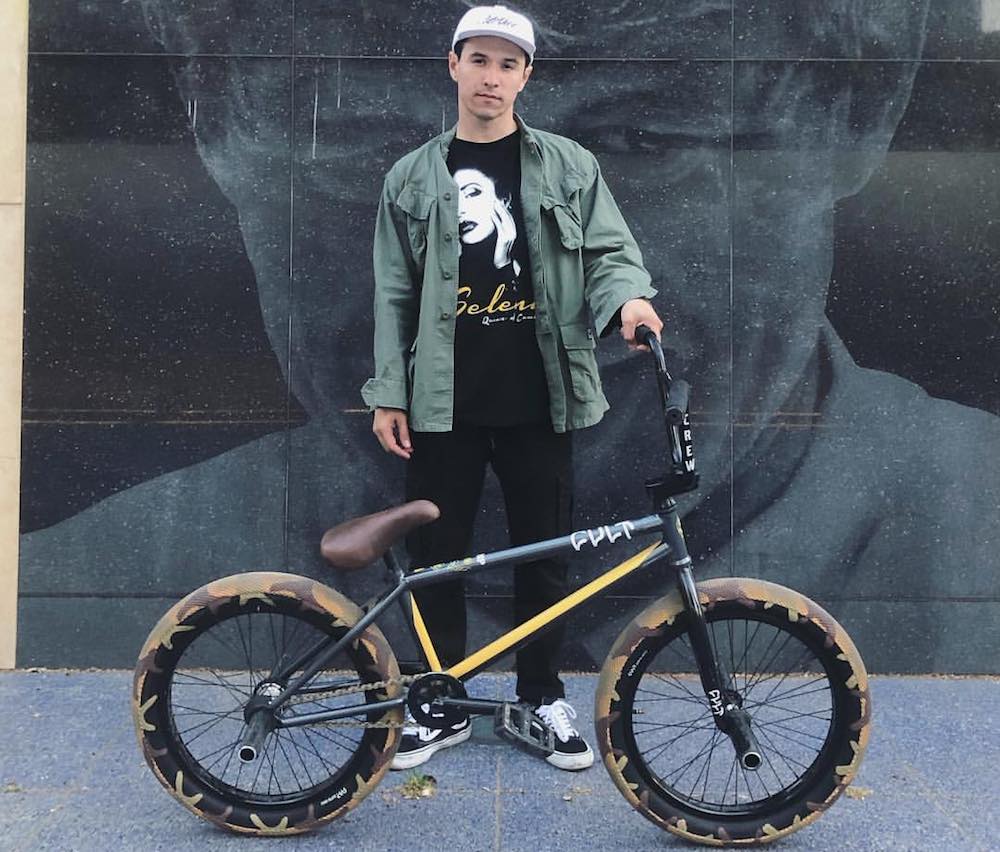 At the time of writing this, Andrew is doing it for Cult Crew and Animal Bikes. You know these two brands fit his riding and style perfectly well.
Speaking of which, if you would like to watch some more street assassins, don't miss Castaneda's teammates:
Make sure you follow Andrew on Instagram for tons of street stuff (and some park) and show him some love.
Featured photo by: Jeff Zielinski.
Top Andrew Castaneda BMX Videos
1. Cult "It's Later Than You Think" part

Here we have Castaneda's part in Cult's 2019 full-length "It's Later Than You Think."
Andrew's part starts with a pretty funny but wild clip in a half cab off a roof to an immediate flat tire.
From here, things get jibby very quickly with his technical grind fusions like a predator grind to wallride and so many other combos far TOO COMPLICATED to list.
Andrew also shows us his clean table skills here with the last clip that'll surely please the BMX steeze gods.
2. Cult "Small Talk" part

Sections from Cult's 2014 full-length DVD "Small Talk" hit the web in late 2014. Among those sections, you can also find Andrew Casteneda's name.
His part starts with a feel-good song and b-roll to get the video going as Andrew gets EXTREMELY tech on everything he touches!
From a grind combo to a lengthy nose manual to a line that begins with a tailwhip up some stairs and ends with an ice pick grind to barspin.
Andrew shows he can hang and why he deserved this part in the video!
3. Animal "FACTS" video

Andrew Castaneda was welcomed to the Animal Bikes pro team in early 2017 with this video called FACTS.
The video starts with a crispy and lengthy crooked grind on a rail.
Andrew's TECH riding skills are on point and on display with this. The song choice most definitely fits his riding style very well.
He also has an eye for different setups for bumping his tires off differently, making his parts even more entertaining as we never know what is coming next.
Also, that rail hop table was so rad!!
4. Andrew Castaneda for Cult (2014)

The video begins with a couple of huge grinds, both regular and opposite in a feeble and a smith down sizable ledges.
The grinds continue from here with both burly and technical setups.
The soundtrack also has a nice vibe that goes well with the riding and helps keep things entertaining moving forward.
It's always COOL to see riding from a rider's past and how they develop through the years.
5. Cultivate Vol.1 section

Andrew Castaneda's section from Cult's Cultivate Vol.1 perfectly displays technical and aesthetically pleasing riding.
Everything he does is smooth and well done, making his videos always enjoyable to watch.
The trick choice here is fantastic, with combos like pegs on a roller coaster rail to hop over a toothpick using both rails at the end.
Another trick that STANDS OUT is the tooth hanger up a pretty long ledge! Oh, did we mention this came out in late 2015?
These moves were AHEAD of THEIR TIME.
6. Vans X Cult Colab V3

The Vans Shoe X Cult collaboration BMX shoe in 2016 came with a promo video featuring the riding of Andrew Castaneda.
The video starts with a nice b-roll of the shoe before opening, with Andrew doing a long tooth hanger grind on a curved ledge.
There are a few tooth hangers in here that really show how much BALANCE this dude has!
Also, the ease Andrew does grinds on surfaces that should not be so easy to grind is incredible.
This one has definitely held up to the test of time!
7. Andrew's crooked grinds FAILS

Here we have a bit of a behind-the-scenes to the last clip in Andrew Castaneda's Cult video from 2014.
The setup is just an absolutely massive 24 or 25 stair rail that Andrew did a crooked grind on.
With so many gnarly slams, it's safe to say that he earned this one and, in the end, he laced it perfectly – using the entire length of the rail in the process.
To THIS DAY, this may be one of the BIGGEST crooked grinds ever done! If you've seen a bigger one, let us know!
Was this article helpful?
Disclosure: The BMX Dude's content is free & reader-supported. I may earn a commission if you click & buy through my links. Your support helps me create the best content & make a difference. Thanks! 🤘