I finally gathered all the greatest Brian Kachinsky BMX videos in one location.
For YOU!
Brian is not your ordinary shredder. He has been in the industry for a long time and will soon approach his 40s.
BUT. BK is STILL killing it.
Brian's other specialty is traveling. He has already visited over thirty countries, and I see no sign of stopping for him.
BMX + traveling, what else do you need in life?
Let's enjoy ourselves in some insane riding and RAIL murdering from Brian.
Note: BK is no stranger to slamming (really) hard. His videos include some of his biggest crashes.
However, this doesn't stop him. Brian gets up and pulls the trick!
If you'd like to watch some other "older" BMX dudes kill it, don't miss Van Homan, Brian Foster, Gary Young, Aaron Ross and Corey Martinez.
Do not forget to follow Brian on Instagram for BMX, father, travel and other exciting stuff.
Featured photo by: Daniel Kelleghan.
Best-Of Brian Kachinsky Videos
1. Seriously fun by GT

In 2017, GT came out with its first full-length video in many years, and Brian had the opening part.
Brian's part opens with a MASSIVE gap before some gnarly crashes and intro clips.
Once the video introduces everyone, Brian's section starts, and man, is it a wild one.
Brian is known for going huge, which he does many times over, hitting a nice mixture of tech and the dead man setups he's known for.
Nollie pegs down a 30-foot concrete ledge – Yea, BK is the man!
2. Welcome to Vans

Brian Kachinsky was welcomed to the Vans Shoes team in 2014 with this quick 2-minute welcome video.
The video has a pretty chill ambient song that contrasts Brian's absolutely INSANE riding perfectly.
The build up of the song also comes to a perfect crescendo as the riding gets crazier and crazier.
It leads up to the ender clips of BK doing a second stage gap to rail regular and opposite!
This video may have come out in 2014 but it could have come out today and still be just as crazy.
3. Street shredding from 2014

Brian Kachinsky has been an absolute SAVAGE on his bike and has come out with banger video after banger video for many years with no signs of letting up.
This video from way back in 2014 is a quick one, but don't let that 2 minutes 19 seconds run time fool you; it goes hard!
The video opens immediately with a gap to the second stage rail and proceeds to stay insane throughout.
The awesome thing about BK's riding is that he mixes things up quite a bit and enough that you just never know what might come next.
From massive rail and ledge setups opposite and regular to a nice technical setup, Brian kills it all.
4. Brian Kachinsky does Russia

Here we have a video of Brian Kachinsky riding in Russia from mid-2013.
The video opens with a perfect example of the INSANE second stage rails Brian is known for.
This one is more of a vlog-style video with some behind-the-scenes footage from different spots in Russia that is a bit more talking than it is riding.
Don't let that stop you from hitting play, though, because there is a lot of great insight from Brian and Alexander Soholay here.
Alexander is one of the first BMX riders from Russia, so the cool factor alone is enough to check this one out!
5. Brian & Sullyvan Guaincêtre in Lyon

In this one, Brian Kachinsky is all the way out in Lyon, France to meet up with new and fellow GT rider Sullyvan Guaincêtre for four days of filming and street riding.
As most videos with Brian Kachinsky do, this one starts with a nasty crash on an insane before the insanity that is BK is unleashed.
From there, Brian handles the BURLY while Sullyvan gets super tech with tricks like lucky to hard 180 and feeble up to nose 180 out.
Sullyvan also does a really wild 180 to fakie on a very hard-to-explain setup down a stair set that is a MUST SEE.
6. Brian escapes to Nowhere

For this video that came out in late 2014, Brian Kachinsky landed at LAX and then went east into the high desert to ride new spots and "explore the road less traveled."
It seems like Brian could go to the moon and still ride a second stage handrail to grind regular and opposite!
This one is fast-paced and Brian hits a plethora of rails throughout.
A couple of particularly AWESOME clips were the 180 to fakie ice tooth bonk out and the high-speed stairs/fence gap.
This one is a must-watch for any Brian Kachinsky fan!
7. Props Issue 70 – Brian Kachinsky profile

It's crazy to think how long Brian Kachinsky has been at the top of BMX.
So much so that he has had countless videos and even had his own Props bio that came out in issue 70 all the way back in 2008.
Brian was 26 at the time of his Props bio and even that started with a – you guessed it – gnarly slam.
Brian starts his interview by talking about how BMX didn't come easy for him and the challenge of it being what really made it click for him.
Even over 10 years later, this is an awesome watch where we learn a great deal about who Brian is at his core. "It's hard to be his mom" – Barb Kachinsky
8. Dew Tour bio (2015)

Here we have a quick bio from Dew Tour from back in 2015 with Brian Kachinsky. Brian gives a brief insight into his life; talking about living and riding in Chicago.
We learn about the skatepark in Chicago that Brian had a hand in helping with that was also the location of a Dew Tour event.
This great piece gives a quick but in-depth insight into Chicago and Brian Kachinsky while also showcasing some of his riding.
At just under 2 and a half minutes long, it's definitely worth the play time!
9. Brian for Etnies (2010)

In 2010, Brian Kachinsky didn't yet ride for Vans and found himself on the Etnies team being part of legendary BMX videos like Grounded.
Brian even had his own signature colorway with Etnies.
This video titled "Etnies presents Brian Kachinsky" came out in early 2010 and starts with a massive Canadian nose pick on a vert quarter pipe on the verge of being a vert wall.
Things quickly move to the streets, where Brian goes full throttle at everything in sight.
There are also some more skatepark clips mixed throughout and Brian even does a 5 tap to ice pick before finishing the video with street hammers!
Brian Kachinsky bike check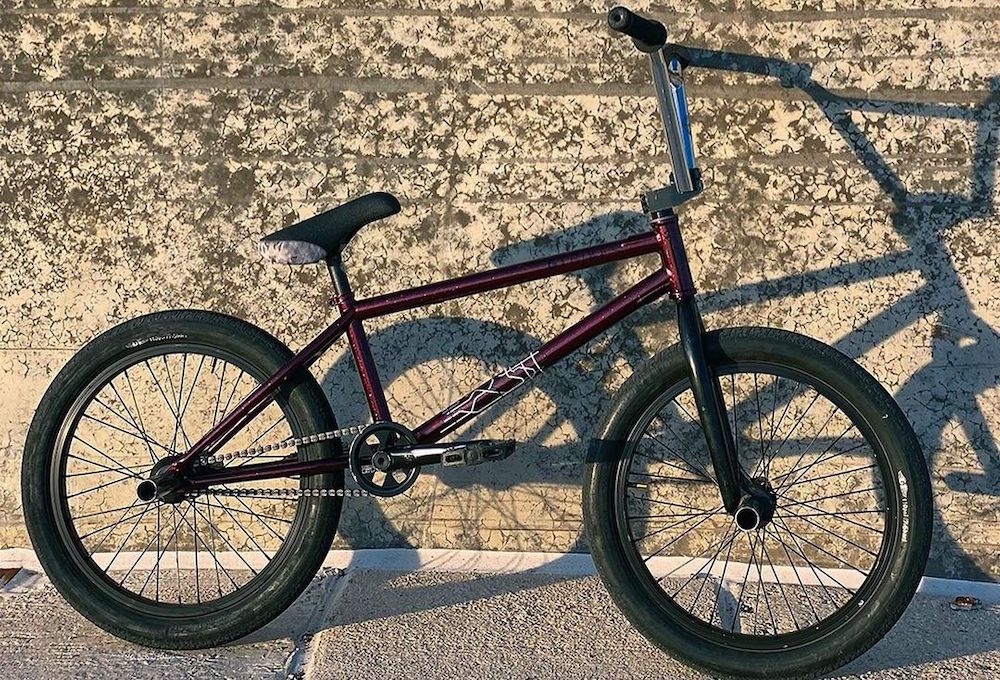 Was this article helpful?
Disclosure: The BMX Dude's content is free & reader-supported. I may earn a commission if you click & buy through my links. Your support helps me create the best content & make a difference. Thanks! 🤘