Are you searching for the best BMX tires for street because you want long-lasting, grippy and squeaky tires?
I've been riding street for 20+ years, so here's my pick of the ultimate options.
Whether you ride low or high PSI or slimmer or fatter tires, I have a solution you can count on.
I rode the Animal's GLHs for over a decade but recently switched to the BSD Donnasqueak tire because I wanted to go 2.4″.
(You may also be interested in reading my article on BMX tire width and find whether it matters or not.)
All the tires below are meant for street riding, but NOT exclusive to (they also work for parks and some even for trails).
However, if you need more options, I also prepared a general list of the ultimate BMX tires.
Best BMX Tires For Street Riding
Before we continue, have you ever wondered how long do BMX tires last? The link will take you to my IN-DEPTH post on the topic.
1. BSD Donnasqueak Tire

The BSD Donnasqueak tire is Alex Donnachie's signature (and first) tire, available in two sizes, 2.25″ and 2.4″. I'm riding the 2.4″ version and couldn't be happier with it.
It offers the necessary grip and the squeak, which I wasn't used to before (the Animal GLH doesn't squeak). But it's so epic.
The Donnasqueak tire features a soft but long-lasting rubber compound with tear-resistant silkworm casing. It has a directional tread with micro-knurling, ensuring excellent grip even on super smooth terrain. And the tire supports a max of 110 PSI.
(By the way, if you're trying to figure out what's the best BMX tire pressure, check out this article, where I talk about the best PSI for different riding styles.)
I recently sessioned a plazza in Milan, Italy, and the ground was shiny from all the tourist shoe wear, but these tires didn't cause any issues – read no slippage.
Weight: 23.9oz.
Price: $32.99 (may vary)
GET YOURS
2. BSD Donnastreet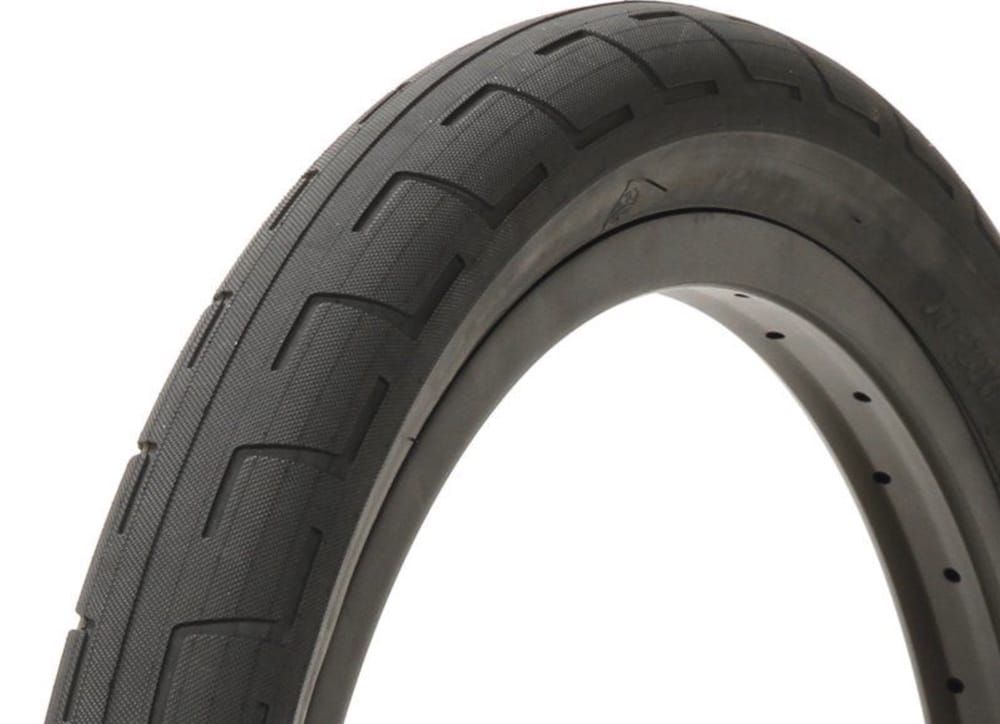 This is Alex's second signature tire from BSD, which is meant exclusively for street riding. (Don't worry, these also work great for skatepark riding, but aren't as all-around as the Donnasqueak version.)
The Donnastreet tire has a smoother tread with a centerline for low rolling resistance.
Besides having a less aggressive tread, Donnastreet features all the goodies of the Donnasqueak.
It is made of the same strong yet soft rubber compound to ensure durability, grip and squeak.
Weight: 23.9oz.
Price: $32.99 (may vary)
GET YOURS
3. Animal GLH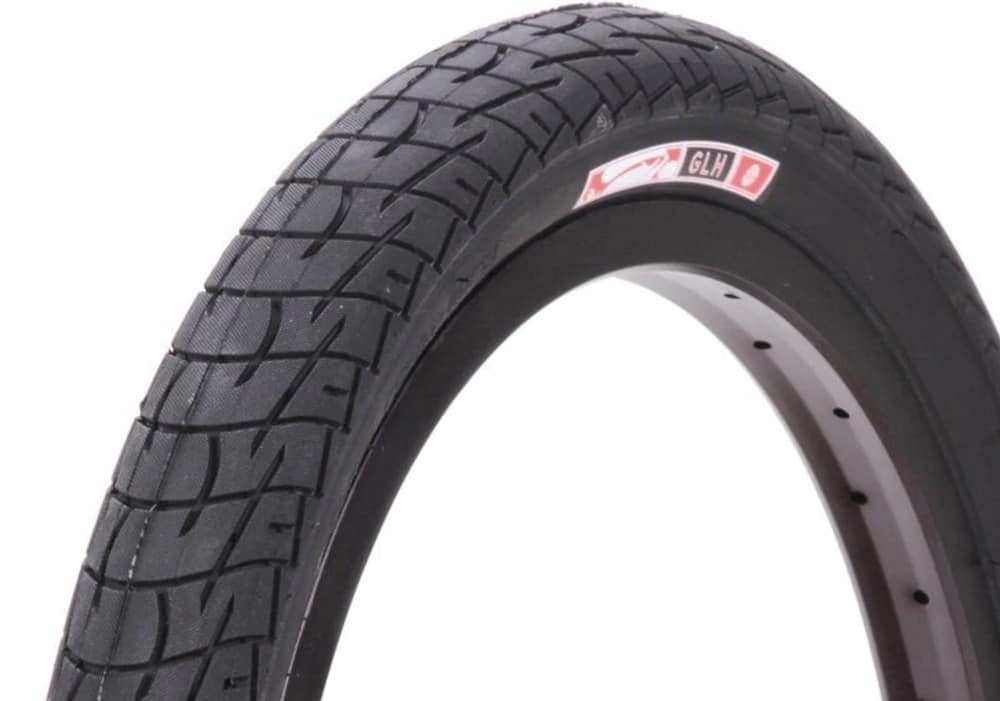 The Animal GLH tire is the legendary BMX street tire that has been around for a very long time.
It's also the tire I rode for years; I started on 2.1″ and then slowly progressed to 2.3″.
Although I pay close attention to where I ride and even step down if there's glass, I still picked many little pieces out of the GLH – but rarely did I go a flat.
Yes, this tire doesn't give AF! It's as solid as it can get, having a unique tread with wire bead and dual-ply casing.
The GLH tire is nice and round when inflated, with extra knurling on the side for grind resistance. Max pressure: 110 PSI.
The only downside is that 2.3″ is the fattest version. Maybe they'll release a 2.4″ or even 2.5″ version sometime in the future [crosses fingers].
Weight: 26.2oz.
Price: $26.99 (may vary)
GET YOURS
4. Sunday Street Sweeper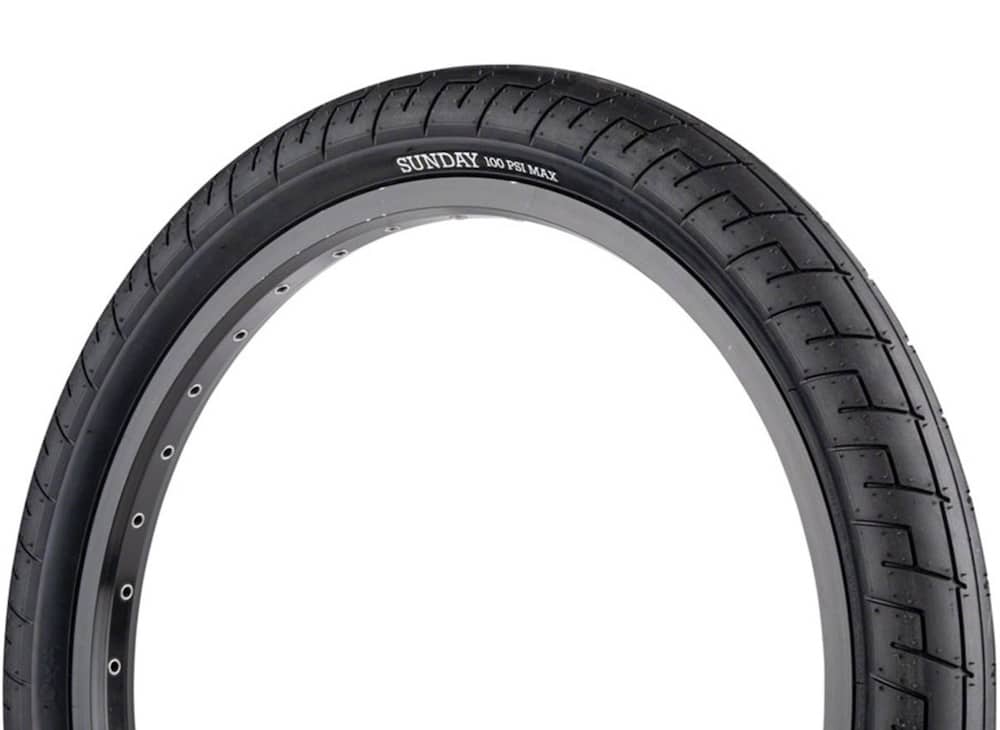 Sunday's Street Sweeper is Jake Seeley's signature tire meant for street riding.
Whether you like to go super technical, like Jake, or prefer riding gaps and drop, this tire will hold it all. It also supports max pressure of 100 PSI.
With the directional tread and grippy and squeaky compound, the Street Sweeper tire is ready to hit the streets confidently.
It's available in 2.4″ only, perfect if you're sticking to modern street riding.
Weight: 26.3oz.
Price: $34.99 (may vary)
GET YOURS
5. S&M Speedball Tire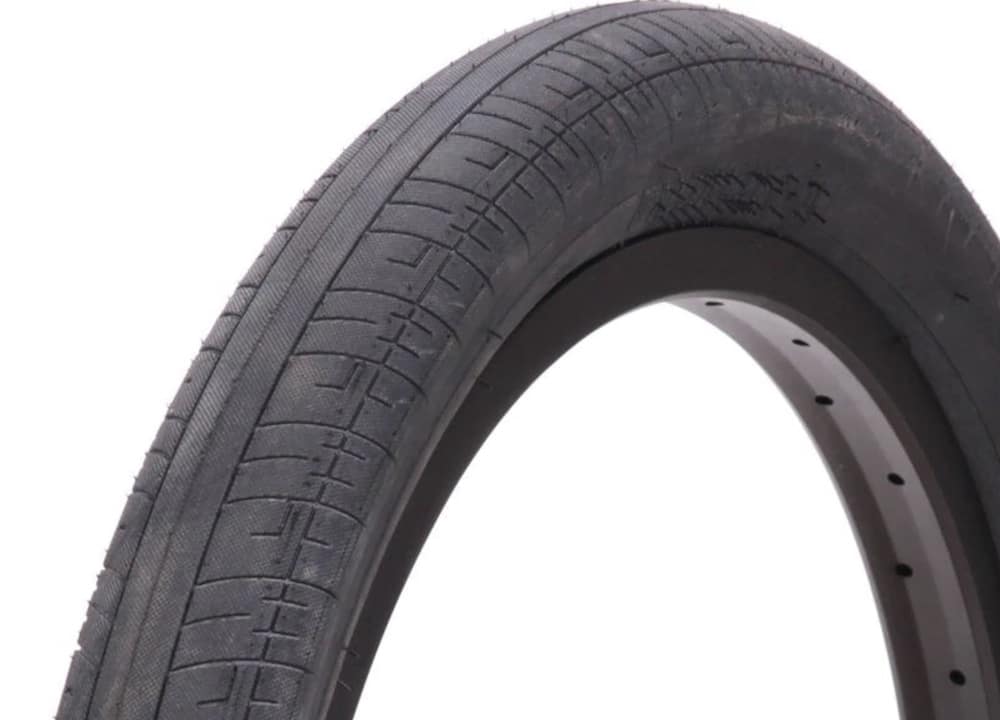 The S&M Speedball tire will help you go fast or slow while allowing you to ride low or high PSI.
This BMX street tire has a low profile with a centerline for minimal rolling resistance.
What's really cool is the multi-edge S/M tread design on the shoulders (SMSMSMSM…) for improved sidewalls and extra pinch flat protection (necessary if you ride low PSI).
You can get the Speedball tire in 2.1″ or 2.4″. (Some dudes ride the slimmer in the back and the fatter in the front.)
But you could also put these tires on the Kink Drifter bike because they come in a 26″ version.
Weight: 26oz.
Price: $29.95 (may vary)
GET YOURS
6. Odyssey BROC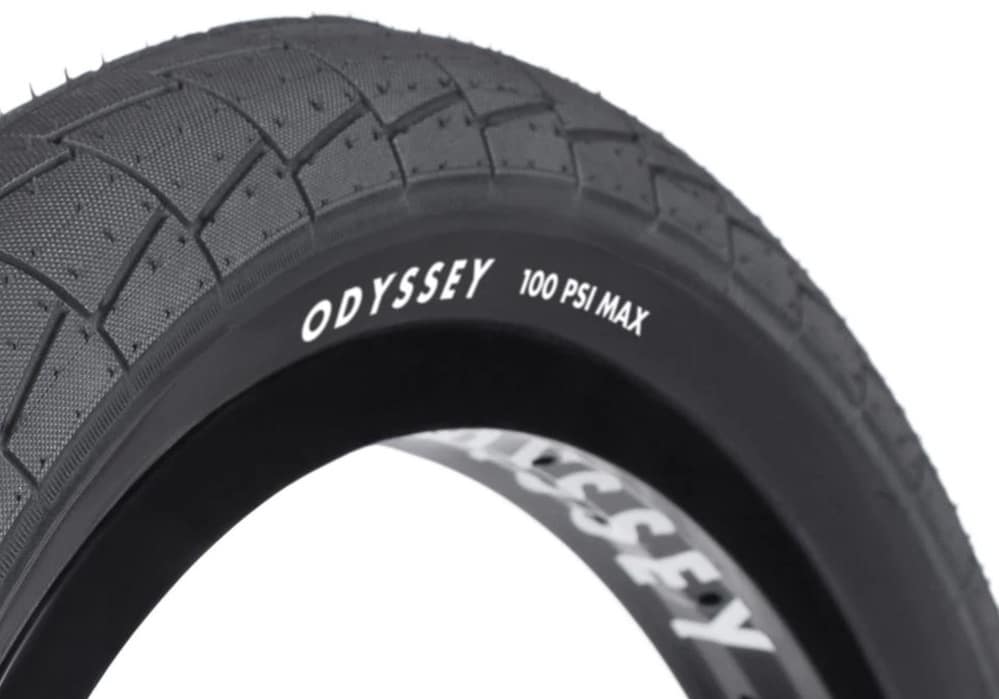 This is the Broc Raiford signature BROC tire by Odyssey that looks clean and stylish but ticks all the needs of a modern street rider.
The tire is available in 2.25″ and 2.4″, with max PSI of 100. Moreover, the BROC tire is made of Odyssey's exclusive R-Grip rubber compound that gives it the necessary longevity and grip.
Rail rides, wallrides, running on rough or smooth streets, it doesn't matter; the BROC tire is ready for everything.
Weight: 25.6oz.
Price: $34.99 (may vary)
GET YOURS
7. Merritt Phantom Tire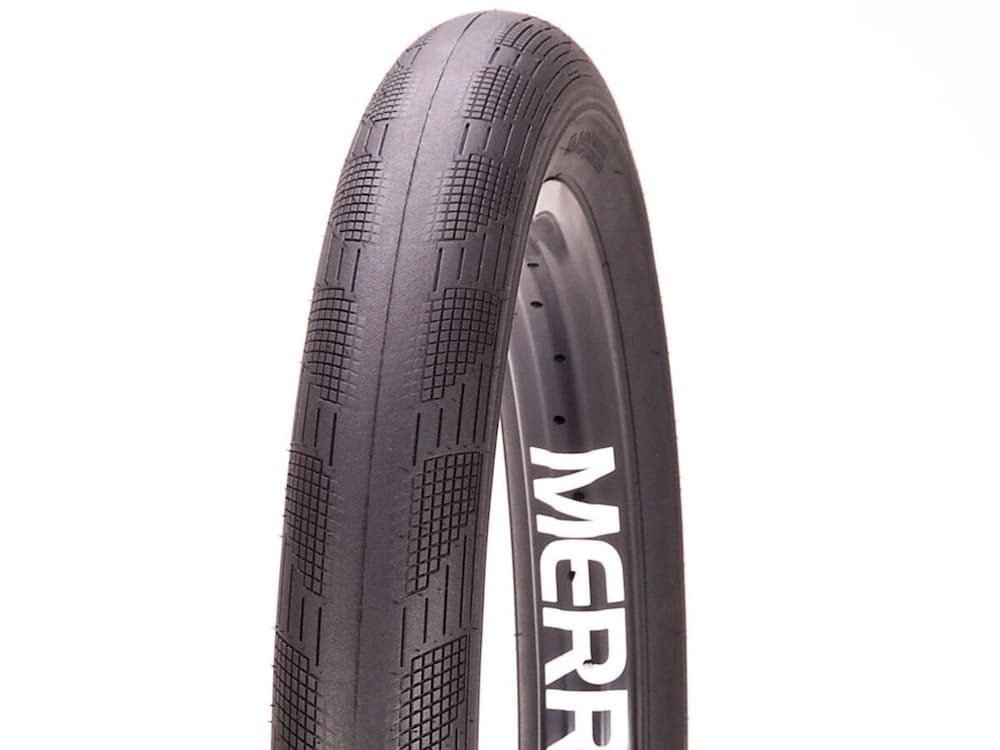 But if you're particularly looking for super fat BMX tires for street, then Brandon Begin's signature Merritt Phantom tire is the right pick for you.
Why? Because it's 2.5″!
Despite the larger width, the Phantom tire is still lightweight and supports 110 max PSI.
The smooth center keeps you rolling fast, while the shoulder pattern ensures the grip you need to prevent slippage.
Moreover, Merritt also created and patented the "Sidewall" technology, which uses an ultra-hard rubber compound for additional tire sidewall protection, especially during grinds. Rough ledges approved!
Weight: 22.9oz.
Price: $36.99 (may vary)
GET YOURS
8. Cult X Vans Tires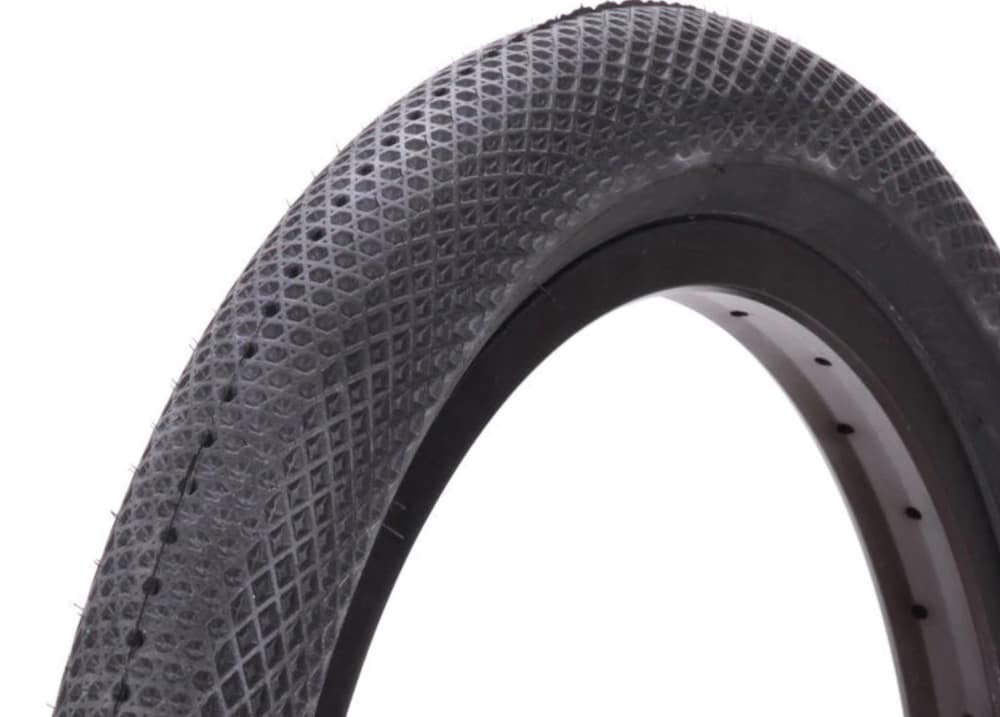 One of the world's most popular BMX street tires is a collaboration between Cult and Vans.
Not only does the Vans waffle pattern work great on shoes (I like the grip!), but they also put it on a tire, and the vast majority love it.
While the tire is available in multiple sizes, the 20″ version only comes in 2.4″. On top of that, the Cult X Vans tire is also available in various colors (even some wild ones!).
If these hold Dakota Roche, they can hold anyone.
Weight: 26.1oz.
Price: $30.99 (may vary)
GET YOURS
9. Cinema Williams Tire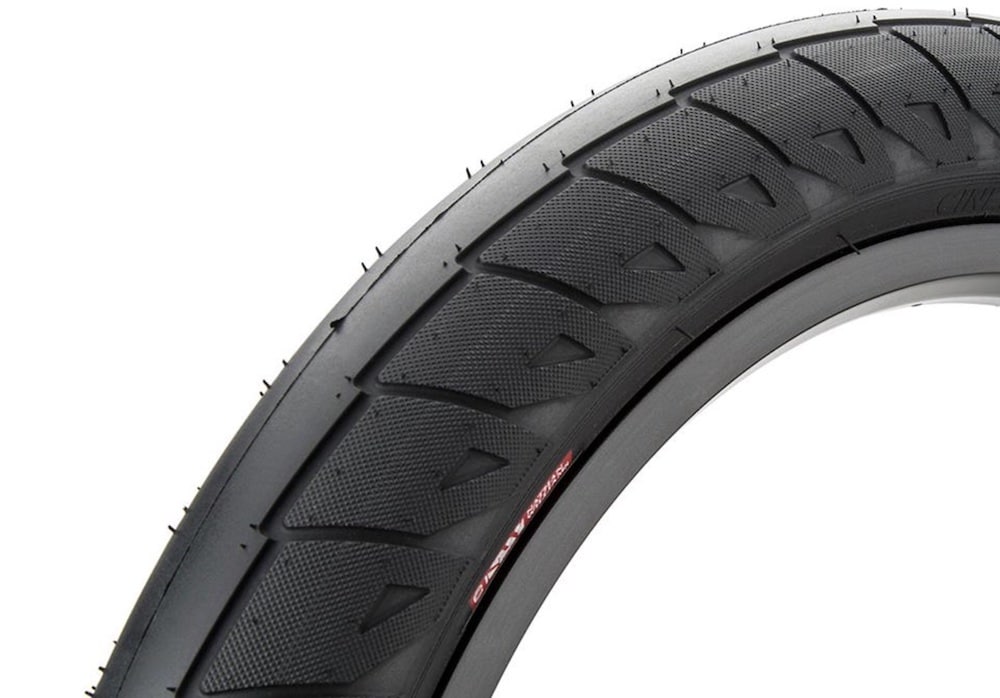 I mentioned there would be another 2.5″ tire on this list above – here it is, Nathan Williams' signature Cinema tire.
While the tire looks very slick, it's fast and grippy. The center line tread is smooth, with a pattern on the shoulders of the tire and micro-knurling to give it the must-have grip.
Attention: This tire is exclusive to riders who prefer low PSI. It supports max pressure of 60 PSI. Nathan usually rides a much lower PSI because it softens his landings (less wrist pain).
If you want a 2.5″ tire and ride high PSI, I recommend you pick Begin's Phantom tire instead.
Weight: 23.8oz.
Price: $34.99 (may vary)
GET YOURS
10. Eclat Morrow Tire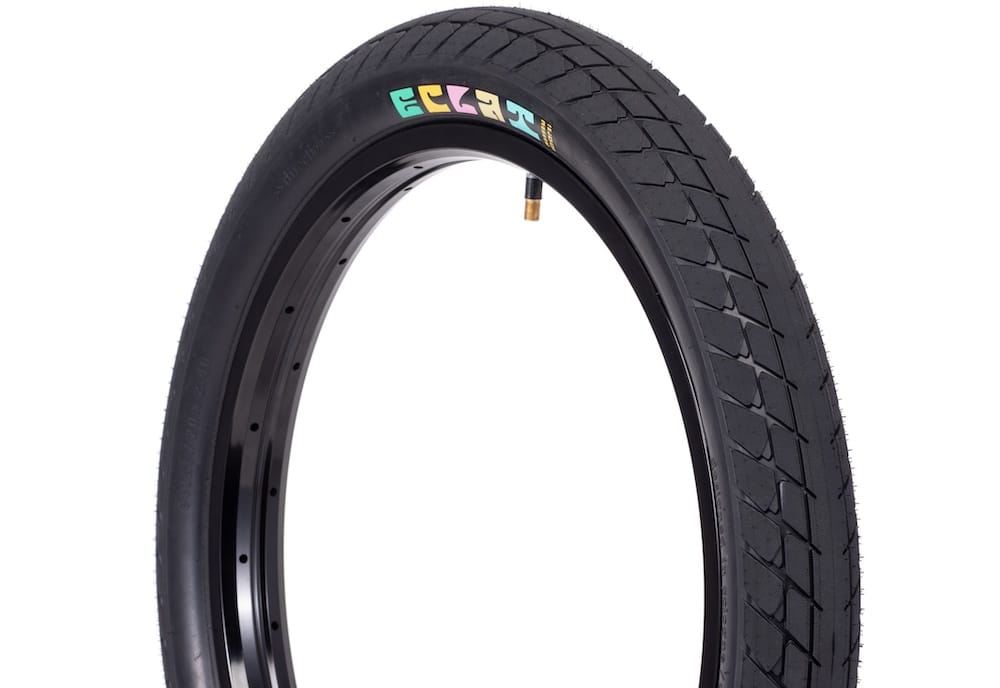 When it comes to Ty Morrow, you know he needs tires he can rely on. From insane gaps to even crazier wallrides – yup, tires matter BIG times when it comes to Ty's riding style.
There needs to be grip, but the tire must also be fast!
Thus, he collaborated with Eclat to create a solid solution that met his needs. And the MORROW tire was born!
The tread is somewhat similar to the Donnasqueak tire but slightly more aggressive (with a max pressure of 100 PSI).
The MORROW tire is made of high-quality rubber compound with a puncture-resistant casing that makes it extra tough.
The MORROW tire will last long, accompanying the massive impacts of your drops and gaps to endless grinding on ledges and rails.
Weight: 24.76oz.
Price: $37.99 (may vary)
GET YOURS
11. Kink Sever Tire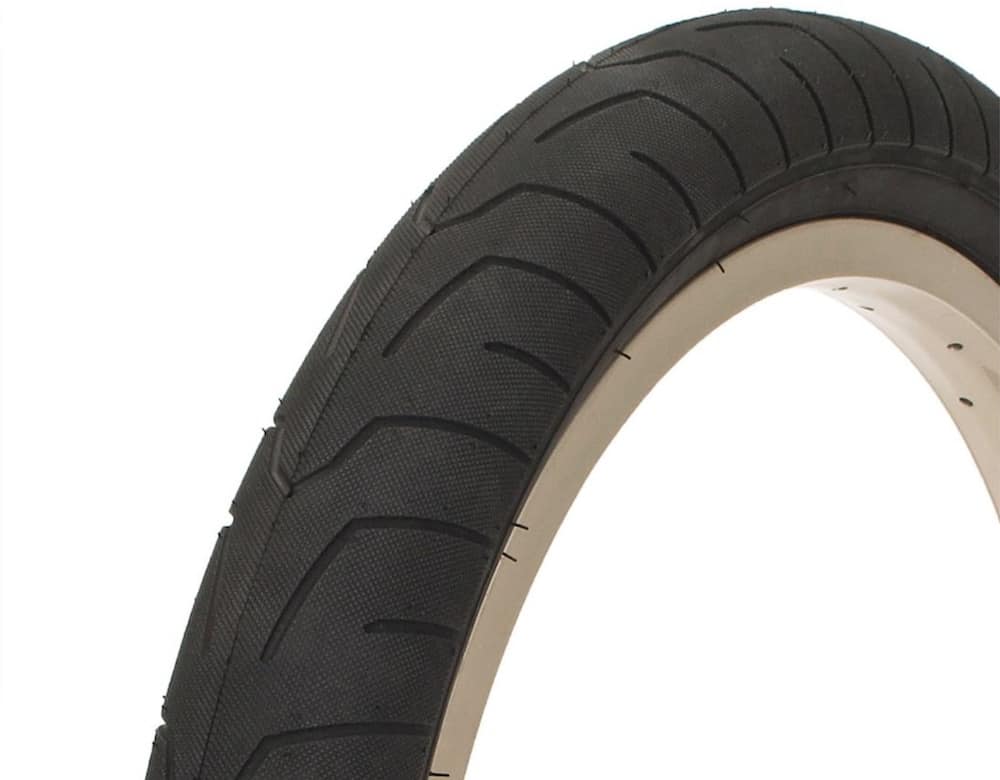 Another great option for your street shredding is the Kink Sever tire if you are a low PSI dude.
The tire comes in 2.4″ and supports max pressure of 60 PSI. It features a simple recessed directional tread with micro-knurling. The Sever tire also has a stiff wire bead for low-pressure riding.
The only con is that the Sever tire is slightly heavier but it's much cheaper than other alternatives.
Weight: 33oz.
Price: $24.99 (may vary)
GET YOURS
12. Rant Squad Tire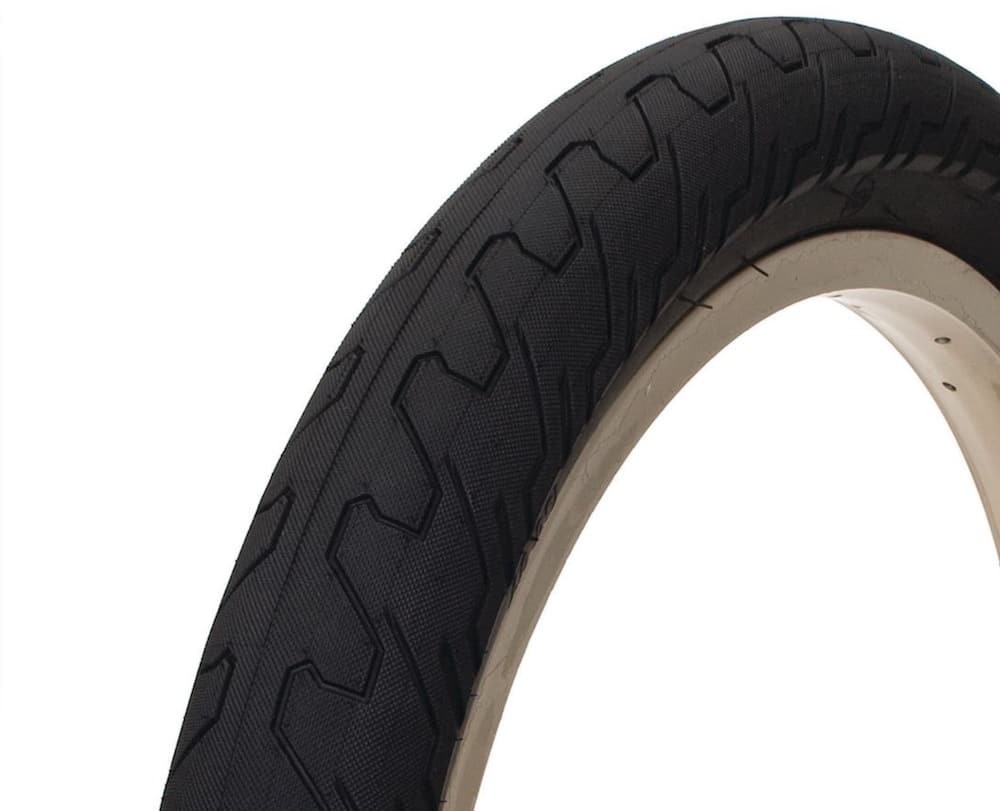 Finally, if you're looking for affordable BMX tires for street, then Rant's Squad tire is the way to go.
It has mid-weight, is 2.35″ wide and supports 60 PSI as the max pressure.
The solid center line minimizes rolling resistance, while micro-knurling gives Squad additional grip to ensure you won't slip even on extra smooth terrain.
Weight: 27.8oz.
Price: $21.99 (may vary)
GET YOURS
Was this article helpful?
Disclosure: The BMX Dude's content is free & reader-supported. I may earn a commission if you click & buy through my links. Your support helps me create the best content & make a difference. Thanks! 🤘