Are you searching for the best online custom BMX bike builder?
I've seen these popping up recently, but I'll focus on the Source BMX one.
WHY?
Because they have the largest SOURCE of BMX products for everyone.
Fun fact: An online BMX builder isn't a new thing.
BUT!
The ones that were available many years ago sucked. (Yes, I said it.)
The Source BMX builder is very simple and quick to use.
I'll try and build my current setup for the purpose of this review.
Start by heading over to the Source's custom BMX builder.
You have the complete bike you plan to build on the left and parts selection on the right.
(The bike will be above and the parts below if you use a smartphone.)
Everything is broken down nicely for QUICK and EASY selection.
Building My Bike With A Custom BMX Bike Builder
A new window/full-screen pop-up opens when you click on "Add frame(s)" (I don't know why it's in the plural – I'll select just one 🙂 ).
Click the "+" sign.
This is where the fun part begins.
By hitting on Filters, three more options open for you: Brand, Color, and Size.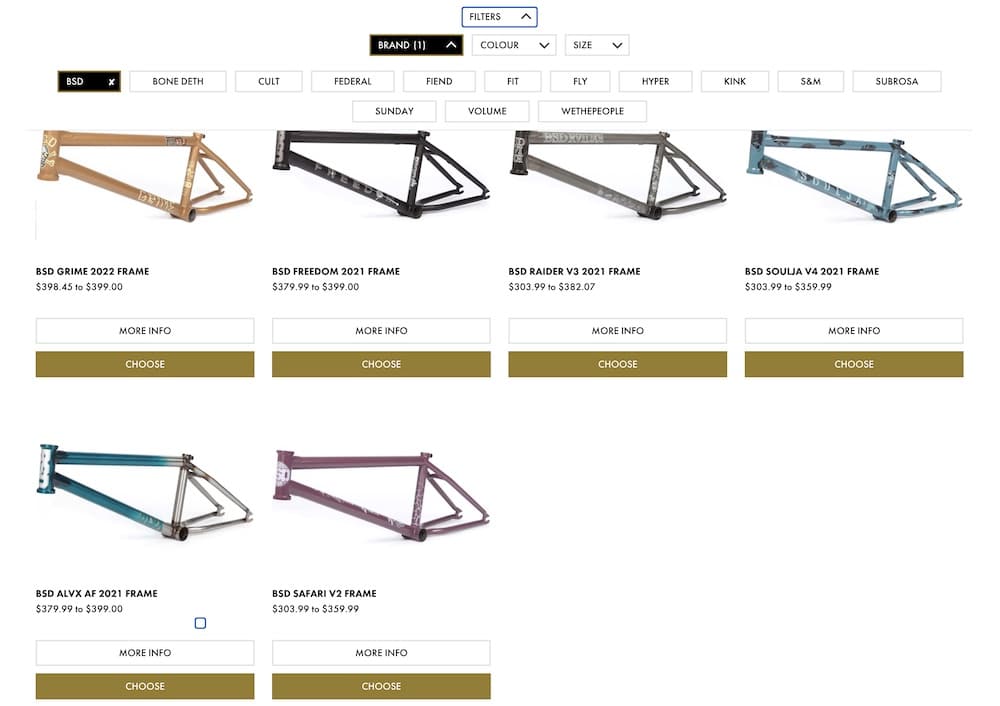 I chose BSD from the brand selection, opening all the BSD frames they currently have.
You can also hit the "More info" button before you select the frame you'd like to add, which brings you all the specs and availability.
At this stage, you can also select the color and the frame size you want to add to the bike.
I chose a black BSD Raider frame in 21.5″ and clicked "Add to bike." (Unfortunately, the 21.5″ wasn't available at the time of writing this so I went with 21.3″.)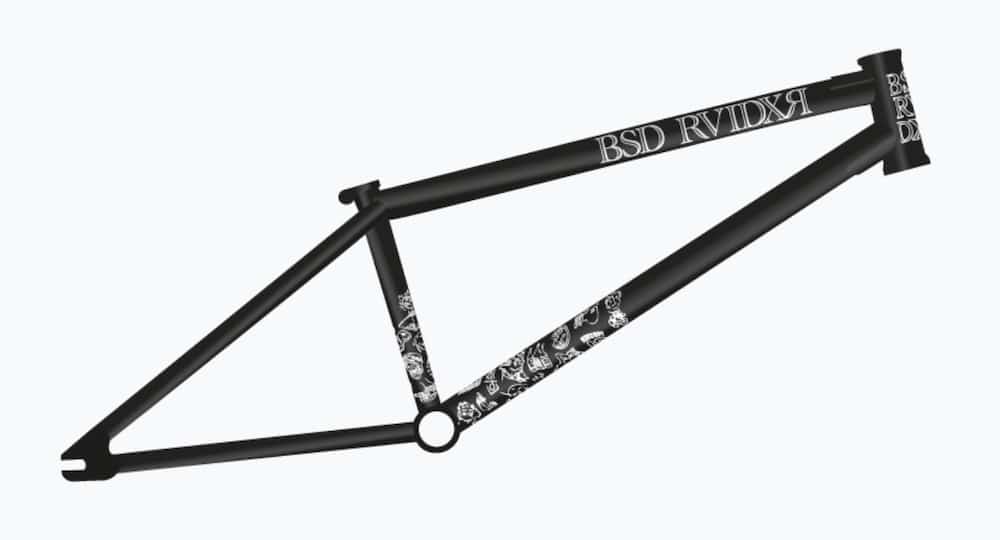 What's cool is that you don't have to click on "More info" to select the size and color.
The handy quick option opens after you hit "Choose" from where you select the color and the size.
At this stage, the frame will only appear in the custom BMX bike builder.
Note: You may also be interested in my collection of the best BMX park frames and best BMX street frames.
You need to keep adding products that will slowly end up as a complete bike.
The process for adding steering, searing, drive train, front and rear wheel, braking and grinding is exactly the same as with picking the frame.
So that's why I won't share the detailed selection of each.
But I'll tell you this: We all know picking parts for a new setup is exciting.
It Even Has A Custom BMX Wheel Builder
Note: You also get a custom BMX wheel builder or you can pick pre-built wheelsets.
If you decide to go with the custom wheelset build, you can pick rear BMX hubs, front BMX hubs, BMX rims, BMX spokes and nipples, BMX tires and BMX inner tubes.
I'll now have some fun picking up my parts and reveal my current bike setup to you shortly.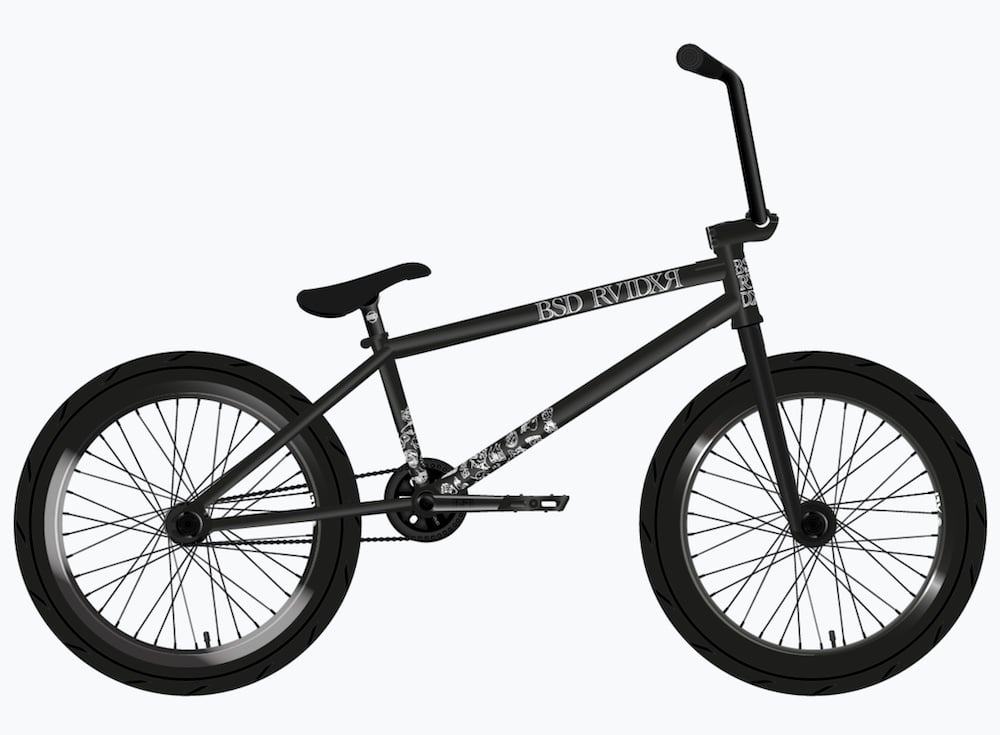 Update: Okay, I'm done.
It's not the exact BMX bike I currently have because not all parts were available, but a very close example.
I'm satisfied.
Conclusion
I recommend picking a custom BMX bike builder instead of jumping from page to page, category to category, part to part, and WASTING a ton of time.
You can START your journey by clicking here (the link leads you to the Source bike customizer) and enjoy the fun process of picking parts and building your dream machine.
It's a cool way of setting up the exact bike you want.
You can also do as many variations as you want before settling on the clear winner.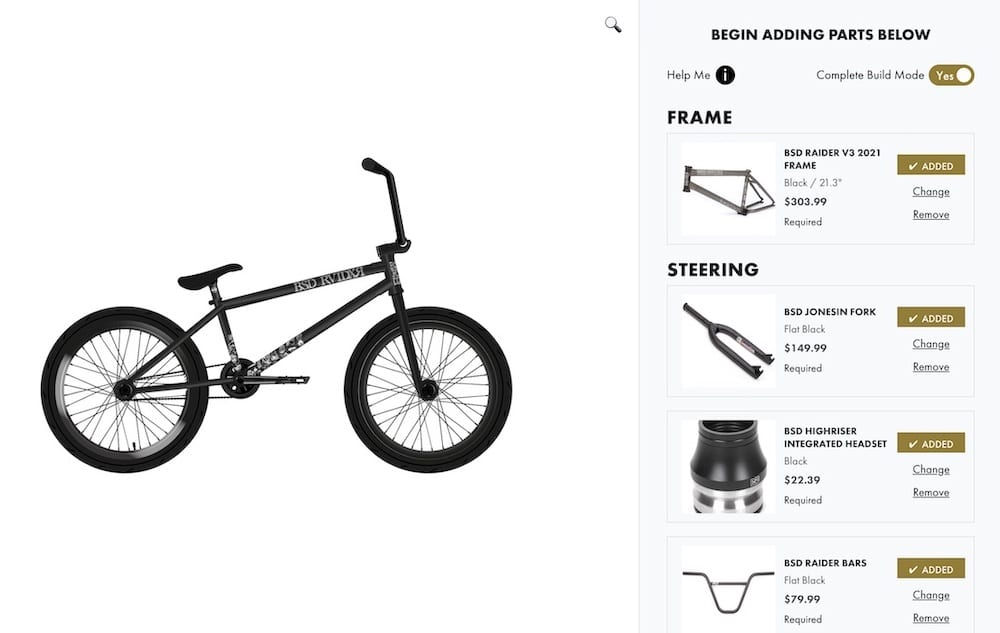 While the Source BMX bike builder is a great option, there's still room for improvement.
One of the features that'd be really handy is the option to rotate the bike, so you can see it from all angles.
Another one is that if you're in the "More info" section of a part and accidentally click the back button in your browser, it sometimes throws you out of the builder.
Luckily, you don't lose your selection when you return – Source BMX's bike builder remembers it.
You can comfortably continue from where you left off.
Still, I really like the overall idea of building your bike online from one location. No need to jump around or write your parts list down in your notebook (I did that).
You can also save (your bike for later) and share your selection, so it's never lost!
Another cool feature is adding items to your WISHLIST so you can purchase them later.

Also, it shows the subtotal cost just above the bike, so you don't have to calculate it yourself.
Once you're done, hit the "Add to cart" and proceed with the checkout.
EPIC.
Now go build your next favorite bike – because you deserve it!
Was this article helpful?
Disclosure: The BMX Dude's content is free & reader-supported. I may earn a commission if you click & buy through my links. Your support helps me create the best content & make a difference. Thanks! 🤘