If you are down to watch a legend ride his bike, Brian Foster BMX videos are timeless pieces of art that will never grow old.
This dude has been around for a very – VERY – long time. Even though he is not involved in the BMX community as actively as he once was, he is still shredding.
Keep in mind, Brian is not the youngest, but nothing seems to be stopping him from being on two wheels any time soon.
Born on June 29, 1972, in Wilmington, Delaware, Brian started his BMX career racing at the age of eight. He's had a fair share of competitions, prizes and sponsors in the racing space before transitioning to freestyle.
He turned pro ten years later and retired from racing in 2001. The decision came due to his passion for dirt jumps/trails.
GET COURAGE'S SIGNATURE PARTS:
Some of Brian Foster's sponsors were Schwinn, Airwalk, Fit, Fox and Primo, to name a few. A few of his teammates are Austin Augie, Justin Spriet and Pat Casey.
However, if you'd like to watch more style kings do their thing, enjoy Tom Dugan, Ruben Alcantara and Kris Fox.
Moreover, Brian is also a physical therapist, so if every BMX rider needs help, you know who to count on.
Go follow the legend himself, Brian, on Instagram for tons of riding stuff, family life and physical therapy.
Featured photo by: Steve Crandall.
Top Brian Foster BMX Videos
1. Live The Dream

Here we've got a video titled Live The Dream with Brian Foster.
The video starts at the legendary FDR skatepark, with Brian absolutely shredding a setup painted as an American flag at the time, making for a cool aesthetic straight out of the gate.
We quickly find ourselves speeding through the trails in ways only the Blue Falcon can.
Brian's roller manual scrubs are always so awesome to see.
Before returning to FDR, there's also a bit of concrete skatepark action to finish this all-around great video.
2. Holy Fit DVD part

The Holy Fit DVD was released in 2014, and with that, Brian Foster was also a nominee for the Dirt Rider Of The Year Nora Cup.
Brian's Holy Fit part is four minutes and thirty seconds of style and speed from the Blue Falcon starting in the trails.
Brian absolutely sends it on anything he touches with combos like no-footed X-Ups and the most massive transfers you've ever seen.
He proves this with a massive gap to wallride at a skatepark, then nothing but style in a full pipe and so much more.
3. Brian Foster at Cranx

In this video from Merritt BMX, we've got a quick one with Brian at Cranx skatepark.
This one might be short, but Brian rides so fast that he gets a lot done, even with some slow motion on a hip table top.
There's a pretty gnarly sub rail fufanu in here that you just have to see to understand, and the video work is super solid.
By the time the video is over, you've already lost track of time, which is really easy with how timeless Brian's riding is.
4. Save The Woods section

Here's one from 2009ish, according to the description on the CattyWoods YouYube channel where this video lives.
It's Brian Foster's section from the Save The Woods video.
Two and a half minutes of shred from the Blue Falcon getting sideways, laying it flat, spinning it around, and all-around shredding trails.
Brian does it properly, whether it's a massive no-footed can-can or a simple kick-out, and it is absolutely mesmerizing to watch!
The 360 at the end of this one is the stuff legends are made of, making perfect sense being made by the one and only, Foster.
5. Athem II Declassified

Everyone knows how legendary the Anthem II video was. This video collects leftover footage and second angles from Brian's original Anthem II video part.
There is usually leftover footage from full-length videos and the fact that this footage is easily good enough for the main video shows how incredible Brian Foster really is.
There's just something so satisfying about seeing someone float through a set of trails and do tricks like massive dipped 360's or one-footed table tops to turndown.
6. Stay Fit section

Foster has been a legend in BMX for years and has had many incredible video parts throughout his time as a professional rider.
Here we have his Stay Fit section with Fit Bike Co from 2009.
This is classic Brian Foster at his finest and will always be a treat to watch. There's something about his trail flow with massive table tops and kick-outs that is just timeless.
Brian rides much more than just trails in here but also finds unique lines at concrete skateparks, the streets, and the legendary FDR skatepark.
7. BF-IT trailer

Here we've got an online release trailer for the epic documentary on a truly epic person; Brian Foster.
The documentary is called BF-IT and this quick look has the perfect amount of info to hype up the full video.
We hear from legends in BMX such as Mike Aitken, Van Homan, Todd Lyons, Brian's brother Alan and more.
There are so many amazing photos of Brian growing up and riding in here as well that this two-minute video could stand alone in itself.
If this one hypes you up, head over to DIG (link below) for the full documentary. Brian is and always will be a legend!
8. The Story Of Brian Foster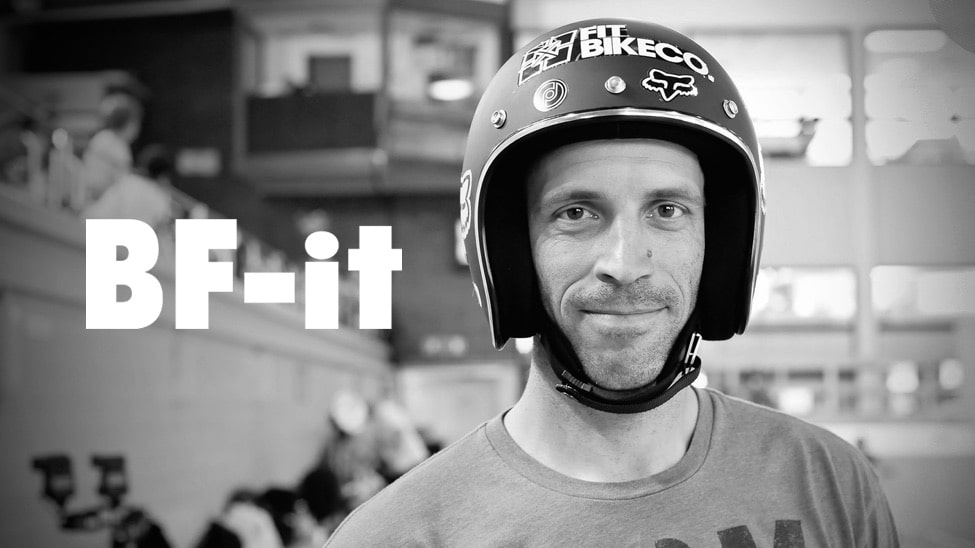 In the conversation of the longevity of BMX professionals, Foster's name is bound to come up in the conversation.
Brian has no doubt had one of the best BMX careers ever.
From a decorated racer to one of the most well-respected freestyle BMX riders ever, there's not much Brian hasn't done and this documentary called BF-IT covers it all from the very beginning.
There are too many BMX legends in here to list, all giving the highest praise to his entire career.
This one is 43 minutes long and worth every single second.
Was this article helpful?
Disclosure: The BMX Dude's content is free & reader-supported. I may earn a commission if you click & buy through my links. Your support helps me create the best content & make a difference. Thanks! 🤘