Do you need a dose of the best David Grant BMX videos?
This is a collection that I believe is a good representation that tall dudes can shred heavy with style, TOO.
Ah, every video that DG puts out is just mind-bending. It seems like he always searches for STUFF and SETUPS that most of us would never even think of attempting.
But not David – he has balls made of steel.
Grant is 6′ 5″, one of the tallest riders in the BMX space. BUT. Everything he does is eye candy.
Moreover, David Grant was born in 1989 in Muncie, Indiana. According to a BSD interview, he started riding BMX when he was fifteen because he didn't make the basketball team.
Luckily, one of his friends had a BMX and it all went from there.
David Grant bike check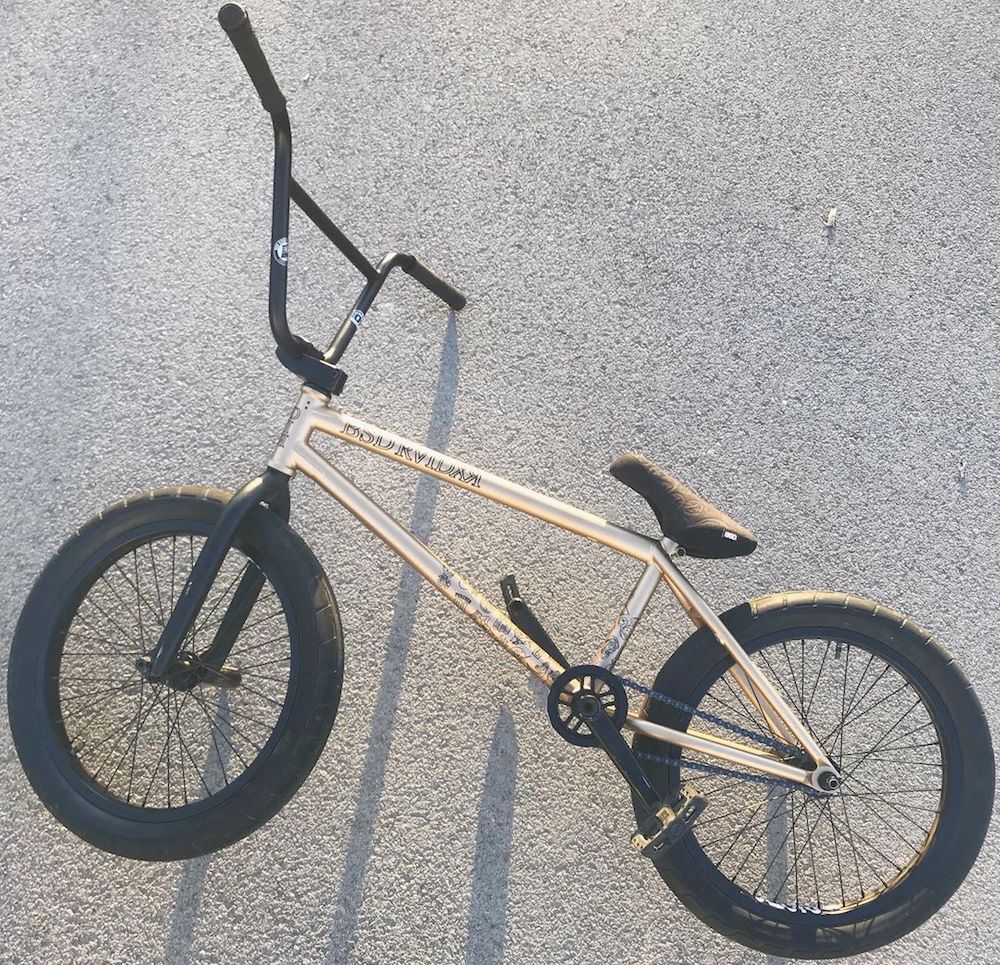 Today, David is a pro for many years. He even has multiple signature parts with BSD, like Raider frame, Raider bar and Dunks grips.
GET DAVID'S SIGNATURE PARTS:
If you are looking for a 10 inch BMX bar, David's might be the one. Also, his BMX street frame comes in many different sizes, including 21.6″ (my current frame) and a massive 21.9″.
Note: Don't forget to read by in-depth BSD Raider frame review.
Finally, if you are a tall rider and want to watch some more tall dudes shred, check videos from Charlie Crumlish, Mike Hoder and Reed Stark.
Do not forget to follow David on Instagram for all the amazing street riding, his dog, motorcycle stuff and heaps more.
Featured photo by: David's IG.
Best David Grant BMX Videos
1. BSD VX Rated

Here we have the very first episode of BSD's VX Rated series starring none other than DG.
This one came out in June of 2019 and starts out with nothing but hammers including a wild rail feeble followed by a rail ride down a big RAIL.
There's some technical riding in here as well all set to a pretty chill song that accentuates the burliness of David's riding really well.
This one was definitely a great way to start the series and that last rail clip is – nuts!
2. BSD Raider frame & bar promo

It's no secret that David Grant is TALL. So tall in fact that way back in 2013 he was riding a 21.6" frame and 10" rise bars.
These were the Raider frame and the Raider Bars and this video is also titled Raider as well. This one has clips from Barcelona, Arizona, and California to promote the Raider line back in 2013.
David's eye for burly setups is ever-present throughout this one where he literally grinds from one rooftop to another.
He also gets technical as well with tricks like a ledge unlucky grind to 180 and many more.
3. David Grant's BSD "Nearly 4K" part

Sections from Nearly + BSD's Nearly 4K DVD started hitting the internet in 2016 with Grant's part being one of the first.
His section starts out with an absolutely massive pegs to drop and the hammers don't stop there!
EVERY clip is something that is either super burly or technical and sometimes both.
David's eye for technically tight but massive setups is awesome as well with a few wild in and out/on and off type lines.
There is not a single filler clip in here and that last smith drop is seriously insane.
4. BSD "Transmission" DVD part

BSD's Transmission DVD premiered in 2016 with individual sections finding their way online later that year.
David Grant's part in the video starts out in David-Grant-fashion – with an absolutely massive 60/40 feeble grind to broken rail.
He MIRACULOUSLY lands the grind to which everyone present loses it and the video doesn't let up from there!
Nothing is safe from David in the streets.
Whether it's a rail hop, a giant ledge, massive handrail, or technical setup, David seems to have something for everything, which keeps video parts like this one entertaining throughout.
5. BSD "Living For The City" Part 2

This is an eight-minute thirty second long video featuring Tony Malouf, Kriss Kyle, and more in addition to David Grant.
The video has a great vibe to it throughout and the concrete quarter building montage followed by riding was awesome!
All of this goes down before the five-and-a-half-minute mark where David Grant is introduced. David's part in this one finishes out the video and the great vibe continues throughout.
Naturally, David does not disappoint with a ton of burly rail and ledge moves ending with what looks like about 12-13 foot pegs to drop.
6. Welcome to BSD

David Grant was officially welcomed to the BSD team back at the beginning of 2013.
This came with a welcome video just over two minutes long to which you can see David's burly eye for setups as well as for in and out/on and off setups was there from the beginning.
That playground railhop-esque clip was amazing and the last rail he did is wild!
They say hindsight is 20-20 but it's easy to see here why David has gone on to make amazing video part after amazing video part.
Was this article helpful?
Disclosure: The BMX Dude's content is free & reader-supported. I may earn a commission if you click & buy through my links. Your support helps me create the best content & make a difference. Thanks! 🤘