Who's down to check the latest Miki Fleck bike check?
Let me warn you, this is no traditional bike you're about to see.
But Miki has no traditional riding style, so the two go together very well.
While Miki was riding four pegs in the past, he switched to two.
Of course, to his signature metal BMX pegs!
Miki also rides his signature United frame, Zuin, with a signature front load stem.
Additionally, he's working on a signature Primo bar and already has the super-strong Da Silva BMX forks.
Miki Fleck United & Primo Bike Check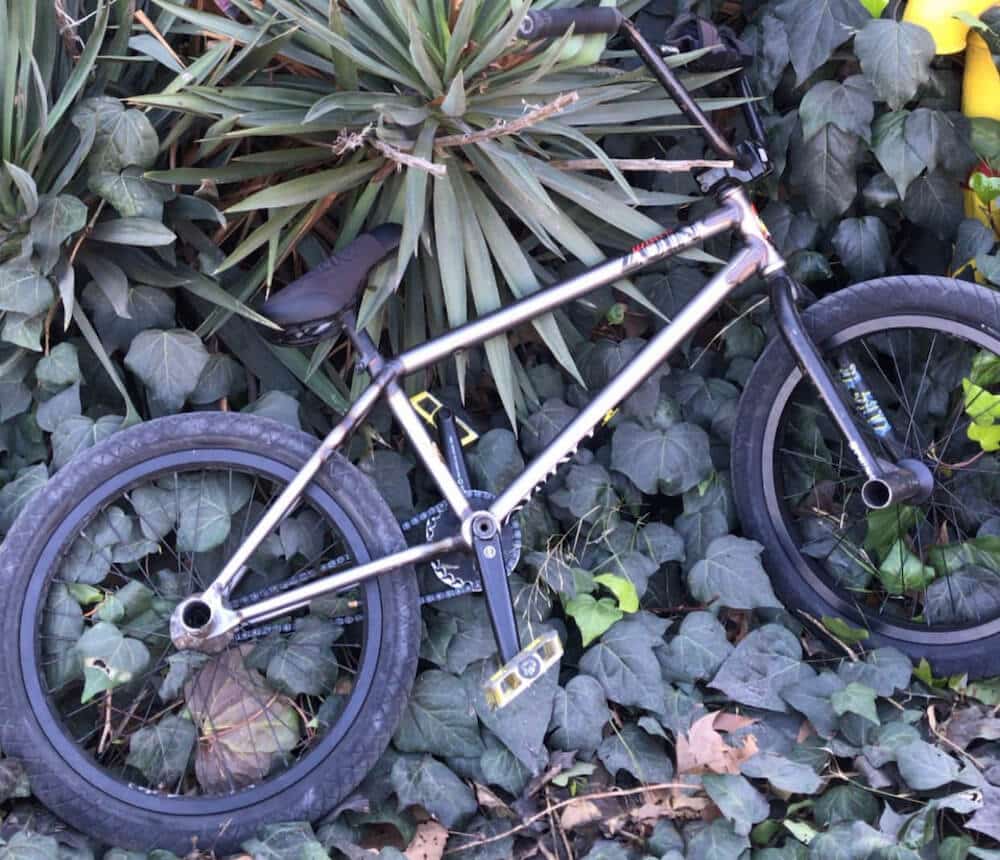 Frame: United Zuin frame
Bar: Primo signature prototype
Stem: United Miki front load stem
Fork: Primo Da Silva fork
Headset: Primo Integrated BMX headset
Grips: Primo Cali BMX grips
Chain: United Supreme half link chain
Seat: Primo Churchill BMX seat
Seat Post: Primo
Cranks: Primo Churchill BMX cranks
Pedals: Primo Tenderizer pedals
Sprocket: United MDLCLS Guard BMX sprocket
Front Wheel: Primo VSXL Rim, Primo Balance front BMX hub
Rear Wheel: Primo VSXL Rim, Primo Balance BMX cassette hub
Tires: Primo Wall BMX tires
Pegs: United Metal Miki pegs
A solid street machine that can handle any abuse – EASILY!
GET PARTS MIKI RIDES:
Note: You absolutely need to check my best Miki Fleck BMX videos collection because it'll keep you WOWing all the time.
Go and follow Miki on Instagram for bike riding and other lifestyle stuff.
Featured photo by: Miki's IG.
Old Miki Fleck Bike Checks
1. Miki's Video Bike Check (2022)

Even though this one is entirely in Spanish, you still get a really awesome look at Miki's signature Zuin setup.
Miki goes pretty in-depth with part explanation (no, I don't understand Spanish, but that's what I assume), especially the frame.
Plus, you can enjoy a bunch of really nice Barcelona riding clips at the end of this video bike check.
Thanks, Mati Lasgoity, for making this one happen!
2. DIG (2020)

Here's a shorter one from the time when Miki didn't yet have his signature United frame. But he had a signature Incarnate V2 frame colorway.
Also, Miki's signature United front load BMX stem and metal pegs were already in production.
Miki was also riding all four pegs and plastic pedals in 2020.
However, we all know he switched to riding only two pegs and metal pedals for his insanely long pedal grinds. Imagine a plastic BMX pedal – yup, it would last only one or two (MAYBE three) Miki-style pedal grinds.
Was this article helpful?
Disclosure: The BMX Dude's content is free & reader-supported. I may earn a commission if you click & buy through my links. Your support helps me create the best content & make a difference. Thanks! 🤘