Do you want to watch the best Albert Mercado BMX videos because you'd like to challenge your creative limits?
I have been a fan of Albert for a very long time now – pretty much since I started riding.
Albert has this amazing style of street riding, always approaching a setup from a different angle. Or a different point of view, if you will.
What's exceptionally inspiring about Mercado is the fact that he is blind in one eye.
In one of his Instagram posts, he explains in detail that he was born like that and is wearing glasses since the age of 11 months.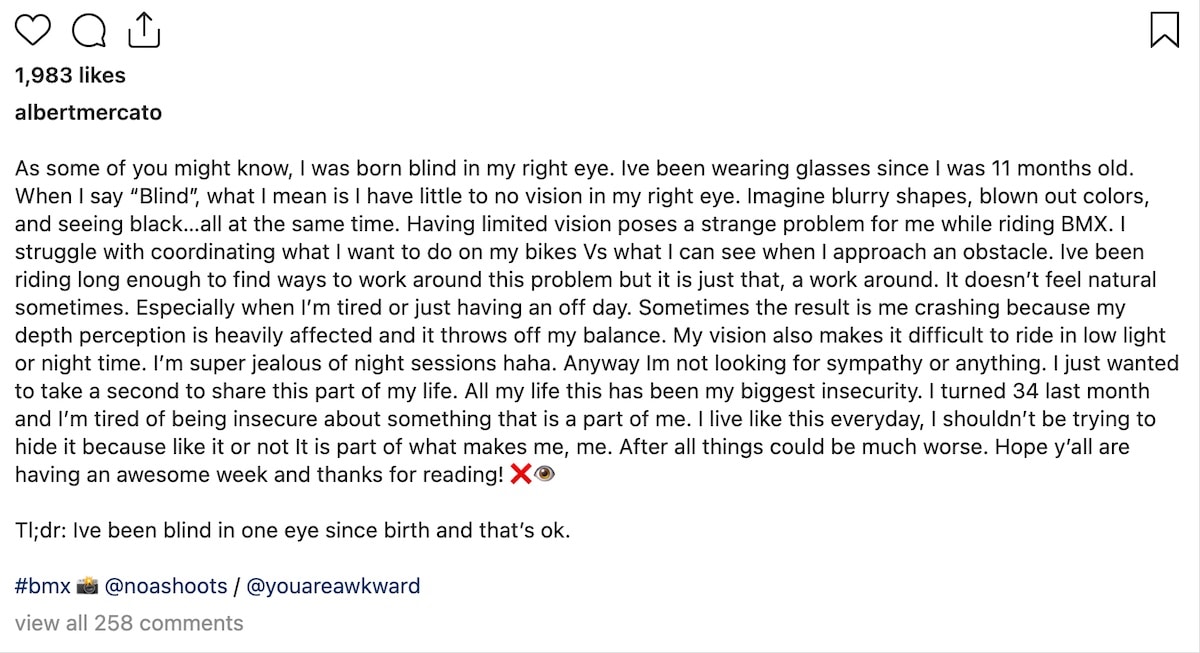 This definitely causes a challenge in riding BMX, but Albert got so used to it that he has it all figured out. "It doesn't feel natural sometimes," says Albert.
But a true BMX rider is an unstoppable person who will do whatever it takes just to have fun on two wheels.
That's probably where the more creative approach to his BMX riding and videos comes from.
Currently, Albert Mercado is doing it for GT Bikes, Shadow Conspiracy and Boxpalm (his own project). Albert is murdering street with his fellow companions Simone Barraco, Joris Coulomb, Lahsaan Kobza and Trey Jones, to name a few.
For all the amazing riding, creativity and even some art and family life, make sure you do not miss following Alber on Instagram.
Featured photo by: Jeff Zielinski.
Best Albert Mercado BMX Videos
GT BMX – Utility Work

If you've never really considered riding electricity boxes, I'm sure this new Albert web video for GT will get you hyped.
The dude cruised around downtown San Diego, finding all sorts of great spots to put his creative mind to work.
And that's why I'm always super excited when a new Mercado video drops because I know I'll gain some inspiration for my next session.
Hint: The last two riding clips in this one are MAD. Enjoy.
Drop the Pin with Albert

Mercado's Drop The Pin video from the late Ride BMX was the first one ever where the pin had to be re-dropped.
The original location left them in a very rural area but once the new pin was dropped, the fun started. They ended up at what appeared to be a pretty amazing-looking school with a ton of awesome spots to ride.
Rails, ledges, loading docks, and a guest appearance from Demarcus Paul all before something crazy happened.
The boys also found themselves in some crazy SWAT situation, which somewhat took over a portion of the video before Albert does an absolutely amazing 180 handplant in the last clip!
Alber is having "Seriously Fun"

GT BMX's "Seriously Fun" DVD was the first full-length video from GT in years. That said, to have a part in it is something special.
Here we have Albert Mercado's section from the video, filmed in California, Connecticut, and Taiwan.
Albert has a unique style and approach to riding in which he uses spots completely different than most; if they would ride the spot at all.
He also handles it on conventional setups as well and all of this is something that is seen throughout this section.
A pedal feeble grind down a ledge to 180 to halfcab turndown over another ledge?! Albert's riding is always a treat.
Shadow "What Could Go Wrong" DVD part

"Tricks that shouldn't be possible on setups that shouldn't be rideable," is how the description describes Albert's section from The Shadow Conspiracy "What Could Go Wrong" DVD and it could not be more accurate.
Make no mistake about it though, Albert can lace a pegs hard 180 down a handrail and a big drop with the best of them.
However, the way Albert uses the setups he rides is all his own and it always makes for an enjoyable video.
How often do you see a nothing down a set of stairs or a feeble hard 180 no footed can? Not very many, that's for sure.
Shadow "Home, Sweet Home" video

This video with Albert Mercado for The Shadow Conspiracy is called "Home, Sweet Home" and came out at the end of 2013.
If not made obvious by the title, the video's concept was to cruise around Albert's hometown and film a video.
At this time, Albert was an AM with Shadow, but you'd never be able to judge that from his riding and his signature creative style was definitely present.
Tricks that really stood out were a 180 walltap 180 on a big electrical box and a very hard-to-explain feeble hard 180 down a ledge.
GT in AZ with Albert Mercado & Jeff Purdy

Here we have a video called from GT featuring Albert Mercado and Jeff Purdy crushing AZ. These two spent a week in the Phoenix area of Arizona to make this video in 2018.
Albert's creative style coupled with Jeff's technical fashion makes for an all-around enjoyable video where both of these guys killed it.
Jeff's massive feeble to smith to turndown on a sizable ledge and Albert's footplant 180 on a wild setup are a couple of stand-out clips. Overall, this one has a good vibe, great riding, and the camera work/editing to match.
Albert's 2015 New Year edit

For the beginning of 2015, Albert Mercado came out with this edit from The Shadow Conspiracy called New Year, New Edit. The video was filmed around his hometown San Diego and is most certainly a treat to watch.
Albert's take on how he rides spots is out-of-the-box and the combos he comes up with are always awesome.
Things like the ledge manual to toboggan to smith on another ledge and the curved rail to immediate nothing down a stair set make this one stand out and also stand the test of time.
Kink – Lost Footage

In 2014, Albert Mercado was on the Kink BMX team. With that came this video of lost footage from legendary BMX videographer Miles Rogoish.
It's a short one at just under a minute and a half long but it definitely does not disappoint.
There are quite a few ledge rides in here with rad combos like an up ledge to 360 out and a ledge to t-bog bar spin.
The last clip starts with his signature 180 smith 180 on a support beam followed by a huge feeble to 360.
Was this article helpful?
Disclosure: The BMX Dude's content is free & reader-supported. I may earn a commission if you click & buy through my links. Your support helps me create the best content & make a difference. Thanks! 🤘