Hey dudes, welcome to the latest (& not so latest) Logan Martin bike check that's an insane park machine.
Why not so latest?
Because I added more bike checks below from past years.
Since Hyper and Snafu sponsor logan, that's what his bikes pretty much consist of.
He even has a signature park frame with Hyper called Indy.
Logan Martin 2022 Hyper Bike Check
Frame: Hyper Indy 20.5 frame
Bar: Snafu Jackson 9.25 bar
Stem: Snafu topload BMX stem, 52mm
Fork: Snafu Magical BMX forks
Seat: Snafu Solo BMX seat
Cranks: Snafu Mayweather 170mm BMX cranks
Pedals: Snafu Anorexic pedals
Sprocket: OLA 28T BMX sprocket
Front Wheel: Profile Elite hubs, Eclat Trippin BMX rim
Rear Wheel: Profile Elite hubs, Odyssey 7KA rim
Spokes: Spectre titanium BMX spokes
Tires: Maxxis Grifter (front 2.1″, rear 1.85″) BMX tires
Fun facts:
He rides his bike pretty much out-of-the-box, little to no modifications.
Logan usually builds a new bike multiple times a year.
Featured photo by: Logan's IG.
Old Logan Martin Bike Checks
1. 2021 Bike Check

Logan is known to have really dialed-looking bikes, and here's a black one with white rims.
The video shows the bike without Logan breaking it down. That's OK.
What's even better, we get to see a ton of riding clips that are always a pleasure to watch.
2. 2020 Bike Check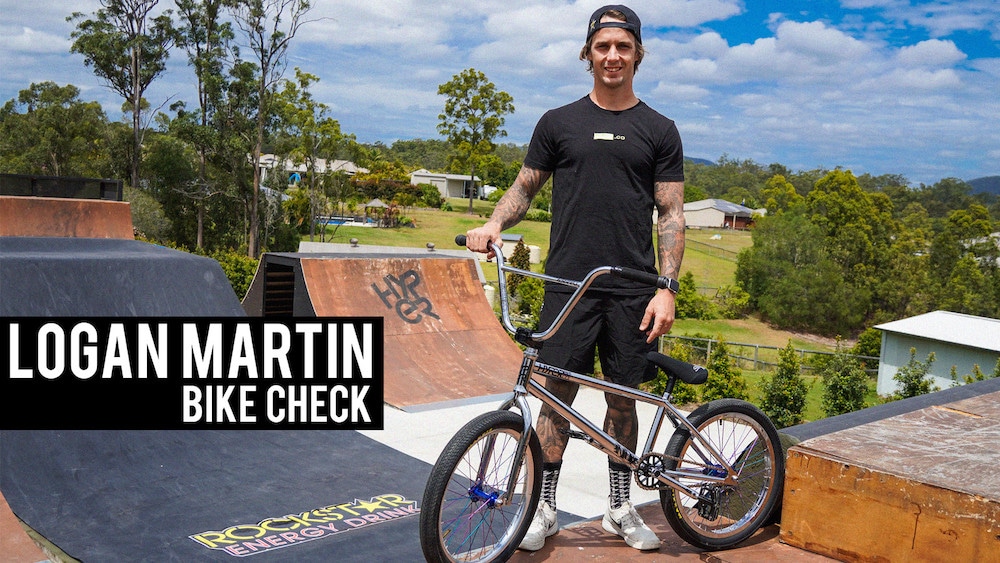 Even though I always go for an all-black bike, an all-chrome looks really COOL. Along with the full bike check, Vital also asked Logan a bunch of questions regarding his bike.
He talks about mods, his signature frame, changing parts, etc.
Check more images and a full list of parts on Vital.
3. 2019 Bike Check

You get it all, from building the bike to talking about the different parts he's running and some wild riding clips at The Village BMX indoor skatepark.
Raw, chrome, red and some black, that's what's up!
Note: It's pretty cool seeing Logan still rocking a cassette hub.
By the way, that nose manual to 360 straight into a double truck driver line was crazy.
(And it continues into a bar to footjam to fakie right into a fakie tailwhip on a mini ramp.)
4. 2018 Bike Check

Who's into jet fuel colorway? I think it's really rad.
That's what Logan Martin's bike check looked like back in 2018 – with chrome, gold and black parts.
After building the bike check, you get to see a quick run-through before Logan hits the park and destroys it.
It's ridiculous how effortless his riding is. And the backflip drop-in at the end – OKAY!
Was this article helpful?
Disclosure: The BMX Dude's content is free & reader-supported. I may earn a commission if you click & buy through my links. Your support helps me create the best content & make a difference. Thanks! 🤘