If you are a tall rider yourself, then I am sure this Charlie Crumlish bike check post will do you well.
It's no secret that the majority of BMX riders tend to be of average or below-average height. However, that does not mean that tall riders cannot kill it on a BMX bike, too.
Charlie is a great example, and he is doing it for a very long time.
Note: Charlie is 6'4″ tall.
He even has a signature Tall Boy frame from S&M, which you can get your hands on as well. It comes in 21.25″ and 21.5″ top tube lengths.
Additionally, you can likewise get his 4-piece handlebar called FU-bar, also from S&M.
Charlie Crumlish 2022 Bike Check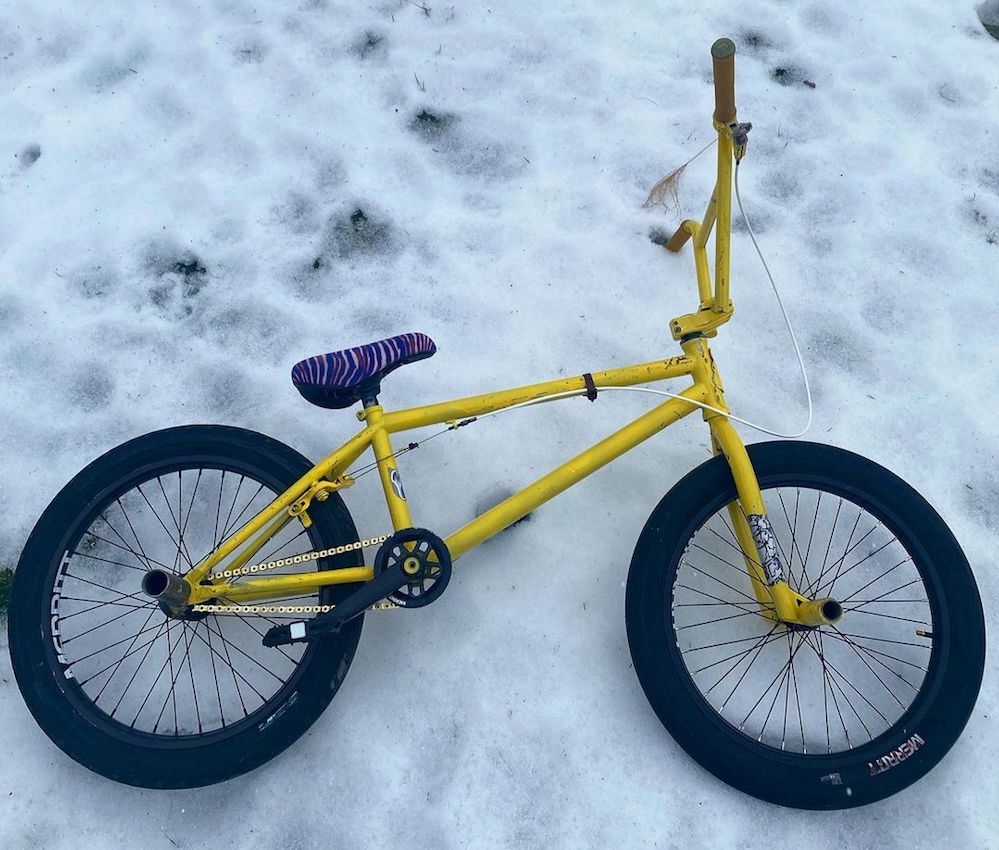 What you will notice when it comes to Charlie's bike is how forward his handlebar is (similar to Dan Kruk). That's what feels right to him due to his height.
Another specialty worth noting is that Charlie likes to paint his bike quite often. In other words, he will rarely go any considerable time riding his bike setup with the original paint job.
GET CHARLIE'S SIGNATURE PARTS:
Also, don't miss some of Charlie Crumlish's best videos in our best of videography.
Do not forget to follow Charlie on Instagram for all the unique BMX bike riding and other creative stuff that he does.
Two other taller BMX riders that we already covered their bike checks are Mike Hoder and Broc Raiford.
Featured photo by: Charlie's Instagram.
Old Charlie Crumlish bike checks
What I Ride 2018

Here we've got a video bike check with Charlie from late 2018 up on the late Ride BMX's YouTube channel.
Charlie gives us the rundown on the bike he was riding back in 2018 with a few jokes thrown in throughout.
We learn about the BMXFU headtube badge as well as his signature Tall Boy V2 frame from S&M. He gives some insight on the geometry of the frame and why certain measurements were chosen.
If you've ever wondered why Charlie runs his bars forward the way he does, that explanation is in here as well.
S&M bike check 2017

In this video bike check from midway through 2017 with Charlie Crumlish from S&M, we start with a few skatepark clips that are perfect examples of why his bike is set up the way it is.
Charlie runs through the different parts on his bike including his signature Tall Boy frame from S&M.
Charlie shares some thoughts on his fork offset and how he feels a 32mm offset helps the different fakie tricks he likes to do.
There are riding clips mixed throughout as well that are all at a prefab skatepark which is a rare sight from Charlie.