Are you searching around the web for the latest Alex Kennedy bike check?
I'm excited to share AK's latest Cult and Eclat build with you.
It's no secret that Alex is a very original street rider, and so is his bike.
Alex is a 6'2.5″ tall rider, so he prefers a 21.25″ top tube frame.
Another specialty is the 4.8″ pegs, which he says help him lock in easier and keep him more stable – thanks to that extra length.
What's also interesting is that Alex opted for forks with an 18mm offset – particularly for nose manuals (learn more about BMX fork offset in my beginner's guide). On top of that, he rides 165mm cranks.
But find the entire parts list below.
Alex Kennedy 2023 Cult & Eclat Bike Check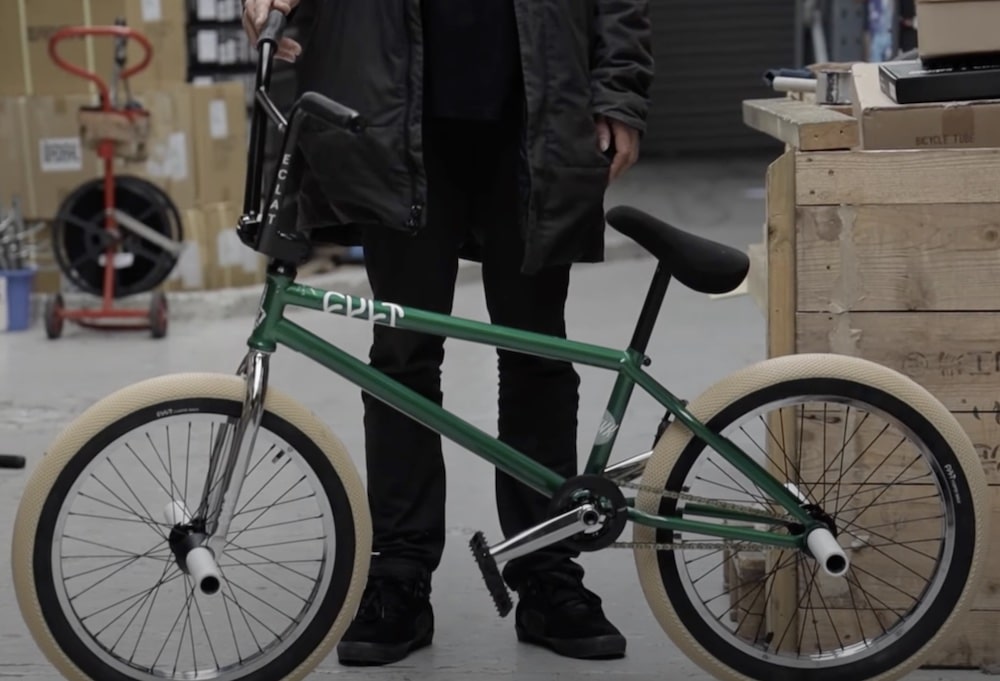 Frame: Cult Chase Hawk frame, 21.25″
Bar: Eclat Strangler 4-piece BMX bar, 9.6″
Stem: Eclat Metra top load stem
Fork: Cult Sect BMX forks
Headset: Eclat Wave BMX headset
Grips: Cult Sean Ricany grips
Seat: Cult tripod seat/post
Cranks: Cult Hawk BMX cranks, 165mm
Pedals: Cult Dakota Roche pedals
Sprocket: Eclat AK sprocket w/ guard
Chain: Eclat Stroke half link chain
Front Wheel: Eclat 440 rim, Eclat Cortex front hub
Rear Wheel: Eclat 440 rim, Eclat Cortex freecoaster hub
Pegs: Eclat Venom plastic pegs, 4.8″
Tires: Cult X Vans BMX tires, 2.4″
SO. CRISP.
GET PARTS ALEX RIDES:
If you haven't seen them yet, check out the best Alex Kennedy BMX videos.
Do not forget to follow Alex on Instagram (although he doesn't post very often).
Featured photo by: Merlin Czarnulla.
Old Alex Kennedy Bike Checks
Source BMX Bike Check

When Van Homan is behind the mic, you know immediately that the video bike check will be insightful. Van knows what bike questions to ask!
Here's a fantastic look at Alex's Cult Hawk built in green, chrome, black, white and tan.
There might be plenty of colors going on, but the combination creates a solid outcome.
What's interesting is that AK decided to go with the Chase Hawk frame, who we all know is more about riding transitions and going fast.
But it suits Alex nicely.
Alex also explains why he rides 18mm offset forks, 165mm cranks and lengthy, 4.8″ pegs.
Ride UK Bike Build

If the above video is a rundown of parts, this is a short one showcasing you Alex assembling the bike.
The one thing that I really like about this video is that it shows you that Alex Kennedy builds his own wheels!
Not that many riders do that, especially nowadays, when complete wheels are so well-built and require only some occasional trueing.
I still remember how long it took me to lace together my first wheel – I almost gave up. Luckily, when you master the method, you can do it every time.
Try lacing your wheels at least once or twice to see how it (your bike) works.
DIG Setups (2017)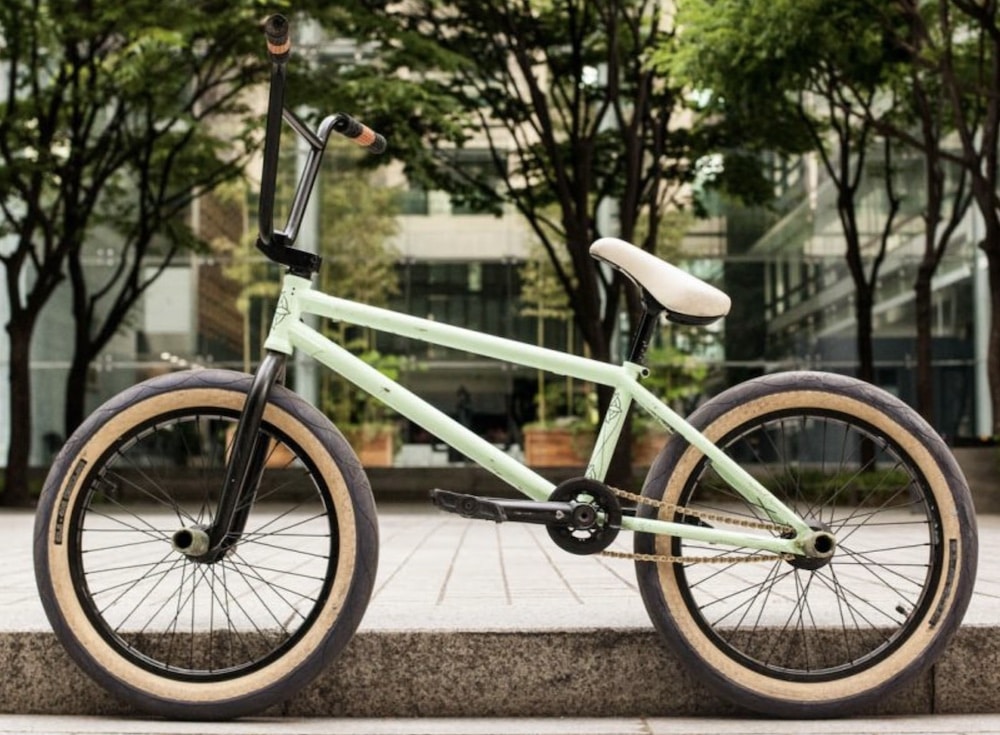 Let's take a peek at the Alex Kennedy bike check from a little while back.
It was the year 2017 when AK had quite a few signature products both from Cult and Eclat.
From Cult, he had available a signature frame, bar, grip and seat. And from Eclat, pedals and sprocket.
In a bike interview on DIG, AK also talks about what parts he relies on the most, how a fresh setup affects his riding and what parts he goes through the quickest.
Check more on DIG.
DIG Setups (2014)

Shall we take it all the way back to 2014, when Alex was riding his seat slammed and two metal pegs?
This setup is completely different from any of the above, but even Alex's riding style was different from how he rides today.
And that's great.
I love seeing the rider's evolution and progression, even if that means shifting gears completely. But AK's amazing toboggans were already present back then!
Check out his old Cult and Primo setup with a few exceptions.
Was this article helpful?
Disclosure: The BMX Dude's content is free & reader-supported. I may earn a commission if you click & buy through my links. Your support helps me create the best content & make a difference. Thanks! 🤘