Do you need the best Matt Nordstrom BMX videos because you're into extremely technical bike riding?
This kid's progression is one that will keep you hyped for a very long time.
It's not just about the fact of how many tech combos Matt can pull in a line; those tricks are also very original.
Along with all the grinding, you can see Matt do double barspins, crank flips, in fact, you do not even know what to expect from this dude – he is pretty much capable of everything.
And stuff that you do not see others pull is Matt's specialty.
In an interview for BMX Union, Matt remembers that it was his neighbor in Fort Worth, Ben, who kinda got him into BMX. However, Matt is also one of those youngsters who ALWAYS had a thing for bikes.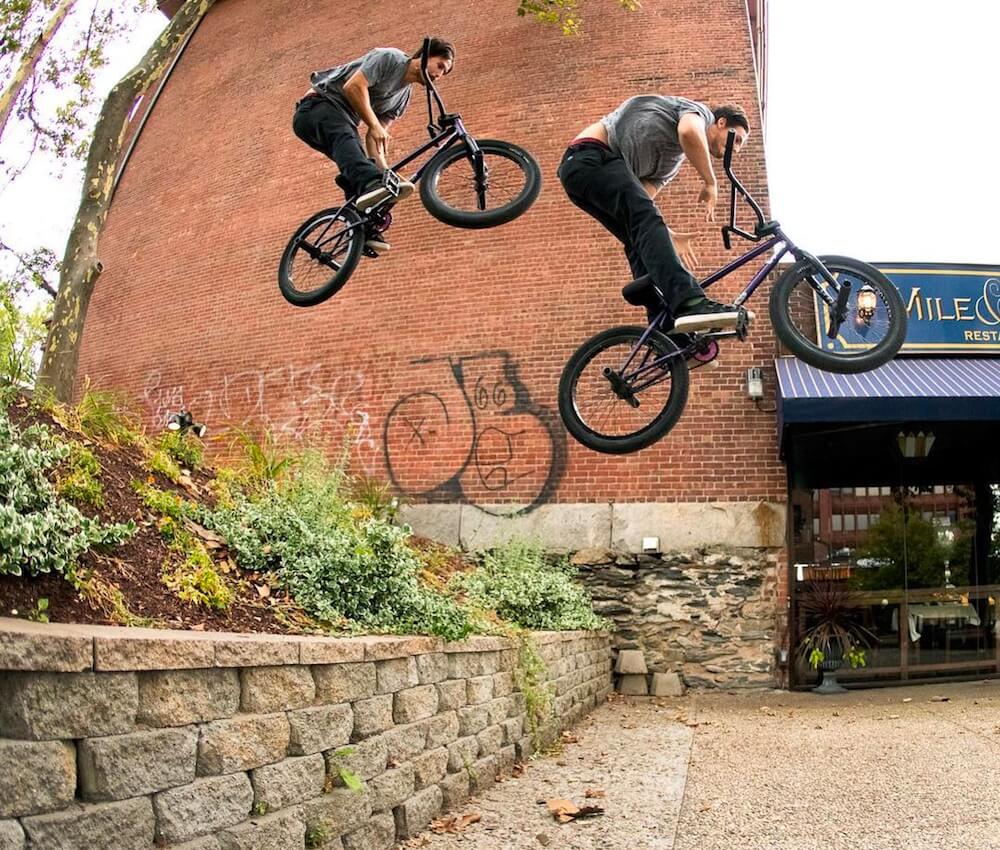 GET PARTS MATT RIDES:
Note: Don't miss my Matt Nordstrom bike check.
Look at Matt Nordstrom today, has is the BMX space for well over ten years, and he keeps progressing day in and day out.
Also, he is doing it proudly for Fit BMX and Odyssey, even having signature products, like bars (from Fit) and top load BMX stem (from Odyssey).
Some of his teammates are Broc Raiford, Boyd Hilder, Travis Hughes and Aaron Ross.
Even though his riding style is far from what you are used to seeing, once you understand it, you will fall in love with it.
And that's exactly why you came here today, to enjoy Matt's web edits and video parts, which all are outstandingly good.
If you are ready for daily trick wizardry and a lot of kickflips, do not forget to follow Matt on Instagram.
Featured photo by: Odyssey.
Best Matt Nordstrom BMX Videos
1. F-IT ALL

What just happened? Technical MADNESS!
If you need street wizardry in your life, then you watch Matt Nordstrom's F-IT ALL part. Even if it's for the 20th time!
This dude's riding is just different. A lot of barspins, tailwhips and crankflips in combinations that are hard to believe even if they happen right in front of your eyes.
Here are two of my favorite: 1) Manual to barspin to manual to crankflip to manual to barspin to manual to drop manual to bunnyhop tailwhip and 2) barspin to manual to hop whip to manual to barspin.
I know, right? HOW?!
1.5. F-IT ALL – Unlock The Spot

I'm sure you've seen Matt's absolutely insane F-IT ALL video, which is a collection of ridiculous technical wizardry that doesn't make sense (I was in the "How?!" all the time). But Matt pulls it all so cleanly.
However, if you don't know how much work goes into making all that stuff happen, Fit released this awesome behind-the-scenes look into pulling some of those combos.
Matt sure is a persistent warrior, which is what someone needs to be to get that magic to work.
I'm still speechless. Enjoy and get yourself blown away – AGAIN – even just by watching all the attempts.
2. Odyssey – BIG TECH

I usually don't post split parts or edits in the riders' videographies, but some exceptions are necessary.
Just like this one, featuring Matt Nordstrom and Jacob Cable, doing it for an Odyssey project called Big Tech.
If you are into technical street riding, then you don't want to miss all the magic stuff that happens here from both of the dudes. This is NEXT LEVEL stuff!
What I really like about Matt and Jacob is that they are both technical magicians, but they still have completely different styles.
3. Matt Nordstrom At House Park

Dude with the best double barspins and by far the cleanest crankflips in the game, Matt killed it for his USL House Park Super Cup entry.
The level of technical riding is 20 out of 10.
I don't even dare to go into describing the tricks that Matt does in here. But I'll definitely mention the 360 cranfklip ENDER BANGER, which is not something you see daily.
Matt is a rider who sees BMX completely differently than anyone else. It's such a treat watching him ride and do his original and unique thing.
4. Odyssey "No Kickflips" web edit

Unfortunately, Matt received so much hate for doing kickflips, he decided to shot an entire web edit without a single kickflip.
Welp, you know that is one big, fat joke. That's right, this three and a half minutes long video starts off with a massive kickflip that's followed by many more.
Still, in here, you will find a ton of other insanely jaw-dropping clips that will make you wonder how does Matt do it. I am especially amazed by the 180 to smith to cab 180 to manual to 180 double barspin.
I needed to see that one a couple of times before moving forward. But the straight double barspin down a double set at the end is also ridiculous.
5. Fit Nordstrom bar promo

If you would like to know how Matt prefers his signature bar best, this promo reveals it all.
Before he goes out shredding, Matt first cuts the handlebar to 27.5″ – is this the perfect width to make your bars spin just like Matt's?
You can easily find that out since they come with a sticker that will help you cut them precisely where necessary. No measurement is necessary.
Anyhow, this promo is also full of outstanding night shots of Matt putting his signature Nordstrom bar to a serious test.
But it's not only barspins what Matt Nordstrom is good at, he can do all sorts of other tricks that will blow you away.
6. Matt Nordstrom welcome to Fit pro

I get excited whenever a bike company announces a new addition to its pro team with a video. I know the guy did whatever it took to create a killer edit to prove to the world why he deserves it.
For Matt, it really took him a short little while to go from AM to pro both for Fit and Odyssey.
Ah, his riding is dope and you know that already. And it is going to be dope even ten or twenty years from now.
Matt and Walter Pieringer teamed up, hit the streets and then this welcome to the pro team edit came out.
Kickflip to feeble to manual to double bar on a ledge – WOWZA.
7. Fit Mixtape frame signature colorway

This is not exactly a full-blown shredding edit, but it still includes tons of great stuff for you to enjoy.
This is basically somewhat of a promotional video for Mat's signature Fit Mixtape colorway BMX street frame that comes in this beautiful purple.
Along with that, he and Tom Dugan hit up Empire BMX in Austin, Texas, to pick up some Mixtape stickers for Matt to sign.
Not just that, but you will also see some clips of Nordstrom riding.
The icepick to double barspin on a flat rail in front of his driveway is nuts. You got to do what you got to do for folks to buy your stuff, I guess.
8. Matt, Tom and Ethan at House Park

If you just want to watch Matt Nordstrom cruise around the House Park in Austin, Texas, you came to the right place. But seriously, Matt is never just cruising, he always goes all-in – but that may be his way of cruising.
I am lost.
Anyhow, you will see a lot of Matt and Tom in here, with Ethan Corriere joining them more toward the end.
Witness what happens behind the scenes, Matt fixing his wheel, crashing, getting sweaty, you know, all the good stuff.
Even though Tom was taking some iPhone shots, it was Gordon MacDonald who filmed and edited F-Log 40.
9. Matt and Chase shredding concrete

Chase Krolicki and Matt hit up a concrete skatepark for a session, and this happened. The two of them went all in, pulling some super wild trick combos that will keep you glued to the screen to the very last second.
Regular and opposite, barspins and crankflips, manuals and nose manuals, whatever your heart desires, these two deliver it.
There are also some crashes in here, which only spice things up for your viewing pleasure.
Highlights: barspin to nose manual and crankflip to nose manual to 360. Yes, these two shredders can go very technical, and that is a fact.
10. Matt Nordstrom bike check (2015)

This may be an old bike check, but who cares. For some reason, watching pros describe their bike setups is always a joy.
Matt runs you through his Fit and Odyssey BMX bike that he was running back then, accompanied by many great riding clips you do not want to miss.
By the way, that super long rail ride to crankflip was pretty nuts. Also, the crank grind down a rail to nose manual was sick as well. Enjoy the goodies that Matt was using, but what we are all here for is the riding.
11. Matt for Fit (2016)

I tell you one thing: if you have not seen this web edit yet, you are doing something extremely wrong. But hey, that's why The BMX Dude is here, to create collections of the best BMX videos from amazing riders.
This entire edit was shot over the course of two trips Matt and Francis Castro took over to California. Very productive trips indeed. And if you are interested in seeing all kinds of kickflip variations, you will see them here.
My favorite is definitely the last one – smith grid to kickflip to nose manual to barspin. Not just that, but the fact of how perfect Matt pulls it makes it a treat to watch.
12. 10 Question interview w/ Matt

In their 10 Spot feature, Odyssey picks one of their riders and ten questions they think are the best from Instagram.
This time, they collaborated with Matt for you to get to know him better. If you would like to know what he likes more, barspins or kickflips, or pancakes or waffles, he reveals it all for you in here.
Moreover, in this video interview, Matt also talks about his biggest influences when he started out, Randy Taylor and Garrett Reynolds.
Plus, do you know who inspired him the most to do kickflips? It was Eric Holley with a crank flip to rail ride.
Was this article helpful?
Disclosure: The BMX Dude's content is free & reader-supported. I may earn a commission if you click & buy through my links. Your support helps me create the best content & make a difference. Thanks! 🤘