Yup, everyone is interested in a Garrett Reynolds bike check, right?
Shall I share with you a secret? The truth is, there is no secret.
Even if he reveals it all to you, Garrett will still be one of the best in the world, and that is a guarantee.
But his amazing Fiend setup sure does help.
Unfortunately, Garrett is not one of those dudes who will share all the parts he rides each year. Oh wait, so there may be something that he is hiding?
Not really, because the bike checks that Garrett does reveal it all. As a matter of fact, from time to time, he even gives his complete setup away.
Will that make your level of riding equally to Garrett's? Probably not, but there is nothing wrong with that.
Garrett Reynolds Fiend & Cinema 2023 Bike Check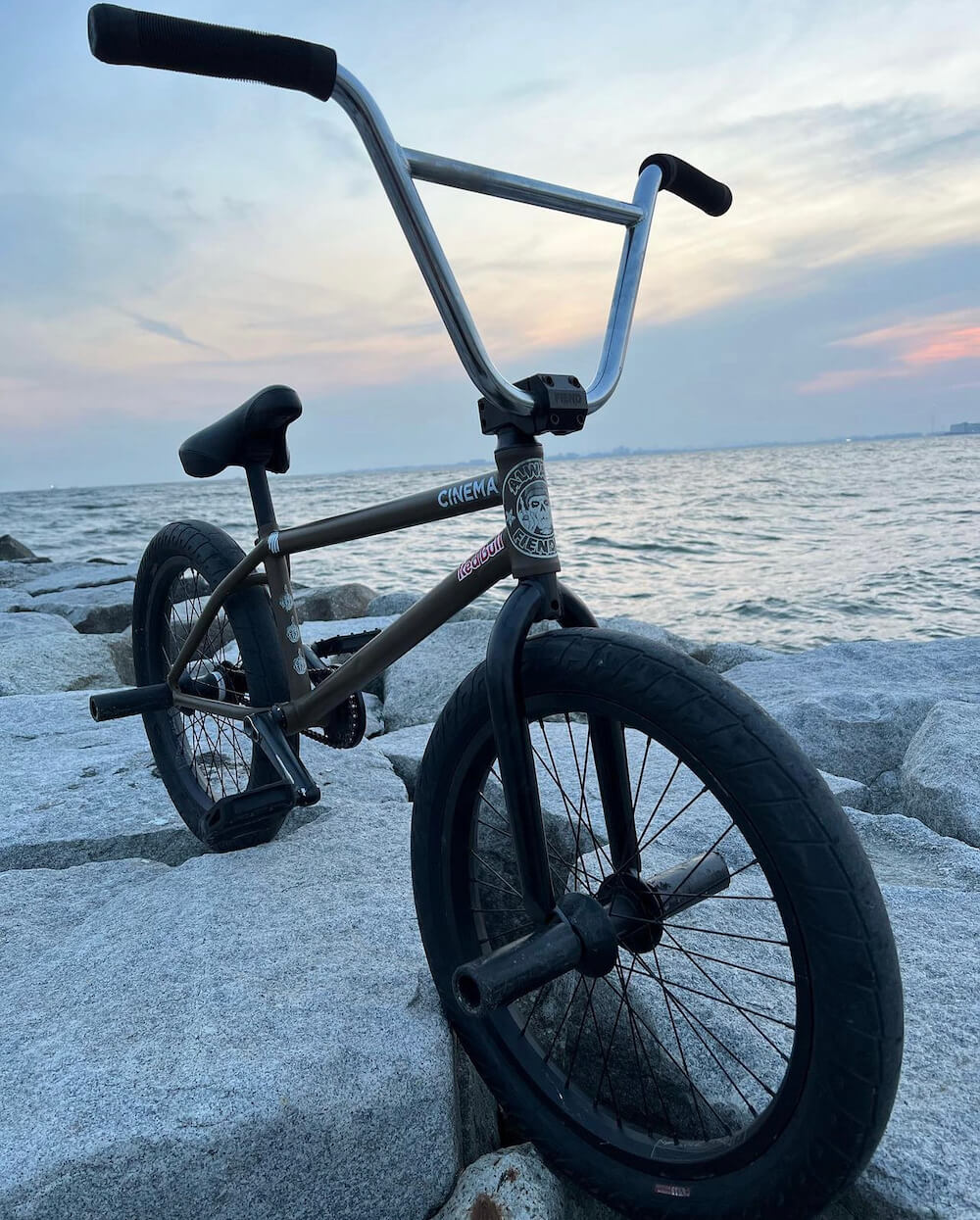 Frame: Fiend Reynolds frame
Bar: Fiend Reynolds bars
Stem: Fiend Reynolds stem
Fork: Fiend Process BMX forks
Headset: Fiend Tall BMX headset
Grips: Cinema signature sample grips
Seat: Fiend Reynolds V2 seat
Seat Post: Fiend Pivotal BMX seat post
Cranks: Fiend Team V2 BMX cranks
Pedals: Fiend Reynolds pedals
Sprocket: Fiend Reynolds sprocket with plastic guard
Front Wheel: Cinema Reynolds FX front wheel
Rear Wheel: Cinema Reynolds FX2 rear wheel
Pegs: Fiend Belmont plastic BMX pegs
Tires: Cinema Williams tire
First and foremost, he rocks his signature Fiend Reynolds frame. When it's available, you better act quickly because it sells out super fast.
If you are looking for more BMX street frame alternatives, I have a whole list of the best options for you.
Moreover, Garrett also has his signature Fiend BMX sprocket, BMX seat, front load stem, bars and plastic pedals.
What's more, from Cinema BMX, Garrett has signature wheels and rim.
Unless he is testing products, he will sport his signature products.
In addition to that, his entire bike is primarily built out of Fiend bike parts – after all, it is his company, of course, he will push it as much as possible.
However, below, we will take a peek at some of the older setups that Garrett rode.
Want to have a Garrett-inspired bike?
GRAB HIS SIGNATURE PARTS NOW:
You can enjoy the never-ending craziness from Garrett on a daily basis by following him on Instagram.
Featured photo by: Fiend Instagram.
Old Garrett Reynolds Bike Checks
Source BMX Bike Check

You know it will be an excellent video bike check when you have Van Homan behind the mic. And on the other hand, Garrett always takes that extra effort to give you all the ins and out of the parts he rides.
In this one, you'll also see his in-the-works signature Cinema grips. Garrett also rides 2.5″ tires, which are pretty huge, and 4.25″ pegs because catching on rails (with longer pegs) is way too scary for him.
Moreover, Garrett also likes to run plastic pegs, plastic hub guards and a plastic sprocket guard, so the only thing that touches rails and ledges when he grinds is plastic.
Garrett 2022 Bike Check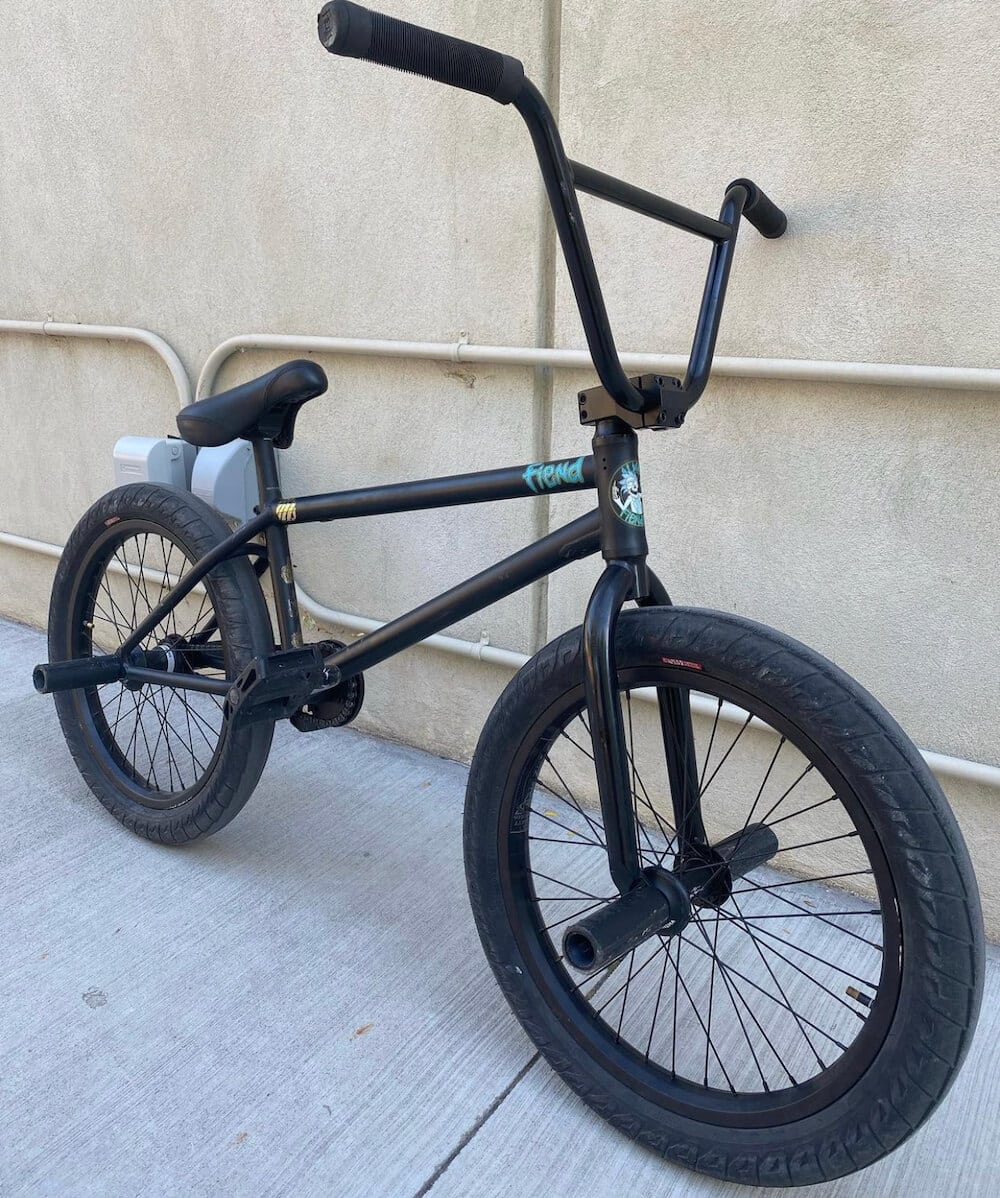 Garrett Reynolds 2021 Bike Check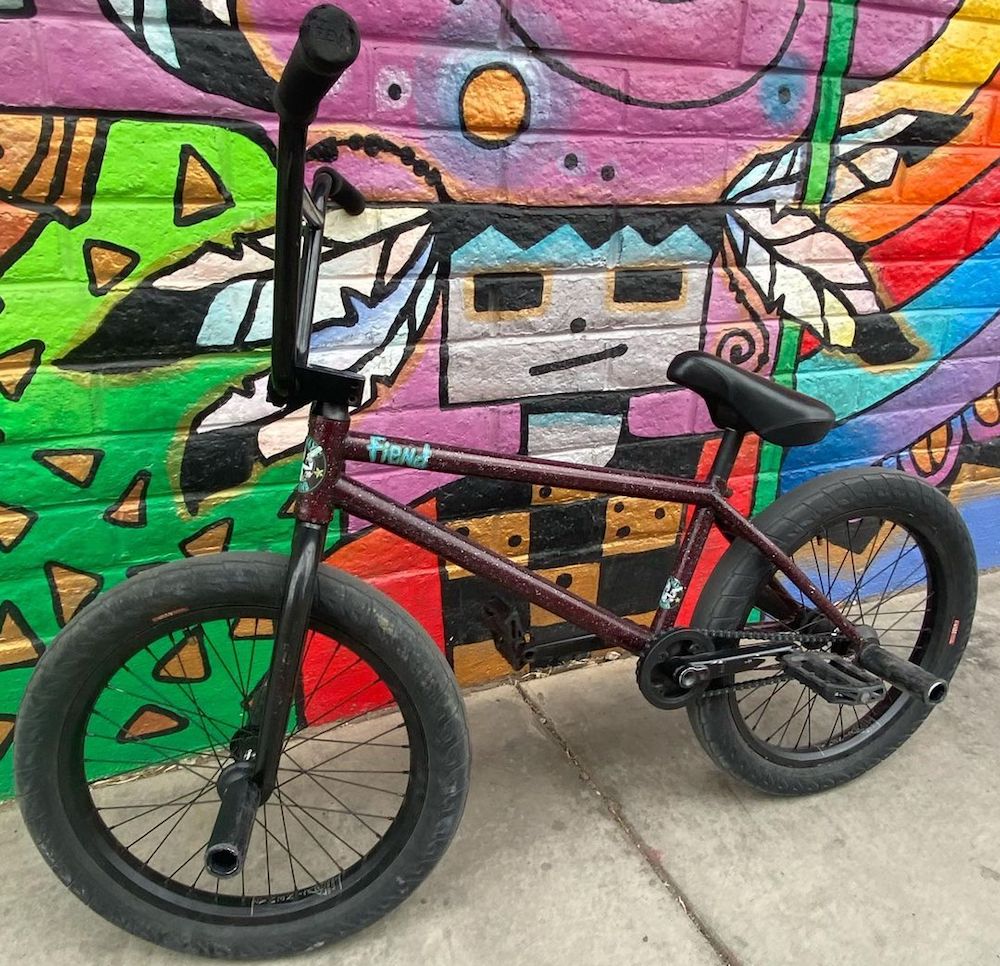 2018 Bike check for Ride BMX

I mentioned "secrets" before, and if you are interested in some, actually, Garrett shares them in this video bike check from back in 2018.
First, he absolutely does not like new BMX grips – so what does he do? He first rolls them on the ground to get rid of the "first layer" of protection.
And second, he also is not very comfortable with riding fresh BMX tires. Moreover, this entire setup is full of solid Fiend and Cinema parts along with BSD tires.
He also shares a few tips in here, for instance, what will a shorter back-end or a steeper front-end do.
2013 Bike check for Vital BMX

This is a pretty quick rundown of the parts that Garrett Reynolds rode during X-Games LA in 2013.
If the above bike pretty much consists of only two brands, there are all sorts of different parts on this one. Still, Garrett is already rocking Fiend parts and quite some sample products, too.
By the way, he missed sharing which grips are those.
While you can learn about what was his ride back then (is it even important anymore?), you will also get to watch some evergreen clips from the street course.
No matter how old this is, watching Reynolds ride is always a treat.
Bandana times Garrett Reynolds bike check

Okay, I didn't really want to add this one to the list, but I said, what the heck, you deserve it. This is not even an official video, and the quality is rather shitty, but still.
If, by any chance, you happen to be new to Garrett because you just started riding, you need to see this.
Garret, back in the days, was pretty much nothing like he is today – except the riding, that was always on point.
He wore a bandana, tight jeans, BMX metal pegs, flange grips. Enjoy yourself some history today before you go out to shred your bike.
Note: Even in this one, Garrett says that he rubs new grips on the ground first before putting them on the bar.
Was this article helpful?
Disclosure: The BMX Dude's content is free & reader-supported. I may earn a commission if you click & buy through my links. Your support helps me create the best content & make a difference. Thanks! 🤘