Are you searching for the best BMX street bikes?
The curation of this collection was in the works over many months, including over ten of my dudes, who helped me with their experience riding the bikes.
These are the absolute best complete bikes that any street rider can opt for.
Some are signature bikes from pro riders that are meant to last.
But the three that I would recommend any time are Kink Cloud, Kink Williams and WTP Battleship.
This post covers:
How We Tested BMX Street Complete Bikes
Me and many of my friends went through a number of BMX bikes to settle with the best-of-the-best.
While I thoroughly examined each bike in detail during assemblage, my dudes reported their experience using the bikes for weeks and, some, months.
I paid attention to how easily the bikes are built out of the box, with or without the brakes.
Bikes were also thoroughly tested on the streets and at skateparks.
Each bike went through hours-long sessions of grinding, pulling spins, manuals and nose manual, gaps/drops and learning new tricks.
Now let's go right into the best BMX bikes for street riders.
MY FAVORITE BMX STREET BIKES:
Best BMX Street Complete Bikes
1. Kink Cloud BMX Bike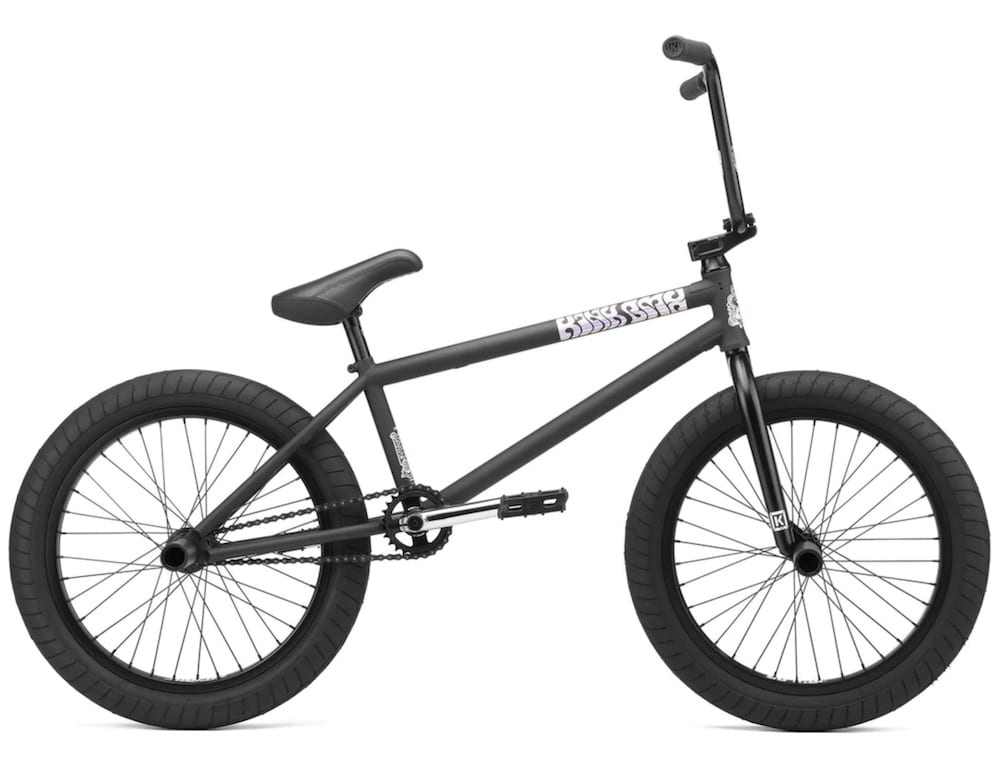 This Travis Hughes's signature Kink complete bike that's meant for street and park business.
The bike is based on Travis' geometry preferences, with a few tweaks that make it more affordable.
Cloud comes with all sorts of high-quality Kink and Mission parts to assemble the bike and ride it out of the box.
It features 9.5″ Kink Rex bars, Kink Hemlock pedals and Kink Ericsson BMX seat. You also get Mission's freecoaster hub and sealed bearings all around for smooth rolling.
Kink Cloud bike has a responsive geometry that is great both for technical riding but handles burly stuff, too.
It's a mid-range complete bike that you can count on!
My friends Jay and Robert reported to me that they have been enjoying this setup for four months now and have no issues (except for truing the wheels).
Bike specs:
Frame: Kink Cloud frame
Top tube: 21″
Headtube angle: 75.5
Forks: Kink Trident forks
Bars: Kink Rex bars
Stem: Kink Bold HRD top load stem
Front wheel: Mission Bond hub, Mission Mylar rim
Rear wheel: Mission Pace freecoaster hub, Mission Mylar rim
Cranks: Kink Ridge cranks
Sprocket: Kink Imprint sprocket
Tires: Kink Sever tires
Pedals: Kink Hemlock pedals
Seat: Kink Ericsson stealth seat
Pegs: 4 X Mission Targa plastic BMX pegs
Price: $749.99 (may vary)
Matt P.: "I contacted Rok on IG about getting a new bike because my old Kink Gap XL was pretty beaten up. As a Kink fan, I wanted to keep supporting the brand but wanted something better. I was flirting with the Williams bike but wanted a taller handlebar and a more responsive front end. Rok suggested I get the Kink Cloud, and I couldn't be more stoked about it. Cheers, Matt!"
GET YOUR BIKE
2. Kink Switch BMX Bike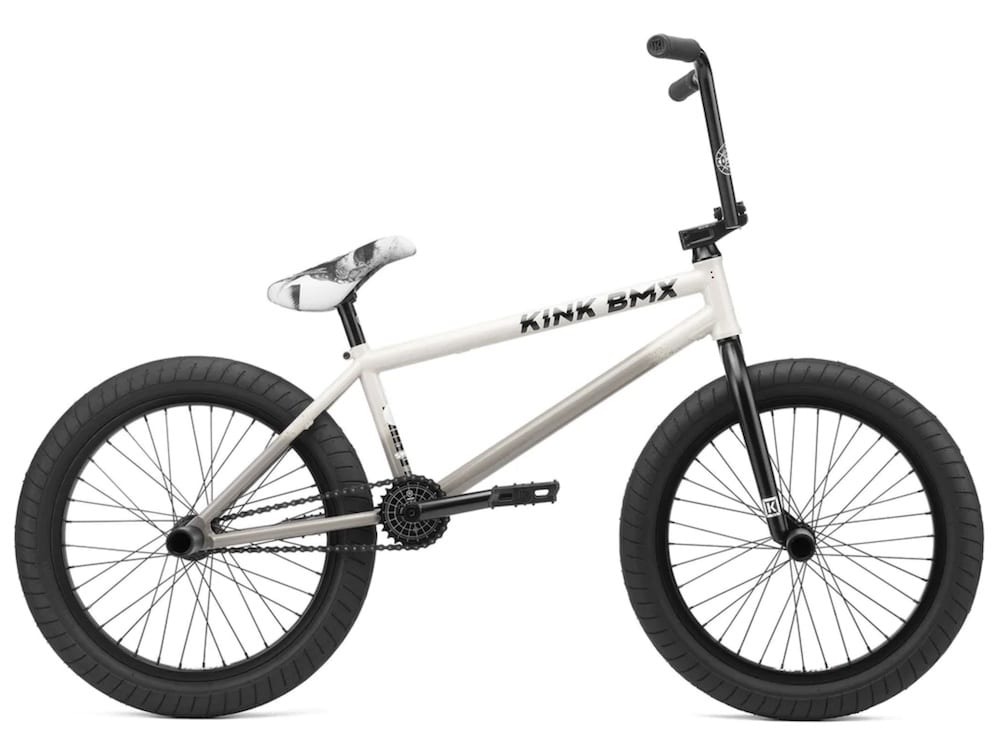 The Kink's Switch BMX street bike is slightly cheaper, but still promises great quality for your hours-long sessions.
Going switch and regular is easy with Switch!
The bike combines Kink and Mission parts with a 20.75″ frame top tube that's great for riders who are around 5ft-6ft tall.
The steeper headtube angle and the shorter chainstay length ensure that this BMX street frame is responsive, which is extra handy for street riding or park jibbing.
But when you get used to it, you can ride Switch anywhere you want.
Of course, it wouldn't be called Switch if it didn't come with a freecoaster. Fakie tricks all of a sudden become a whole bunch simpler.
After talking to Matt, Eli and Mike, who have been riding the bike for three months, they said it's a great bike for beginners who want to upgrade.
Bike specs:
Frame: Kink Switch frame
Top tube: 20.75″
Headtube angle: 75.5
Forks: Kink Trident forks
Bars: Kink Trident bars
Stem: Kink Bold HRD top load stem
Front wheel: Mission Bond hub, Mission Mylar rim
Rear wheel: Mission Pace freecoaster hub, Mission Mylar rim
Cranks: Kink Ridge cranks
Sprocket: Mission Locator sprocket
Tires: Kink Sever tires
Pedals: Kink Hemlock pedals
Seat: Kink Chinaski stealth seat
Pegs: 2 X plastic pegs
Price: $599.99 (may vary)
John Z.: "I'm 5'8″, and after borrowing friends' bikes at the local skatepark, I wanted to get one, too. I tried a cassette and a freecoaster and knew that FC suited me better. After doing my research, I wasn't really sure which bike to get until landing on TBD's best street bikes post. I later chatted with Rok about which complete I should get and shared what I liked about my friends' bikes. He then recommended the Kink Switch bike. Best decision; thanks, Rok! (As you suggested, I did then get two extra pegs 🙂 .)"
GET YOUR BIKE
3. Kink Williams BMX Bike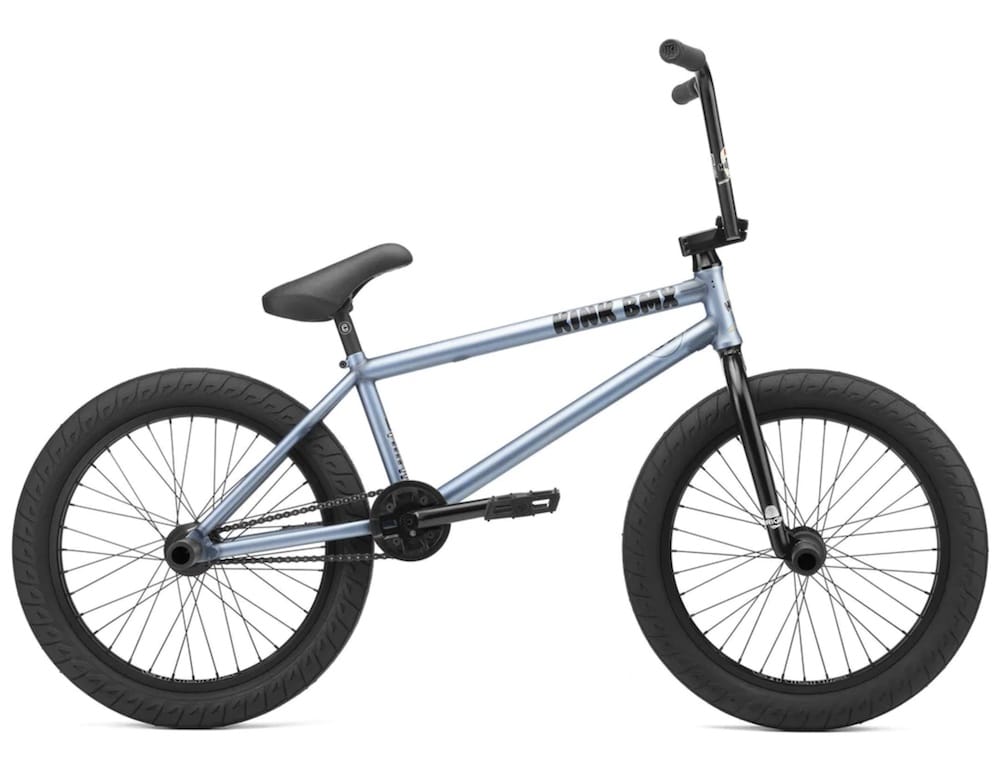 If you're getting more serious about your riding, then I highly recommend Nathan Williams' signature Kink BMX complete bike.
The bike features high-quality Kink, Cinema and Mission parts that will keep you shredding for a long time.
From Nathan's signature frame and Corey Martinez's signature top load BMX stem to Cinema ZX2 freecoaster, Cinema Williams 2.5″ BMX tires and Chad Kerley's signature Cinema plastic BMX pedals – this bike is a SERIOUS deal!
The shorter rear-end and steeper front-end ensure you can pull spins more easily and have fun with front and rear wheel stuff more comfortably.
The 21″ top tube makes the bike slightly larger, which is perfect for everyone who needs a bit more leg room.
Also, the 2.5″ tires ensure you can ride with lower PSI, which is something Nathan prefers.
I've had many dudes (thanks, Rob, Albert, Craig, Peter & Andrew) who talked about how much they like this bike, even when riding skateparks.
Bike specs:
Frame: Kink Williams frame
Top tube: 21″
Headtube angle: 75.5
Forks: Kink Origin forks
Bars: Kink Williams 4pc bars
Stem: Cinema Martinez top load stem
Front wheel: Cinema ZX hub, Cinema 444 rims
Rear wheel: Cinema ZX2 freecoaster, Cinema 444 rims
Cranks: Kink Ridge cranks
Sprocket: Cinema Beta sprocket
Tires: Cinema Williams tires
Pedals: Cinema CK pedals
Seat: Cinema Standard stealth seat
Pegs: 4 x Cinema C4 pegs
Price: $899.99 (may vary)
Eric M.: "I was riding the Haro Boulevard bike for two years and finally concluded that I needed to upgrade. My riding improved, and so did my need for a better and stronger bike. Also, the 20.75″ felt small, so when Rok said that I should go with a 21″ Kink Williams (I told him he's my fav rider), it made perfect sense. I also later compared his actual bike with the complete one and found that it's a pretty close replica. I got it and the 21″ feels perfect. My only upgrade was a 9.75″ bar. BTW, the 2.5″ tires are fire."
GET YOUR BIKE
4. Sunday Street Sweeper BMX Bike (Freecoaster)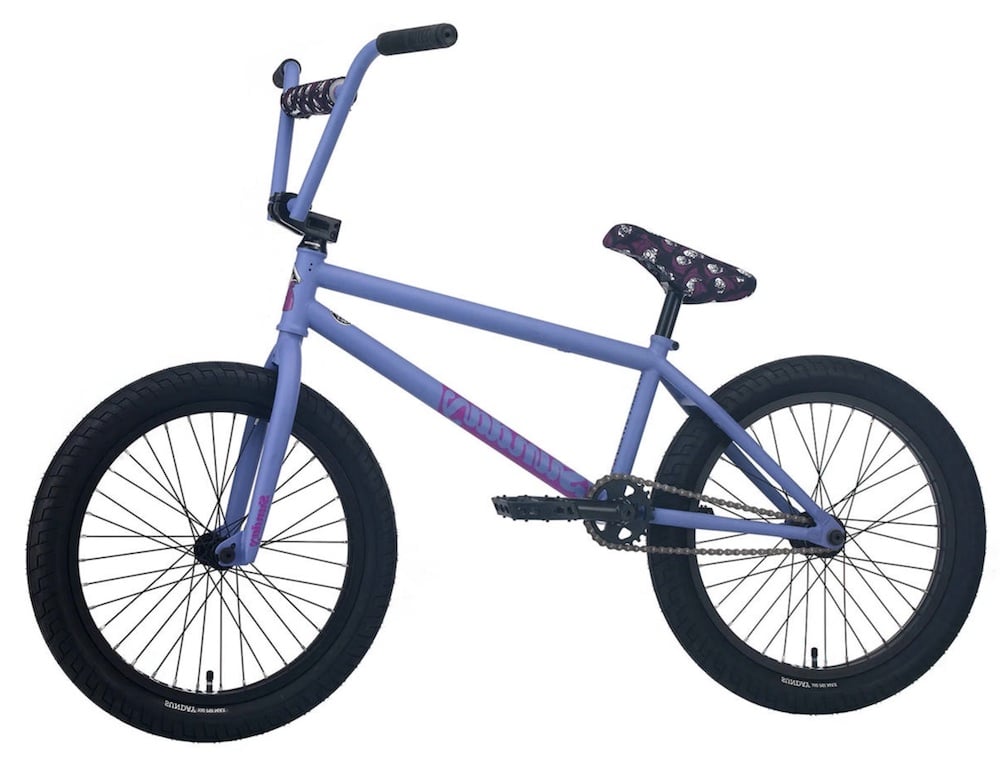 Jake Seeley's signature Sunday Street Sweeper bike is a great tool that you can use for murdering street spots but enjoy yourself riding skateparks (and even light trials).
This BMX street bike has a responsive chainstay (at 12.7″ – 13″), which is great in combination with a 20.75″ top tube length. Perfect for technical riding, just like Jake's!
Moreover, Street Sweeper uses many Sunday and Odyssey parts that together form this epic machine.
For wheels, Trust uses Sunday Low-Flange front hub and Odyssey Clutch V2 freecoaster with Odyssey Quadrant BMX rims.
You can count on Street Sweeper 100%, when you wish to upgrade your current bike with something higher-end.
While I only got feedback from my dude, Tom, he had nothing but good things to say about Type R. He especially likes the 25mm offset BMX forks, which help him with nose manual stuff.
The only thing that surprises me is why they didn't include Jake's signature Seeley pegs.
Bike specs:
Frame: Sunday Street Sweeper frame
Top tube: 20.75″
Headtube angle: 75.25
Forks: Sunday Pro forks, 25mm offset
Bars: Sunday 4-piece bars w/ pad
Stem: Sunday Freeze top load stem (Dan Kruk's signature)
Front wheel: Sunday Low-Flange hub, Odyssey Quadran rim
Rear wheel: Odyssey Clutch V2 freecoaster, Odyssey Quadran rim
Cranks: 3-piece Chromoly cranks, 160mm
Sprocket: Sunday Sabretooth sprocket
Tires: Sunday Street Sweeper tires
Pedals: Odyssey Twisted PC Pro pedals
Seat: Sunday Seeley seat
Pegs: No
Price: $829.99 (may vary)
GET YOUR BIKE
5. Sunday Darkwave Authentic BMX Bike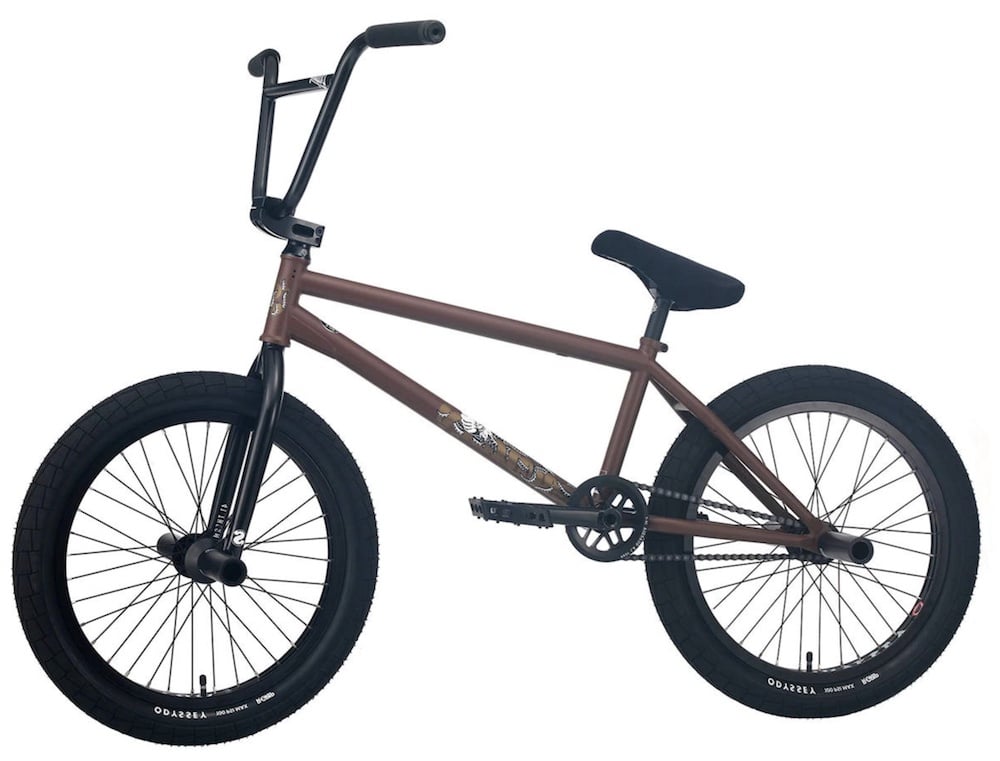 BUT if you are ready to go to the next level and get yourself a bike that's full of parts pros ride, then Sunday Darkwave Authentic it is!
This is Broc Raiford's actual replica bike.
Sunday decided to take things to the next level and create a complete bike featuring parts Broc rides. How awesome is that?
You'll first notice that it comes in a 21.25″ top tube size, great for (slightly) taller riders.
This bike is full of high-quality parts.
While Darkwave is a Sunday bike, it comes with many strong Odyssey parts (Odyssey is Sunday's sister company or vice vers), so you can ride it on any setup.
From Sunday Darkwave forks, Odyssey Clutch V2 freecoaster hub and Thunderbolt BMX cranks to Odyssey Broc V2 stem, Broc tires, La Guardia sprocket and Hazard Lite rims – Darkwave is built to LAST.
I have too many friends to list here that said how well this bike is built.
And everyone who I asked which complete bike they would buy, they all said Broc's Sunday Darkwave Authentic.
Bike specs:
Frame: Sunday Darkwave frame
Top tube: 21.25″
Headtube angle: 75.25
Forks: Sunday Darkwave forks
Bars: Odyssey Broc bars
Stem: Odyssey Broc top load stem
Front wheel: Odyssey Vandero Pro, hub, Odyssey Hazard Lite
Rear wheel: Odyssey Clutch V2 freecoaster hub, Odyssey Hazard Lite
Cranks: Odyssey Thunderbolt cranks
Sprocket: Odyssey La Guardia sprocket
Tires: Odyssey Broc tires
Pedals: Odyssey Twisted PC Pro pedals
Seat: Odyssey Broc pivotal
Pegs: Sunday Seeley pegs
Price: $1,299.99 (may vary)
Paul G.: "After saving the extra money to get a solid complete bike, the dilemma came – which to pick? I knew that bikes above the $1K price tag are sick, but wasn't really sure which to opt for. I spoke with Rok about some parts a few months back, so decided to ask him for suggestions. He almost immediately fired, 'Get Broc's signature complete!' After going through the parts list, I couldn't believe it's the actual bike Broc rides. I bought it and never looked back. I adjusted the chainstay and seat post, cut bars slightly and left all the rest as-is. Thanks, Rok, to hype me up to get this complete."
GET YOUR BIKE
6. Fit STR BMX Bike + Freecoaster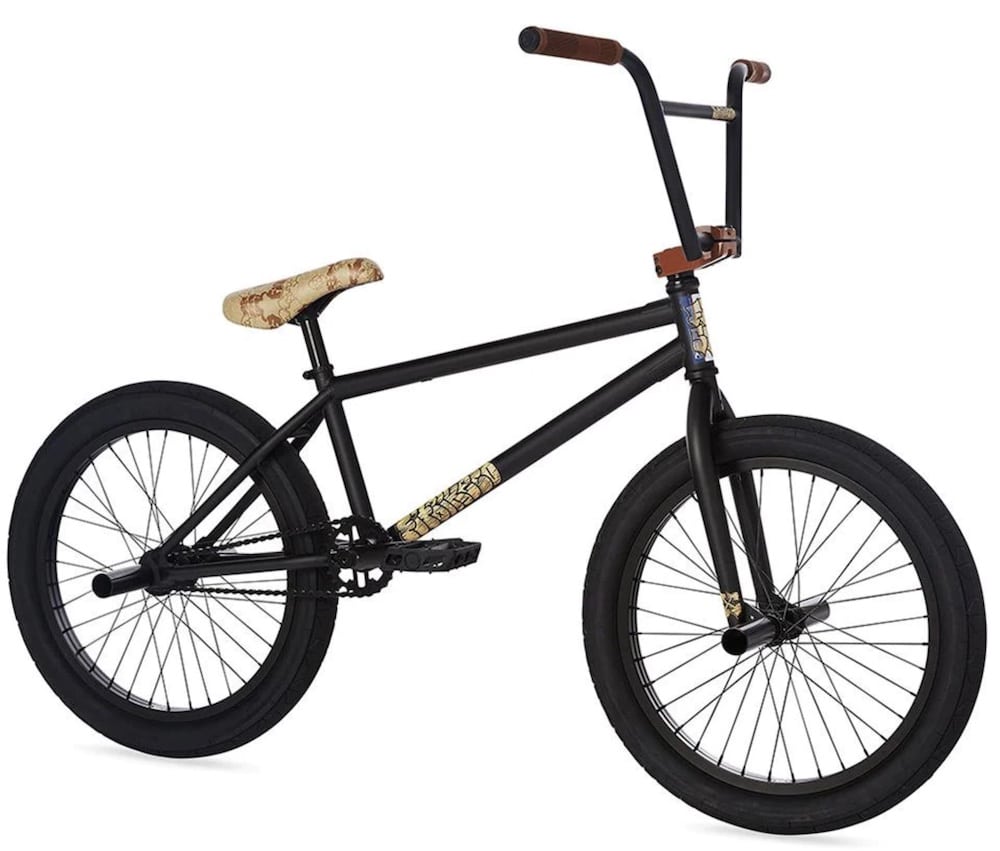 Fit's complete STR BMX street bike is one of the best budget setups I could found and hear good things about it.
The first thing I want to mention is that the STR bike is available in a cassette hub and freecoaster version.
Moreover, it has a shorter top tube length at 20.5″, which is better for shorter riders.
You'll also notice a very short chainstay (12.6″!) and steep headtube angle (75.5″), which make the bike really snappy.
Manuals, nose manuals (it even has 25mm offset forks!), spins and even tailwhips become much easier with this bike.
Last but not least, the included four BMX metal pegs make STR bike perfect for grinding.
I recommend this bike if you are starting or have basic tricks on lock but don't yet pull a ton of gaps, drops, etc. (It IS a great upgrade bike!)
Bike specs:
Frame: Fit STR frame
Top tube: 20.5″
Headtube angle: 75.5
Forks: 1020 HiTen taperred forks
Bars: 1020 HiTen 4-pc bars
Stem: Fit top load stem
Front wheel: Fit S1W hub, Fit S1W rim
Rear wheel: Fit S1W cassetter (or FC) hub, Fit S1W rim
Cranks: Tubular cranks
Sprocket: Fit Key sprocket
Tires: Fit F/U tires
Pedals: Fits plastic pedals
Seat: Fit Combo seat
Pegs: 4 X Steel pegs
Price: $579.95 (may vary)
GET YOUR BIKE
Note: This bike is also available as a FREECOASTER VERSION ($619.95).
How To Pick The Ideal BMX Street Bikes
Not many say this, so I feel like it needs to be mentioned: Never buy the cheapest BMX complete bike.
I'll go so far as to say that you should aim for at least a mid-priced, if not a high-priced bike.
For this reason, I only collected the ultimate bikes that you can get on the market today.
BUT!
The last statement only applies to everyone serious about BMXing!
If you're unsure whether this is a sport you'd like to do or plan to use a BMX bike mostly for transportation, then go with budget-friendly bikes.
"TT Doesn't Matter Too Much"
But there's another thing that's important to think about when buying a BMX bike – top tube length.
Generally:
A top tube length of 20.25″ – 21″ is great for 5'6″ – 6ft riders.
And anything above 20.75″ is for 6ft.
But a top tup is really more of a personal preference and the style of riding you do.
You'll notice that many pro riders break the general sizing rules, riding a lot longer top tubes as "they should."
For instance: I'm 5'11" and ride a 21.6″ frame for street riding and love it! But I started on a 20.5″ complete bike and loved it at the time.
On the other hand, there are many who prefer a shorter TT because it helps them with their technical wizardry.
You're now ready to get your street sessions in, lots of them, with a solid complete bike!
Enjoy.
How To Make Your Bike Last Longer
Maintaining a BMX street bike is crucial to ensure it lasts longer and performs well. Here are some steps and tips to help extend your bike's longevity:
1. Regular Cleaning
Regularly wipe down the bike to remove dirt, grime, and other debris. Give your bike a deep clean every few weeks or after riding in wet or muddy conditions.
Clean and lubricate the chain and other moving parts like the pedals, headset, and bottom bracket.
Note: If your bike's bearings are sealed, then lubrication isn't necessary.
2. Tire Maintenance
Ensure your tires are properly inflated to the recommended PSI. Don't miss my article on the best BMX tire pressure.
Moreover, regularly check your tires for cuts, punctures, or signs of wear.
3. Tighten Loose Parts
Regularly check and tighten any loose bolts and nuts. Not only can loose bolts and nuts cause damage to your bike, but it's also very unsafe to ride that way.
4. Check and Adjust the Chain
Ensure the chain has the proper tension. Make it tight, but not too tight. Still, you want it more loose in case you're doing (or plan to learn) crankflips.
Plus, esure the chain is properly aligned.
5. Regular Inspections
Check the frame and parts for any signs of cracks or damage (especially the welded areas). Ensure the wheels are true and not wobbling.
6. Upgrade Components
Consider upgrading to stronger or more durable parts if you frequently perform tricks or do plenty of drops.
But what's even more important is to regularly replace worn-out parts like grips, tires, pedals, and the chain, to name a few.
7. Proper Storage
Store your bike indoors or in a dry area to prevent rust. Avoid storing your bike in extremely hot or cold temperatures.
8. Ride Responsibly
Avoid unnecessary stress on your bike by riding responsibly and avoiding excessive impacts. I also recommend you learn how to land smoother – your parts will thank you.
And most importantly: DO NOT throw your bike!
9. Learn Basic Maintenance Skills
Learn how to perform basic maintenance tasks yourself. In fact, it's very easy to maintain your bike yourself and avoid service fees.
I created a complete BMX bike maintenance guide so you can take care of your bike like a pro.
By following these steps and investing time in regular maintenance, your BMX street bike should serve you well for a long time.
Remember that the longevity of your bike also depends on how you ride and how often you ride.
Was this article helpful?
Disclosure: The BMX Dude's content is free & reader-supported. I may earn a commission if you click & buy through my links. Your support helps me create the best content & make a difference. Thanks! 🤘