Never again wonder what's the latest Tom Dugan bike check, as I will always make sure to keep this list up-to-date.
Every time Tom builds a new bike, it's prettier than the previous one. Since he rides without pegs, I find his bike really SMOOTH and STYLISH.
And I don't have anything against pegs – I ride three, by the way. (I'm actually moving to 4!)
What you don't see too often these days are metal pedals – which Tom has signature from Odyssey. Yes, we're all predominantly riding plastic pedals (happy shins).
Just in case you wonder, you will see metal pedals on Trey Jones's bike, too.
Note: If you haven't seen our complete collection of the best Tom Dugan videos, you better treat yourself to some full-tilt stunts after this.
GET TOM'S SIGNATURE PARTS:
Do not forget to follow on Tom on Instagram. That's were a lot of MAGIC happens.
Featured photo by: Tom's IG.
Old Tom Dugan Bike Checks
1. Odyssey BMX (2022)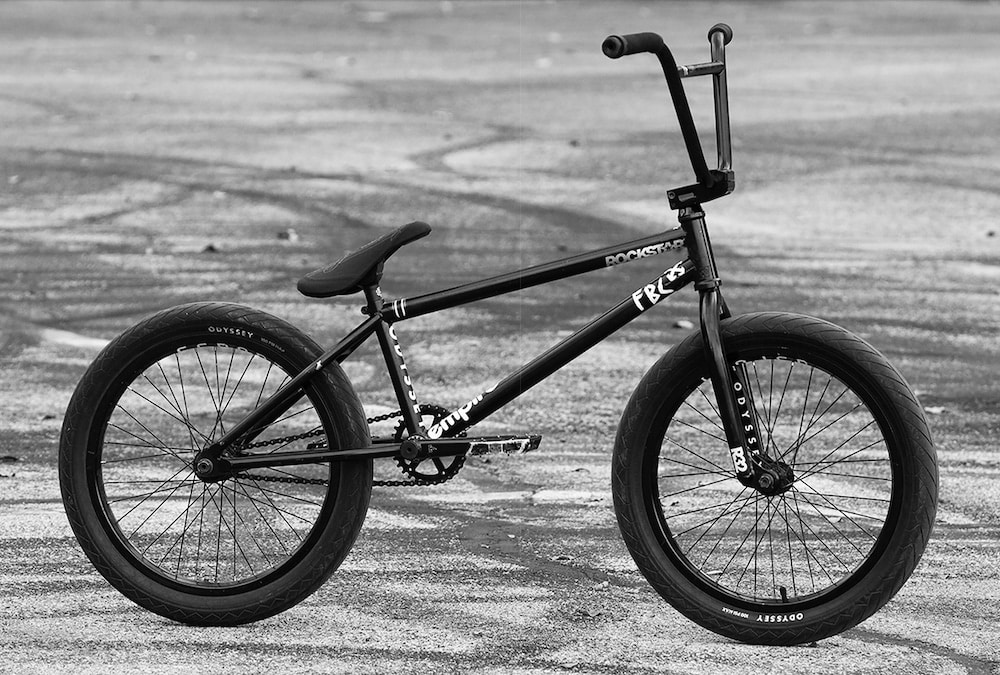 Don't miss checking the whole parts list and more awesome black and white bike and riding pics on Odyssey.
2. Our BMX (2021)

During the event in Texas and while working on an Odyssey project, Our BMX caught up with Dugan for this awesome bike check.
I'm not really into colors too much (except black), but this bike looks really beautiful.
RED.
His bike is pretty much a Fit S4 frame with all Odyssey parts. Tom likes a higher front end, so he runs a top load stem and a 9.25 bar.
Also, for stability, he runs 32mm offset forks.
What's also worth mentioning is the metal pedals that the runs.
I'm actually too scared to run those but makes absolutely perfect sense for Tom's style of riding.
Did I already say it's BEAUTIFUL?
3. Odyssey BMX bike check (2018)

Okay, now that's my style of bike! From red to black. Another stunning setup from the man himself, Tommy.
What you'll notice right away is that there are some more of his signature parts on this one.
Including the frame, tires, stem, bar, grips, seat and pedals.
I really dig this type of bike check. Long and very insightful.
Getting the rider's two cents on the bike parts that he runs and why is always great to hear.
And to make it even better, you also get a few riding clips here and there from Tom.
A PERFECT bike check, right?
4. Traveling with bike (+ bike check)

If you ever wondered how Tom Dugan travels around the world with his bike – this is HOW. He rolls in with an Odyssey bike bag, unpacks and builds the bike.
On. The. Spot.
Along the way, he also shares many insights on his parts, why he rides them and other goodies. Even though I do run pegs, I'm still somewhat envious of the pegless dudes.
Because there are so few tools necessary! And I like to rock it minimal.
But I have Animal's Kotulak tool (for 10+ years!), which saves me every time I go out for a session.
And then Tom does a crankflip and rides away.
5. DIG Setups (2016)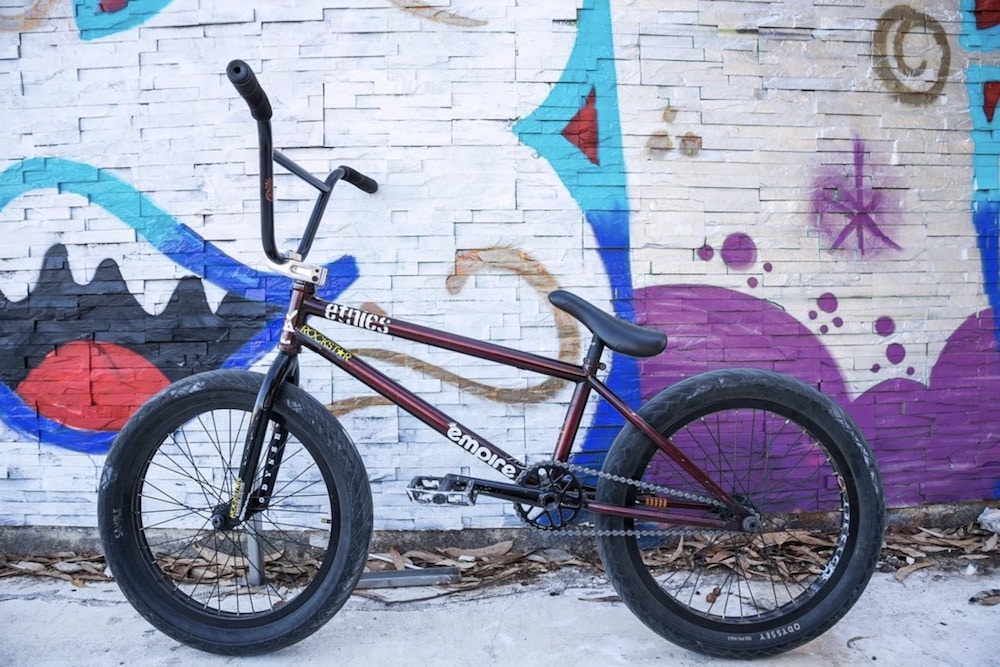 Since I was unable to find any more video bike checks with Tom Dugan, I decided to add two more non-video versions.
Let's kick it off with DIG Setups, which is not a bike check only.
Along with the complete parts list and some really sweet close-up bike pics, you also get a quick interview.
Tom talks about his favorite bike part, modifications, Etnies trip and swimming.
Is it just me or do you also feel like every bike that Tom rides is so appealing to the eye?
Whether he opts for an all-black bike or adds some other colors to it – it's always TOO GOOD.
6. Odyssey BMX (2015)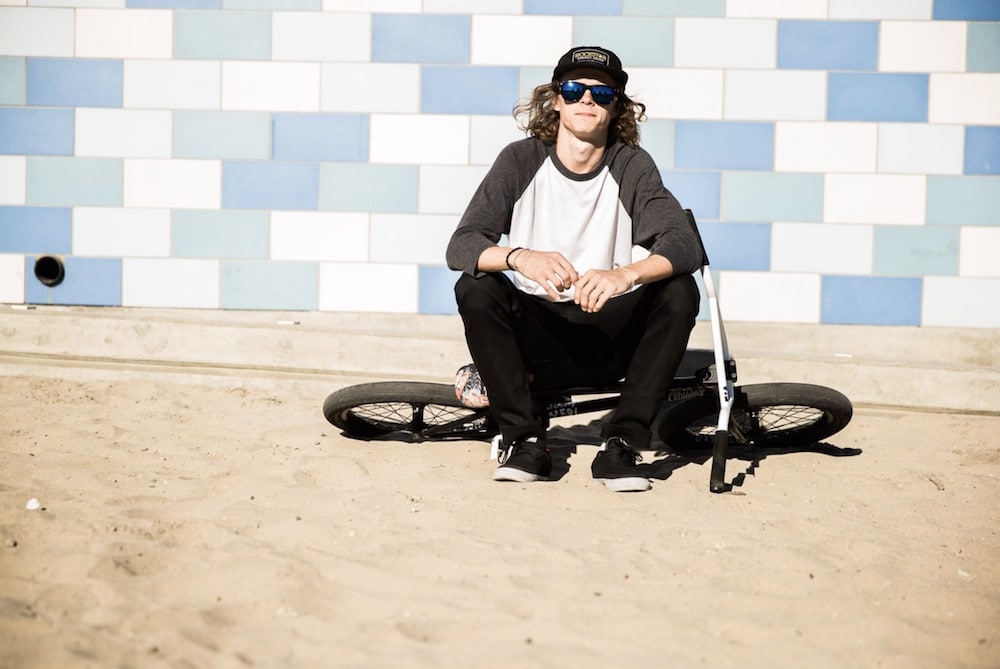 This one goes straight to the point and even hints you on how you can gain some "Duganism."
Do you know how? Well, build a bike exactly like his.
This is an older one, from the below 9″ rise bars times. Besides his signature Fit frame and bars, all the other parts are from Odyssey.
30t sprocket, 175mm cranks, signature seat, prototype metal pedals and the list goes on.
But I don't want to ruin it all for you, listing it all here. Also, if you'd like to see some photos, Odyssey has a complete gallery ready for you. Which you should not miss.
Was this article helpful?
Disclosure: The BMX Dude's content is free & reader-supported. I may earn a commission if you click & buy through my links. Your support helps me create the best content & make a difference. Thanks! 🤘