For one of the more unique BMX setups in the world, you better go and enjoy Trey Jones bike check now.
It's not a bike you see every day, so pay close attention and even gain some inspiration.
Trey has been known for his originality for a very long time now.
However, his bikes were not always as raw and hardcore as they are today.
But this new style that Trey is currently rocking suits him more than perfectly.
Trey Jones 2022 Cult Bike Check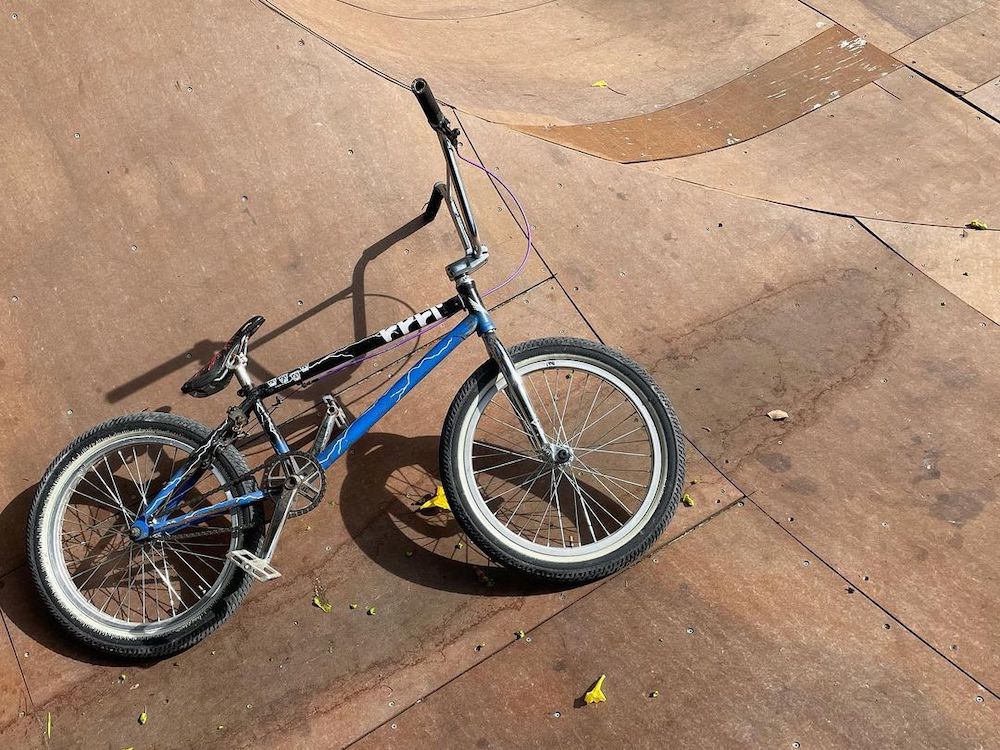 I would also encourage you to see his one-of-a-kind bike setups in use by watching Trey Jones's best videos.
Jones's bike control and the style of riding are on an entirely different level. So good.
Note: if you'd like to take a peek at some other distinct BMX bike setups, check the rides from Charlie Crumlish, Aaron Ross and Mike Hoder.
Do not forget to follow Trey on Instagram because you know that this dude is full of surprises.
Featured photo by: Trey' Instagram.
Old Trey Jones Bike Checks
1. Subrosa (2021)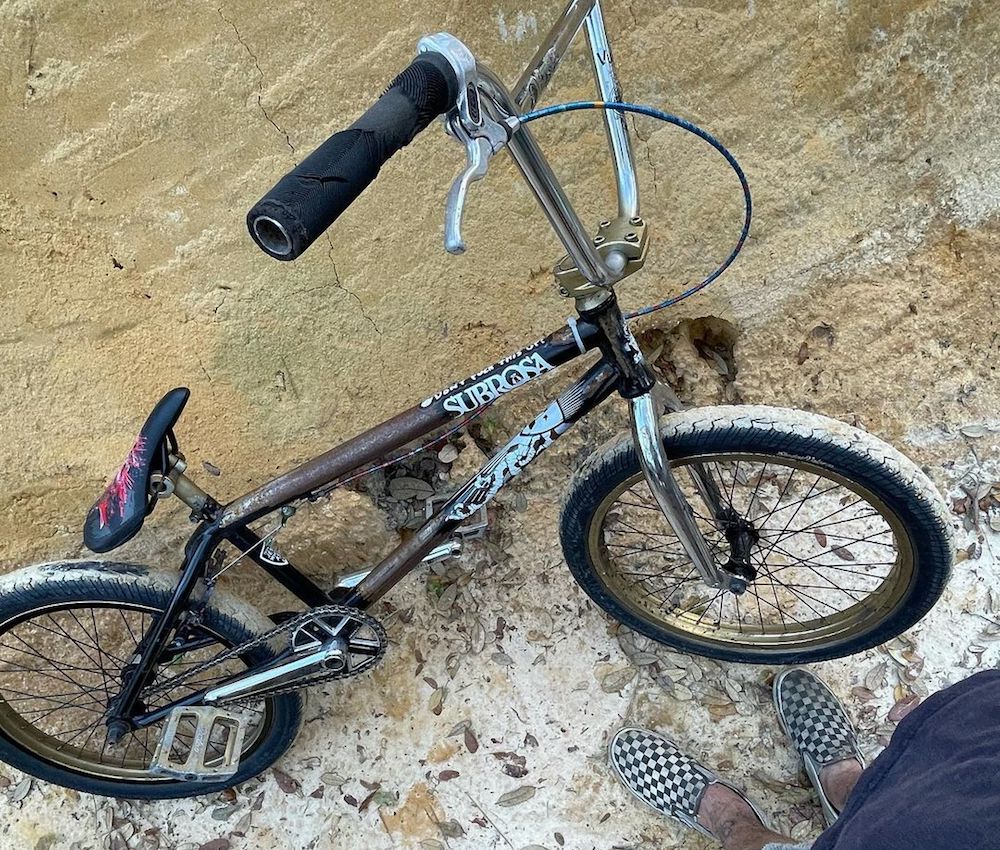 Frame: Subrosa Wild Child 21″
Bar: Shadow Conspiracy Vultus S.G. 10″ bar
Stem: Shadow Conspiracy Treymone top load
Fork: Subrosa Simo (Simone Barraco's signature)
Chain: Shadow Conspiracy Interlock Supreme half link chain
Seat: Shadow Conspiracy Trey Jones Penumbra
Cranks: Shadow Conspiracy Odin (check for more crank options)
Pedals: Shadow Conspiracy Metal
Sprocket: Subrosa Hero 30T sprocket
Front Wheel: Shadow Conspiracy Symbol
Rear Wheel: Shadow Conspiracy Definitive hub, Shadow Conspiracy Truss rim
Tires: Shadow Conspiracy Valor 2.2″ (front), hadow Conspiracy Valor 2.2″ (rear)
I only once removed paint from my handlebar, making it go rusty, but that did not last too long.
I genuinely dig Trey's approach, but it's not something I would opt for.
At least I tried!
2. Trey's Cult bike check (2016)

Before Trey Jones moved to Subrosa in early 2018, he rode for Cult for many years.
With that came this bike check from Dig in early 2016, going over his bike comprised of Cult and Shadow Conspiracy parts.
This one has a high level of production as Trey gives the low down on his bike.
At the time, he was riding his signature Stone Cold frame from Cult in a custom chrome color that looks awesome.
Throughout this one, there is plenty of riding in Trey's backyard from Trey himself and his brother Jabe and Mark Mulville.
Are you looking for a new frame? Check our round of the best street and park frames.
3. AlliSports 2013 bike check

Way back in 2013, the AlliSports channel on YouTube featured this bike check with Trey.
At the time he was already riding for Cult and riding his third made in the USA Cult Death Row frame by Solid Bikes.
With bike checks like this one going back to 2013, it's interesting to see how Trey's bike and riding style has changed but also stayed the same throughout the years.
There are riding clips throughout, too, especially at the end where Trey puts the bike to good use as he shreds Oviedo skatepark in Florida.
That toboggan to fakie was awesome!
4. The Shadow Conspiracy 2011 bike check

It's crazy to think that Trey Jones has had bike check videos for over 10 years, with this one from The Shadow Conspiracy, which came out in January of 2011.
The video is only a minute eight seconds long, but Trey gives plenty of detail on most of his bike parts.
He also lets us know that he isn't really into plastic pedals or pivotal seats.
There's plenty of b-roll detail shots of his bike and a riding clip in here where Trey roasts a huge dipped 360 over a dirt jump.
Disclosure: The BMX Dude's content is free & reader-supported. I may earn a commission if you click & buy through my links. Your support helps me create the best content & make a difference. Thanks! 🤘