For everyone who enjoys their bikes as colorful as possible, you better take a peek at the Aaron Ross bike check to gain some inspiration.
Aaron is known not only for his amazing bike control but his wicked bike color choices, too.
Below, you will find a few of his versions over the years.
If you want to be up-to-date with what Aaron runs and when he will change his bike for some other color, make sure you follow him on Instagram.
Or go and watch Aaron Ross's videos that are taking things to the extremes.
Aaron Ross Sunday & Odyssey Bike Check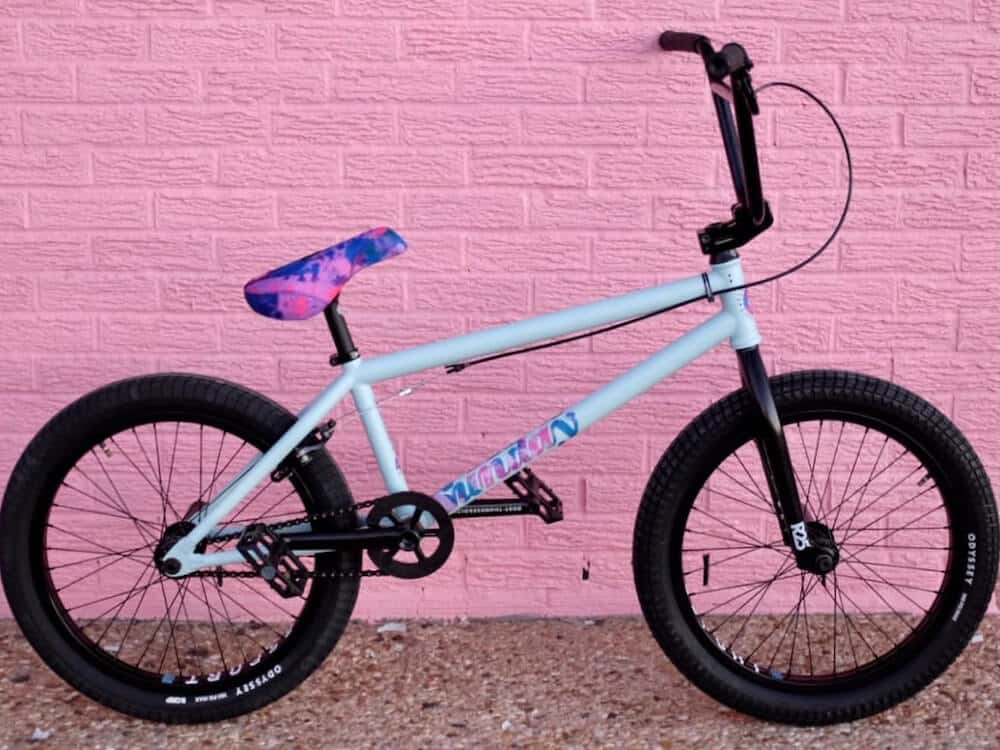 Frame: Sunday Nightshift 21″
Bar: Odyssey BOSS V2 bar
Stem: Odyssey BOSS V2 top load BMX stem
Fork: Odyssey R25 BMX forks
Chain: Odyssey Bluebird chain
Seat: Odyssey Mexican Blanket BMX seat
Cranks: Odyssey Thunderbolt, 175mm cranks
Pedals: Odyssey Grandstand V2 plastic BMX pedals
Sprocket: Odyssey Utility Pro BMX sprocket
Front Wheel: G-Sport Roloway front BMX hub, G-sport Rollcage BMX rim
Rear Wheel: Odyssey Clutch V2 freecoaster hub, G-sport Rollcage rim
Tires: Odyssey Path Pro tire (rear), Odyssey Aitken tire (front)
Pegs: 2 x Sunday Seeley plastic BMX pegs, 4.5″
Brake: Odyssey Evo 2.5
Brake Pads: Ghost Pads – Clear
Brake Leverr: Odyssey Monolever Small
Brake Cable: Odyssey Linear Slic
GET AARON'S SIGNATURE PARTS:
Aaron also likes to switch things up a little bit, changing his bike with a new street frame size from time to time.
It's something he hasn't done in years, but he loves it.
In short, Aaron's bike is a set of Sunday and Odyssey parts with two G-Sport parts.
For the frame, Ross went with a 21″ Sunday Nightshift (note, he is 6'0″ tall). He also went with different offset Odyssey forks, picking the R25's.
Additionally, he rocks his signature BOSS V2 bar and stem, Ross V2 tires, and Keyboard V2 grips. You can either watch the recent video bike check below or hit up Sunday Bikes for a full list of parts.
If you are interested in another Sunday bike build, go check Broc Raiford's bike check.
Do not forget to follow Aarons on Instagram where you can see all sorts of stunts and whatnot on his latest bike build.
Featured photo by: Sunday's video bike check.
Old Aaron Ross Bike Checks
1. Sunday Bikes bike check 2021

It seems like Aaron Ross has had more video bike checks than anyone in BMX throughout his years in BMX.
This one is from early 2021, going over his pink Sunday Nightshift build.
This one is a little different, though, as we learn when Aaron mentions that this is the first time in years that he has changed the size of his bike.
He went with a longer frame with a steeper fork offset which he seems to be enjoying from the video.
There's no riding in here, but there are many great b-roll shots of his bike that pair well with his reasoning behind it.
2. Ride BMX bike check 2018

In this What I Ride video bike check from 2018 with Aaron Ross, he gives us his frame and parts rundown.
Although this video is a short one at just under 2 and a half minutes, there is still a ton of in-depth explanation behind Aaron's part choices and some insight into his signature parts, like the seat he was running at this time.
The seat is an Odyssey Starmap seat with constellations of different things Aaron loves.
3. 2011 bike check

In 2011, Aaron Ross had a signature colorway of his complete bike with Sunday that had the nickname Sunkist Orange.
Aaron goes over this bike in-depth which is a really awesome look at this unique bike that has become very desirable over time.
The little details on this one are what make it interesting.
From the frame details sticker on the seat tube that imitates nutrition facts to the seat material that reveals a different color when ripped away to everything else, this bike is super awesome.
4. Watch Aaron build a bike

This video from early 2016 is a different take on a bike check where Aaron Ross builds up a new bike on location at Empire.
Aaron gives some insight throughout the process of building the bike on things like using triflow to install grips and explains why he likes stretching them in the process.
There's also a piece in here about how he airs new tires up as much as possible before letting some out to try to make the tires look as big as possible.
There's some mention of the other parts used to build the bike, ultimately making this is a nice little look at how he builds a new BMX setup.
Was this article helpful?
Disclosure: The BMX Dude's content is free & reader-supported. I may earn a commission if you click & buy through my links. Your support helps me create the best content & make a difference. Thanks! 🤘