Do you want to know all the parts of the recent Jordan Godwin bike check?
This is a complete rundown of his current setup, and it sure does look solid.
Everyone knows that Jordan has this ORIGINAL and SUPER TECHNICAL street riding style that is hard to imitate.
His bike setup follows modern street riding – in fact, it takes things to extremes.
For instance, Jordan's signature Doomsayer frame from WTP is probably the steepest street frame in the game.
At 76.25 degrees, this frame will get you on the front wheel much quicker and spin faster.
Also, the chainstay is pretty short (12.95″ slammed, 13.2″ centered), too, giving you an overall super responsive frame.
Jordan Godwin WeThePeople & Eclat Bike Check 2023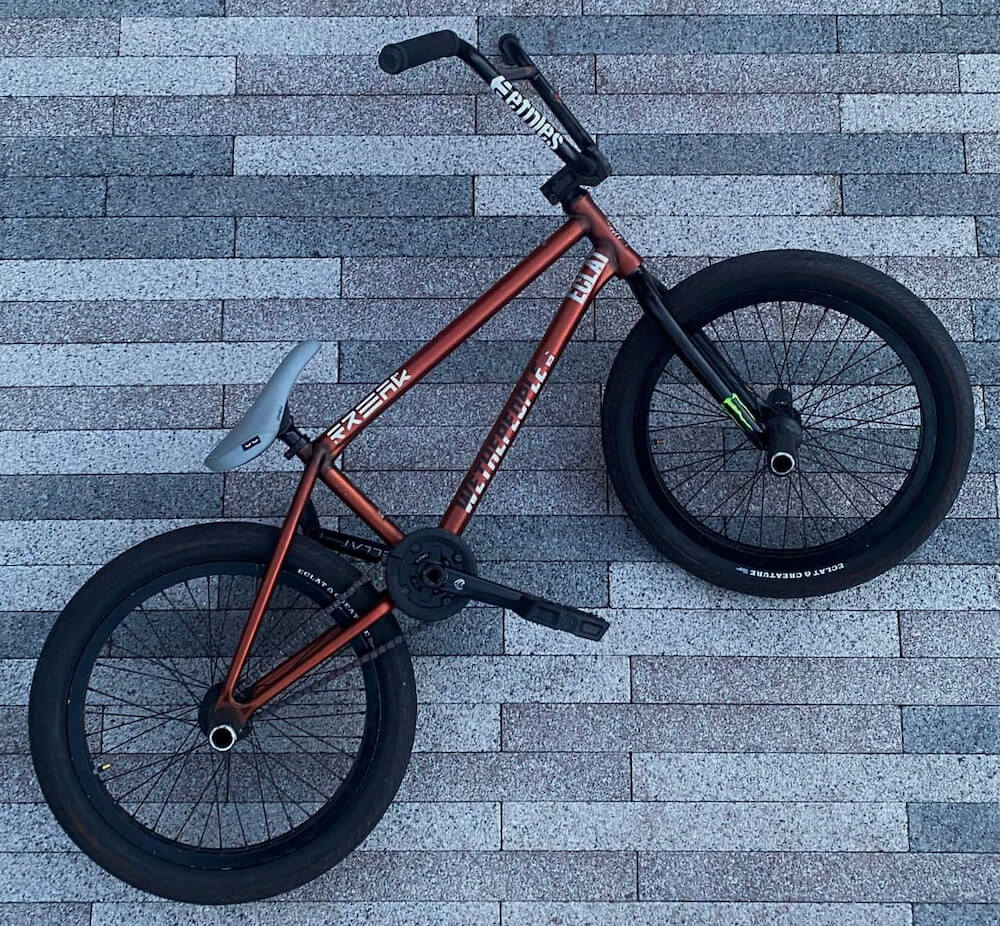 Frame: 20.75″ WeThePeople Doomsayer frame
Bar: Eclat Chocolate bars
Stem: Eclat Domain FL, OS stem
Fork: Eclat Storm BMX fork (20mm offset)
Chain: Eclat Stroke half link BMX chain
Seat: Doomoed prototype Void BMX seat?
Cranks: Eclat Tibia 160mm BMX cranks
Pedals: Eclat prototype BMX plastic pedals
Sprocket: Eclat AK 28t (Alex Kennedy's signature BMX sprocket)
Front Wheel: Eclat Crown rim, Eclat Cortex BMX front hub
Rear Wheel: Eclat Crown rim, Eclat Shift freecoaster BMX hub
Tires: 2 x 2.4 Eclat Creature tires (Felix Prangenberg's signature)
Pegs: 4 x Eclat Venom, 4.8″ plastic BMX pegs
Moreover, Jordan's recent bike check also consists of his signature Eclat Chocolate bars. They come at 9″ or 9.25″ rise and different widths: 27.75″ for 9″ and 28″ for 9.25″.
Since Jordan was always cutting his bars, making them narrower out of the box made perfect sense.
GET PARTS JORDAN RIDES:
Another specialty of his signature bars is the oversize clamping area at 25.4mm.
In addition to the frame and bars, Jordan also has a signature pair of forks from Eclat, called Storm.
They are the result of three years of testing, coming at a shorter offset of 20mm and clearance for 2.4″+ tires.
To see Jordan's bike in action, you should definitely give him a follow on Instagram.
Featured photo by: WeThePeople.
Old Jordan Godwin Bike Checks
If you are interested in what were Jordan's past bike setups, here is a collection for your viewing pleasure.
1. 2022 WTP Bike check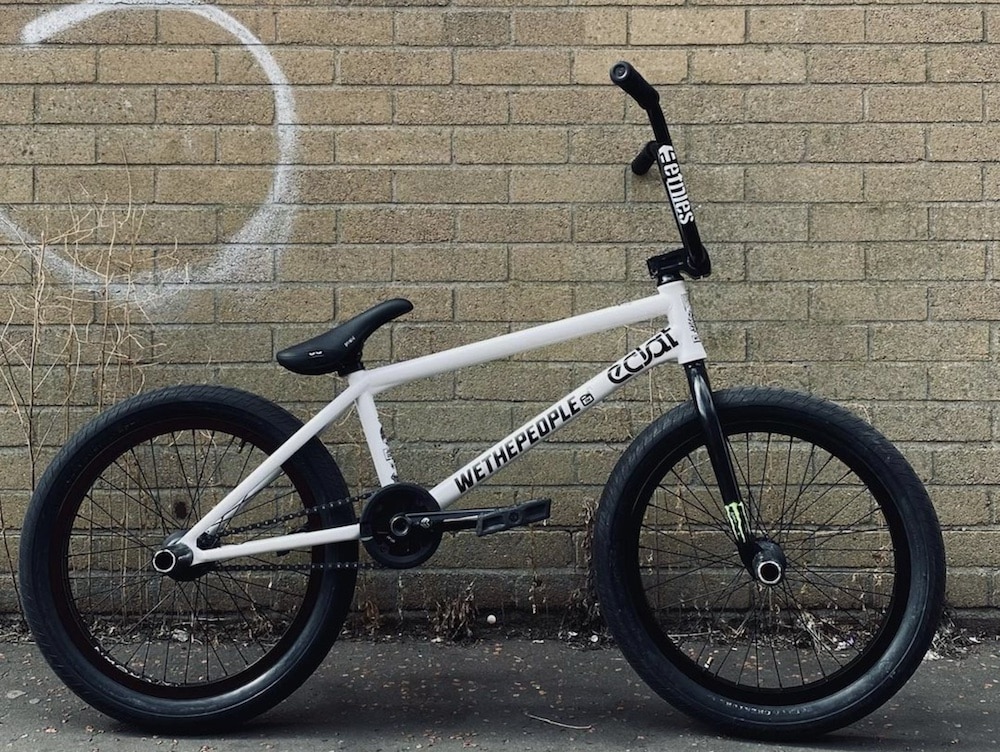 1. 2021 WTP Bike check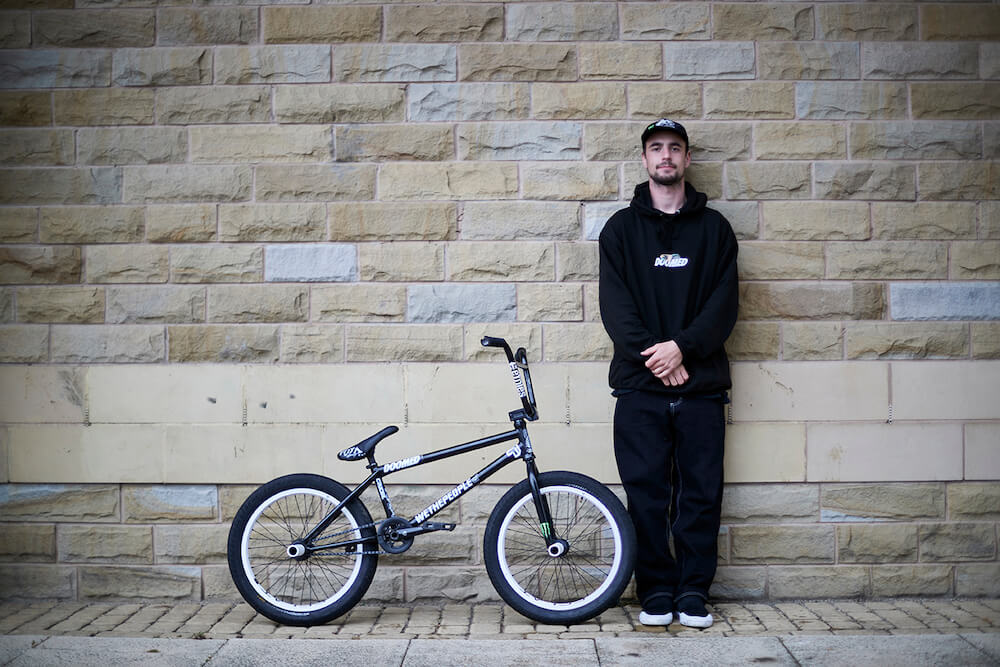 You can find more pics on WeThePeople.
2. 2018 Bike check

Here we have a video bike check with Jordan from late in 2018. This one is a no-frills bike check with all parts on his bike and some reasoning behind things.
He explains how steep the head tube is on his frame at 76.25 degrees with a 12.9" chainstay length.
Jordan also reveals why some of the hydroforming was changed on his frame for strength.
There isn't any riding in here, but if you were ever curious what Jordan was riding in 2018, this is it.
3. What I ride (2018)

Jordan Godwin gives us a rundown on his bike in this installment of the late Ride BMX "What I Ride" series.
This one is from early 2018 after a fresh Eclat/WeThePeople build before his signature Doomsayer frame was released.
Here, he's riding a WeThePeople Battleship frame in his signature colorway for 2018 and his signature Eclat Chocolate bars.
He is also riding the 25.4mm stem/bar combo, an oversized clamping area on the bars, making it much stronger. Jordan's bike was looking fresh as always, so take a look.
You may also be interested in reading my WTP Battleship Magnum frame review.
4. 2016 Bike check

This is a look at Jordan Godwin's setup in a video bike check from 2016, way back when the Battleship frame he was riding at the time was still a prototype.
This build also brings in the 25.4mm stem/bar combo, which was new then.
This is a larger clamping area to help with slippage. There are some riding b-roll clips here, so it's not just a bike check – you get some hype.
Check it out and see what Jordan's bike was like in 2016 – a timeless machine.
5. 2020 Bike check/overview

And now for a super quick video bike build with Jordan Godwin from WeThePeople.
At Just 42 seconds long, there is no time wasted as he builds up his bike with many great b-rolls, showing which parts he rides.
Jordan rips, and this is a look at what his bike looked like at the beginning of 2020 with his signature Doomsayer frame from WeThePeople and signature Eclat Chocolate bars.
Was this article helpful?
Disclosure: The BMX Dude's content is free & reader-supported. I may earn a commission if you click & buy through my links. Your support helps me create the best content & make a difference. Thanks! 🤘