Do you want to peek at the latest Dan Coller bike check?
I always enjoy checking Dan's latest bike build because I'm a big fan of his riding.
Dan rocks his signature street frame from Kink that's great for transitions, too, thanks to the not-too-short chainstay.
Overall, Coller's bike is primarily a Kink built with a few parts from other companies here and there.
Note: My first "real" BMX frame was Kink Freebird – yes, that was A LONG time ago.
Dan Coller Kink Bike Check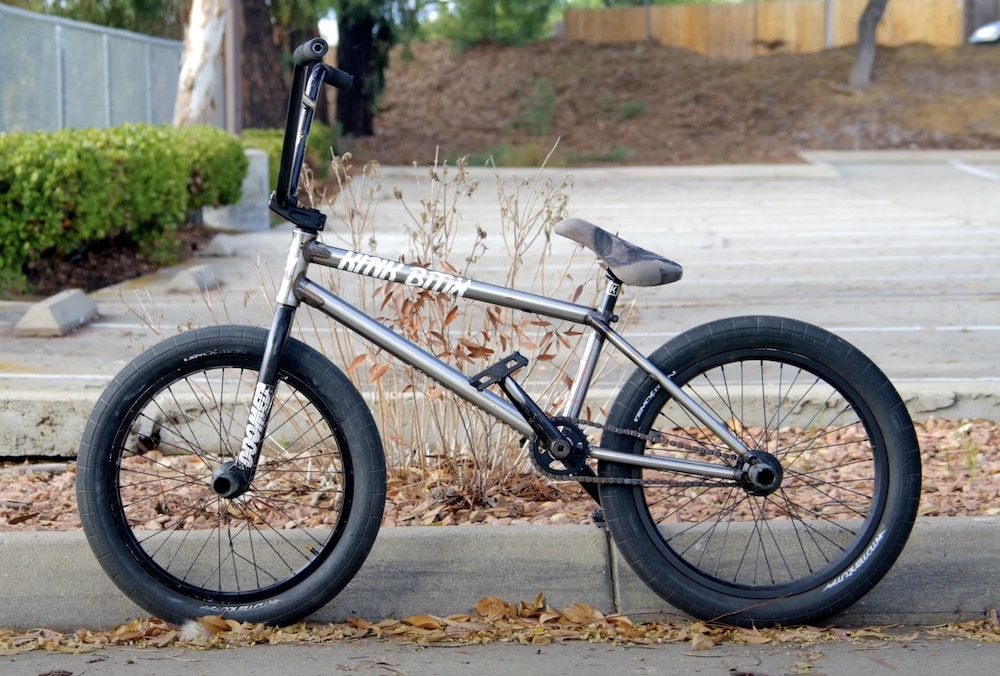 Frame: Kink Contender V2 frame (Check more Kink frames!)
Bar: Kink Contender bar
Stem: Kink Highrise stem (I also have a collection of the best top load stems)
Fork: Kink Stoic BMX fork, 20mm offset
Grips: Kink prototype (find moreBMX grips here)
Seat: Kink Chinaski seat (do you need a new BMX seat?)
Cranks: Kink Brace cranks, 165mm
Pedals: Kink Hemlock pedals (Need the best plastic BMX pedals?)
Sprocket: Kink Imprint sprocket, 25T
Chain: Half Cinema, half Cult (you read that right!)
Front Wheel: Doesn't know
Rear Wheel: Cinema wheel
Pegs: Kink Drift pegs, 4.4″ (check my best BMX plastic pegs list)
Tires: Demolition Momentum BMX tires
GRAB DAN'S SIGNATURE PARTS NOW:
Don't miss following Dan on Instagram for all the amazing (primarily street) riding, car stuff and more.
Want to see Dan in action? I have a full list of Dan Coller's best videos for your viewing pleasure.
Featured photo by: Our BMX YT.
Old Dan Coller Bike Checks
2021 Bike Check by Our BMX

Since I added an entire parts list above, I don't need to write anything about this bike check.
But you can sit back, relax, and enjoy watching Dan break down his 2021 setup. That raw frame looks killer.
2019 Bike Check by Eclat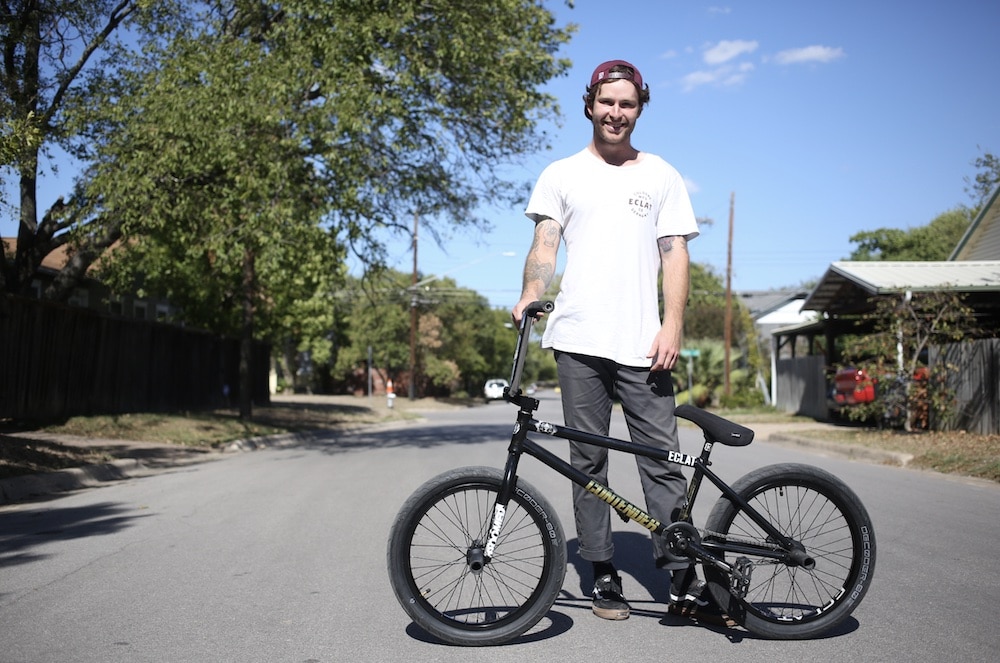 Dan was once riding for Eclat but is not anymore, unfortunately.
Still, Eclat has Dan Coller's bike check from 2019 available with all the parts he rode. (Good people.)
Eclat parts are dominating with his sig. Kink Contender 21.3″ frame and 9.75″ bar. Head over to the official website to check some really nice pictures of the crisp-clean bike.
2018 Bike Check by Ride BMX

Okay, let's clarify: I'm not writing another parts list here; I already did one above. You're welcome.
But if you'd like to see what Dan Coller's bike was like in 2018, the no-longer-existing Ride BMX has you sorted. It's a Kink- and Eclat-only bike, and it looks really dope.
At the time, Dan's 21.3″ Kink Contender frame was still a prototype.
He also rode Alex Kennedy's pedals and sprocket, Kink Pillar cranks and more.
2017 Bike Check by Ride UK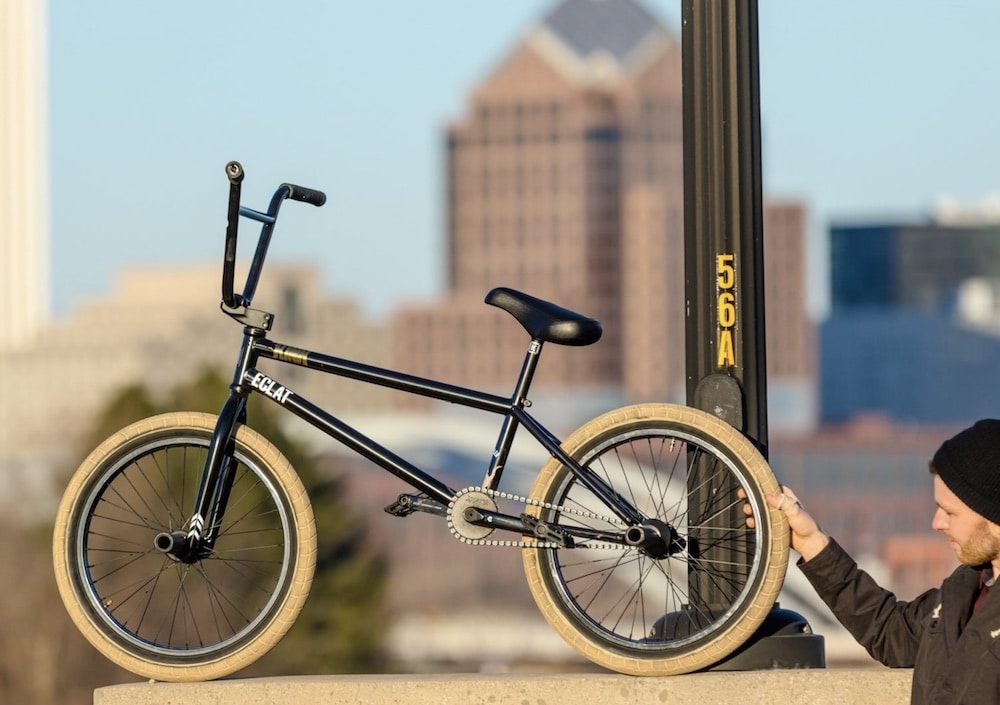 What I really like about Ride UK's bike checks is that they also ask the rider a bunch of questions, usually bike-related.
Along with photos and parts, you can also read about how Dan likes his bike, black/gum colorway, seat post, etc.
If you're looking for a tall and long bike check, this is it! And so are all the rest on this list.
2014 Bike Check by Vital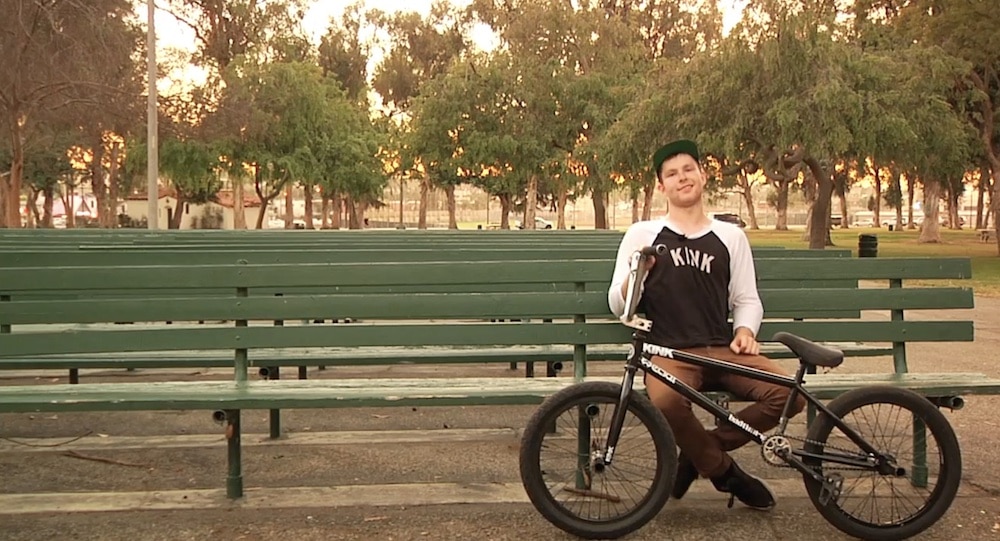 Are we really going all the way back to 2014?! Yeah, why not? This one even has a few Long Beach riding clips in it, so of course you need to check it. (Thanks, Vital!)
Dan always had sick bikes, whether it's ancient or recent. Not all the parts are still available today, but that doesn't matter.
Yo!
Was this article helpful?
Disclosure: The BMX Dude's content is free & reader-supported. I may earn a commission if you click & buy through my links. Your support helps me create the best content & make a difference. Thanks! 🤘