Are you ready to see the latest Courage Adams bike check?
I bring you a list of all the parts he's currently riding.
Since Courage is a Fly and Animal rider, his setup is a mix of the two.
What surprises me is that Adams still rides 175mm cranks.
And of course, it seems nothing is convincing him to go with a BMX freecoaster hub.
Cassette FTW!
(I'm hyped because I ride a BMX cassette hub, too.)
Do you want to have a Courage-inspired bike?
GET COURAGE'S SIGNATURE PARTS:
Courage Adams Fly & Animal Bike Check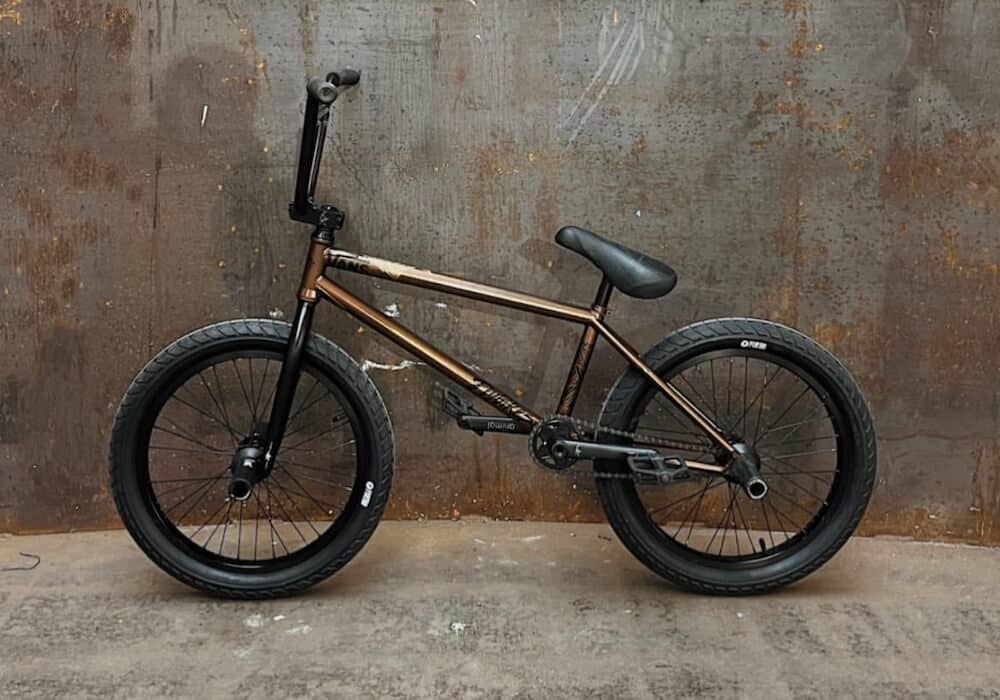 Frame: Flybikes Savanna 21″
Bar: Flybikes Savanna 9.5″
Stem: Animal Inverse (Need more top load stems?)
Headset: Fly Volcano headset
Grips: Fly Devon grips
Fork: Flybikes Volcano forks
Seat: Flybikes Savanna seat
Seat Post: Fly Tripod post
Cranks: Animal Akimbo 175mm cranks
Pedals: Flybikes Ruben Graphite (Check other plastic pedals)
Sprocket: Flybikes Tractor XL 28t sprocket
Chain: Flybikes Tractor
Front Wheel: Animal Javelin hub, Flybikes Piramide II rim
Rear Wheel: Animal Javelin hub, Flybikes Piramide II rim
Pegs : Animal Benny L plastic pegs
Tires: Flybikes Fuego tires
Note: The dark gold bike looks SO SICK! (Haven't seen such a rad color in a long time.)
Featured photo by: Courage's IG.
Note: Don't forget to check my collection of the best Courage Adam videos.
Old Courage Adams Bike Checks
1. Courage's Fly Savanna Build

While this might not be a video bike check that we're used to seeing, it has a few really solid technical street riding clips in it that are a must-watch.
Not just that, the quick overview of the beautiful all-black Fly Savanna build that Courage rides made me watch it three times.
Reminder: Courage has a signature Fly Savanna frame, seat and bar – all with a lifetime warranty.
2. 2022 All-Black version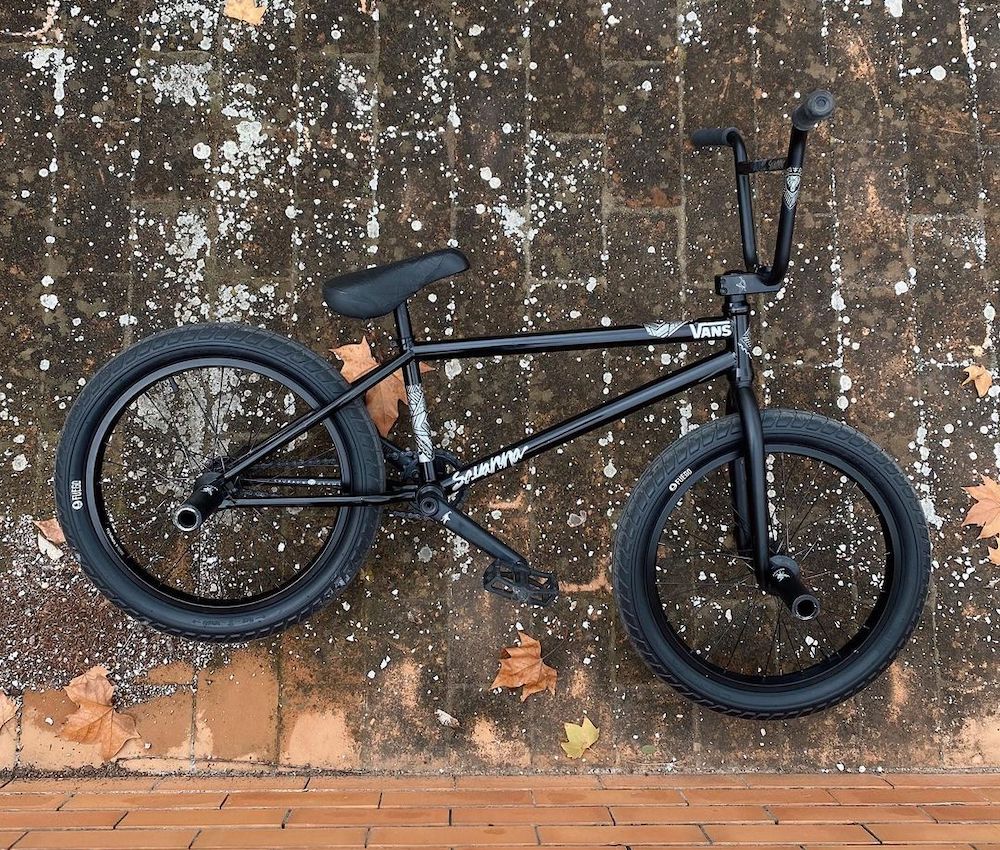 3. 2019 Bike Check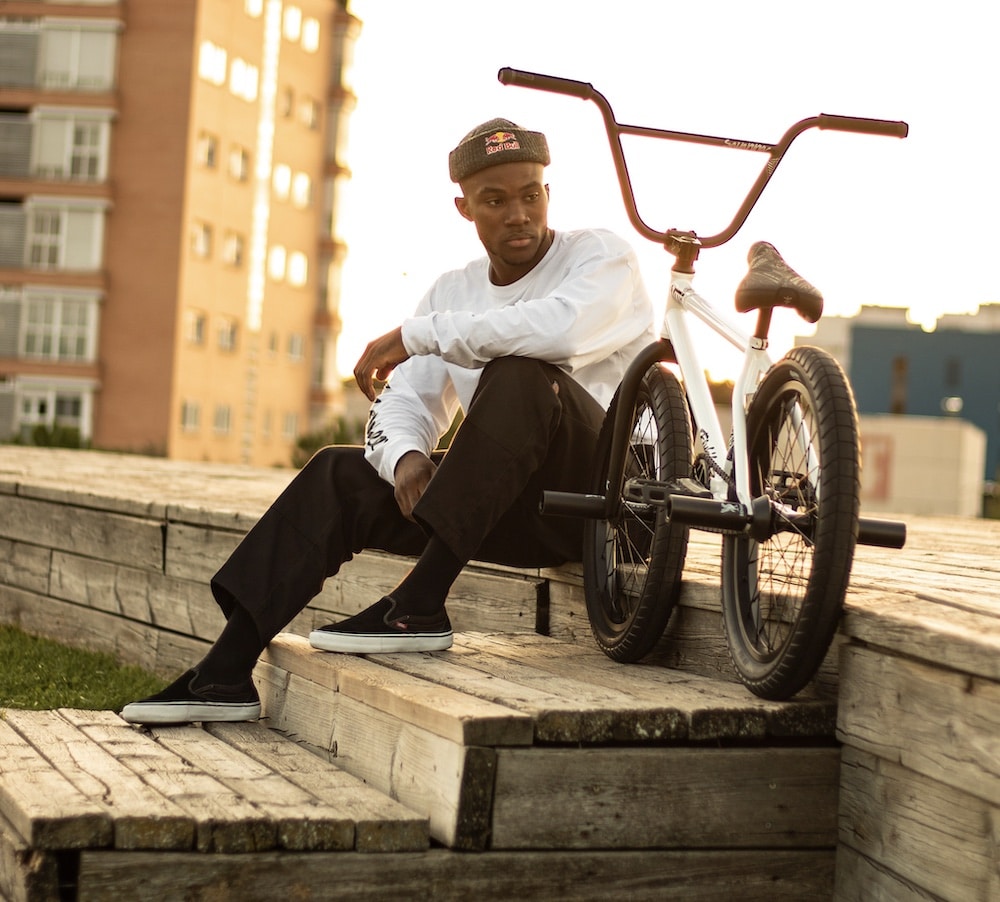 If you'd like to check some beautiful close-up shot of Courage Adams' bike setup from 2019, Our BMX has you sorted.
What's cool, there's also a quick bike-related interview that talks about bars position, his signature Fly frame, signature seat, and more.
Courage also says he doesn't like building a completely fresh bike from scratch because it "feels weird."
I'm the same! It takes too long to get used to a brand new setup.
4. 2017 Bike Check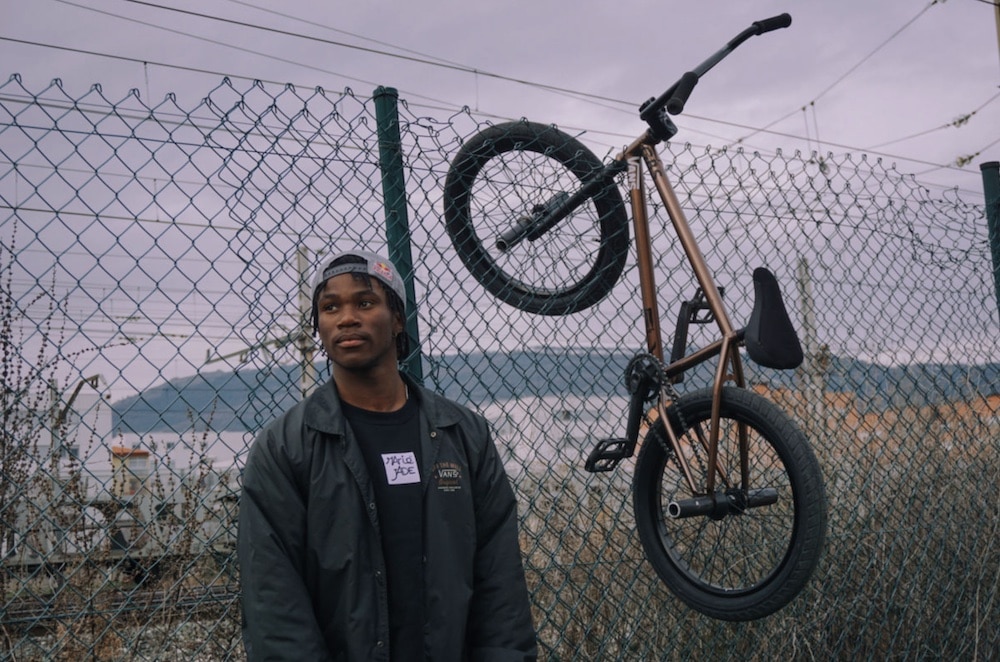 A crisp-looking bike check from 2017 that you can check in full over on DIG.
Along with the complete list of parts, DIG also asked Courage some questions that aren't bike-related, rather riding, Spain and Visa.
5. 2015 Bike Check

I always enjoy going back in time, seeing a younger version of a rider. In this case, here's Courage from 2015 introducing you to his then bike setup.
2015 was when Courage wasn't yet on Animal and didn't have signature Fly parts.
But the bike still looks dope, and we even get to see a few park and street riding clips.
Was this article helpful?
Disclosure: The BMX Dude's content is free & reader-supported. I may earn a commission if you click & buy through my links. Your support helps me create the best content & make a difference. Thanks! 🤘