See the latest Dan Kruk bike check and examine what makes it unique, just like Dan's riding.
If you're interested in trying something different, you should investigate Dan's bike setup now.
This bike is meant to go super technical but easily handles the biggest gaps. If you need proof, watch the best Dan Kruk BMX videos where he demonstrates it all in great detail.
Dan is a WeThePeople pro, so you know the major part of his bike consists of WTP products.
In fact, he even has his signature WTP Network frame, Stallis bar and Gooseneck top load stem.
All his signature parts are one-of-a-kind and original.
Dan Kruk 2022 WeThePeople Bike Check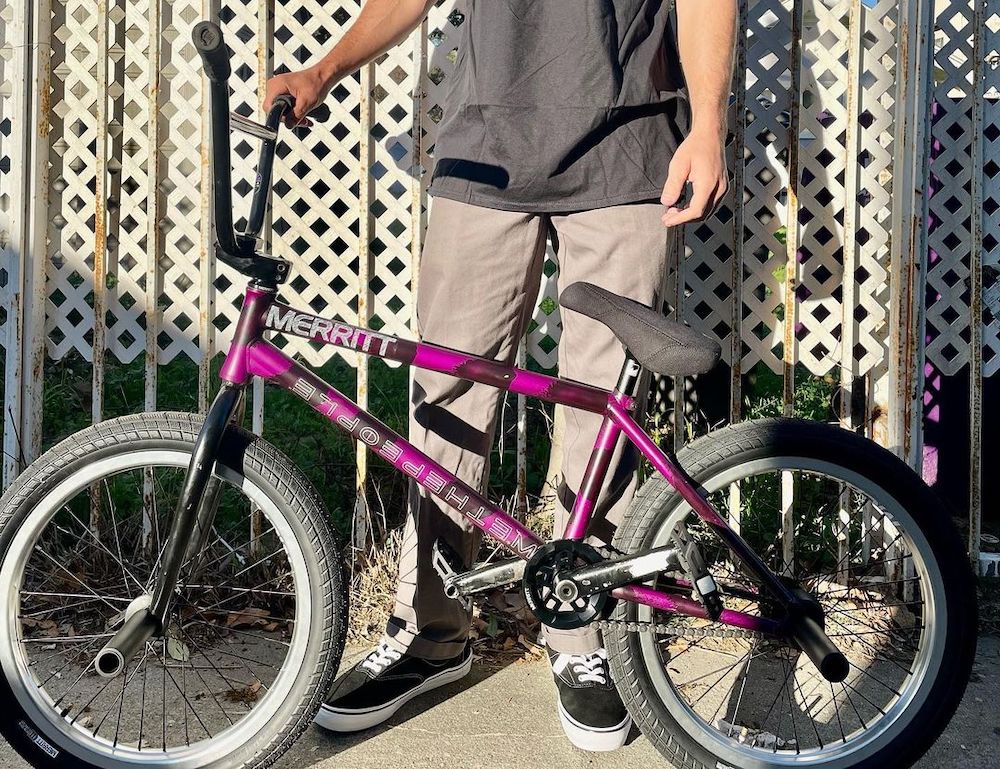 Frame: WTP Network, 20.8″
Bar: WTP Stallis, 9.25″
Stem: WTP Gooseneck top load
Headset: WTP Compact
Fork: WTP Battleship, 24mm
Grips: WTP Remote
Seat: Merritt Brandon Begin signature
Seat Post: WTP Socket
Cranks: WTP Logic 160mm cranks
Pedals: Merritt P1 plastic pedals
Sprocket: Merritt Pentaguard sprocket
Pegs: WTP Dill Pickle 4.5″ plastic pegs
Front Wheel: Madera hub, Merritt Battle rims
Rear Wheel: WTP Helix freecoaster, Merritt Battle rims
Tires: Merritt Brian Foster FT1 tires
I have been riding Dan's Network street frame for a few months now, and this thing is extremely responsive. (Update: I switched to Battleship Magnum, 21.25″.)
GET DAN'S SIGNATURE PARTS:
After all, it has one of the shortest rear ends in the market, coming at just 12.5″ slammed.
On top of that, it has a steep front end at 75.75 degrees, so you know front wheel tricks (and even rotations and barspins) will be easier.
I really like how some BMX brands dare to do things their way, constantly progressing and innovating.
WeThePeople is one such brand, and Dan Kruk fits it more than perfectly.
Go tech or go home.
If you are interested in another very distinct bike build, you should also check Jordan Godwin's bike check.
You can enjoy Dan's unique bike setup regularly while he put it to some serious test by showing him love on Instagram.
Featured photo by: DJ Zaren.
Old Dan Kruk Bike Checks
1. 2019 What I Ride

Here is Kruk's video bike check from late 2019. This is a What I Ride video from Our BMX where Dan goes over his entire bike with the reasoning behind some of his geometry choices.
The geometry explanation on his signature Network frame from WeThePeople is really well-spoken and informative.
Dan talks about the 25.4mm clamping area on his Stallis signature WeThePeople bars combined with his signature Gooseneck WeThePeople stem.
There's no riding in here, but if you're curious about Dan's bike in 2019, check it out!
2. Dan talks about his BMX setup

In this video from Our BMX, Dan talks about his signature Network frame from WTP.
To start out, Dan speaks about a few features of his signature Gooseneck stem and then gets right into frame details, starting with the head tube angle.
Dan does an excellent job of being specific and talking in-depth about the different features of his frame.
He is very knowledgeable about the different things that make up his frame and hearing a rider speak so well about a signature part is awesome.
The whole video is made with Dan revealing his frame that Grant C was building up, so they went for a session to get some riding clips in when he finished it.
3. 2015 bike check

Here's a throwback bike check with Dan Kruk from late 2015, which you can find on the OSS YouTube page.
It is interesting to hear Dan talk about parts before his signature parts and hear how expert he is about everything on his bike.
Dan knows what he likes and exactly how to set up his bike to feel how he wants it to.
His explanation behind things as simple as why he doesn't cut his bars shows this really well and then there is a riding clip following to illustrate his reason.
There are a few more riding clips as Dan talks about his bike for an all-around solid bike check.
4. Dan's Network bike overview

Here is a super quick video bike build from WeThePeople with Dan Kruk building his signature Network frame.
This one is just 42 seconds long, but the b-roll does a great job of showing which parts he is using with only music and without any dialogue.
This one came out in early 2020 and serves as a good represDan'sion of Dan's bike at the time.
5. 2018 What I Ride

In 2018, Dan Kruk's signature WeThePeople frame had yet to come out and he was on a Battleship frame.
This What I Ride video from the late Ride BMX features Dan going over all of the parts on this frame in just over a minute and a half.
Even in this short of a time, he does a great job giving insight on the parts that make up his bike and there are even quite a few riding clips in here at the end.
6. 2016 Dan Kruk bike check

Dan is no stranger to bike checks throughout the years.
This one is a bit longer at almost six minutes and has some riding mixed throughout.
Dan is riding the WeThePeople Battleship frame here with his sick signature 80's themed colorway.
He's also riding his signature party paint colorway on his Madera sprocket.
Dan's understanding of the parts on his bike and why he runs them is always so cool to hear. He knows very well why he rides what he does.
7. 2016 bike check

Here is a video bike check from BMX Union with Dan Kruk filmed at 2016 Interbike.
Dan built this bike up at Interbike, which was the perfect opportunity to do a bike check on the fresh build.
An interesting tidbit here is that Dan is riding sample Daily Grind grips.
There's no riding in here, but Dan is always well-spoken about his bike. He gives a great explanation behind his choices with bike parts, which always makes for a bit of a time capsule in each bike check.