Do you want to see the latest Boyd Hilder bike check?
And check what his all-terrain setup is built of?
Boyd is a Federal and Odyssey rider, so that's what you can expect from the bike. (He also rides for Vans Shoes, LUX and S1 Helmets.)
Hilder is also adding more and more signature parts to his collection, including BMX frame, BMX top load stem and BMX sprocket.
Only time will tell what more signature goodies are coming from this Down Under dude.
Let's GO!
Boyd Hilder Federal & Odyssey Bike Check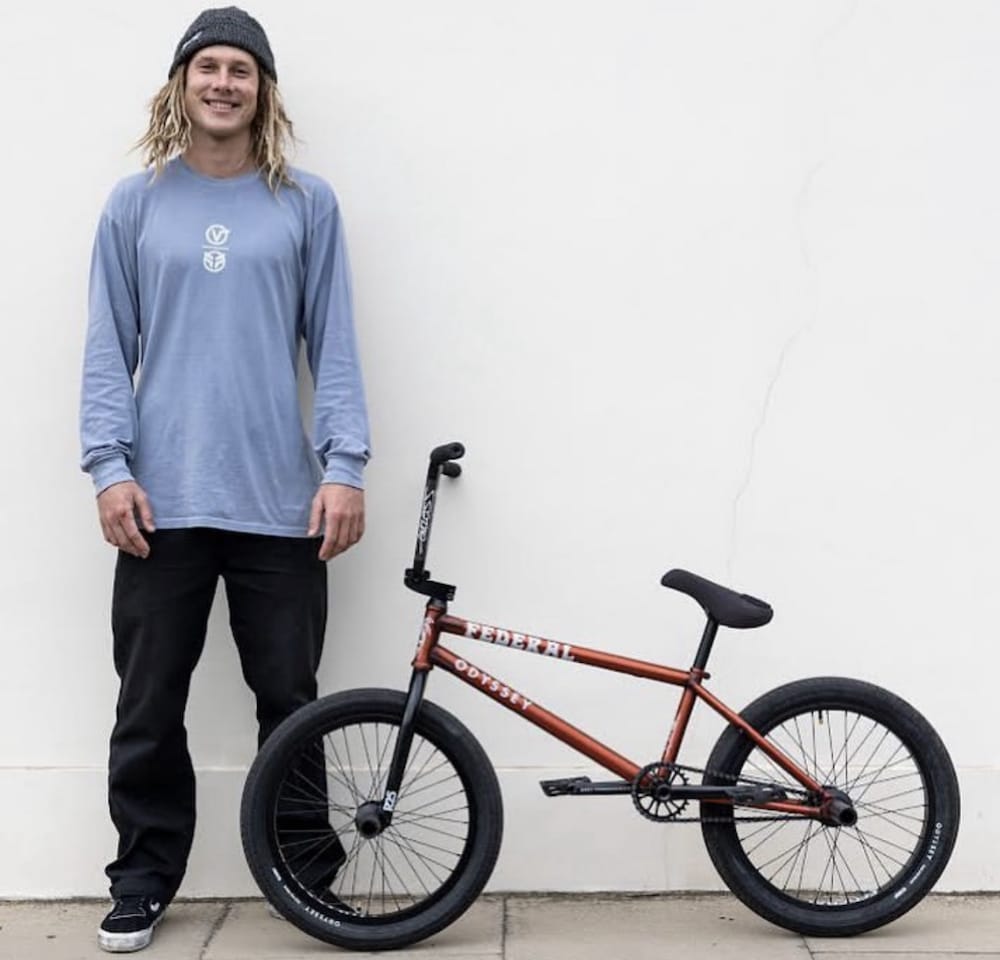 Frame: Federal Boyd 21.2″ frame
Bar: Federal Assault bar
Stem: Odyssey Boyd top load setm
Fork: Odyssey R25 forks
Headset: Federal headset
Grips: Odyssey Travis Hughes BMX grips
Seat: Federal Logo seat
Seat Post: Federal seat post
Cranks: Odyssey Calibur BMX cranks
Pedals: Federal Command plastic BMX pedals
Sprocket: Odyssey Boyd sprocket
Chain: Odyssey Bluebird half link chain
Front Wheel: Odyssey Hazard BMX rims, Odyssey C5 front BMX hub
Rear Wheel: Odyssey Hazard rims, Federal freecoaster BMX hub
Pegs: Odyssey 4.75″ Graduate plastic BMX pegs
Tires: Odyssey Path Pro BMX tires
GET PARTS BOYD RIDES:
Don't miss following Boyd on Instagram for a good dose of insane BMX bike riding stuff.
Note: Do you want to see Boyd in action? I have a full list of the best Boyd Hilder BMX videos ready for your viewing pleasure.
Featured photo by: Boyd's IG.
Old Boyd Hilder Bike Checks
Federal & Odyssey bike (2022)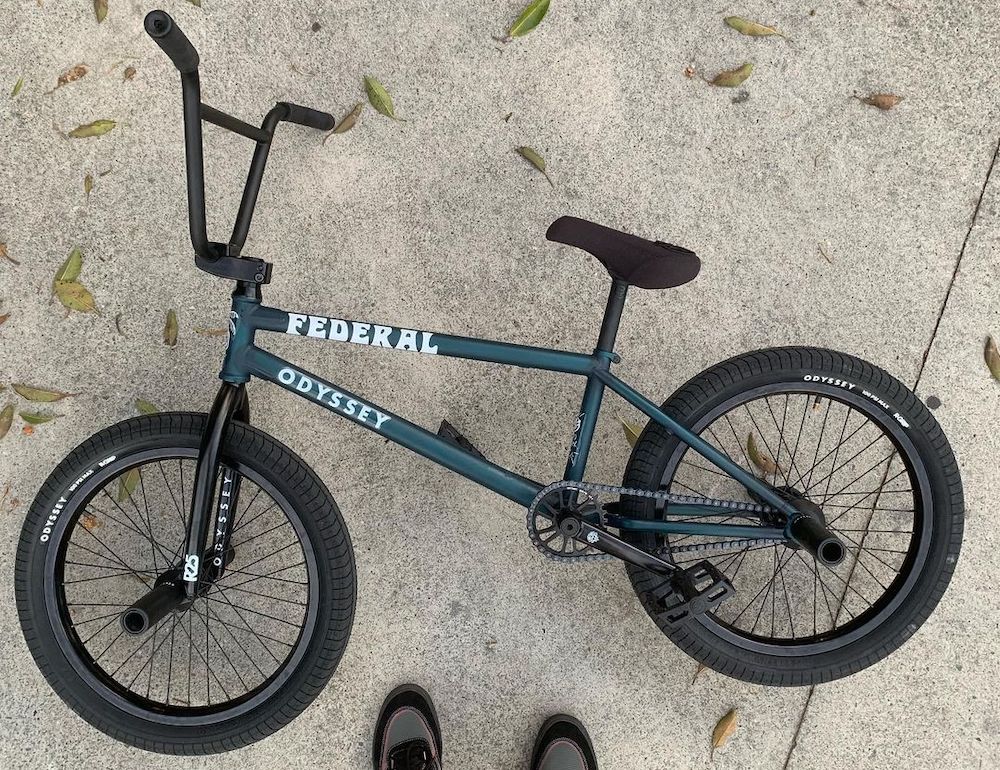 Federal X Odyssey bike (2022)

This excellent video bike check and interview with Boyd reveals his 2022 Federal and Odyssey bike setup.
I won't go into detail about what they talk about, but I will tell you that you can get a quick glimpse at some of the signature Hilder parts that'll probably drop very soon.
Hint: Signature Odyssey sprocket and stem.
Federal (2020)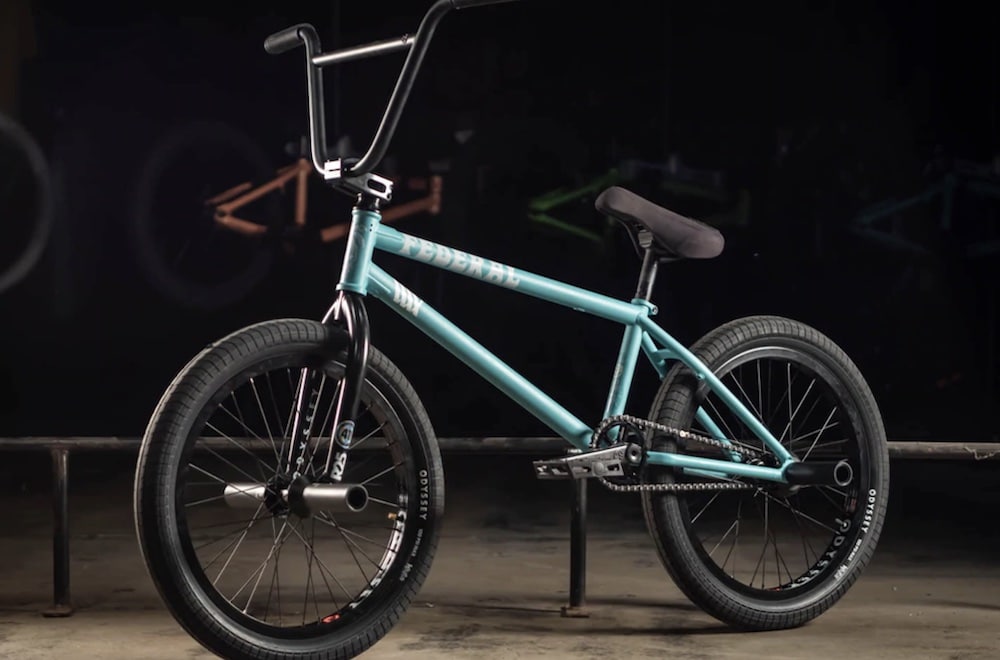 One thing's for certain: Boyd Hilder is no stranger to having pretty unique Federal frame color choices. Luckily, he has a signature one from Federal so he can choose and make what he likes.
And this matt turquoise one from 2020 looks really DOPE. (Actually, my favorite color when I was a kid.)
You can see a bunch of nice close-up shots over on Federal along with the full parts' list.
Note: Boyd rides a 10 inch bar because he's a pretty tall dude (6'1″?).
Federal (2019)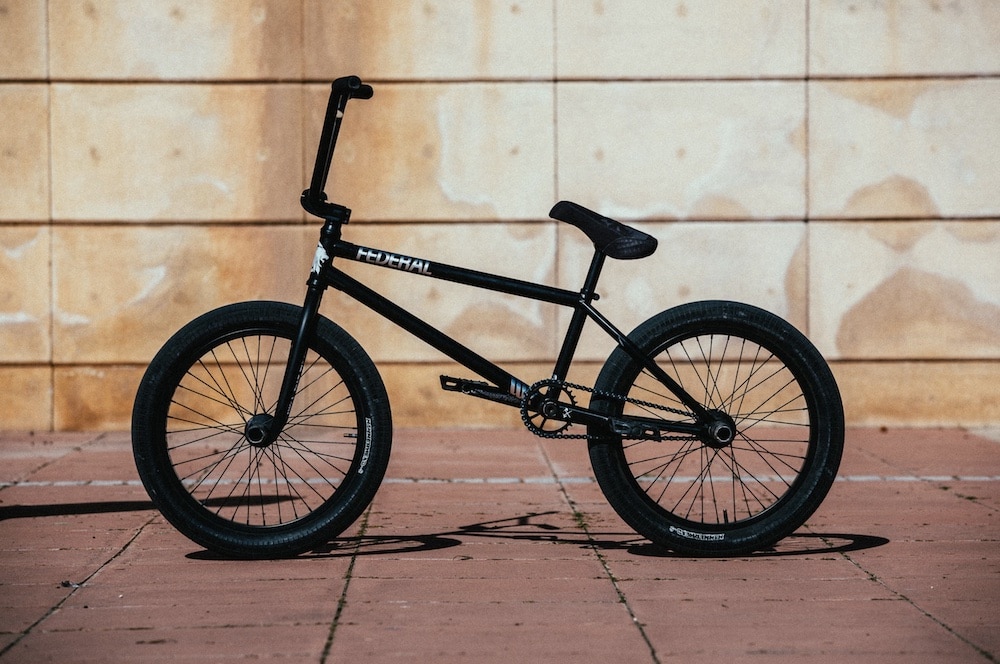 But I still like it all-black the most, so this is for sure my favorite Boyd Hilder bike check so far.
And the silver frame stickers work so extremely well.
Also, Boyd wasn't riding for Odyssey in 2019 but Demolition, so that's what you can expect from the parts list, mixing with Federal. See more on Federal.
Was this article helpful?
Disclosure: The BMX Dude's content is free & reader-supported. I may earn a commission if you click & buy through my links. Your support helps me create the best content & make a difference. Thanks! 🤘