Do you want to see the latest Ty Morrow bike check?
Ty's BMX setups are beautiful – and they always were that way.
What I find pretty fascinating is that Ty is making his bikes MORE and MORE colorful. Some are truly inspiring. And this comes from a dude who has his bike as blacked out as possible.
Moreover, Ty also rides for Fiend and Eclat, so you know that's what his bike check is all about.
Ty Morrow Fiend & Eclat Bike Check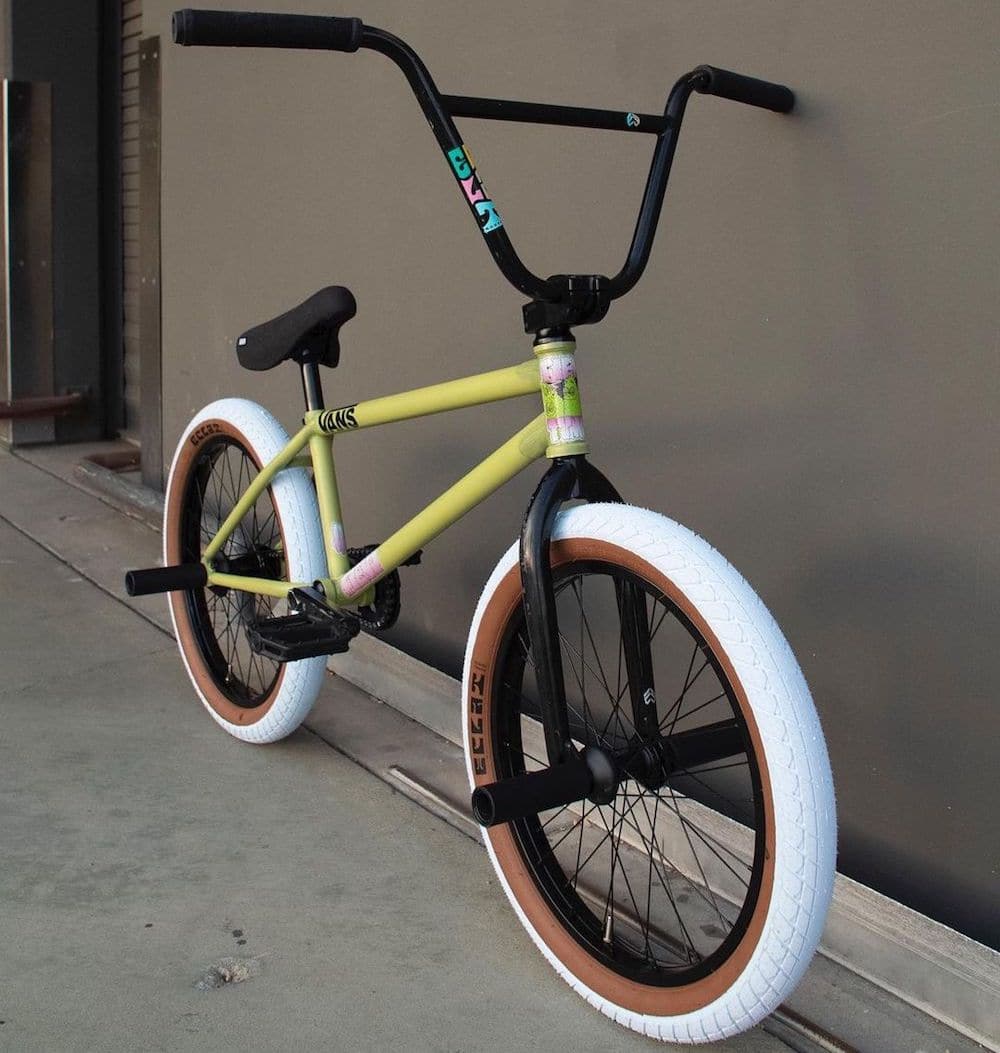 Frame: Fiend Morrow V4 21.25" frame
Fork: Eclat Storm 25° fork
Bars: Eclat Morrow 10" bar
Stem: Fiend Morrow V3 top load stem
Headset: Eclat Wave BMX headset
Grips: Eclat Pulsar BMX grips
Tires: Eclat Morrow White/Gum tires
Rims & hubs: Eclat E440 rim + Eclat Cortex hub
Cranks: Eclat Spire 160mm cranks
Sprocket: Eclat AK 25T BMX sprocket
Chain: Eclat 4 Stroke half link BMX chain
Pedals: Eclat Centric plastic pedals
Pegs: Eclat Venom PC 4.5" pegs
Seat: Fiend Morrow V4 seat
Seat post: Eclat Torch BMX seat post
You also see some signature parts on there, too.
From Fiend, Ty has a signature BMX street frame, top load BMX stem and BMX seat.
And from Eclat, you can get his signature 10-inch rise BMX bars and 2.4 BMX tires.
Do you know what all Ty's products have in common? They are BUILT TO LAST. In other words, if they hold Ty, they can hold everyone!
If you don't know what I am talking about, go watch Ty Morrow's best videos.
You. Will. Be. Amazed.
GET TY'S SIGNATURE PARTS:
Do not forget to follow Ty on Instagram. You never know what comes next from this beast of a rider. Make sure you have your eyes peeled. ALWAYS.
Featured photo by: Jeff Zielinski.
Old Ty Morrow Bike Checks
August 2020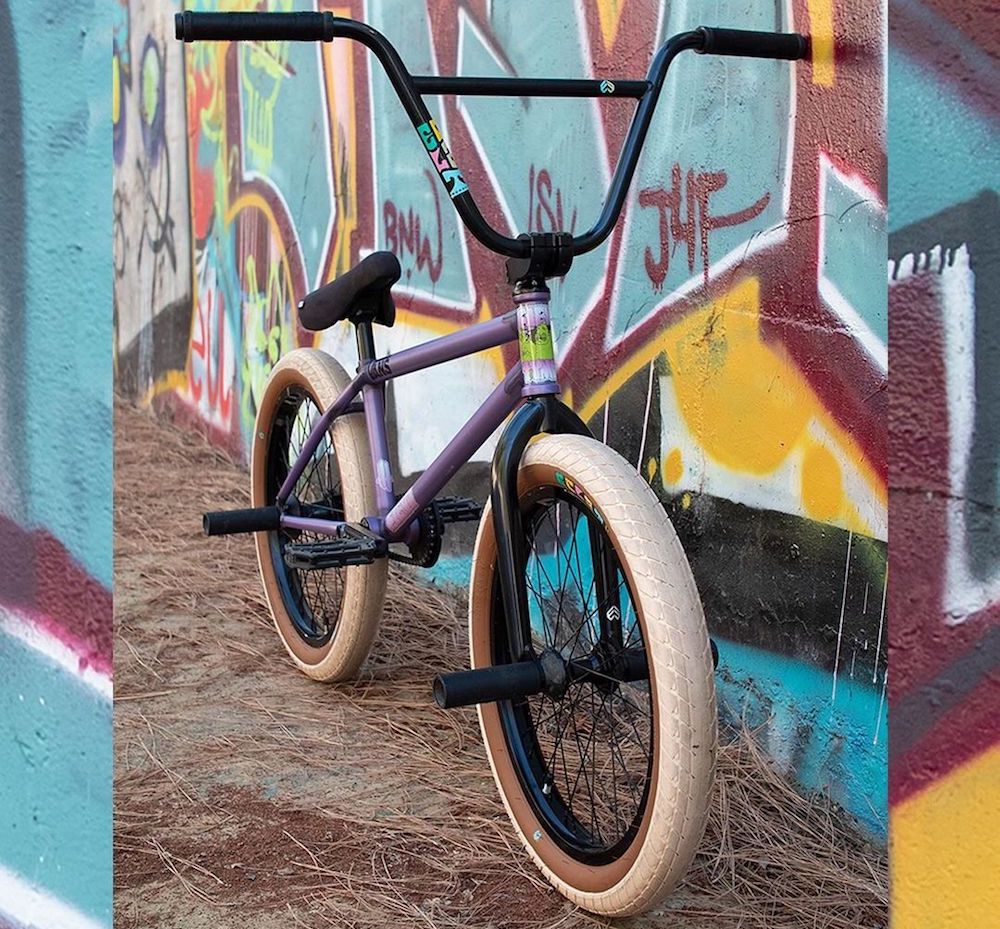 This one features his signature Fiend V4 frame. Those tan tires, though.
January 2020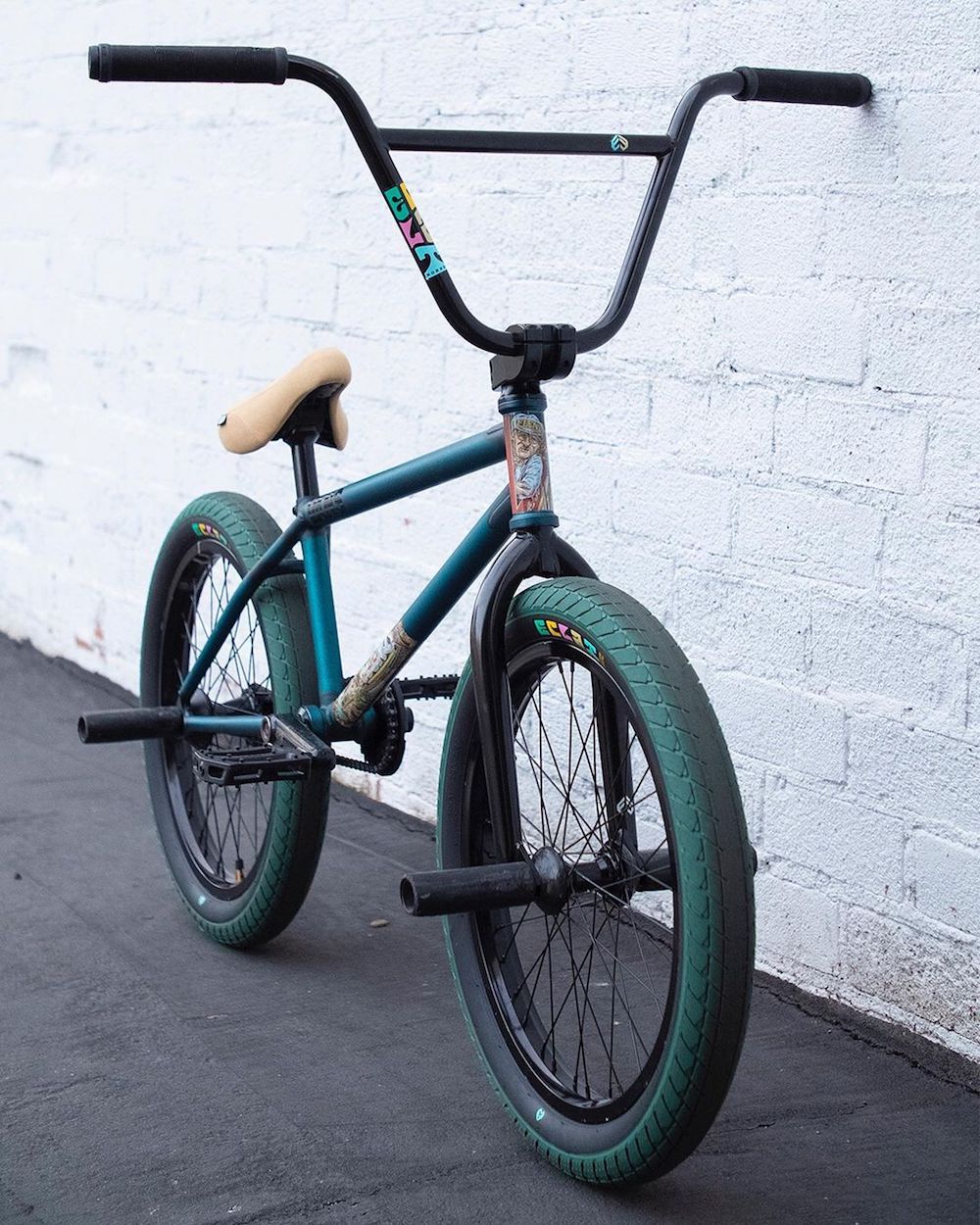 To our luck, Ty decided to post his entire parts' list at the beginning of 2020. He says, "New year, new whip." Here we go:
Frame: Fiend 21.25″ Morrow V3
Fork: Eclat Storm
Stem: Fiend Morrow V3
Bars: Eclat Morrow 10″
Grips: Eclat Pulsar
Tires: Eclat Morrow
Pedals: Eclat Seeker
Cranks: Eclat Tibia 165mm
Sprocket: Eclat Elevate Guard
Bottom bracket: Eclat
Chain: Eclat 4-Stroke
Front wheel: Eclat Cortex hub, Eclat Bondi V2 rim
Rear wheel: Eclat Cortex FC V2 hub, Eclat Bondi V2 rim
Pegs: Eclat Venom PC 4.5"
Seat: Fiend Morrow V4 Pivotal
Seat post: Eclat Torch Pivotal
April 2019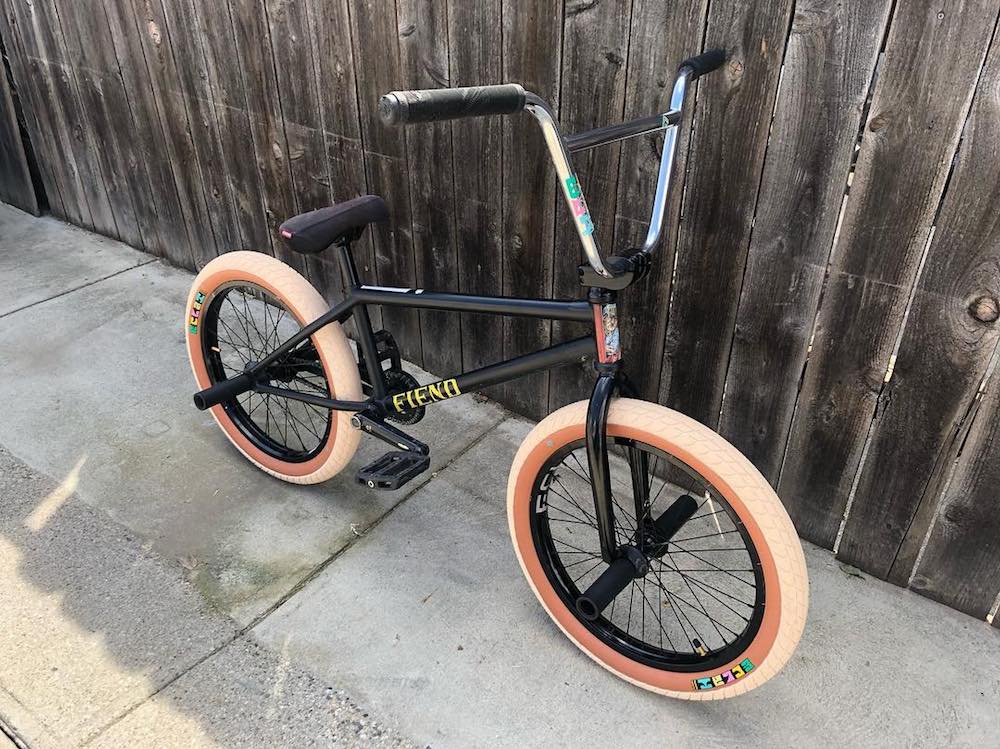 Black bike, chrome bars and tan tires – WOWZA. These are his sample Eclat tires. At the time this was his favorite color option. They look dope for sure.
July 2019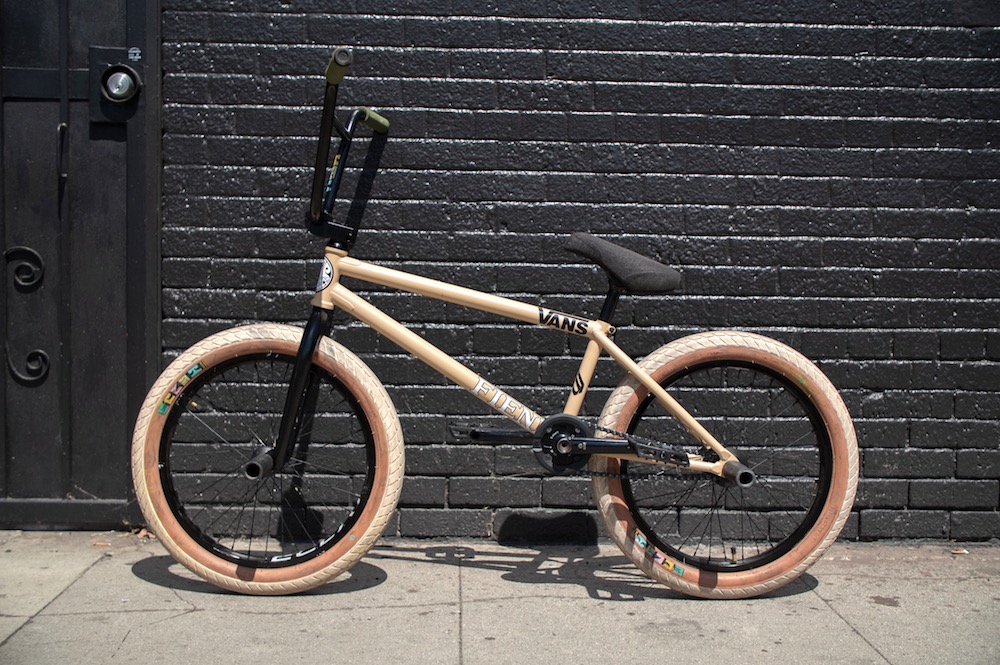 Even though Ty transitioned to a larger, 21.25″ frame, he was first pushing it on a 21. This comes from the summer of 2019 and the colorways is ridiculously good.
The only thing I would change is put on black grips – but that's just me.
Moreover, Ty Morrow also runs pretty short BMX cranks at 165mm despite his height. Also, his plastic BMX pegs are longer at 4.8″ – which comes great, especially for crooked grinds.
Besides, he runs Eclat Storm BMX forks with a 25 mm offset.
The shorter the offset, the more responsive your bike (good for nose manuals, spins and barspins, too).
You can check the full parts rundown on Eclat.
January 2019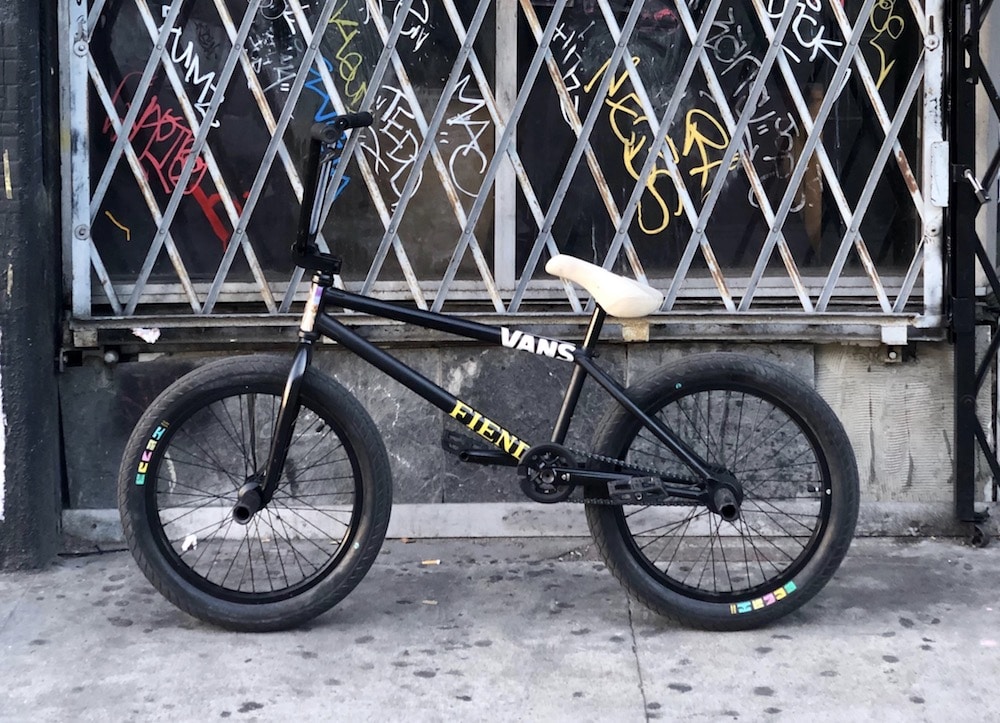 Nope, it wasn't always as bright as the bike checks above. Here is an almost all-black Ty Morrow bike setup that looks like my style.
The light seat is a pretty neat addition, making it look more dynamic, if you will.
Even though Eclat didn't put up the entire parts' list, they still have many great pictures and some additional insights on Ty's bike.
Ty Morrow's signature Eclat tire and bar

This may not be a bike check, but I added it only if you are interested in getting Ty's tire and/or bar.
I'm actually very interested in getting the Morrow bar, switching from 9.5″ rise to 10″ (I'm 5'11").
Ty runs you through his parts, telling you more about the geometry choice and other goodies worth knowing before buying.
Along with that, you also get some riding clips that spice this promotional video up.
Now you know!
Was this article helpful?
Disclosure: The BMX Dude's content is free & reader-supported. I may earn a commission if you click & buy through my links. Your support helps me create the best content & make a difference. Thanks! 🤘