I'm always looking to spot the latest Gary Young bike check, and this best-of covers them all.
Since Gary is riding for Sunday Bikes and Odyssey BMX for a very long time, you can expect his bikes to use parts from these two brands only.
Gary Young Sunday & Odyssey Bike Check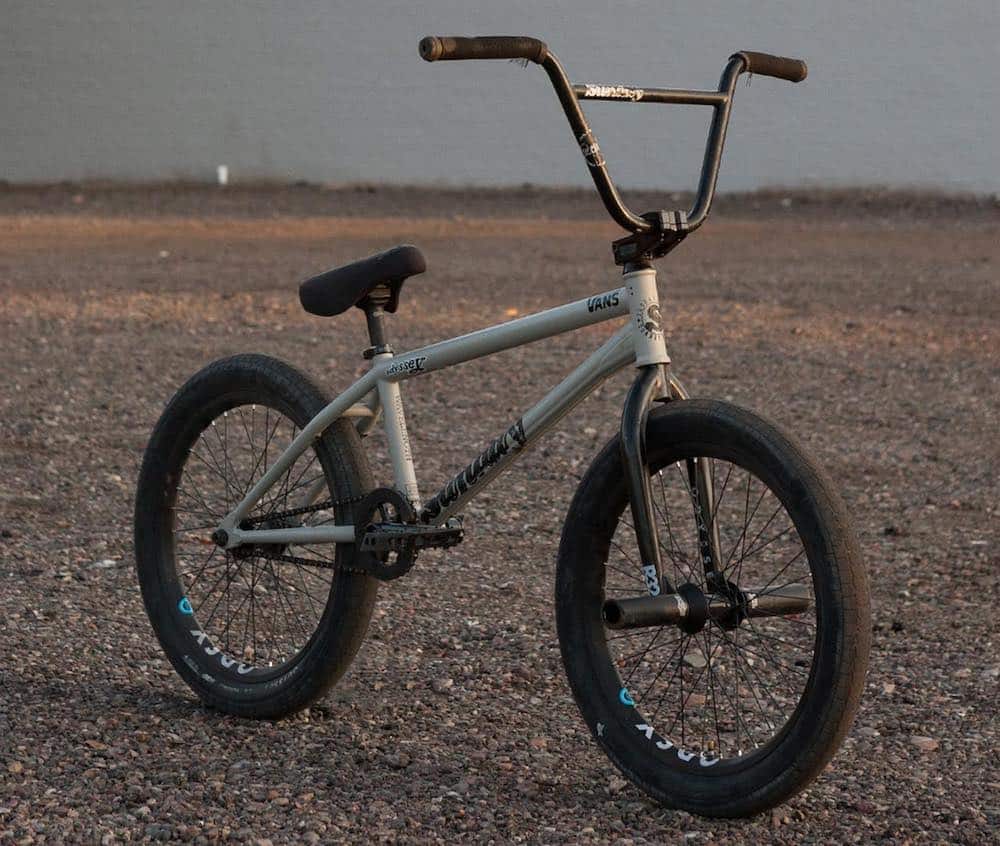 Frame: Sunday Wavelength, 20.75″
Bar: Sunday Discovery bars
Stem: Odyssey BOSS top load BMX stem
Fork: Odyssey R32 BMX forks
Headset: Odyssey Pro Conical BMX headset
Grips: Odyssey Warnin' BMX grips
Seat: Odyssey Big Stitch BMX seat
Seat Post: Sunday pivotal post
Cranks: Odyssey Thunderbolt BMX cranks
Pedals: Odyssey Twisted PC pro plastic BMX pedals
Sprocket: Odyssey Utility Pro BMX sprocket
Chain: Odyssey Bluebird chain
Front Wheel: Odyssey Vandero Pro front BMX hub, Odyssey Litehouse rim
Rear Wheel: Odyssey Clutch V2 freecoaster< hub/a>, Odyssey Litehouse BMX rim
Hub Guards: Odyssey hub guards
Pegs: 3 x Sunday Seeley plastic BMX pegs
Tires: Odyssey Super Circuit BMX tires, 2.40″
GET GARY'S SIGNATURE PARTS:
One thing that stands out is that Gary's bikes are usually quite colorful. At least the frame.
Speaking of the frame, Gary always rocks an ALL-AROUND bike build, perfect for street, park and trail riding.
He does it all!
If you're not familiar with his riding, watch our pick of the best Gary Young videos.
However, he sometimes goes all-black, too! So you never know how Gary's next bike will look.
But YOU KNOW where to find it. On The BMX Dude website.
Note: If you are a Sunday fan, you should also check bikes from Aaron Ross and Broc Raiford.
Do not forget to follow Gary on Instagram for all the amazing bike riding, family stuff, traveling, and more.
Featured photo by: Sunday video bike check.
Old Gary Young Bike Checks
Gary's 2023 Bike Setup

You know you'll get a lot of useful stuff with a video bike check that's nearly ten minutes long.
Yup, Gary goes pretty in detail describing his parts and why he rides them. He also answers a bunch of questions, like what parts he switches most often, not wearing pads anymore, etc.
Along with Young talking about his bike, you'll also get to witness some really sweet park riding that's always a pleasure to watch.
Are you also not into super short rear-ends? I like it at around 13.5″+ (but not over 14″).
Custom Sunday Soundwave build

Here we have a video bike check with Gary Young from Sunday, giving the rundown on his 2021 Soundwave build.
The bike check starts with a quick line in a bowl at the skatepark before Gary starts talking about his bike.
We learn that Gary's personal Soundwave frame was made custom by Sunday with a longer rear end than the production model.
He lets us know that the rear end is about a half-inch longer which might have something to do with his signature Wavelength frame which has since been announced.
Sunday bike check (2018)

Gary Young has ridden very similar bikes for many years and being that Sunday has an entire Soundwave complete with his name on it, the two are usually very similar.
Here Gary gives us the overview of his Soundwave V3 bike from mid-2018. This one featured a set of his new-at-the-time signature grips.
Gary is very articulate and gives great explanations of why he runs the parts he does with his 165mm cranks being a perfect example of this.
Bike building challenge

The day after Gary Young's 2020 bike check was released on the Sunday Bikes YouTube channel, this Bike Build Challenge video was released on the Our BMX youtube channel.
The video starts with some riding at a skatepark before getting into the concept of the video. To challenge Gary with $5 per minute over or under his time estimate to build his bike.
If he beats his time, he gets $5 per minute he was under. If he loses, he has to pay $5 per minute he goes over.
This is definitely a fun one and there are a few good stories throughout that make this one worth the 18-minute playtime.
Odyssey bike check (2013)

Before the Gary Young Soundwave came, Gary Young Pro from Sunday and this bike check for Gary's personal build came out back in early 2013.
Since Gary is riding for Sunday and Odyssey for so long, it's interesting looking back at these older bike checks.
And seeing unique parts from the time that aren't made anymore and different ways Gary has had his bike setup throughout the years.
Seeing brakes on his bike is definitely a throwback and a perfect example of this. Gary is a legend!
Was this article helpful?
Disclosure: The BMX Dude's content is free & reader-supported. I may earn a commission if you click & buy through my links. Your support helps me create the best content & make a difference. Thanks! 🤘