Are you searching for the most recent Travis Hughes bike check?
Travis is a Kink and Odyssey rider with a signature Cloud frame and TRAVIS BMX grips.
This dude always has a DIALED setup, and this latest one is no different. (Although I like the all-black ones more, but that's just me.)
Travis also prefers to ride a slimmer BMX tire in the back and a fatter one in the front – mainly for the looks.
And longer plastic BMX pegs are also a must for locking grinds (particularly crooks) easier.
Let's go.
Travis Hughes Kink & Odyssey Bike Check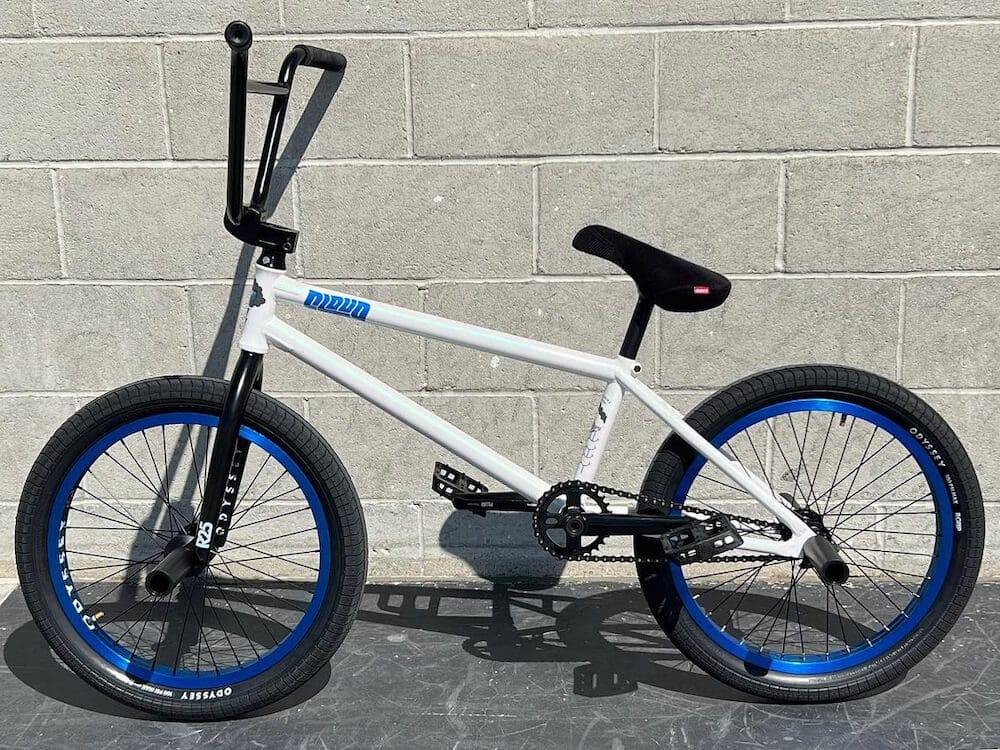 Frame: Kink Cloud frame
Bar: Kink Rex bar
Stem: Odyssey BROC top load stem
Fork: Odyssey R25 forks
Grips: Odyssey TRAVIS grips
Headset: Kink Pro Conical BMX headset
Chain: Odyssey Bluebird chain
Seat: Odyssey Big Stitch fat seat
Seat Post: Odyssey pivotal seat post
Cranks: Kink Pillar BMX cranks
Pedals: Odyssey Twisted PC pedals
Sprocket: Kink Imprint sprocket
Front Wheel: Odyssey Hazard Lite front BMX wheel
Rear Wheel: Odyssey Hazard Lite freecoaster wheel
Tires: Odyssey Path Pro tires
Pegs: Odyssey Gradueate plastic pegs
While I'm more used to seeing Travis ride a black bike, this white setup is still dope, though!
GET PARTS TRAVIS RIDES:
Note: Don't miss my collection of the best Travis Hughes BMX videos.
Show Travis love and support by following him on Instagram.
Featured photo by: Travis' IG.
Old Travis Hughes Bike Checks
Our BMX (2021)

Let me just say this, the beginning of this video bike check is hilarious. But stick with it because it gets more serious.
"Bike's all black, I don't like colors. All-black looks clean, you know what I'm saying."
I feel you, Travis.
Travis also rides a skinnier tire in the back and fatter in the front because he thinks it looks better ("but it's all personal preference," says Travis).
He's also riding all four pegs in 4.75″ for locking crooks easier. He also digs Broc Raiford's signature Odyssey top load BMX stem because of the rise.
Why does Travis ride his BMX seat so high? Switch barspins are the main reason.
Thre three main parts that Travis Hughes changes most often are grips, plastic BMX pedals and tires.
Enjoy Travis giving you a complete rundown of his bike and a few awesome riding clips.
OSS (2016)

The 2016 version of Travis' bike is a solid all-back setup with chrome BMX rims that make it look very DIALED.
Travis didn't yet have his signature Kink frame at the time, so was riding Sean Sexton's SXTN frame with Aaron Ross's signature Odyssey tires.
He might not be too sure about all the parts he rode at the time, but this video bike check is still dope.
And Travis also treats you to some really solid flat rail stunts that are too dialed.
Do I say dialed too often?
Odyssey (2014)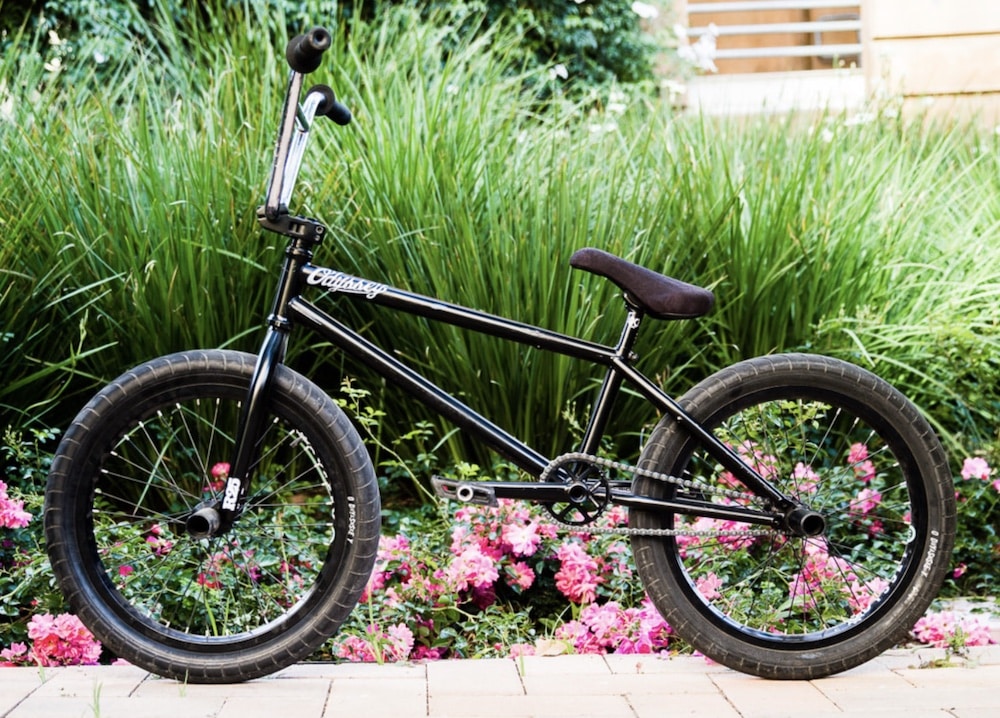 Travis Hughes has been killing it hard for a very long time, so let's take it all the way back to 2014.
He was rocking the Kink Issue 3 frame with Kink's Human bars, Hittle stem and Minus One BMX sprocket.
From Odyssey, he had R25 BMX forks, Tom Dugan grips, Thunderbolt cranks and Chase Hawk tires.
Check the full parts list and more bike photos on Odyssey.
Was this article helpful?
Disclosure: The BMX Dude's content is free & reader-supported. I may earn a commission if you click & buy through my links. Your support helps me create the best content & make a difference. Thanks! 🤘