Are you searching for the latest Alex Donnachie bike check?
Technical street riding fans, welcome!
His bike build is very responsive, with a steep front-end and a short rear-end.
Alex also likes a low standover height with about an inch of seat post peeking out.
Also, you'll notice that Donnachie can go really wild with his BMX street frame color choices. (But still picks a black one from time to time.)
As a BSD pro, you can expect that his bike is an all-BSD setup with a few signature parts (BSD frame, BMX seat & BMX tires).
Alex Donnachie BSD Bike Check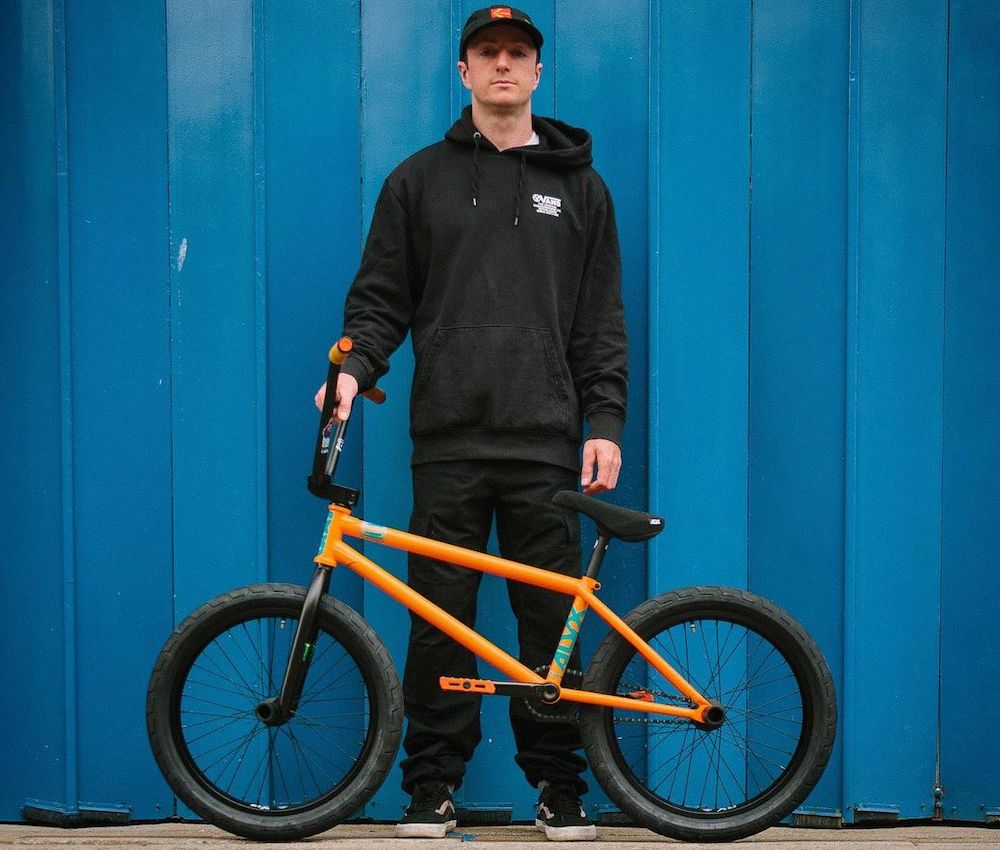 Frame: BSD ALVX frame 20.6″
Bar: BSD Leezus bar
Stem: BSD Stacked top load stem
Fork: BSD Jonesin' BMX fork
Headset: BSD Integrated BMX headset
Grips: BSD Leezus BMX grips
Seat: BSD ALVX Eject seat
Seat Post: BSD Blitzed BMX seatpost
Cranks: BSD Substance XL V2 BMX cranks
Pedals: BSD Jonesin' pedals
Sprocket: BSD Superlite BMX sprocket, 25T
Chain: BSD Forever chain
Front Wheel: BSD BMX front wheel
Rear Wheel: BSD BMX rear wheel
Pegs: BSD Rudetube XL LT plastic BMX pegs
Tires: 2 X BSD Donnastreet BMX tires, 2.4″
GRAB ALEX'S SIGNATURE PARTS NOW:
Also, Alex rides in Vans shoes.
Don't miss following Alex on Instagram where you can enjoy a ton of insane riding clips.
Want to see Alex in action? I have a full list of Alex Donnachie's best videos for your viewing pleasure.
Featured photo by: BSD.
Old Alex Donnachie Bike Checks
Source BMX Bike Check (2023)

Every time you have Van Homan behind the mic and a bike check is about to go down, you just know it will be a good one. Especially a very insightful one, which is precisely what we all want.
This time, Van asked Alex a bunch of questions, so we really get a better idea of why he rides particular parts, especially his signature ones. Plus, we get a sneak peek at Alex's signature BSD carbon fiber rims.
Alex is 5′ 6″, so the 20.6″ frame fits him perfectly. He also prefers a mid-height front end and a super-short rear end aka. chainstay length. Lastly, he normally rides 40 – 50 PSI, depending on the season (see what's the best BMX tire pressure).
BSD (2023)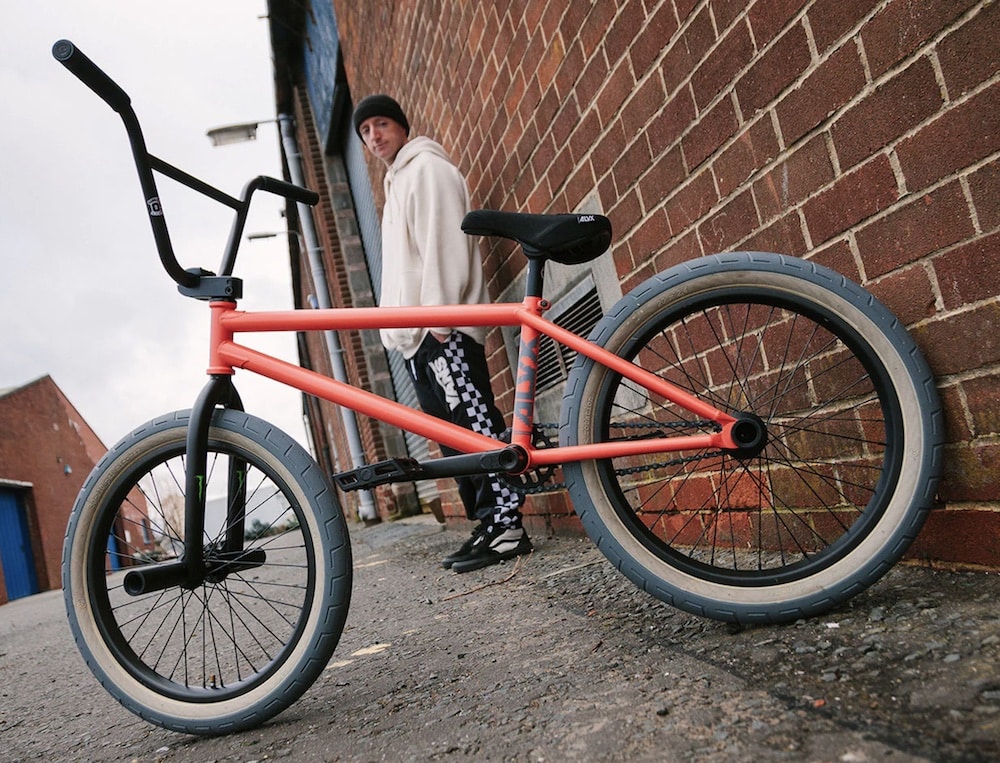 It's no secret that Alex enjoys building unique bike setups, color-wise. For 2023, he put together his signature ALVX AF+ frame in coral with gray tires (with tan walls) and all the other parts in black.
An interesting choice that, surprisingly, goes together extremely well! (And this comes from a dude who rides a "murdered out" bike.)
One of the newer parts Alex rides are his signature bars in 9.25″ that are pre-cut to 28″.
Find more photos and the complete parts list on this link.
BSD (2021)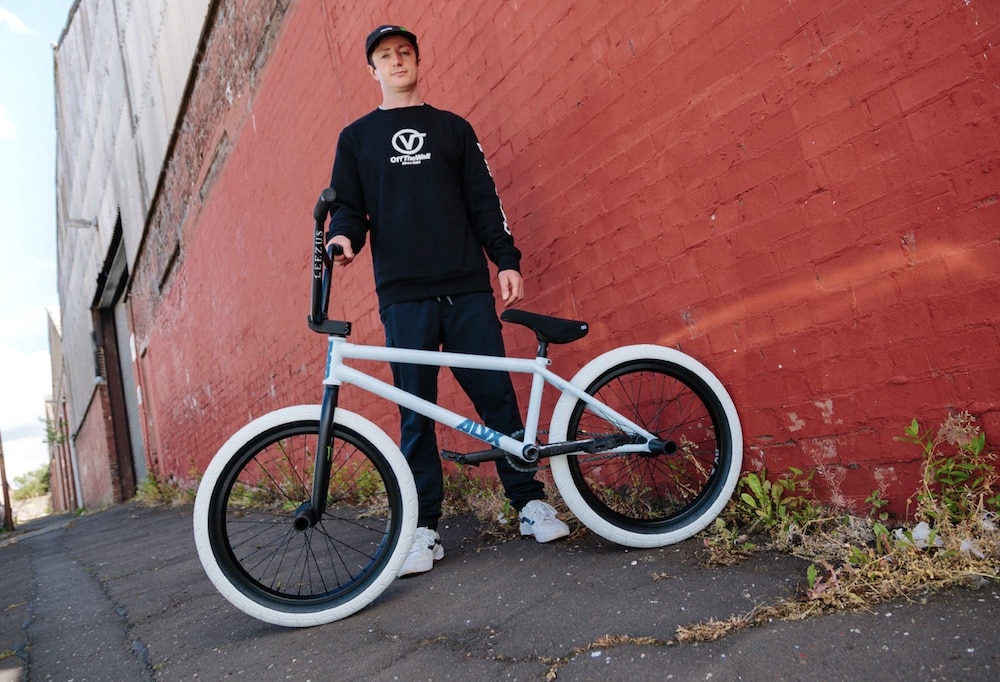 Okay, even though I always like all-black bikes the most, this ice blue version of Alex's bike looks insane. Especially with the white tires!
And keeping all the other parts black – WOW!
You can check more pictures and a full parts list over at BSD.
BSD (2020)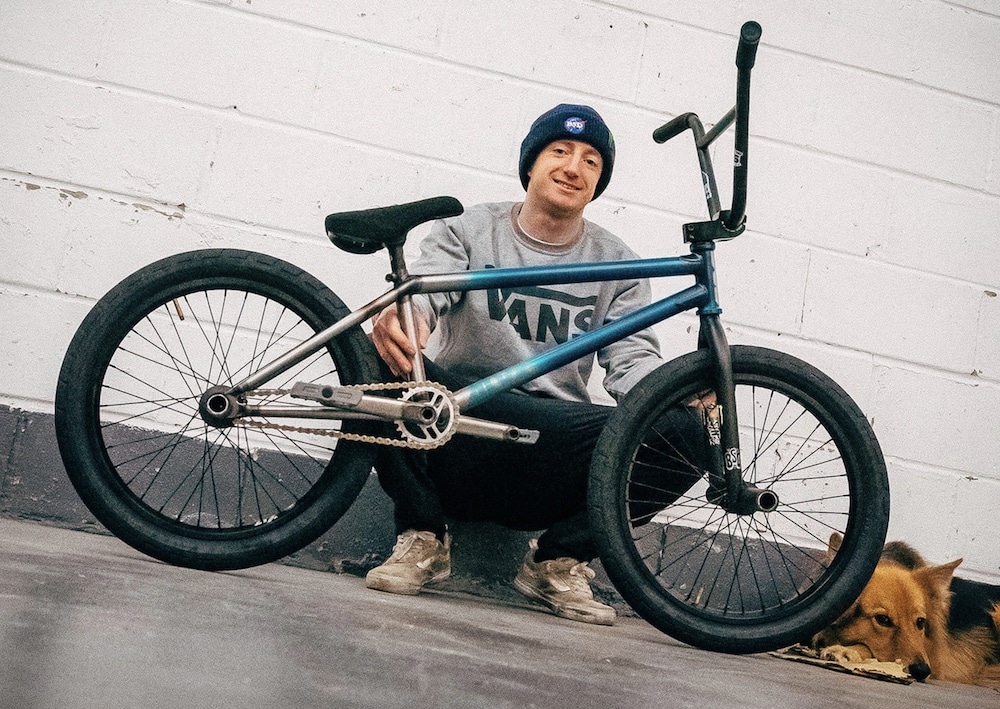 Alex's signature ALVX frame comes out in some wild color options almost every year. It doesn't necessarily have any major frame geo updates, but you can expect new shades.
This flat trans turquoise version is an excellent example of that!
Alex also strategically chose raw cranks and sprocket with a chrome chain to keep the rear part of the bike raw-themed. All the rest is black and looks really cool.
Enjoy the rest of the goodies on BSD.
BSD (2019)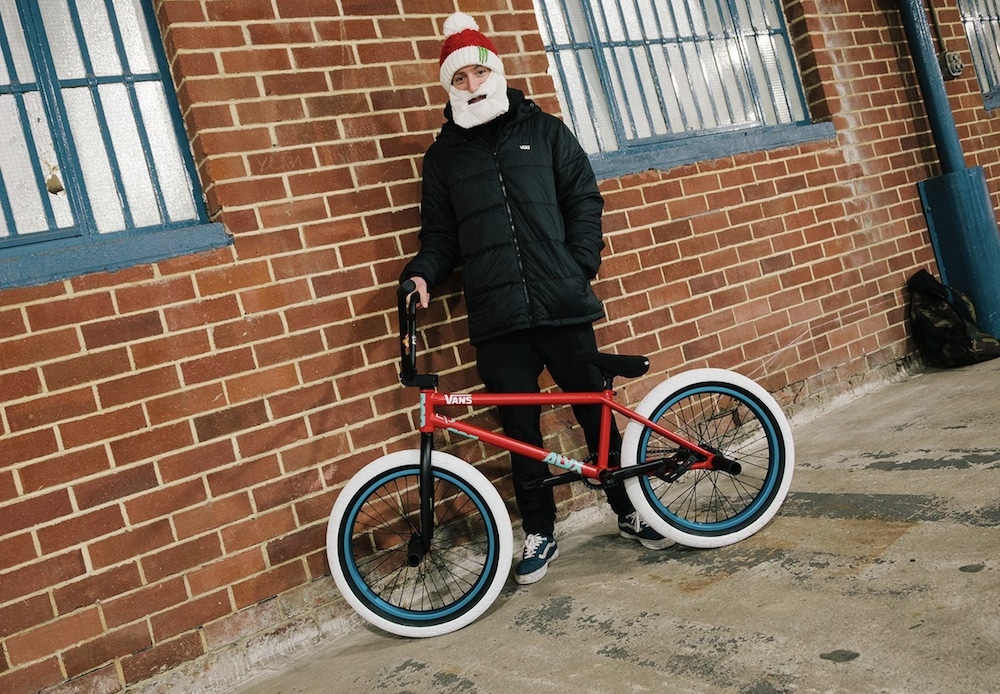 Since Alex Donnachie had never had a red bike before and the holiday spirit was on full whack (plus, the time for a new bike), he decided to take the plunge at the perfect timing.
Also, Alex mentions that he really likes the Jonesin' pedals because it's a lot easier to spot the grinding and non-grinding sides. (Yes, that's a unique specialty of Sam Jones' signature plastic pedals.)
Anoter awesome bike check that you can take a peek at in full at BSDForever.com.
BSD (2018)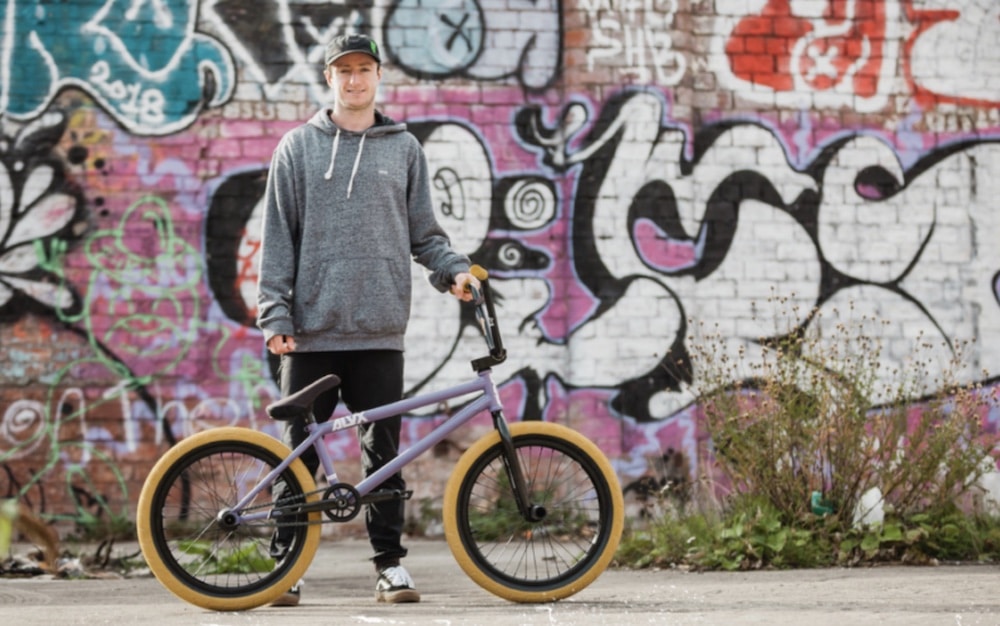 If you still remember, Alex snapped his ACL back in 2017, so he spent the entire year easier bike-wise but heavier physio-wise.
And then, for 2018, he built this RAD setup featuring a purple haze frame with gum tires and grips.
Alex also says that he really digs David Grant's signature Dunks grips because they are thin.
Check the rest on BSD's official website.
DIG (2017)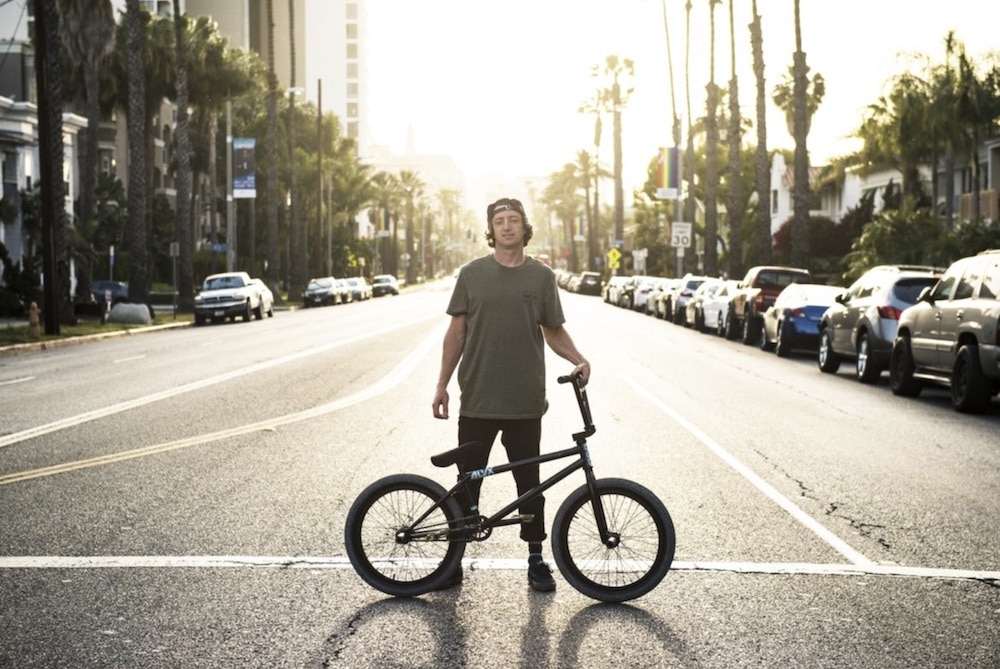 Wes McGrath caught up with Alex on a trip in San Francisco to do this rad bike check and interview, giving you a more in-depth look at his bike at the time.
Alex shares the difference between his signature DonnaSqueak and DonnaStreet tires, name choices for his signature parts, and more.
Hit up the DIG website to get the "more" part.
TCU (2017)

Here's the only Alex Donnachie video bike check I managed to find, shot for The Come Up BMX.
Alex has some trouble listing all the parts – he says that doing the bike check in front of a camera is much harder than it looks.
But he still kills it!
And to make things even hotter, Francis Castro shot a bunch of amazing riding clips and laced it all into this awesome video. Enjoy!
Was this article helpful?
Disclosure: The BMX Dude's content is free & reader-supported. I may earn a commission if you click & buy through my links. Your support helps me create the best content & make a difference. Thanks! 🤘