Are you ready to peek at the latest Dennis Enarson bike check?
Dennis is a beast on his bike, riding streets, parks, trails and bowls like it's nothing.
Of course, he needs an ALL-AROUND bike that can handle all the beating from him.
And Dennis's bike build may be a good inspiration if you like riding everything.
Dennis Enarson Haro/Odyssey Bike Check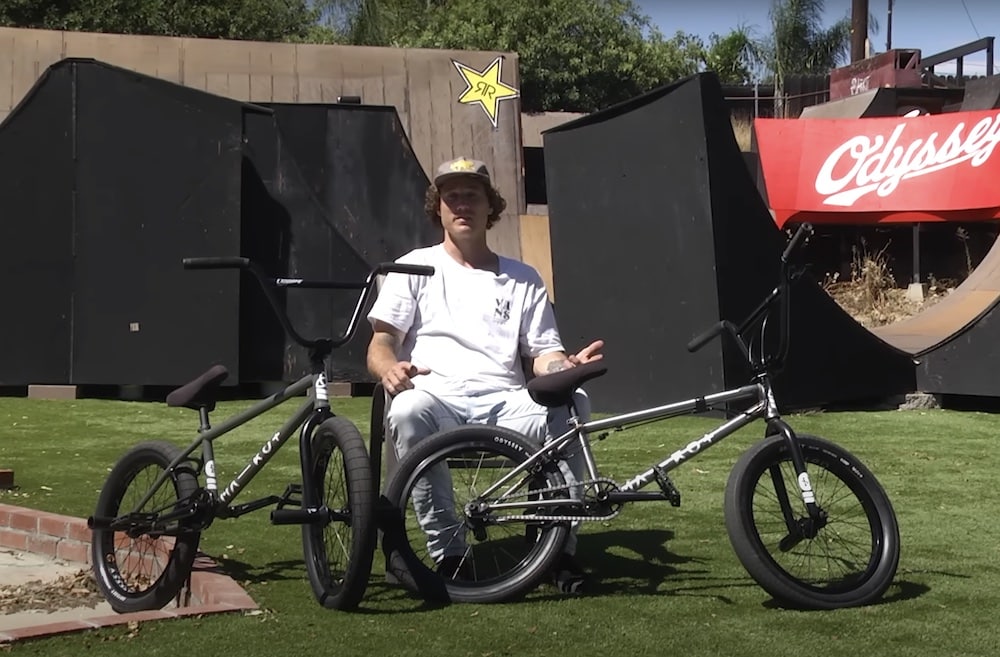 Frame: Haro SD 21″
Bar: Odyssey Super Highway bar
Stem: Odyssey Corey Walsh signature top load BMX stem
Fork: Haro SD BMX fork
Chain: Odyssey Bluebird half link chain
Seat: Odyssey Big Stitch BMX seat
Cranks: Odyssey Thunderbolt BMX cranks
Pedals: Haro SD plastic BMX pedals
Sprocket: Odyssey Boyd Hilder signature BMX sprocket
Front Wheel Set: Odyssey Seven-KA rims, Odyssey Vandero Pro front BMX hub
Rear Wheel Set: Odyssey Seven-KA rims, Odyssey Antigram V2 cassette BMX hub
Tires: Odyssey Super Circuit 2.4″ BMX tires
Pegs: Odyssey JPEG 4.5″
(You can watch the full parts list of his park and street bikes in the video below.)
GET PARTS DENNIS RIDES:
Dennis rides for Haro, Odyssey, Vans, Rockstar and Oakley.
Do not forget to follow Dennis on Instagram and treat yourself to some of the best riding clips.
Speaking of clips, don't miss our collection of the best Dennis Enarson videos.
Featured photo by: Dennis's IG.
Old Dennis Enarson Bike Checks
Brakeless & Pegless Bike Check

It almost feels like an April Fools' joke, but it's not.
Yes, Dennis decided to build his new park and trails machine without pegs and brakes. Can you believe it?
In this lengthy video bike check, Dennis reveals it all for your convenience while nailing down multiple solid tricks at the OB skatepark.
Remember, Dennis has two bikes, one for parks and one for streets (which has four pegs, freecoaster, no brakes).
But even for this park machine, Dennis says he still has a gyro and a pair of pegs – you know, just in case.
Dennis's Odyssey bike check

The recent sponsor switch for Dennis makes so much sense.
Dennis: "It's been a dream of mine."
And although the official news dropped beforehand, they wanted to make it official with this video bike check.
What's cool about this one is that Dennis shows not one but two setups: one for transitions and the other for the streets.
And yes, both look really good.
Plus, it wouldn't be a proper video bike check without some mad riding clips at Enarson's backyard ramps.
I cannot wait for the first actual video project between Enardon and Odyssey – because I know already it'll be SICK.
Dennis's bike setup (2022)

Frame: Haro SD 21″
Bar: Dennis Enarson Demolition X Markit bar
Stem: Demolition X Markit top load stem
Fork: Haro SD
Chain: Shadow Supreme chain
Seat: Demolition X Markit
Cranks: Demolition X Markit cranks
Pedals: Haro SD plastic pedals
Sprocket: Demolition X Markit
Front Wheel Set: Demolition
Rear Wheel Set: Demoliton
Tires: Demolition Mike "Hucker" Clark Hammerhead
Pegs: Cult Butter plastic BMX pegs
Ride UK (2019)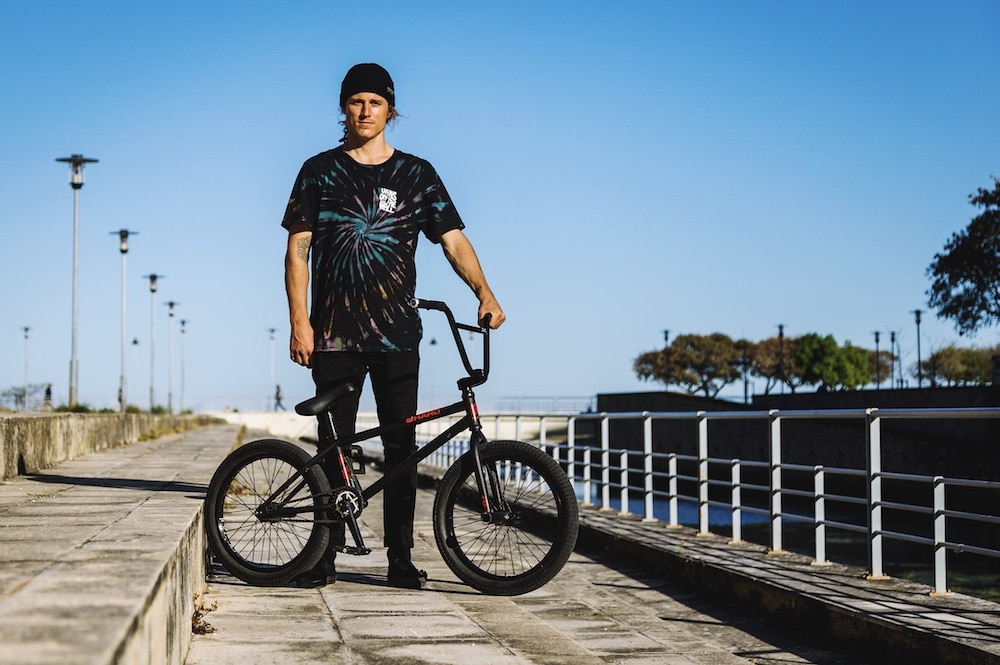 Ride UK dropped an awesome bike check and an interview in 2019 that gives you an in-depth look at Dennis' signature Haro SD and Demolition build.
He chats about frame graphics, seeing an idea come to reality, all-black (how I like it best!) bike, and more.
Of course, there are also multiple close-up shots of the setup and a wild riding (rail hop) one for your viewing pleasure.
Our BMX "How I Travel" (2019)

Here's a cool bike check that's not a traditional video bike check that you're used to seeing.
When arriving in Seattle to work on a Vans project, Our BMX caught up with Dennis to see how he travels with a bike bag.
While unpacking the bag and building his solid, all-around Haro build, Dennis Enarson runs you through all the parts he rides.
If you've never traveled with a bike, well, you get some tips on how to do it from the man himself, Dennis.
X Games (2014)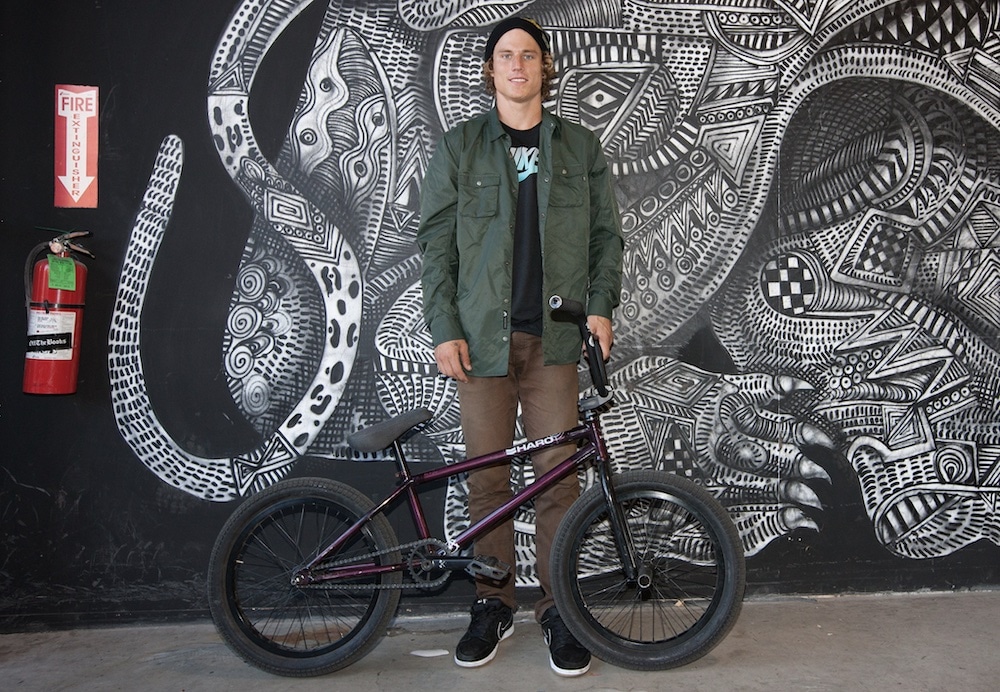 Do you want to see what Dennis' bike looked like back in 2014? Purple, anyone?
He's been on Haro and Demolition for a very long time, so that's pretty much what you can expect from his bike parts. Just that in 2014 he had a lot fewer signature parts.
The bike is pretty modern even to today's standards, having a freecoaster, three pegs and no brakes.
Note: The bike has two parts that aren't from Haro or Demolition – Kink bar ends and ODI Longneck grips.
Check out the gallery on X Games.
X Games (2013)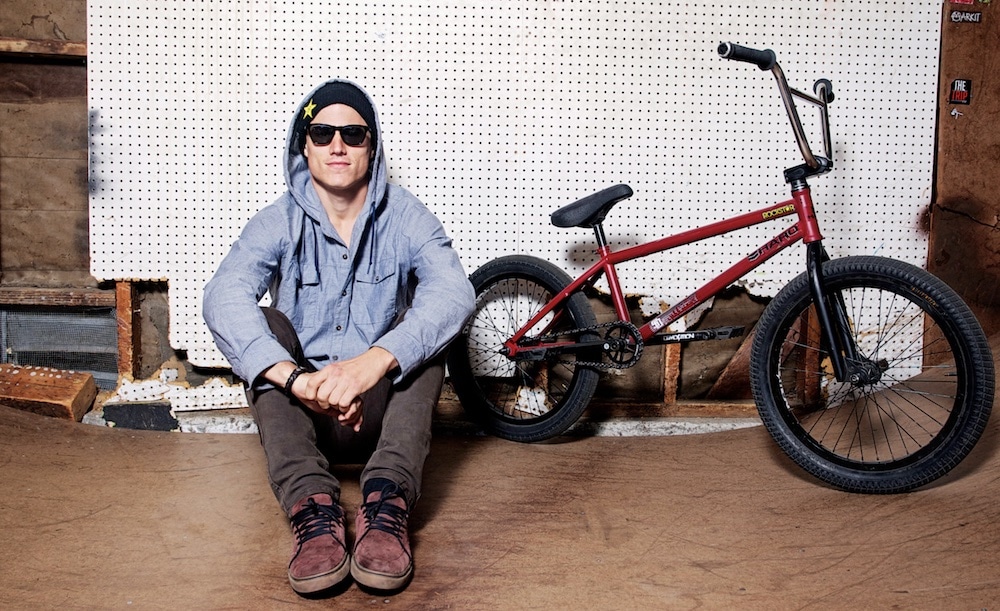 A year older one from X Games, bringing you Dennis Enarson bike check from 2013. This time a red beast.
This is the second version of his signature Haro SD frame.
Fun fact: Dennis is 6'2″ and rides a 21″ frame. (Now you know how tall Dennis is.) He says it's the perfect mid-size frame for his all-around riding style.
Find more on X Games.
AlliSports (2011)

I always like checking dudes' bikes, even if they are very old. A little history here from 2011.
At the time, Dennis was already riding for Haro and Demolition and he's being dedicated to both brands to this very day. Respect!
Everything was smaller in 2011, with steel pegs, but the bike still looks really awesome.
And AlliSports ends the bike check with Dennis' line from Dew Tour which is just INSANE.
Was this article helpful?
Disclosure: The BMX Dude's content is free & reader-supported. I may earn a commission if you click & buy through my links. Your support helps me create the best content & make a difference. Thanks! 🤘