Do you want to peek at the latest Casey Starling bike check?
It's time to see what the dude with INSANE talent and skills rides because there must be something (bike-related) that helps him do the unbelievable stuff.
Or is there?
One of the bike specs that Casey likes is a short rear end (see what chainstay length is best). It helps him with spins and all the other crazy flip stuff he does – on the streets!
Moreover, Casey also rides 160mm BMX cranks (check out the benefits of short cranks) and forks with a 25mm offset, which isn't the steepest but also not the most mellow.
Starling rocks 4.5″ plastic pegs, giving him some extra length to lock grinds in more easily.
But in general, Casey's bike isn't that special – it's his skills that are SPECIAL.
Casey Starling 2023 Kink & Premium Bike Check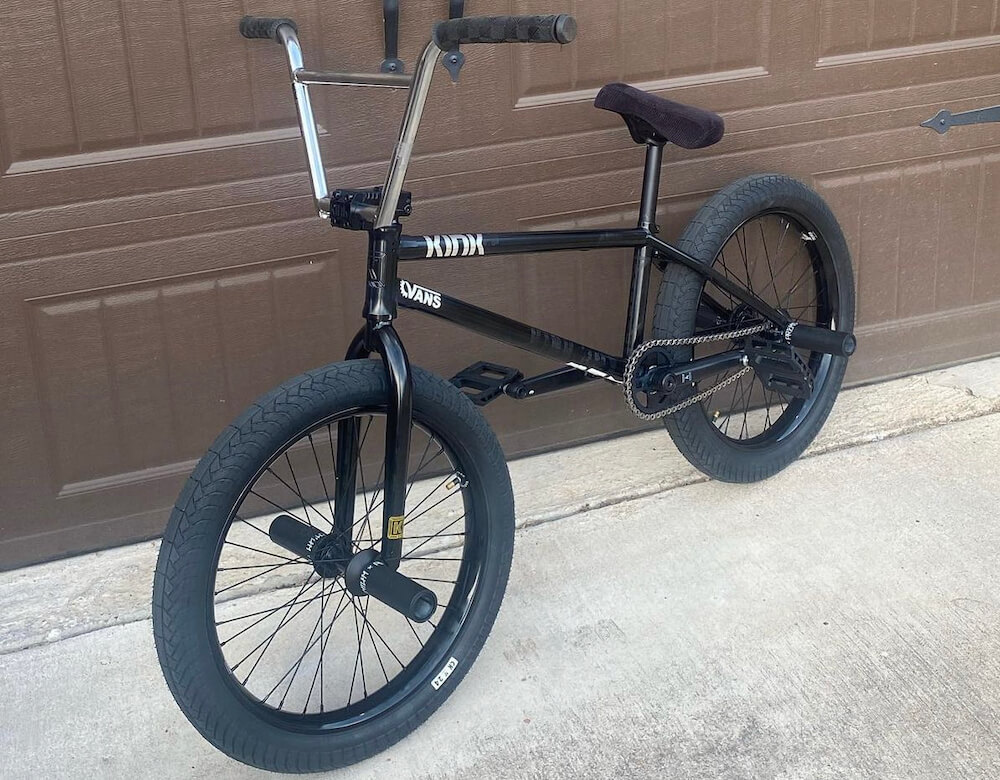 Frame: Kink Tactic frame, 20.5″
Bar: Kink Eagle 4-piece bar
Stem: Kink Track front load stem
Fork: Kink Vogue forks, 25mm
Headset: Kink BMX headset
Grips: Premium CK BMX grips
Seat: Kink Williams BMX seat
Seat Post: Premium Team stealth BMX seat post
Cranks: Premium Trestle cranks, 160mm
Pedals: Premium Slim plastic pedals
Sprocket: Kink Imprint BMX sprocket
Chain: Shadow Supreme half link chain
Front Wheel: Premium Curb Cutter BMX front wheel
Rear Wheel: Premium Curb Cutter planetary freecoaster BMX wheel
Pegs: Premium plastic pegs, 4.5″
Tires: Premium CK BMX tires
BEAUTIFUL.
GET PARTS CASEY RIDES:
If you haven't seen them yet, check out the best Casey Starling BMX videos because they're all NUTS.
Do not forget to follow Casey on Instagram (although he doesn't post very often).
Featured photo by: Joey Cobbs.
Old Casey Starling Bike Checks
DIG Setups (2023)

Are you also into video bike checks that also include plenty of epic riding in them? I sure AM!
Although this one is a quick one, Casey and Will Chappell managed to get it all done like true champs – including the riding clips.
Casey's street riding is epic, for which he needs an epic bike. And the all-black bike with a chrome bar looks phenomenal.
What I find really interesting about Casey's setup is how tall his seat post is, knowing that he isn't a tall rider.
Looks like he has no problem getting his legs over when whipping, but it definitely helps him with all those mad barspin combos.
Source BMX Bike Check (2022)

If there's Van Homan in the house, we all know the video bike check will be excellent.
While Casey's latest frame has a 20.5″ top tube, in 2022, he rode the Kink Royale frame in 20.75″. But the latter has a really short end, so he probably compensated it with a slightly longer TT.
Moreover, the Royale frame has a 76-degree head tube angle, which is why Casey decided to go with 25mm offset forks because the HT angle is already very steep.
Going with a shorter offset may be too twitchy, but it all depends on your riding style.
Casey also talks about Colin Varanyak's signature Premium rims, which are wider with a low profile – perfect for street riding.
But see the rest above.
Kink Royale Frame Bike Check/Promo (2022)

If, in the above video bike check, Casey Starling rode a 20.75″ Kink Royale frame, he opted for a 20.5″ TT in this one.
Because we learned that the Royale frame has a super steep HT angle, Casey first rode it with a 20mm offset fork, but it was too steep for him, so he went back to 25mm.
While the 75.5-degree head tube angle already does a great job for all the nose tricks and spins, the 76-degree one is a completely different story.
That said, if you ride a frame with a 75-degree HT angle and forks with 30mm+ offset and decide to switch to a similar setup that Casey rides, your first few sessions will require some getting used to it.
Yup, your bike will feel completely different.
Let's get back to the video.
Besides explaining why the Royale frame works for him, Casey also shot a few wild riding clips that make all this such a pleasure to watch.
Was this article helpful?
Disclosure: The BMX Dude's content is free & reader-supported. I may earn a commission if you click & buy through my links. Your support helps me create the best content & make a difference. Thanks! 🤘