Do you want to see the latest Dillon Lloyd bike check?
One of the strongest and stiffest bike setups in the BMX game?
Yup, that's what Dillon's bike is all about.
Regarding his signature Buck frame, Lloyd particularly wanted to create the ultimate one that's impossible to break.
Dillon and WeThePeople succeeded!
But they also put much thought into his signature WTP bar and pegs.
Dillon Lloyd WeThePeople & Eclat Bike Check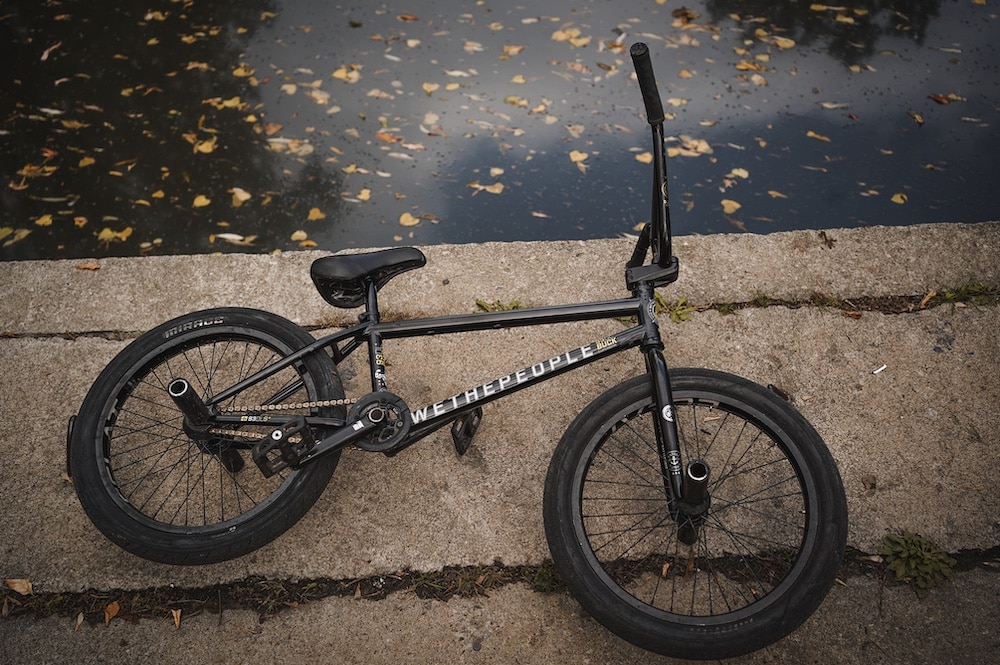 Frame: WTP Buck frame
Bar: WTP Buck bar
Stem: Eclat Onyx top load BMX stem
Fork: WTP Battleship BMX forks
Seat: Eclat Tripod BMX seat
Cranks: WTP Legacy cranks
Pedals: Eclat Seeker plastic BMX pedals
Sprocket: Eclat AK BMX sprocket
Tires: Eclat Mirage BMX tires
Pegs: WTP Dill Pickle plastic pegs
Go check more pics and the entire parts list on WTP.
GET PARTS DILLON RIDES:
Don't forget to follow Dillon on Instagram for a lot of BMX riding madness.
Featured photo by: @vlad_p_films.
Old Dillon Lloyd Bike Checks
1. What I Ride (2019)

Dillon runs you through his beautiful trans matte blue Buck setup that he was riding in 2019.
Along with his signature WeThePeople frame, bars and plastic BMX pegs, he's also riding Eclat pulsar grips, WTP legacy cranks in 165mm and Eclat Cortex front hub and freecoaster.
And because it's bulking seasons, he managed to bend his seat post backward slightly but said he's digging it.
Why? Because it's easier to pinch the seat with his legs for barspins.
2. What I Ride (2018)

Dillon definitely likes to change the color of the frame regularly, so here's the quicksilver version of his signature WTP Buck frame.
And it looks dope.
His bike is a full-on WeThePeople and Eclat build, one of the strongest machines for hitting streets and parks as heavy as you want.
Dillon rides a 21″ top tube frame because he's taller but also rocks 165mm BMX cranks because his feet are larger, so he doesn't hit back pegs.
Big or tech moves, this thing handles it all with ease.
3. WTP Real Bike Check (2016)

While his bike checks definitely improved lately, Dillon wasn't really sure what parts he was riding in 2016.
This is a hilarious bike check that'll have you laughing a lot.
Filmed in Riga, Latvia, while filming for the WeThePeople "Foundation" video, but it was raining, so Dillon went into the bike check mode.
Do you know the name of all the parts you ride?
4. WTP Buck Check (2015)

I don't really know what happened to Dillon Lloyd in 2016, not knowing what parts he's riding, but that was not the case with this 2015 video bike check.
What I particularly like about his bike checks is that they are pretty in-depth. Dillon just needs to remember it. 🙂
Anyhow, this was then still the prototype WTP Buck that he was putting through a ton of abuse.
One thing's for sure if it holds Dillon, it'll hold anyone. Dillon even encourages you to break the frame if you can but also wants to warn you that you'll fail.
I'm sure you'll also be interested in other bike checks from WTP and Eclat riders:
Was this article helpful?
Disclosure: The BMX Dude's content is free & reader-supported. I may earn a commission if you click & buy through my links. Your support helps me create the best content & make a difference. Thanks! 🤘