Do you want to see the latest Brandon Begin bike check because you know it looks rad?
I've been a fan of Brandon for a long time, so it's about time that I bring you his bike setup.
Begin has a signature Cult frame, Heaven's Gate, with a signature Heaven's Gate bar.
And with Merritt, you can get his signature grips, seat, plastic BMX pegs, sprocket and tire.
Yup, this dude has many signature parts.
By the way, Brandon's tire is 2.5″ wide, so if you need a FAT tire, then this one is probably it.
Brandon Begin 2023 Cult Bike Check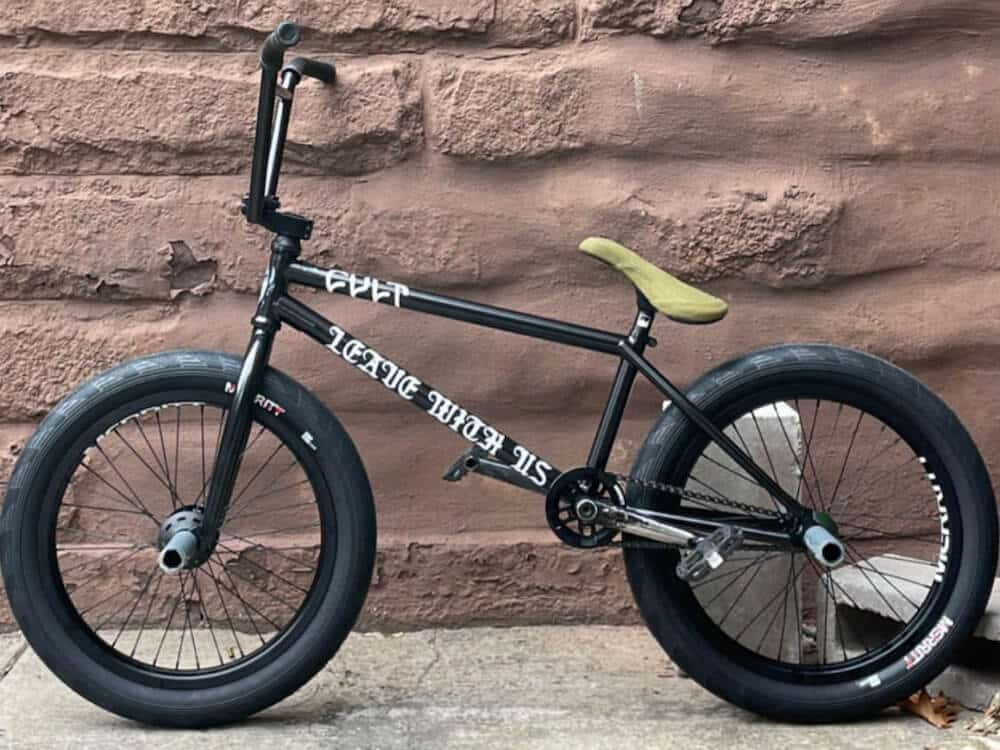 Frame: Cult Heaven's Gate frame
Bar: Cult Heaven's Gate bars
Stem: Merritt MKII Inagural topload BMX stem
Fork: Cult Sect forks
Headset: Merritt BMX headset
Grips: Cult Begin grips
Chain: Cult half link chain
Seat: Merritt Begin BMX seat
Seat Post: Merritt BMX seat post
Cranks: Merritt Battle BMX cranks
Pedals: Merritt P1 plastic BMX pedals
Sprocket: Merritt Begin Pentaguard sprocket
Front Wheel: Merritt Battle complete BMX front wheel
Rear Wheel: Merritt Battle complete freecoaster wheel
Tires: Merritt Begin Phantom tires
Pegs: Merritt Begin GFE pegs
This thing looks DOPE, especially with those EXTRA wide tires! (But I'm not really a fan of white tires, though.)
GET PARTS BRANDON RIDES:
Note: You should also not miss my collection of the best Brandon Begin BMX videos because they're epic.
Go and follow Brandon on Instagram where you can enjoy plenty of story content and riding clips.
Featured photo by: Fit Bike Co.
Old Brandon Begin Bike Checks
Brandon Begin 2022 Cult Bike Check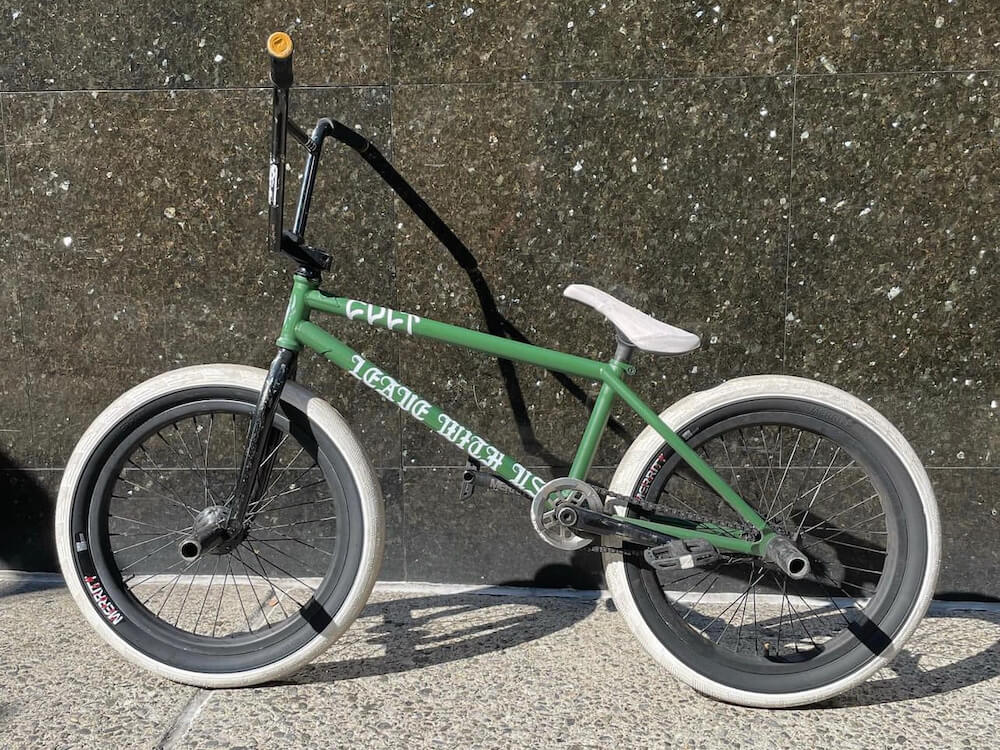 What I Ride (2018)

Brandon breaks his Fit and Merritt bike down nicely in this Ride BMX video bike check.
Even though this is from a little while ago, Begin already had quite a bunch of signature parts on that thing.
He had a Fit frame and 4-piece BMX bars with the signature Charlie Crumlish grip colorway and one of the best-looking guarded BMX sprockets in the game.
Brandon also says that he likes to stretch his BMX grips really wide because it helps him with x-up grinds.
Also, while his stock bar came at 30″, he cut it an inch on one side.
Lastly, he rides his BMX tires super flat (30PSI?!), which is something I don't really understand how they're even ridable at such a low PSI, but hey, to each their own.
Not A Bike Check (2019)

Okay, okay, this isn't necessarily a bike check, but it's Brandon Begin teaching you how to put a new chain on the bike.
Even though he might be a link too short, he decided to rock it anyway.
Note: Every half link BMX chain will stretch after a while, so you may need to adjust it after some use.
Also, this video was out after the announcement came that Brandon is no longer riding for Fit.
So basically, it's a fresh new bike (check), but no one knew from which brand at the time.
Fit Bike Check (2019)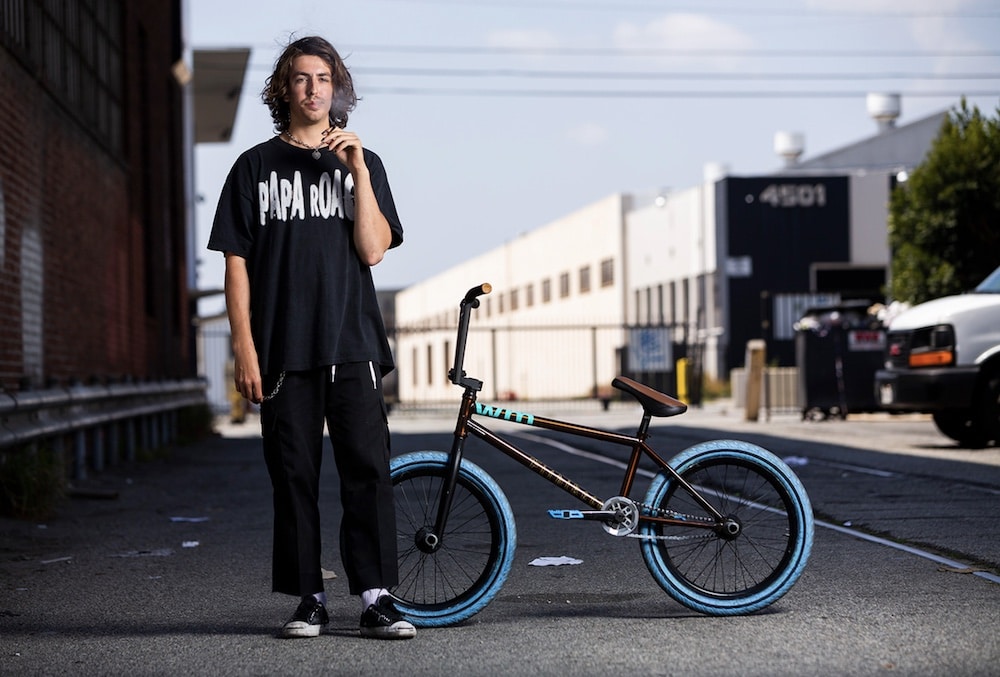 You can check a bunch of really fresh images of the then signature Fit Scumbag frame if you visit the official Fit Bike Co website.
Brandon was also rolling with the signature Scumbag bar, Shiv BMX forks and many Merritt parts.
We're usually not used to seeing a Brandon Begin bike that's sooo clean. Real eye candy, if you will.
Was this article helpful?
Disclosure: The BMX Dude's content is free & reader-supported. I may earn a commission if you click & buy through my links. Your support helps me create the best content & make a difference. Thanks! 🤘