Are you ready to take a close peek at the current Kriss Kyle bike check?
If you ever watched a Kriss Kyle video, you know that this dude is FULL OF originality.
It is safe to say that he is a one-of-a-kind rider who can shred anything and everything he wants.
Not just that, but he does things his own creative way that is almost impossible to match.
Kriss Kyle 2022 Bike Check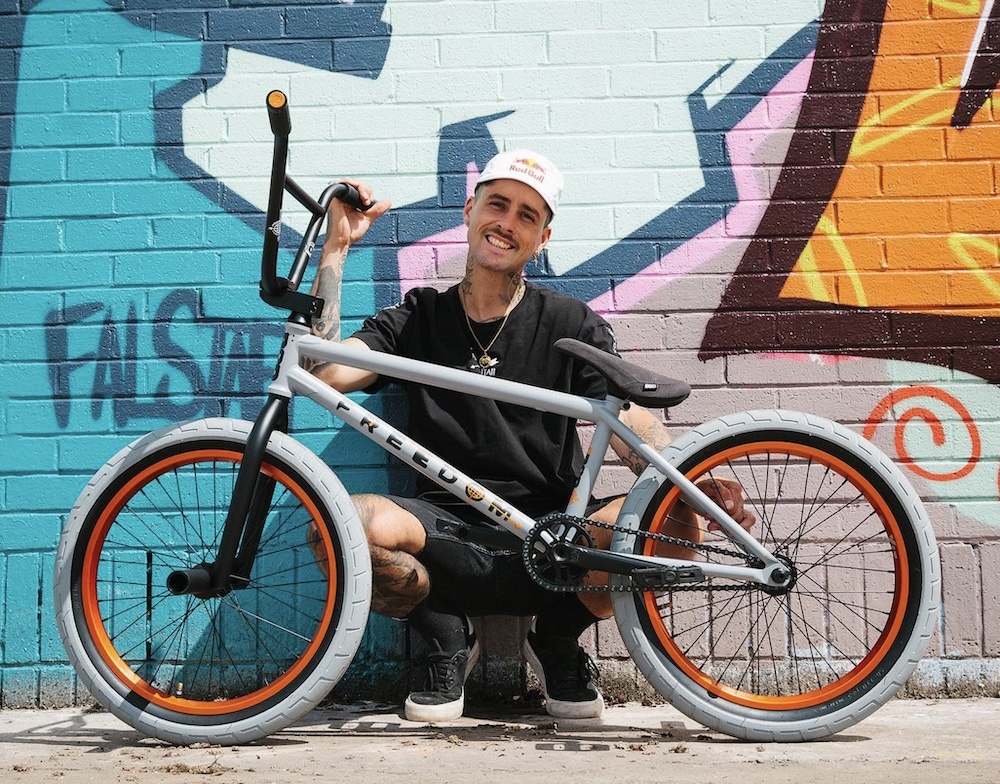 Frame: 20.8″ BSD Freedom frame
Fork: BSD Acid Fork V2
Bars: 9″ BSD Freedom bars
Stem: BSD 1″ OS Levelled stem (find more top load BMX stems)
Headset: BSD Integrated headset (check my BMX headsets collection)
Grips: BSD Passenger BMX grips
Tires: BSD Donnastreet tire 2.4″
Front rim & hub: BSD XLT rims, BSD Front Street Pro front BMX hub
Rear rims & hub: BSD XLT rims, BSD Revolution freecoaster BMX hub
Cranks: BSD Substance XL V2 cranks 165mm (check more BMX cranks options)
Sprocket: 28 tooth BSD Superlite 3D sprocket
Chain: BSD 1991 halfling BMX chain
Pedals: BSD Jonesin' pedals (need more plastic BMX pedals?)
Pegs: BSD Rude Tube XL LT V2 pegs (I also have a full list of the best plastic BMX pegs)
Seat: BSD slim Freedom BMX seat
Seat post: BSD Blitzed BMX seat post
His latest BSD bike check is very solid in terms of the color choice, looking ABSOLUTELY dope in that flat grey colorway.
Kyle rocks his signature BSD frame that is perfect both for street and park riding. On top of that, you are also good to go with it riding trails.
Moreover, with BSD, Kriss also has signature Freedom bars and seat and Passenger grips. Keep in mind; this flat grey bike build is 100% occupied with BSD products.
Speaking of BSD, you should also not miss Kyle's teammates Alex Donnachie, Dan Paley, Denim Cox, Liam Zingbergs and Reed Stark.
Overall, Kriss's bike is surprisingly very classic/traditional, not following the modern geometry and characteristics too crazy.
Now you know.
GET KRISS' SIGNATURE PARTS:
Do not forget to follow Kriss on Instagram for all the amazing content that he keeps publishing regularly.
Featured photo by: Kriss's Instagram.
Old Kriss Kyle Bike Checks
Kriss builds his dream bike

Kriss is coming out with a fresh bike build and a BSD warehouse tour for the re-launch of his YouTube channel. If you'd like to see the bike and skip the rest, jump to 9:10.
But this video also gives a great behind-the-scenes look at what's going on in the BSD warehouse.
Kriss shows his past signature frames, his Dig cover and enjoys a few laps at the ramps on his brand-new BSD Freedom bike build.
A lot of guest clips from the furry friends.
BSD Freedom bike check (2021)

And this is the type of video bike check that I really enjoy. Kriss takes you through his entire setup and why he rides particular parts. You'll see a bunch of his signature parts, too.
It's definitely very helpful.
In addition to this fresh beauty, you also get a bunch of dope mini ramp riding clips. I'm pretty sure that's Kriss's backyard (or am I?).
Even though I will never pick any other color than black, I am always stoked to see others rock these rad colorways. Those rims look SICK, Kriss!
Don't miss this one.
BSD Passenger bike check 2018

Here is a video bike check from BSD BMX back in mid-2018 with Kriss going over his BSD Passenger build.
The video starts out with a wild lip trick on a sub-box at a skatepark before getting into the build.
Kriss gives a great explanation behind the choices that went into his bike. He goes into great detail about everything from the color to the sizing and the decisions behind them.
This is a really great bike check in all aspects from the bike check itself to the bonus riding clips we see throughout.
OSS bike check 2015

If you've ever wondered what bike and parts Kriss Kyle was riding back in 2015, this video has you covered.
Kriss goes over every part on his bike including a few quirks like how at this time he was riding metal pegs on one side with plastic pegs on the other.
Kriss has a great camera presence and does a great job going in-depth on the different parts of his bike as well as the reasoning behind them.
There's also a bunch of riding in here with Kriss absolutely shredding at a concrete skatepark.
DIG Frame by Frame with Kriss

Here is a video that is kind of like a bike check but a bit different in that Kriss Kyle talks in-depth about the previous decade's worth of signature frames with BSD.
Kriss starts with his first frame with BSD, the Trail Or Park frame. He talks about his excitement about the frame being his first-ever as well as the process of filming his first frame promo video ever.
This repeats with all of his signature frames up until 2018 when this video was made, including the transition between the Trail Or Park, Passenger, then Freedom frames that followed it.
Was this article helpful?
Disclosure: The BMX Dude's content is free & reader-supported. I may earn a commission if you click & buy through my links. Your support helps me create the best content & make a difference. Thanks! 🤘