Do you want to see the current Denim Cox bike check?
I'm also a bike check geek; it doesn't matter if it's new or old, I always enjoy checking part lists and pics.
Denim rocks his signature BSD frame, Grime, with signature Grime bars, Grime grips and Grime seat.
This dude is all about "More speed, Less doubt!"
Denim's bike is a 99.99% BSD build.
His bike is pretty all-around but more on the responsive side.
Hey, you will see Cox ride everything, and going WILD is his specialty.
Denim Cox BSD Bike Check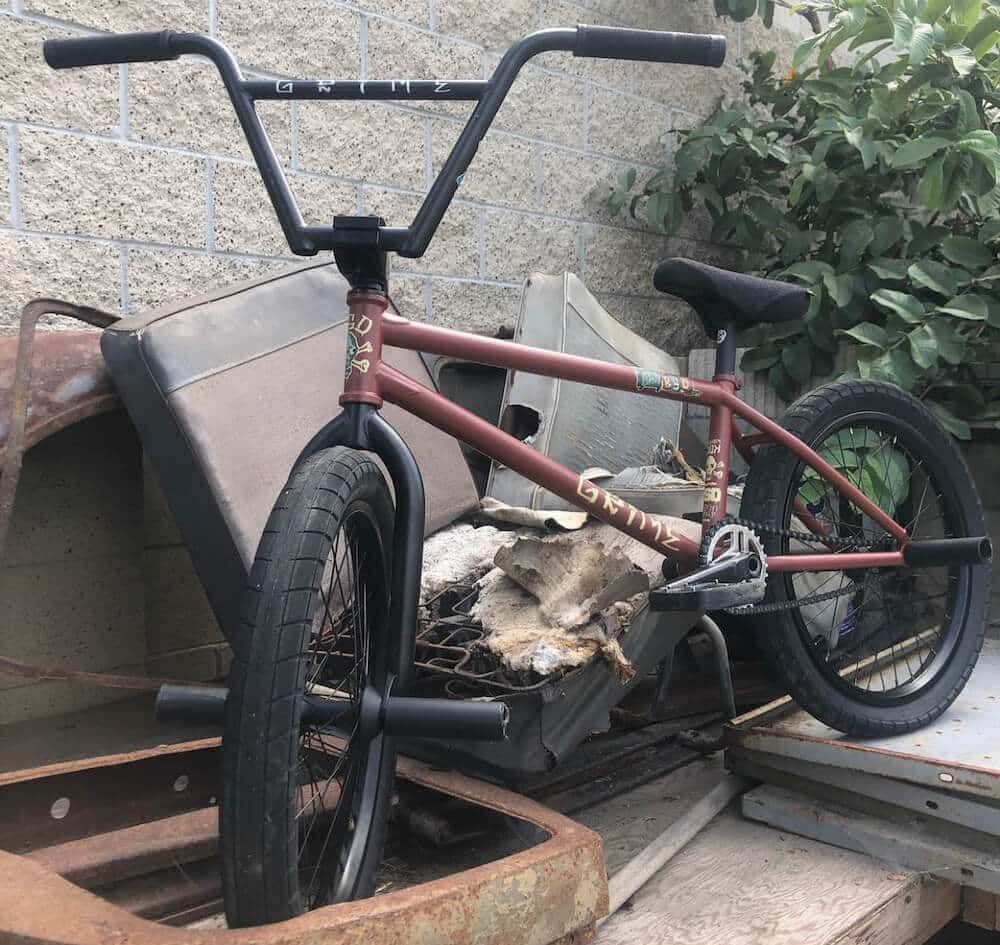 Frame: BSD Grime frame
Bar: BSD Grime bars
Stem: BSD Stacked top load BMX stem
Fork: BSD Jonesin' BMX forks
Grips: BSD Grime grips
Bar Ends: BSD PCP BMX bar ends
Chain: BSD 1991 half link BMX chain
Seat: BSD Grime seat
Seat Post: BSD Blitzed BMX seat post
Cranks: BSD Substance XL V2 BMX cranks
Pedals: Odyssey OG PC pedals
Sprocket: BSD Superlite BMX sprocket
Front Wheel: BSD Aero Pro rim, BSD Street Pro front BMX hub
Rear Wheel: BSD Aero Pro rim, BSD Revolution freecoaster hub
Tires: BSD Donnasqueak 2.4″ BMX tires
Pegs: BSD Rude Tube XL plastic BMX pegs
It might be Grime, but it looks very Fresh!
GET PARTS DENIM RIDES:
Note: Make sure you watch the best Denix Cox BMX videos because they'll hype you up to go shred even more.
Follow Denim on Instagram for a bunch of CRAZY stuff that'll melt your mind (or keep you LOLing for a long time).
Featured photo by: Alfredo Mancuso.
Old Denim Cox Bike Checks
1. Denim's 2023 Bike Setup

With Van Homan behind the mic, you know you're in for an insightful video bike check, this time, with Denim.
Van asks a lot of questions, and Cox answers them to give you all the ins and outs of the current setup.
Denim even talks about why he likes the 9.5″ rise bars, Donasqueek tiers over Donastreet and the metal over the aluminum core in the plastic pegs.
And to top it all up, you get a dose of solid park riding clips you don't want to miss.
2. BSD Grime Bike (2021)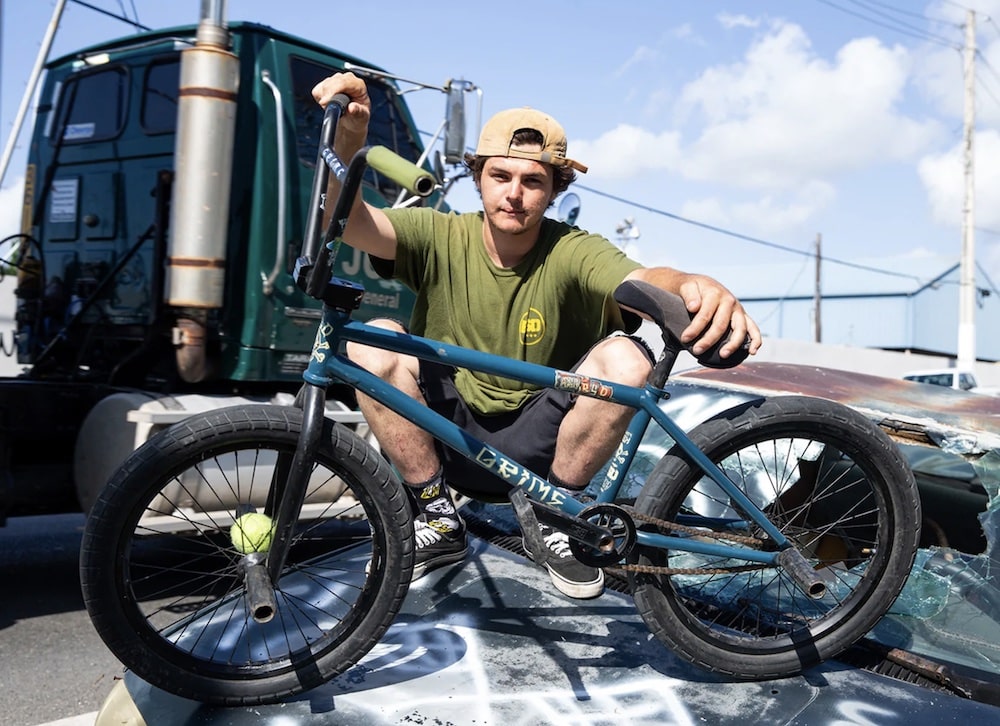 This wasn't the most fortunate moment in Denim's life when he was about to build a new setup, and FedEx lost two boxes.
But at least he received the frame, so kept all the other parts from the previous setup.
However, it also has a tennis ball on the front wheelset!
His bike is almost entirely built with BSD parts except for the Odyssey OG PC plastic BMX pedals (with metal pins).
Check the full bike on BSD.
3. BSD Grime Bike (2020)

This video bike check was the first time we saw Denim's signature BSD frame. It dropped in April 2020.
Thus, Denim talks about all the ins and outs of the frame. The Grime is a mixture of Soulja and ALVX frame, featuring the rear end of the former and the front end of the latter.
Of course, Denim also walks you through the rest of the parts that he was riding at the time.
And like that wouldn't be enough to promote his signature frame, of course, he does a bunch of tricks on the street, using the ramp (that's not supposed to be ridden).
4. BSD Soulja Bike Check (2019)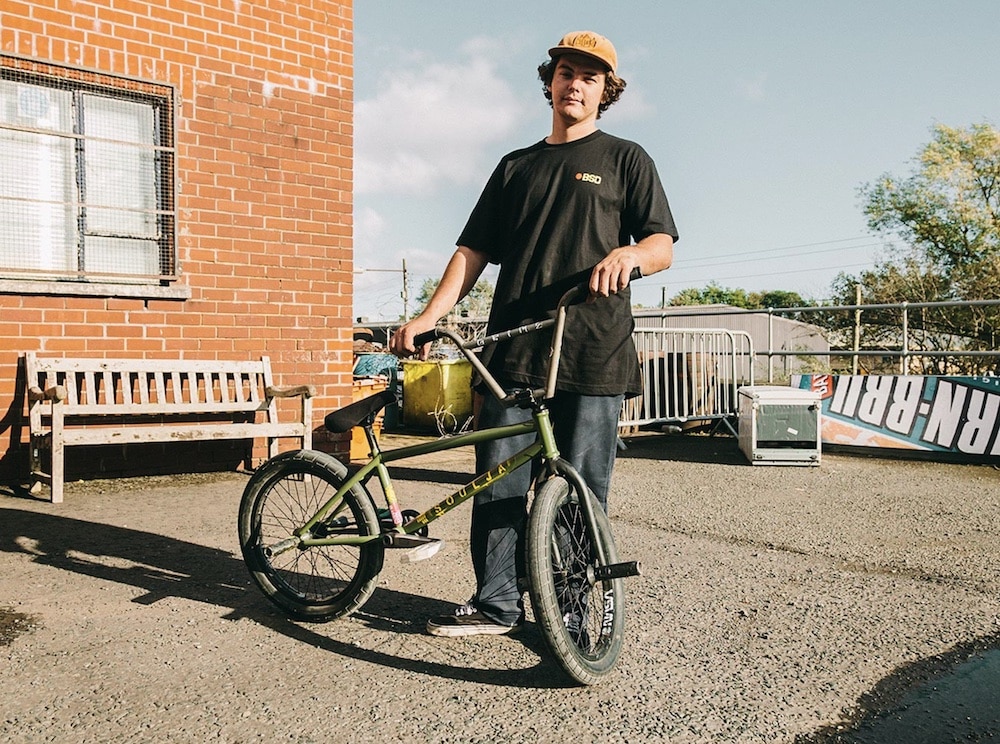 Before Cox's signature frame, he went back and forth between Alex Donnachie's signature ALVX and Dan Paley's signature Soulja frames.
2019 was the year of the Soulja setup in this epic military green color.
While Denim enjoys the ALVX frame because it's perfect for spinning, the Soulja frame gives a little more stability due to its slightly longer chainstay.
He's also been playing with raising his front end a little bit and loves it.
Note: Once I started raising my front end, my bike started to feel a lot better. And since you're asking, no, raising your handlebar doesn't mean your bunnyhop will be lower.
Go to the BSD website for more pics and a parts list.
5. What I Ride (2018)

This fun and insightful video bike check is brought to your by the discontinued Ride BMX.
I'm still glad they kept the YT going because there's A TON of good (evergreen) material to watch.
Anyhow, Denim Cox walks you through his BSD ALVX setup in black with some chrome/polished details that make the bike look really RAD.
He's also riding Sam Jones's signature Jonesin' BMX forks, Kriss Kyle's signature Passenger BMX grips and Reed Stark's Safari BMX seat.
6. OSS Bike Check (2016)

Denim's on BSD for a long time and this is a somewhat fresh one from OSS because he's a kinda newbie when it comes to naming the part he rides.
He's pretty open about it, "If I'd knew the names and stuff, I'd tell you what they are called."
I won't even go into detail about this one because you need to watch/hear it from the man, Denim, himself.
Yo!
Was this article helpful?
Disclosure: The BMX Dude's content is free & reader-supported. I may earn a commission if you click & buy through my links. Your support helps me create the best content & make a difference. Thanks! 🤘