Do you want to check the latest Reed Stark bike check to gain inspiration for your setup?
As a dude who likes to travel around the world – all the time – Reed came up with some truly amazing bike builds.
(He uses nature and the wild to develop COOL colorways.)
Also, Reed is a very tall rider at 6'4″, riding a 21.8″ top tube frame.
Before he collaborated with BSD on a signature frame, he was riding David Grant's frame – another tall rider.
Reed Stark 2022 Bike Check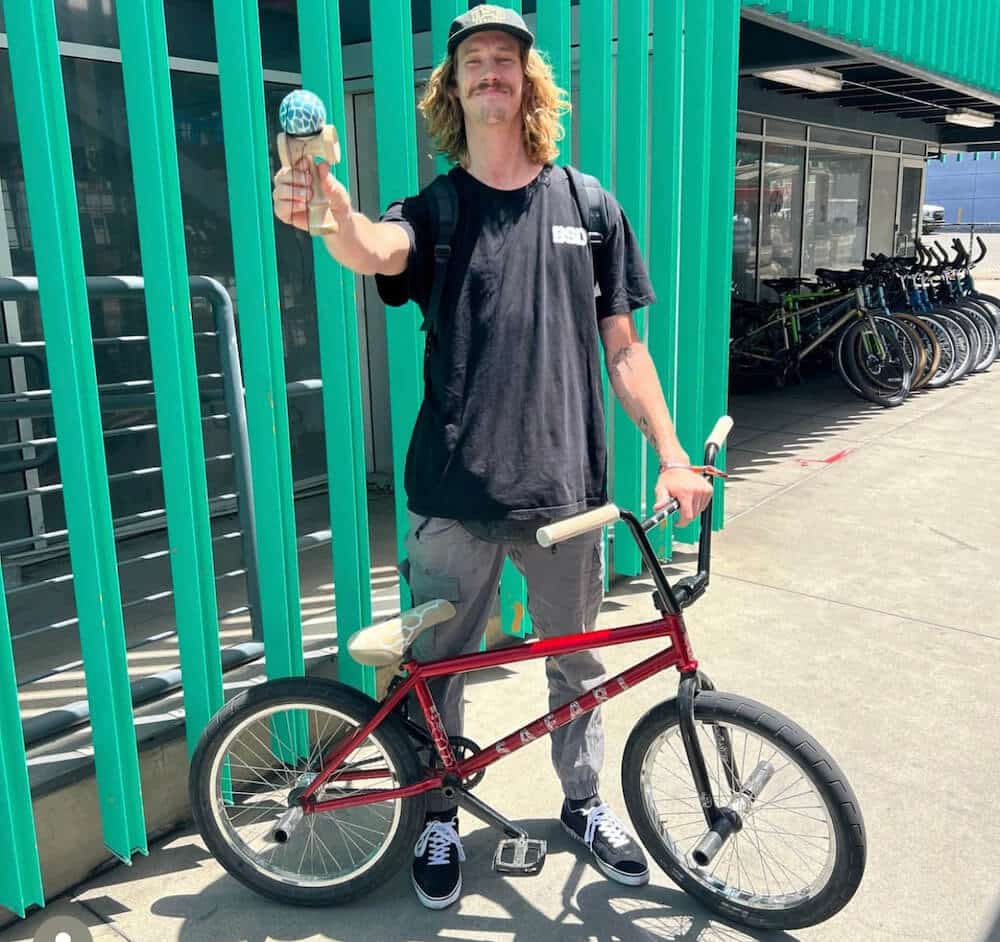 Pic by: Pedal Movement.
Frame: BSD Safari frame
Bar: BSD Safari bar
Stem: BSD Stacked BMX top load stem
Fork: BSD Jonesin' BMX forks
Headset: BSD Integrated BMX headset
Grips: BSD Dan Paley Slims BMX grips
Seat: BSD Safari BMX seat
Cranks: BSD Substance XL BMX cranks
Pedals: BSD Safari plastic pedals
Sprocket: BSD Guard BMX sprocket
Chain: BSD 1991 half link chain
Front Wheel: BSD Nasa rim, BSD Street Pro BMX front hub
Rear Wheel: BSD Nasa rim, BSD Revolution BMX freecoaster hub
Pegs: BSD Rude Tube LT V2 XL plastic BMX pegs
Tires: BSD Donnastreet BMX tires
GET REED STARK'S BSD PARTS:
Thanks to pros like Reed and David (Charlie Crumlish and Mike Hoder, too!), we have many great parts that are exclusive to tall riders.
But really, everyone is welcome to go against the grain and try different bike geometry, even as a smaller rider.
For instance, I am 5′ 11″ and currently ride a 21.25″ frame. To be honest, I would not mind trying a 21.5″ TT. Since the new street frames normally come with a shorter rear-end, the bike does not feel big at all.
Do not forget to follow Reed on Instagram for all the amazing riding, lifestyle and travels.
Featured photo by: Christopher Mortenson.
Old Reed Stark Bike Checks
Reed Stark 2021 Bike Check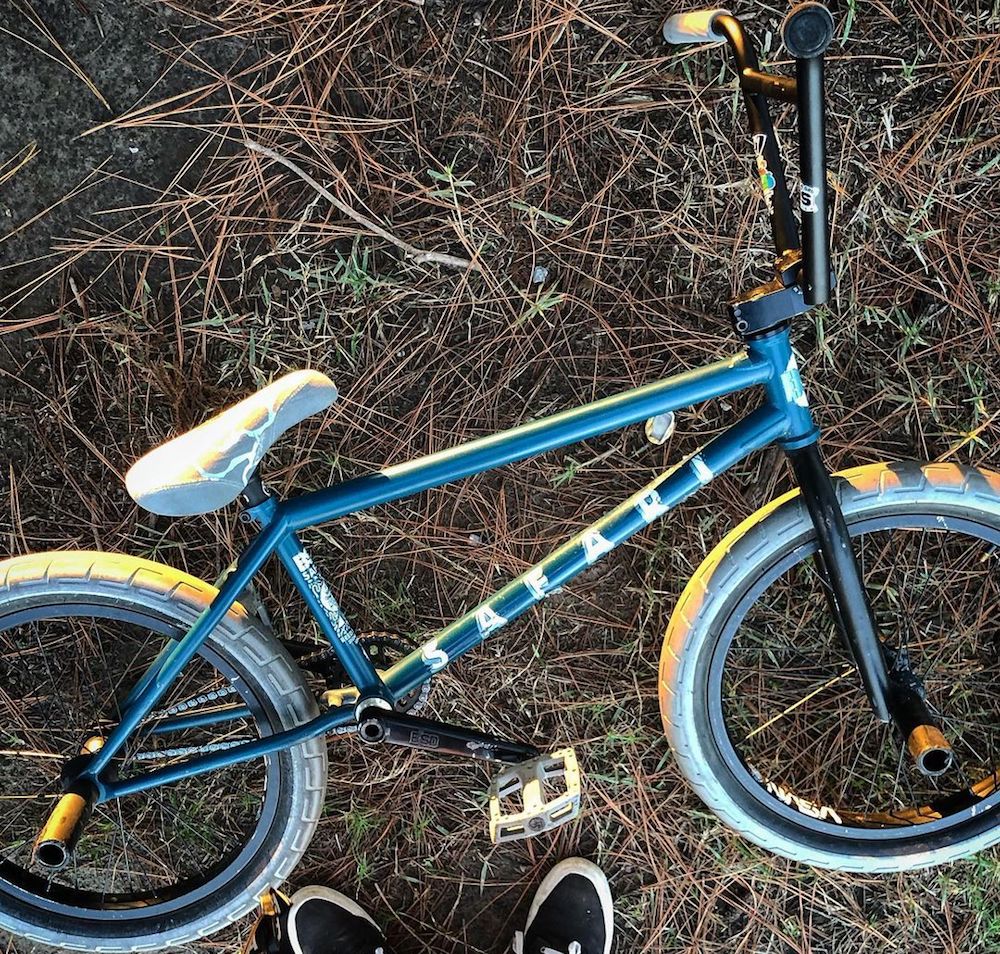 BSD Safari bike check

Here's a pretty insightful video bike check with Reed while enjoying himself in Bangkok, filming for a project.
It's always great to hear some product details from professional BMX riders instead of just a quick rundown of parts.
Reed does a GREAT job explaining parts.
Since Reed is a very tall rider, he runs his frame at a 21.8″ top tube length. Still, even though this sounds somewhat extreme, the rear-end is shorter, so it balances itself out.
If you need more LEG ROOM, Reed's signature BSD Safari frame may be it.
BSD Raider bike check

Even though this is from 2016, it's still a fantastic view at Reed's ride from the time, courtesy of TCU. Unfortunately, Nate Richter forgot to use a microphone, so the sound is a little off.
Turn up the volume, and YOU GOOD.
Along with the complete overview of his bike, you will also get a few really solid street clips from Reed Stark, which is always nice. By the way, you will notice that this was the time when Reed was still rocking steel pegs.
Do you do steel or plastic pegs? I'm currently testing plastic, but I may switch back to steel – we'll see.
Reed Stark builds a new bike

You will notice immediately that this was the time when Reed switched from steel pegs to plastic. Not just that, but he also went from a cassette hub to a freecoaster.
DAMN.
This is not necessarily a bike check that you are used to watching. But! Since Reed was building a bike while Alfredo Mancuso was filming, you know you'll learn all about it.
And what's even better, Brandon Begin is there as well and all three hit the streets shortly after Reed assembles his bike.
I wonder what Simone Barraco's response after Reed switching to coaster and plastic pegs was.
Bike check (2015)

I really like the fact that Reed Stark knows every part of his bike. Sometimes, the rider forgets which parts he's running – NOT Reed!
In this 2015 bike check, he will tell you about every single part he was rocking back then.
The steel pegs area!
This was the period when Reed spent some time at the OSS house, sleeping on the floor.
Sadly, he was just going through a shoulder injury, so there's not much serious riding in here. Still, watching Reed cruise streets is more than enough for me.
BSD bike check (2018)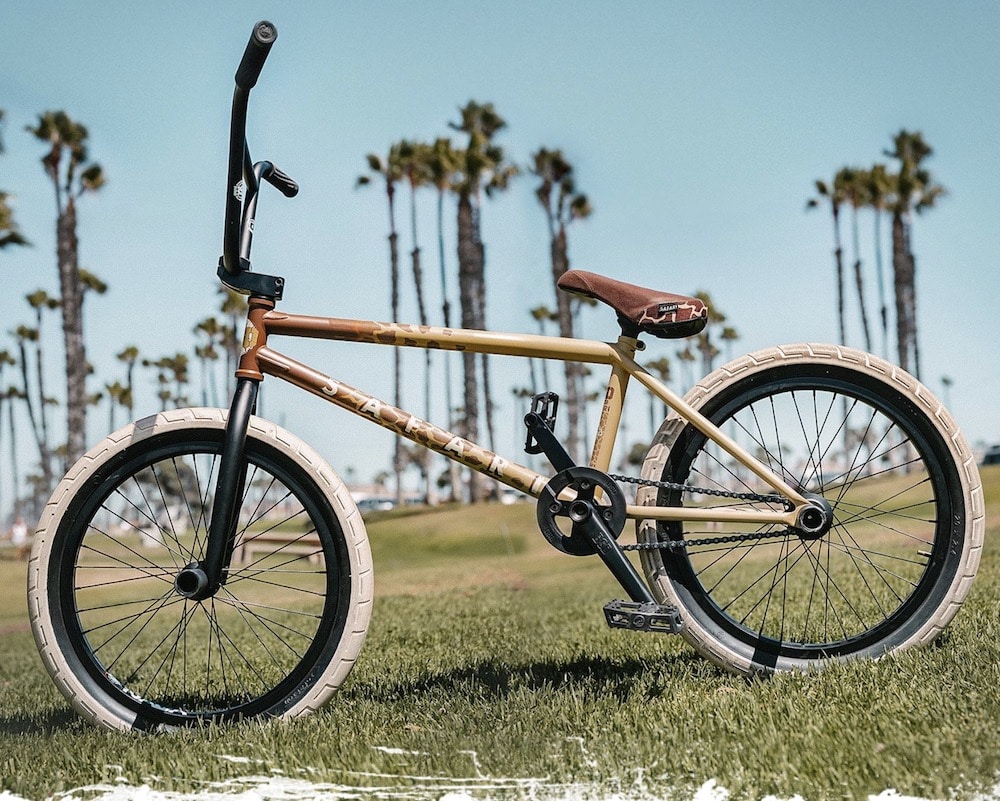 Suppose you would like to grab an entire list of parts that Reed ran in 2019, head over to BSD for a bike check. Along with his signature BSD parts, Reed also runs Alex Donnachie's Donnastreer tiers, Sam Jones's Jonesin' fork and Dan Paley's slim grips.
BUT.
The main highlight of this bike check is the special edition BSD Safari frame colorway.
It's not something you can get anymore, but if you dig deep, you may find it somewhere. I won't lie; it's definitely a rad colorway that grabs everyone's attention without a shadow of a doubt.
DIG X Reed Stark bike setup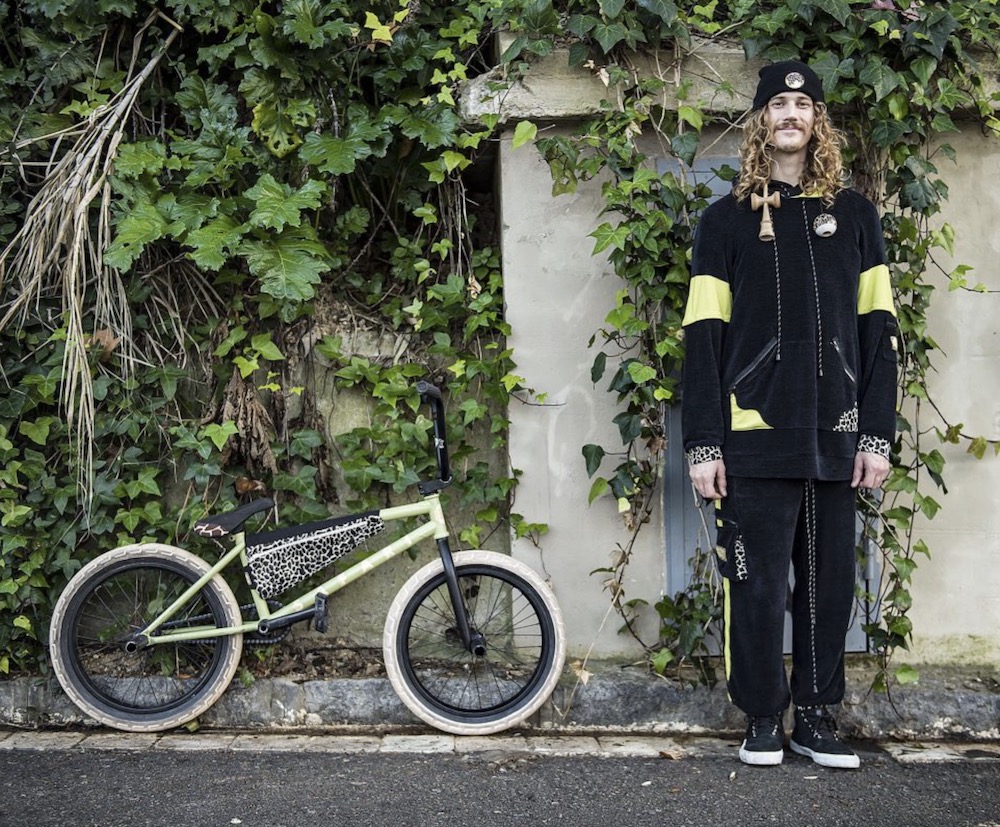 Back in 2019, DIG delivered this awesome Reed Stark bike check, which is not all about the bike itself.
Along with the parts' list, they also caught up with him for a quick interview about the bike and some other goodies.
They even talk about the inspiration for the "mountain moss" frame colorway. They also chat about what keeps Reed inspired, "Safari State," and the list goes on.
All this went down in sunny Barcelona, Spain. Of course, they also shot a few riding stunts, which is always a treat, especially when you combine Reed, Barcelona and DIG.
Was this article helpful?
Disclosure: The BMX Dude's content is free & reader-supported. I may earn a commission if you click & buy through my links. Your support helps me create the best content & make a difference. Thanks! 🤘