Are you ready to peek at the latest Devon Smillie bike check? I'm always down.
There must be something about his bike, making all those insanely technical bike stunts even possible. Or is it?
Not. Really.
Yes, Devon is just that good.
Since he's now riding for Cult (he previously rode for Fly Bikes) exclusively, that's what his bike is all about.
A beautiful and innovative street machine meant to go extremely TECH.
Are you ready?
Devon Smillie Cult Bike Check
Frame: Cult Heaven's Gate frame (Brandon Begin's signature)
Bar: Cult Dak 4-pc BMX bar (Dakota Roche's signature)
Stem: Cult Dak top load BMX stem
Headset: Cult BMX headset
Fork: Cult Sect BMX forks
Grips: Cult Heaven's Gate BMX grips
Bar Ends: Cult bar ends
Seat: Cult Slim BMX seat
Seat Post: Cult BMX seat post
Cranks: Cult Hawk cranks BMX cranks (Chase Hawk's signature)
Pedals: Cult Dak plastic BMX pedals
Sprocket: Cult Dak guar sprocket
Chain: Shadow half link (?)
Pegs: Cult Butter plastic BMX pegs
Front Wheel: Cult Crew V2 BMX front wheel
Rear Wheel: Cult Crew V2 BMX freecoaster wheel
Tires: Cult Dehart BMX tires, 2.4″
Note: I used his/Cult's IG bike shot as a reference. I think I nailed it (minus chain 🙂 ).
GET PARTS DEVON RIDES:
But you may also be interested in Devon's signature Etnies Windrow Vulc shoes.
Do not forget to follow Smillie on Instagram where you can enjoy some of his street (and park) wizardry.
HEY: Don't miss checking my list of the best Devon Smillie videos!
Featured photo by: DIG/Fly.
Old Devon Smillie Bike Checks
1. 2022 Bike Check

It's been a while since the last video bike check Devon did but thought of doing it with his latest Fly setup.
This thing looks really fresh.
It's a complete Fly build with his signature and non-signature parts.
Devon also introduces the guard sprocket and tells you why he likes to ride the rear wheel slightly extended and not fully slammed.
He also treats you to a few nice and buttery riding clips at the end to seal the deal with style.
Devon Smillie 2021 Fly Bike Check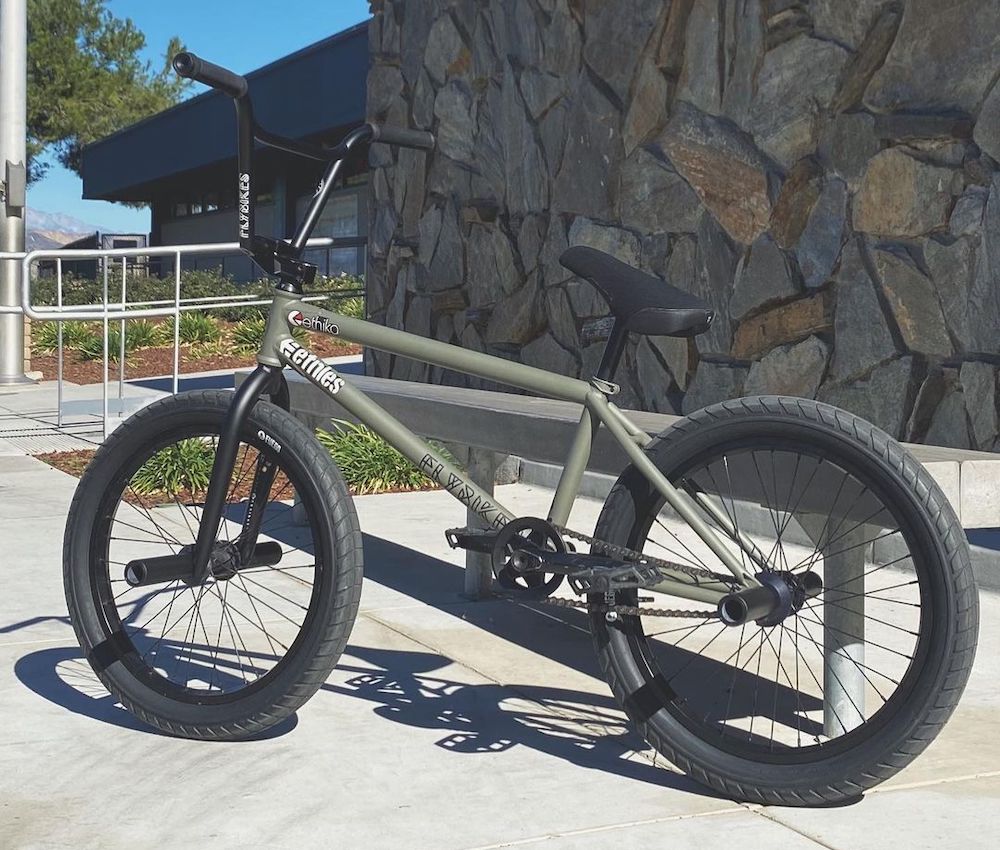 Frame: Fly Fuego 21″ frame
Bar: Fly Fuego 4-pc BMX bar
Stem: Fly Volcano top load BMX stem
Headset: Fly Volcano BMX headset
Fork: Fly Volcano BMX forks
Grips: Fly Devon BMX grips
Bar Ends: Fly Volcano
Seat: Fly Fuego BMX seat
Seat Post: Fly Tripod BMX seat post
Cranks: Fly Dolmen, 24mm BMX cranks
Pedals: Ruben Graphite plastic BMX pedals
Sprocket: Fly Tractor (w/ guard?)
Chain: Shadow half link (?)
Pegs: (?) plastic BMX pegs
Front Wheel: Fly Piramide rim, (?) hub
Rear Wheel: Fly Piramide rim. (?) freecoaster
Tires: Fly Fuego BMX tires
2. 2020 Bike Check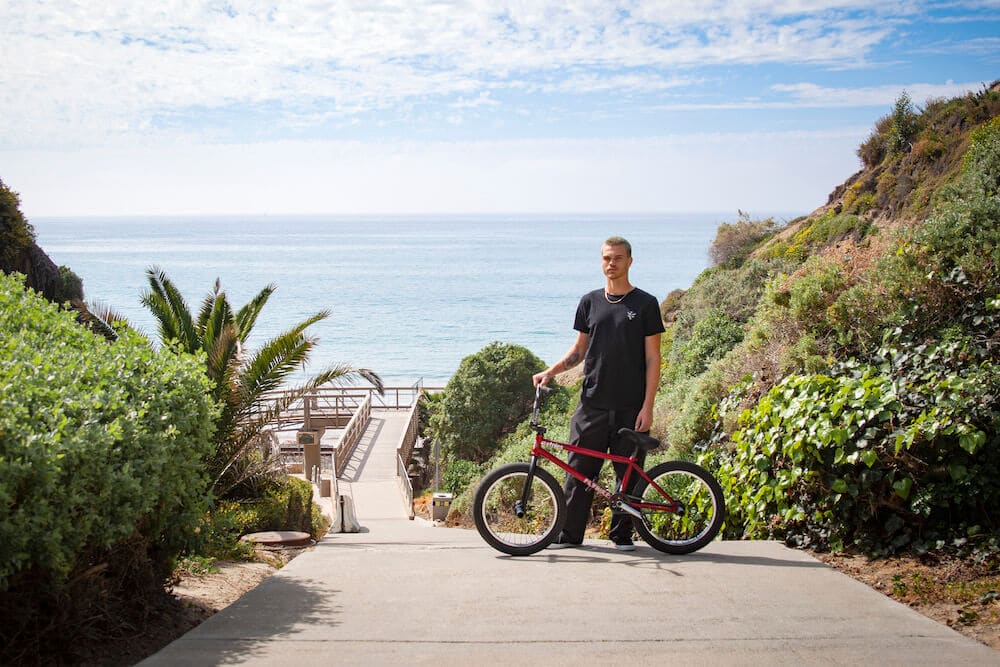 This dialed red machine is dope (even though I'm an all-black-bike kinda person).
While Fly doesn't have an entire parts list ready for you they still have some really nice shots of his bike from 2020. Emphasizing his signature parts.
But you get a short interview about his (super) low PSI, COVID, switching from cassette to freecoaster, and more.
3. 2019 Bike Check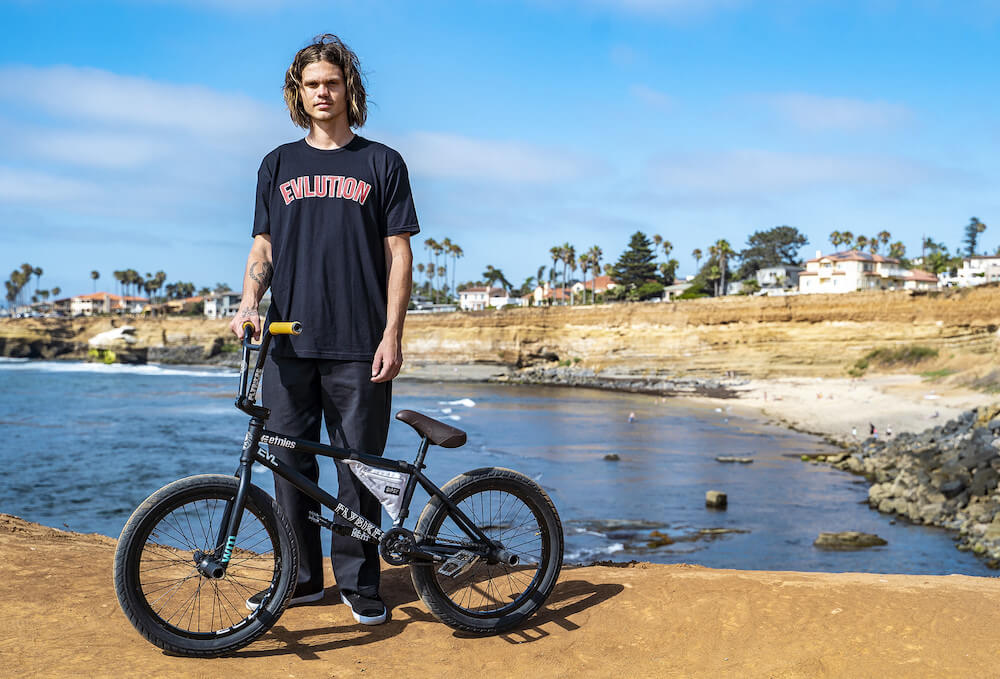 Take a closer look at Devon Smillie's bike check from 2019 on Vital. This was the period when Devon was still on Eclat, so you can expect quite some parts from them as well.
What you'll notice is that he's riding a 20.7″ street frame. However, he seems to be preferring 21″ more since that's the top tube frame length that we see him riding more often.
He also says he cuts his bars to 28″ and runs his back tire backwards. I wonder what the deal with the tire is?
4. 2017 Bike Check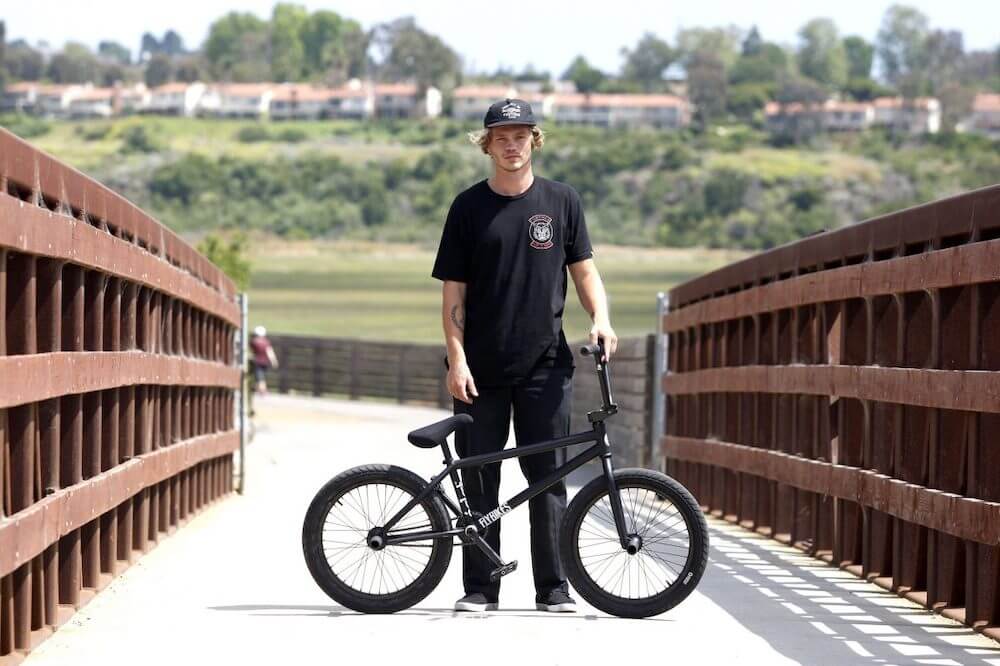 This one is exactly how I like my bike to be – ALL BLACK. Such a rad looking Fly Fuego setup in 21″ with a lot of Eclat parts.
His forks have 30mm offset and his signature (2 piece version) bars are 9.5″ rise.
Along with the parts list and pics, DIG also posted a short but sweet interview with Devon. He talks about his parents' 110% support when younger, what he loves about BMX the most and why he even chose BMX and not some other sport.
Also, he expresses his respect for scooters, which I find really COOL!
5. 2016 Bike Check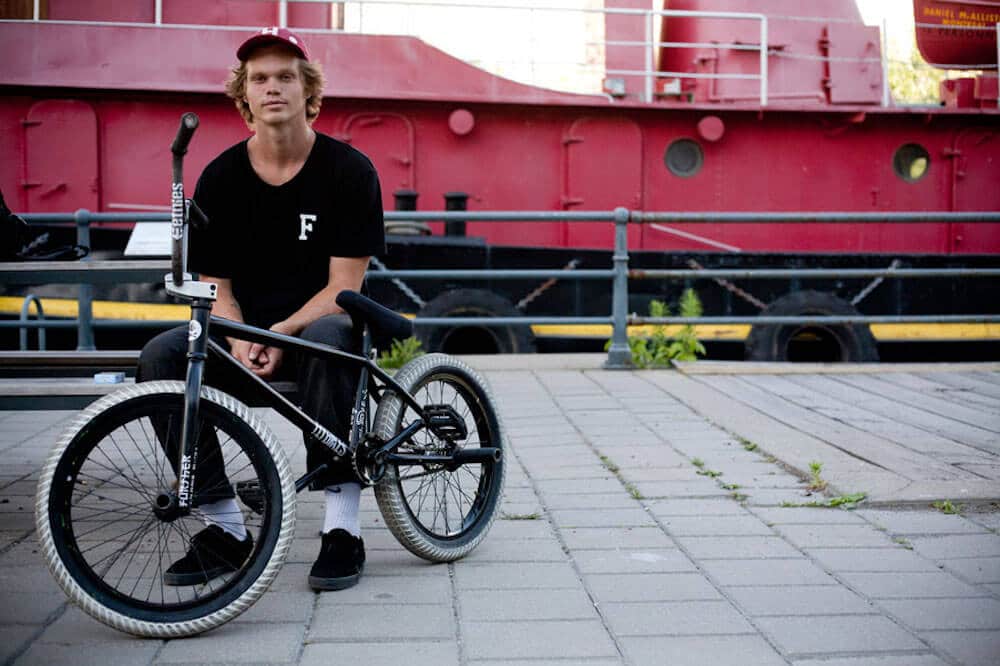 Even though colored tires are not my thing, these white ones look pretty rad. Eclat posted this Devon Smillie bike check in 2016, and it looks too good to skip it.
I wish they'd include some close-up shots of his build just because I like checking bikes so much.
But the parts list will do it. Note: Devon's riding his signature bar in 9″ rise. It's cool to see that a rider likes to switch things up from time to time, trying new things.
Hey, you'll never know if you don't try.
Was this article helpful?
Disclosure: The BMX Dude's content is free & reader-supported. I may earn a commission if you click & buy through my links. Your support helps me create the best content & make a difference. Thanks! 🤘